When Arthur Gaudreau, Halifax newspaper columnist and king of the popular retail-watch website Halifax Retales, predicted that 2019 would be the year of the taco for Halifax, he wasn't wrong, but reaction to news of another new taco place was met with a dry sense of Maritime self-reflection.
"Only 5 years off trend," commented one Facebook follower.
"That's just on time in Nova Scotia years," quipped another.
Halifax has been actively ramping up its love for tacos for just over a year, with the opening of Antojo Taco and Tequila restaurant in January 2018, and the Rinaldo brothers' Taco Lina's in November. There is also a catalogue of craft breweries that offer weekly taco nights, not to mention the quiet but popular South American eateries that pre-date the present taco craze, such as the South American café and specialty food shop, Café Aroma Latino, and Fairview's Mexico Lindo (which until now, had claim to the title, "the only truly authentic Mexican restaurant in Halifax").
What is authentic, and is it important?
If authenticity must define a restaurant, then how does one compete? Antojos, owned by the Legendary Hospitality chain, involved a Mexican chef in its menu development, and has an authentic Oxacan mole recipe that no one seems to beat; while Taco Linas, which has never claimed to be authentically Mexican, has amazing tacos nonetheless, and is without a doubt "authentically Halifax," being nestled in the corner of the renowned grunge palace that is Gus' Pub.
Tako Loko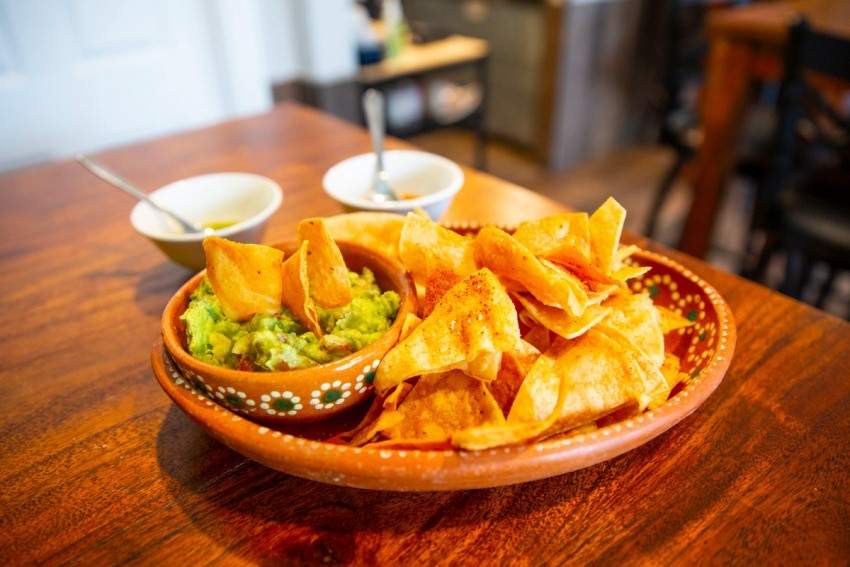 The most recent addition to the Halifax taco scene is Tako Loko, and it goes without saying that its Mexican ownership justifies at least one authenticity point.
Owner Vicky Ruiz moved to Halifax from Mexico 15 years ago with her sons Enrique and Jose Alonso, seeking asylum from death threats and violence at home. Since the move, it was always her dream to open a taco restaurant. The opportunity came when a space in the building she owns with partner, Victor Pournick--in the middle of the residential Hydrostone District--became vacant. With the help of Pournick and her sons, the empty unit was transformed into a shiny new restaurant space, with a large open kitchen, and walls decorated in a cheerful orange and green.
"I had the dream from many years ago," says Ruiz, "I couldn't do it before, but now, because my son Enrique is really successful in Jasper… he helped me with everything."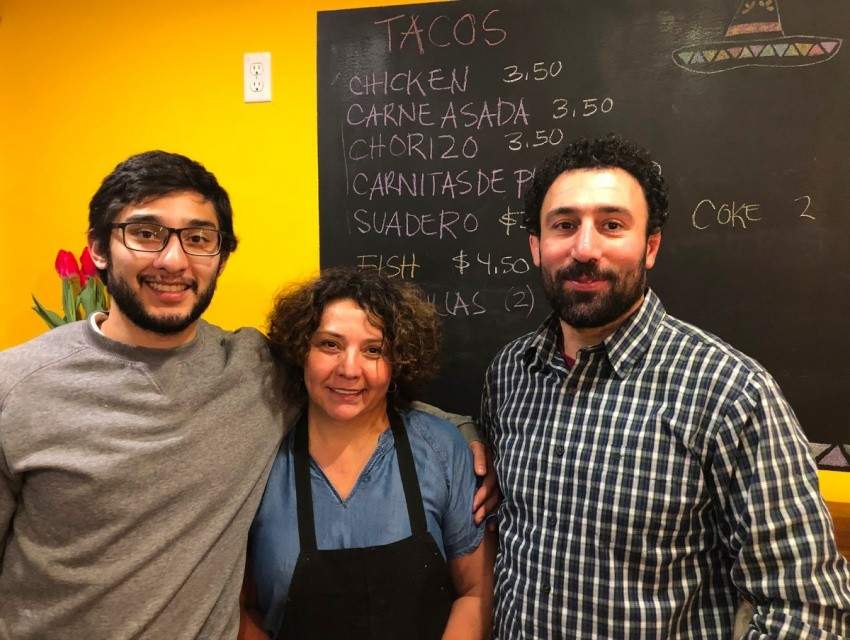 Ruiz's son Enrique is a graduate of the Holland College Culinary Institute of Canada and the owner and head chef of the Elk Village Restaurant in Jasper, a casual diner with very favourable online reviews.
Influenced by his kitchen expertise, Tako Loko is hitting all the right spots, with a menu that consists almost exclusively of tacos (tortillas and guacamole, beans and rice are the only side dishes). The restaurant is unlicensed, offering only water (a large, cool bottle served immediately on being seated), Coke and when available, a Mexican soft drink called Jarrito. The tacos are $3.50 each--the cheapest in Halifax, as far as we know--and the six varieties (chicken, carne asada, chorizo, carnitas de puerco, suadero and fish) are fresh, delicious, and authentically, not over-stuffed.
Since opening in early April, the restaurant has been packed to the brim nightly, with patrons who, if the chairs are all taken, are happy to stand. The high-top tables at Tako Loko are perfect for leaning, just as you would at a Mexican taqueria. Refreshingly, the tall tables are also devoid of annoying salsa bottles, salt-shakers and napkin totes that clutter.
Another point of authenticity is the hum of conversation. Later, I discovered the reason, in part: no WiFi.
"It's intentional," says Ruiz, "because I want people to enjoy the tacos."
But soon, explains Ruiz, there will be a television in the corner of the room.
"I decided to put a TV because I really like soccer," says Ruiz, "I have many people from Mexico, so I want to show the games."
Beverley Taco Service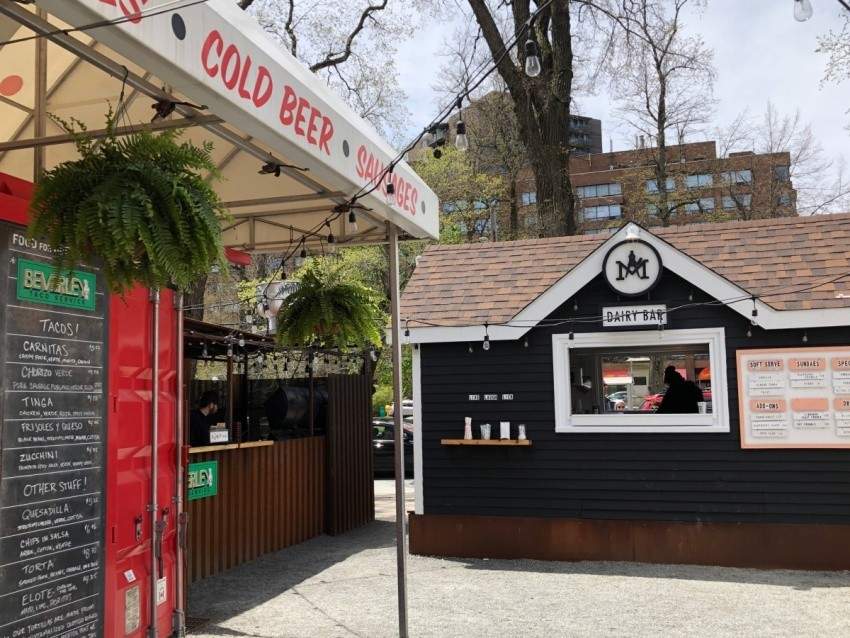 If Tako Loko scores high on authenticity, then Beverley Taco Service wins for wackiness. A collaboration between the team at Stillwell brewery and the former chef at the Highwayman, Blair Clarke, Beverley began its life with a mysterious paper flyer with a 1-800 number, stapled to lamp posts all over Halifax and Dartmouth. Callers were rewarded with a recorded voice message describing how badly you need "true-corn tortillas and life-giving salsas" in your life, and listing the upcoming pop-up locations for Beverley tacos. (Its debut was at the lovely Café Good Luck on Dartmouth's Portland Street.)
With the opening of the summertime beer garden Mecca that is Stillwell, on the corner of Spring Garden and South Park Street, Beverley now has a summer home, serving a wide selection of tacos. On taste, it's the corn tortillas that set these tacos above the rest in Halifax. They are stone ground daily from heirloom Oaxacan corn, which, employing a traditional method, has been first soaked in a lime juice solution to soften and separate the grain. The big word for this is nixtamalization. The easy word: delicious. These labour-intensive tortillas are light and tasty – a great addition to the beer garden.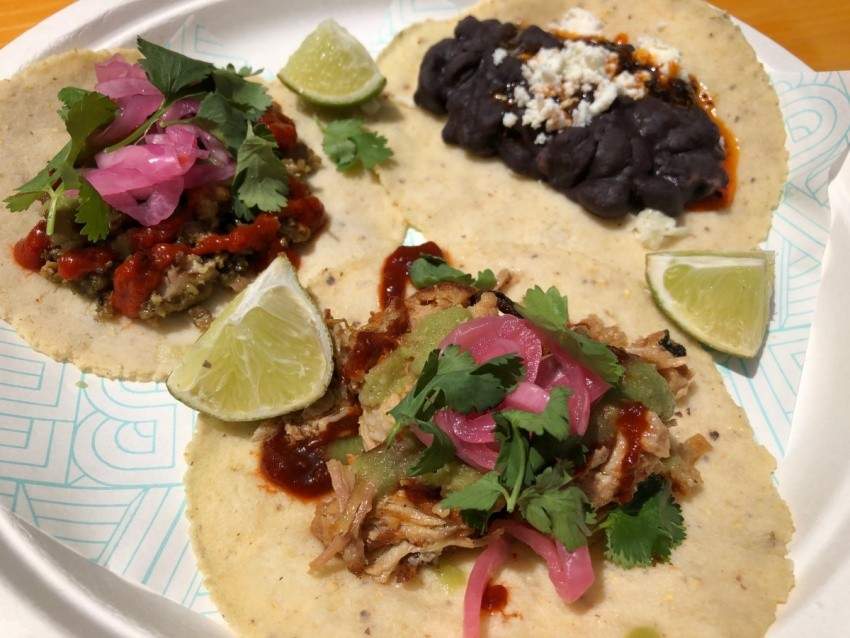 Halifax Taco Week
And finally, Halifax's love for tacos will be celebrated city-wide this November by The Coast, Halifax's weekly alternative newspaper, which as well as providing the city with edgy weekly food news and entertainment stories, moved into events a few years ago. (The Coast is the organization behind Halifax Burger Week and the Halifax Oyster Festival. They also held a number of Halifax Food Truck Rallies, as the food truck scene was taking off in between 2014 and 2015.)
The inaugural Taco Week will be held November 14th- 20th, 2019 across the city.
"Mark your calendars, cancel your plans," says The Coast. "It's time to move tacos from their Tuesday night timeslot." For once, The Coast is slightly behind the times. Tacos have already hit Halifax in a big way, and not just on Tuesday nights.