There is perhaps no better indicator that Halifax is growing up than the overwhelmingly enthusiastic response to its new premier league soccer team, the Halifax Wanderers FC—that is, unless you consider that Halifax soccer fans are also raving about the food, wine and beer at the stadium.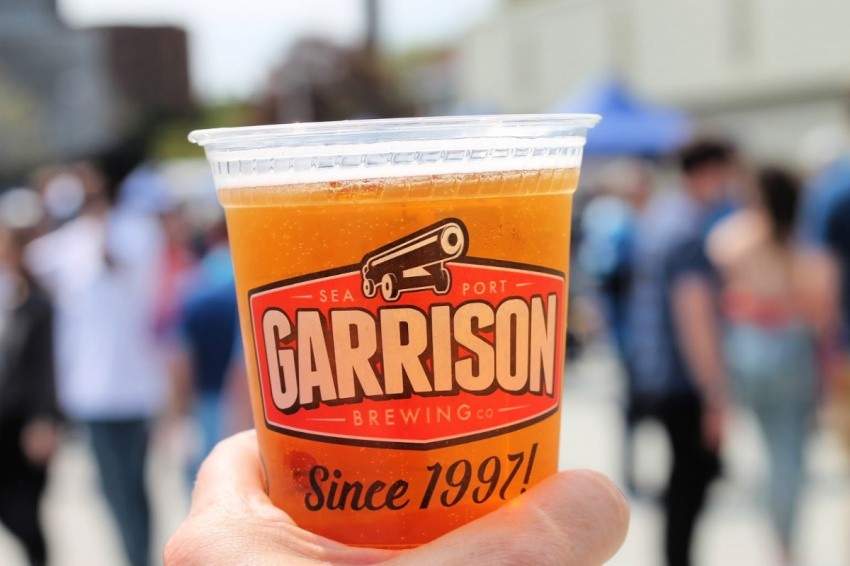 With an atmosphere that lies somewhere between a festival and a food truck rally, choice eats at Wanderers Grounds include healthy international foods such as shawarmas, smoked meat sandwiches, tacos, and piping hot New Zealand meat pies; while drinks include Garrison craft beer, local cider, and even a limited edition Wanderer's-branded wine, the first ever wine in a can dedicated to a sports team in Canada.
Here are our top picks for match day.
Shawarma Stop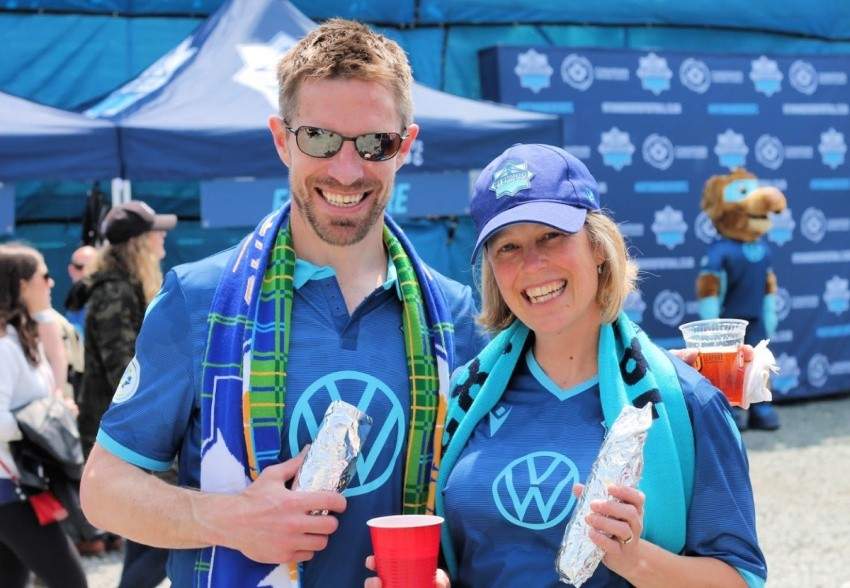 Tony Nahas is the owner of Shawarma Stop, which also operates daily at the Halifax Seaport Market, one of the oldest markets in Canada. A former soccer player and a big fan of the game, experiencing the atmosphere on match day is one of the best parts of Nahas's job. "The stadium looks great, the fans look amazing coming in, the grounds… it's such a multicultural thing. Everybody knows shawarma and donairs, so we might as well be there, right?"
The shawarmas at the Wanderers games are healthier than typical stadium fare and delicious: hot chicken, lettuce and sauce inside a fresh pita—the perfect grab-and-go food.
Thanos Waffles
Next door to Shawarma Stop, Thanos Politis makes fresh waffles with whipped cream and fresh fruit toppings. It's also his first time at a sporting event, and he agrees that the football and the atmosphere at the stadium is what convinced him to vend here. Although not as conducive to grab-and-go, the waffles are a hit for the kids, which is inline with the Wanderers club's focus to provide a family-friendly event.
Mr Smooth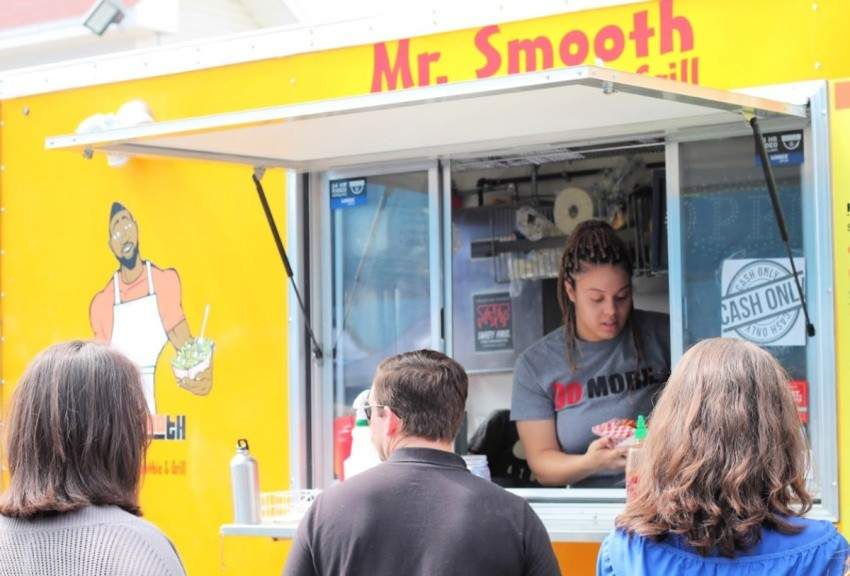 Rhonda Beals and "Mr. Smooth" (her husband Ron) have been in business for 15 years, and began selling smoothies on wheels back in 2001, before anyone else was selling anything except for fish 'n' chips from a truck. Beals says they've served at many sporting events. The attraction at the Wanderers games is not their smoothies but their fresh cut fries and sirloin burgers, like the Who Dat Burger, with pineapple, bacon, lettuce, onions and cheddar cheese. Beals says the atmosphere at the downtown Halifax stadium is amazing. Is she a soccer fan? "Not yet, but I'm becoming one!" she says.
Nova 7 Wine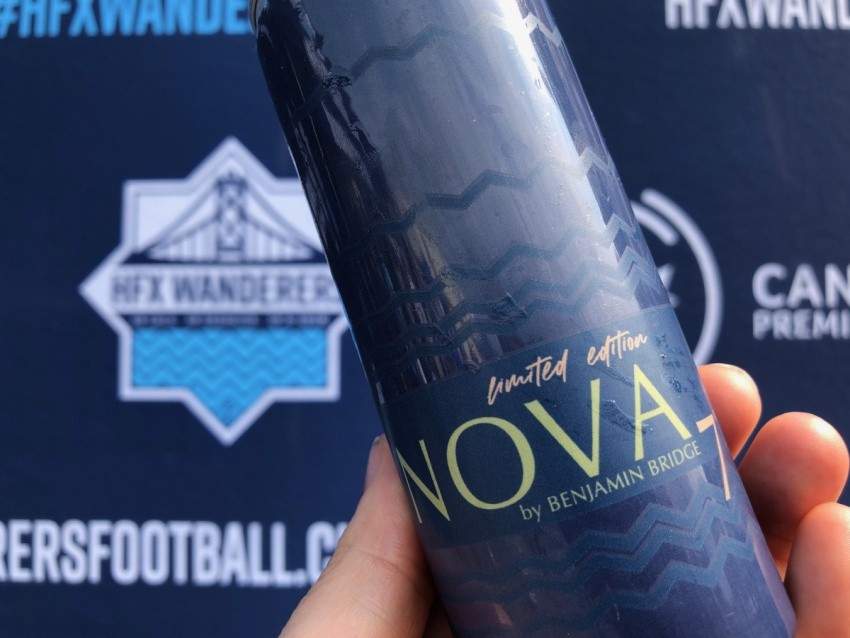 According to Alex MacMillan, spokesperson for Benjamin Bridge, the Wanderers Nova 7 wine was born from a love of soccer. As the story goes, Ashley McConnell-Gordon, who manages finance and exports for Benjamin Bridge, actually lives in Calgary. Her husband has connections to premier soccer there. When the couple got wind that the Wanderers were coming to Halifax, she contacted her twin sister, Dara, who manages operations on the ground here in Nova Scotia. Dara began working on the design for the label, and the rest is history. "We're pretty sure that Nova 7 is the first wine in a can dedicated to a sports team," says MacMillan.
Humble Pie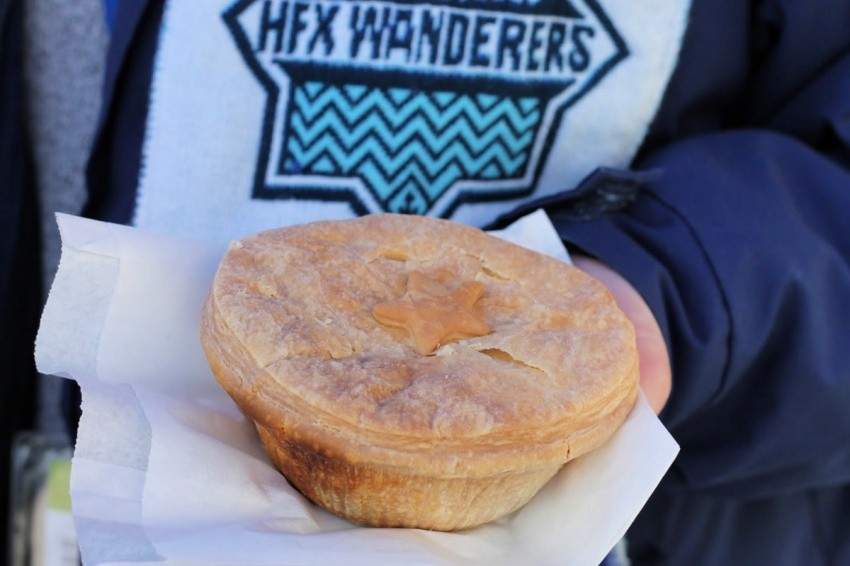 Part of Molly Noakes' job at the Wanderers games is explaining what a New Zealand pie actually is. "People think of chicken pot pie, or Shepherd's pie… we've had a couple of people who think it's fruit," says Noakes. Nope! These individual pies contain a dense filling of warm mince (ground beef), cheese, and thick gravy. In the antipodes, these are popular stadium meals, especially for rugby matches. Here in Halifax, they're a hit with soccer fans.
Verano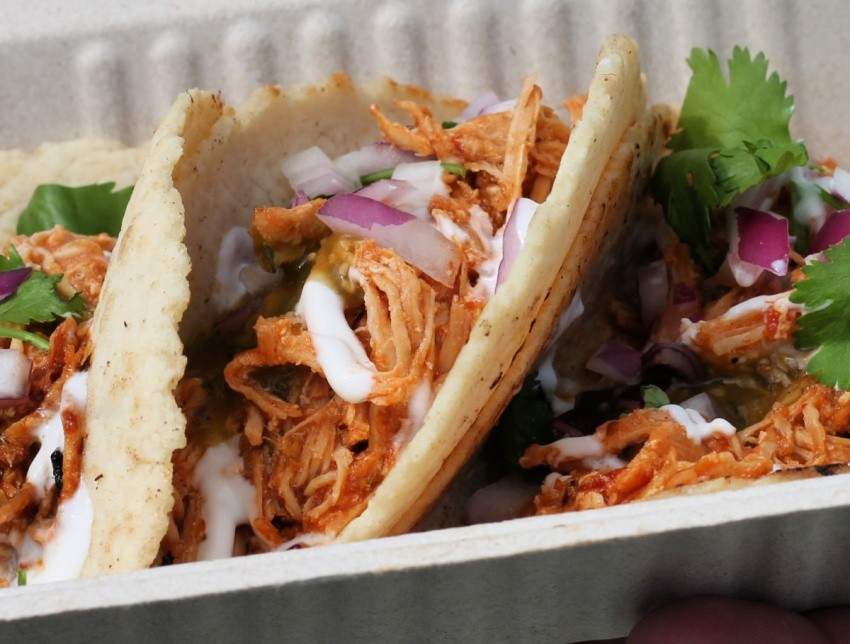 When Eduardo Jaber, owner of Verano Food, was invited to vend at the Wanderers games, it was an easy decision.
"We were really excited," he says. "We wanted to be part of this moment. The first professional soccer team in Halifax? We say, 'Yes' to that!"
Jaber, who connects his Mexican nationality to his love for soccer, says that sometimes, the weather can be a challenge when serving hot, fresh food outdoors, but otherwise, he loves vending at the Wanderers games. On offer are three kinds of tacos: chicken tinga braised in a chipotle tomato sauce, braised pork shoulder with dried peppers and chipotle, and hongos (mushrooms) with salsa verde for the vegetarians--all served on handmade tortillas, made fresh at their restaurant on Hollis Street.
Sully's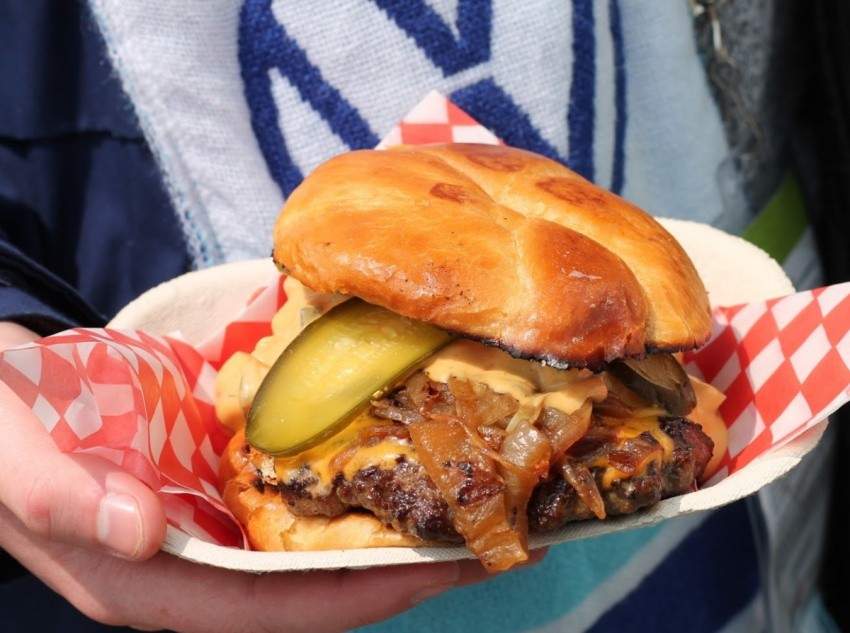 "We decided to do a few things," says Sean Sullivan, owner of Sully's food truck, "and do them really well." Sully's hot dogs are from Nathan's—the best hot dogs in the world, according to Sullivan. The burgers are fresh and made with a brioche bun from local LF bakery and homemade sauces. The smoked meat sandwiches are made with briskets brought from Montreal, served with Putter's pickles, which are also not available in Halifax. Finally, Sully's homemade onion rings are a cut above the rest: crispy, hand-sliced, with a hint of curry.