When I rediscovered Moncton, New Brunswick on returning to the Maritimes from overseas ten years ago, I was enthralled with the city's culture. A direct train link to Halifax suggested possible frequent weekend getaways. The small downtown core was easily walkable, and French—the exotic language of love and gourmet cuisine— was spoken everywhere.
But alas! Apart from a sweet trip to a local sugar shack, the most interesting thing we ate that weekend was the hotel breakfast.
Moving ahead to present day, things are changing for the better in New Brunswick's largest city. The award-winning Tide and Boar Gastropub has a reliable menu of delicious, fresh comfort food and satisfying brunches (think brunch, exotic poutines, homemade ketchup), while the short stretch that is Main Street has a fun selection of fast food restaurants, pubs and sushi bars, perfect for an unsophisticated late-night chow down.
But the real culinary change in Moncton is further north on St. George Street, and Alma and Botsford Streets—areas that, in the next few years, are likely to usurp Main Street as food central. There is change too, on the outskirts of the city at the famous Magnetic Hill (an age-old tourist adventure where your car, when placed in neutral, appears to roll uphill), where a local farming family is making the province's first gentle waves in the Canadian wine and hospitality scene.
A decade after my first visit, I returned to Moncton, New Brunswick to discover a city on the cusp of a culinary change, thanks in part to these three passionate chefs, and visionary winemaker.
Camille Pluymackers, Manuka
A meal at Manuka begins slowly, with a glass of wine, and dukka, an Egyptian preparation of ground seeds and herbs, served with olive oil and bread. From there, you work your way through a sophisticated table d'hôte menu (French inspired but with creative international twists) refreshed every two weeks according to availability of local ingredients, and the passions of the talented and delightful French-Belgian chef, Camille Pluymackers.
Pluymackers came to Moncton six years ago, after travelling, and eventually falling in love with local Monctonian Andre Leger. Two years later, they opened Manuka, a restaurant that has raised the bar for restaurants in Moncton, in terms of its attention to local ingredients.
"In France or Belgium, it's really common that you use the ingredients of your region," says Pluymackers. "I realized when I arrived here, there's so much fast food, and people don't take time, don't really worry too much about what they eat… that was an important thing for me, to offer fresh, homemade food with local ingredients. It's sad to say, but there are not many restaurants in the city that work with that philosophy."
From homemade pastas to sous-vide beef sirloin, to comfort dishes like curries and shepherd's pie, there is a fresh and delicate European flair to everything Pluymackers presents, a complement to her lighthearted approach to menu design.
"I usually never do the same dish," says Pluymackers. "I get bored really quickly. If you come one month and you come the next month, and you take the filet mignon of pork, it won't look the same. I love creative cuisine."
Michel Savoie, Les Brumes De Coude
Across the road at a hip bistro, Les Brumes de Coude, which opened within six months of Manuka, chef Michel Savoie reflects on the changes he has seen in Moncton over the past four years.
"I would try to start with a positive note, that it is changing," he says. "The other side is that it is still pretty much a burger town, so people that love burgers, they're going to get their money's worth when they come to Moncton."
Savoie says that when he first returned to Moncton, he was full of ambition to introduce French cuisine.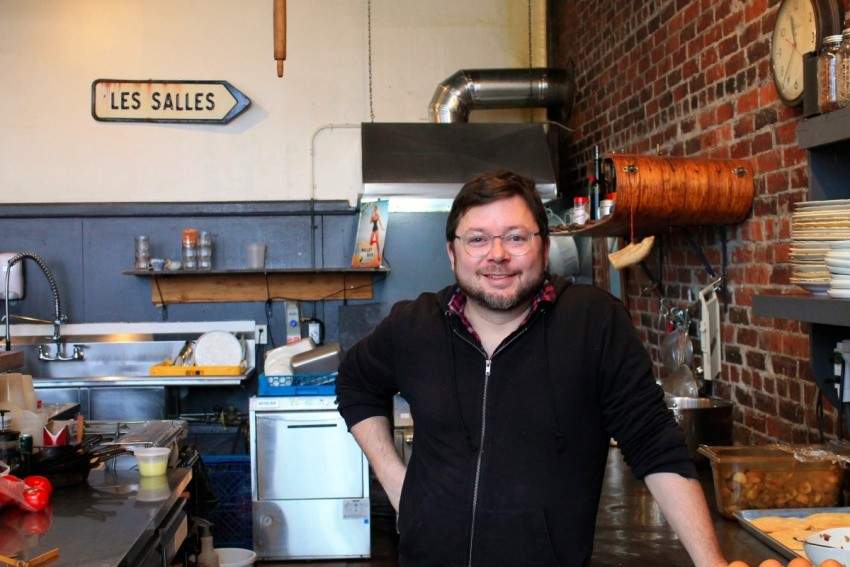 "At the beginning, I came back from France to share what I was eating and cooking, but I wasn't able to because people were not there yet. So right now, it's just little by little, steps that they can understand. Maybe later, I'll serve kidneys, offals, dishes that are a little more complex."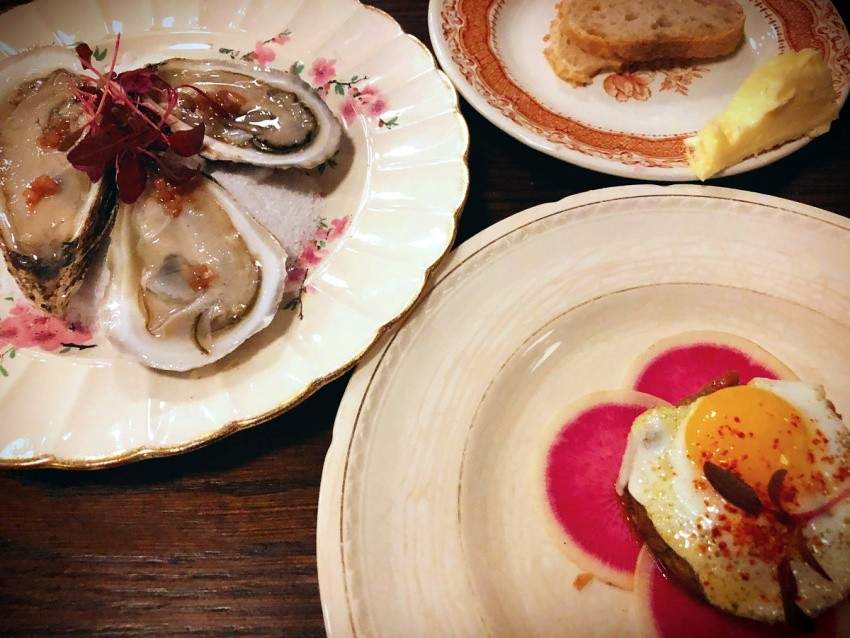 "It's so important to share knowledge and experience," Savoie continues. "There is so much more than just eating burgers.
Benoit Leger, Domaine de Parkton
Notre Dame de Parkton is a small, quirky diner with a distinct local flavour, slightly off the beaten track on "gritty" St. George Street. Its most defining feature is the wacky Catholic-inspired décor… until you sit down for lunch and taste homemade bacon, baked beans, barbecued meats and delicious sandwiches, all served on cool vintage cafeteria trays.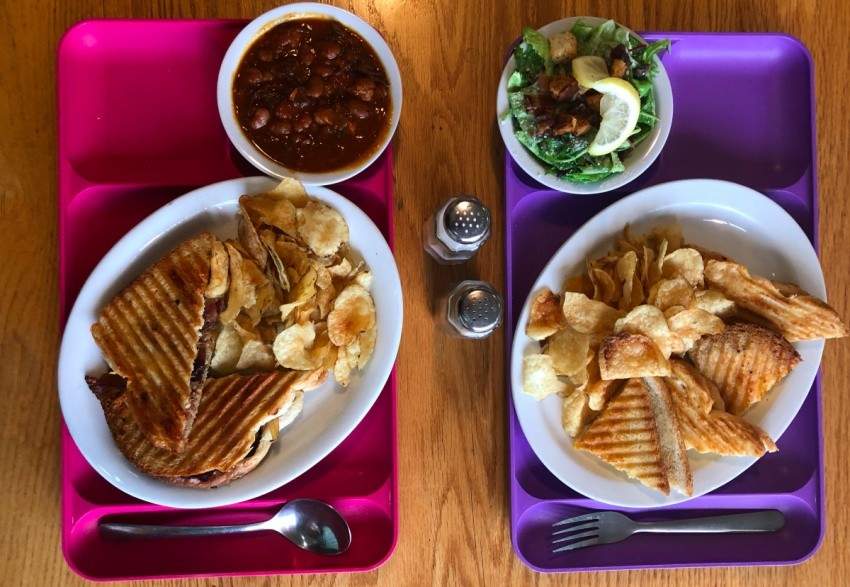 Owner Benoit Leger, who grew up in the nearby eponymous Parkton suburb of Moncton, describes the rejuvenation of St. George Street, an area in which he has faith.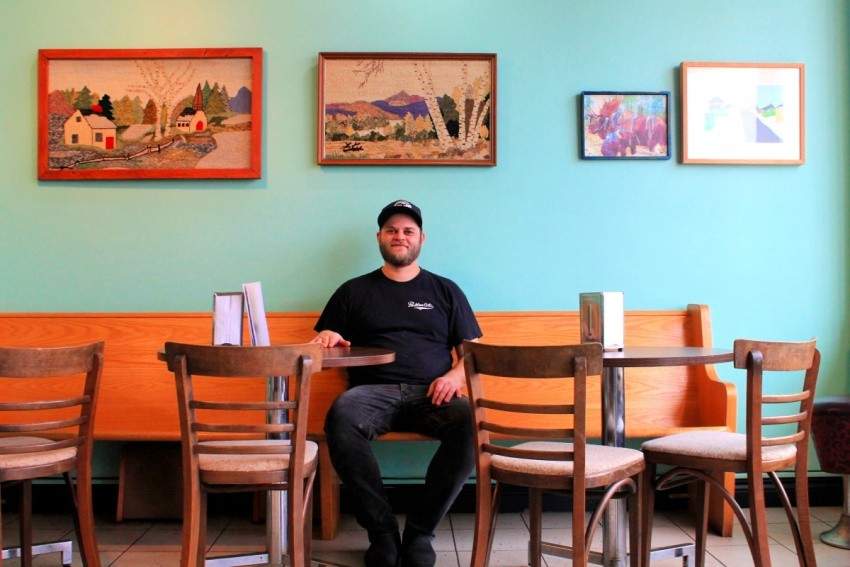 "We like to think that we're doing our part," says Leger, whose brother, Marc Leger, owns the popular Laundromat Expresso Bar on the same block. "It's sort of the rough part of downtown Moncton, to a certain extent."
Main Street Moncton, he says, has been going "downhill," with a lot of empty retail spaces, while St. George Street is going in the opposite direction.
Zach Everett, Magnetic Hill Winery
Anyone who thinks Moncton is too cold to have a wine industry hasn't encountered the Marquette, Frontenac or Petite Pearl: grapes cultivated in the equally frigid regions of Minnesota and Wisconsin, where vines can survive up to -35 degrees.
At Magnetic Hill Winery, the Everett family, formerly in the raspberry business, put their first grapes in the ground nine years ago. This year, they bottled more than 100,000 wines and completed construction of an absolutely stunning winery and tasting room, which overlooks the Moncton Zoo, a waterslide park called Magic Mountain, and Magnetic Hill itself.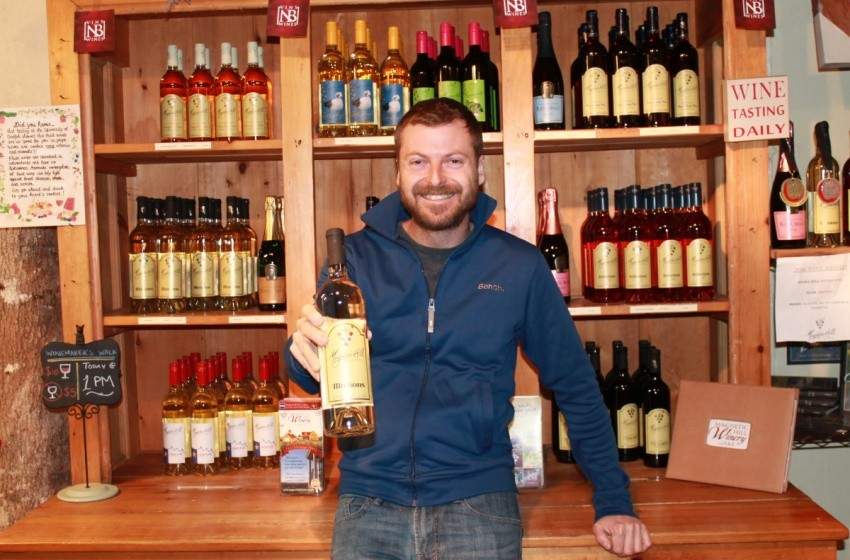 Zach Everett, a young winemaker with enough passion to thaw anyone's doubts, explains some unexpected advantages of an urban winery. "We're on a beautiful hill here, with lots of sun. The cold air from here drains down into the city. I love the fact that the parking lots from the zoo and Magic Mountain actually help warm up our vineyards even more. You're going to have that urban heat effect that actually helps me."
Everett describes his dual role as a winemaker, and an ambassador for an emerging industry. "In a sense, we're starting an industry; we're promoting an industry. We have to convince everybody from New Brunswick and the Maritimes that New Brunswick can make wine."
Consistently winning awards at Canadian championships, an exciting wine to try is Illusions, a delicate white-blush, named for its surprising main ingredient (you will have to guess for yourself when you go) or the cheeky sweet dessert wine, Maple Swish, aged in retired bourbon barrels, sourced from American distilleries.