With industrial decor, good music and large modern canvases on the walls, dinner at Fredericton, New Brunswick's newest restaurant, 11th mile, begins with a refreshing snack of mussels escabeche and continues with a parade of sharing plates. These include a warm salad of roasted broccoli with walnut crema and kohlrabi cress, delicate beef carpaccio, roasted patata bravas served with ssamjang and aioli, and our favourite - tender beef on a bed of brussels sprouts with a gochujang vinaigrette.
My partner and I, having started with a couple of cocktails and now in the company of good wine, devour each plate, hoping for some equity in the share, only occasionally feigning deference to our manners: "go ahead dear, you have the last bite." But when dessert comes, I leave my companion with his spoon dangling, as I slide an old-fashioned floral teacup and saucer toward my side of the table. Its contents - a buttermilk and milk chocolate panna cotta with dark chocolate sauce and cocoa nibs, topped with Chantilly cream - is just too good to share.
So why, when I announced that I was heading to Fredericton for dinner, was 11th Mile not on the tip of everyone's lips? More to the point, why did everyone try to send me to the Greek restaurant that's been there for 30 years?
In a city that is four times smaller than Halifax and 100 times smaller than Toronto, the experience at 11th Mile reflects a city on the cusp of a food revolution. At the forefront of change are owners Chef Peter Tompkins and Jennie Wilson, a husband and wife team who returned home after two decades in Toronto, where Tompkins was head chef at Noorden Food Bar.
Wilson and Tompkins opened 11th mile in September 2017, injecting new flavours and a transformational approach to service into Fredericton's food culture.
"People really want to tell you that Fredericton doesn't care about food," says Wilson, who describes some of the challenges of opening a modern restaurant in a city that gravitates toward pub grub. "There has been a lot of pushback that this is a strange place."
Craft cocktails and sharing plates: a change in culture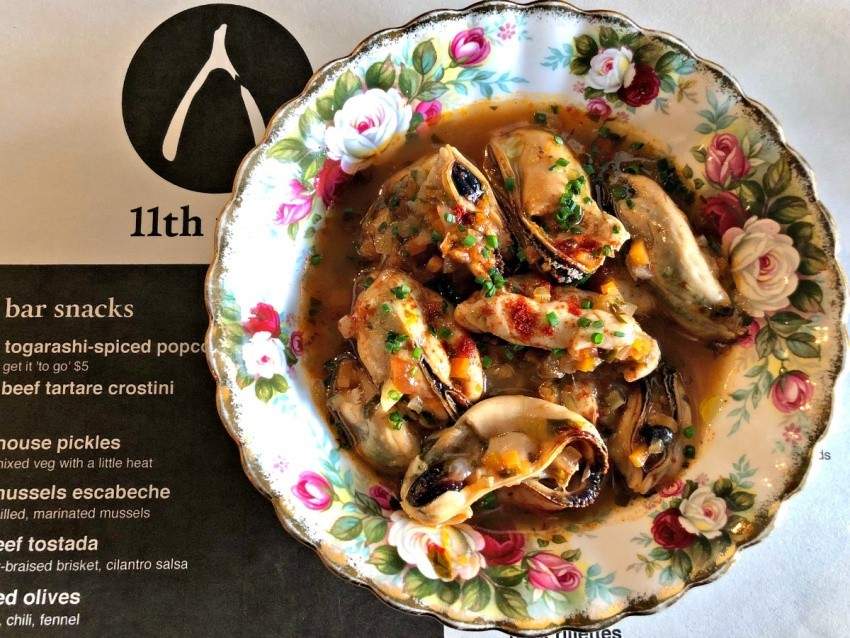 One of the main challenges is in selling the concept of social dining - a flexible menu with snacks and small and large sharing plates. Wilson says that she has to do a lot of explaining to nudge customers away from the idea that they must order an appetizer, followed by the main course.
A second challenge is a translation. "They see words that they don't understand like 'brassica or patata bravas', says Tompkins, "and it seems weird. These are not crazy things, but we're not also not putting it on the menu in a way that is as familiar to people as they would expect."
"There's a little bit of confusion as to what is a craft cocktail," adds Wilson.
But while they persuade customers to eat their brassica ("everyone who has it, loves it" promises Tompkins), there is a far more impactful change happening behind the scenes.
Setting the table for equitable compensation
Inspired by New York's Danny Myer, and Toronto's Jenn Agg, Wilson and Tompkins are passionate about creating a kitchen that is free of hostility, and a staff that receives equal compensation for hard work.
"We wanted to see what kind of culture we could create", says Wilson, "so we said OK, anyone who comes and interviews, they're going to have to understand that they're going to be sharing their tips with the back of the house."
The reaction? "There wasn't a person who interviewed who said 'I don't want to do that,'" says Wilson.
She adds that the sheer volume of enthusiastic cooks that applied for jobs was an added delight, compared to Toronto, where "you're begging people to work in the kitchen."
And so, at 11th Mile, the lines between front and back of the house are intentionally blurred. Everyone serves, and everyone helps with the dishes. "Sometimes people think Peter is the dishwasher," laughs Wilson.
We're also bringing chefs out to serve food as much as they possibly can," says Tompkins, "so they get that joy where you put it down…you look at that person's face and you see they're happy."
540 Kitchen and Bar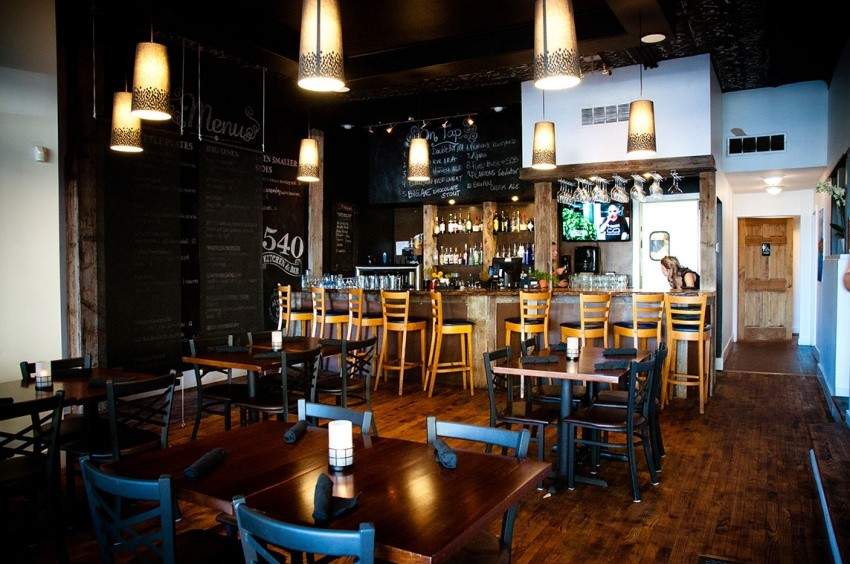 Although they're the newest place in town, they're not the first to nudge Fredericton in the direction of change. Four years ago, a small gastropub gently blazed the trail.
The success of 540 Kitchen and Bar, which opened in June 2014, told Wilson and Tompkins that time was right for 11th mile: "We saw 540 open just around the corner and they were sort of the first fresh new thing, and their success was quite encouraging to us."
Ted Jones is the owner of 540. He says that patience – and knowing your crowd, is the key to opening up a new restaurant in Fredericton.
"I'm going to assume Halifax is behind Toronto and Montreal three to five years," says Jones, "and we're three to five years behind that, so you know, you might have an idea, and you just sort of put it on hold… you think, oh, that might be fun to do, but we'll do that in a few years."
Jones also notes some differences in dining culture between big and small Canadian cities.
"Maritimers drink at home," he explains, "Here the bars close at two. People will drink 'til one o'clock at home, and then go out for an hour."
Lunch at 540 is approachable and affordable. A delicious shrimp green curry has just the right amount of heat. For dessert, the cheesecake provides a great example of the slow change that Fredericton may or may not be ready for. "Just to let you know", warns our server, "it's deconstructed." When the dish arrives, she carefully describes each element: piped cheesecake filling, carrot cake crumble, rhubarb sorbet, local honey tuile, and because it's the Maritimes: blueberry compote, canned over the summer.
Getting people into downtown Fredericton
One of the positive aspects of opening a small restaurant in the Maritimes is the community support.
"When we opened, we received four bouquets from neighbouring restaurants and pubs," recalls Wilson, "they seem to understand that a rising tide lifts all boats; we have to work together."
"And I guess there is a collective realization that we need to get people into downtown Fredericton," adds Tompkins, echoing the words of Jones, "It's not that they're going somewhere else, they're just not going out."
Broken Rice Street Food
Since their opening, Wilson and Tompkins have arranged two bartending competitions, most recently inviting Evan McNeil from Halifax's Lot Six. "Evan kicked our butts", laughs Wilson, "which was supposed to happen."
They have also hosted a pop-up restaurant, featuring their cook Steven Coyle's sideline business, Broken Rice Street Food.
"Steven came to us and said 'one day I do want to own my own place and I have a passion for Vietnamese food', so we just gave him the restaurant", says Wilson, "We worked for him that day. Whatever he needed."
The success of Broken Rice proves that Fredericton is ready for a change.
"It was lined up out the block," describes Wilson, "One single dish, Pho Ga. You came in, one price, he stood there, ladled it out, we helped him flip tables, his girlfriend was collecting cash and pouring water…he was sold out by 1:30."
Keep Sharp
The other cook at 11th mile, Evan Bower, has set up a traditional knife sharpening business called Keep Sharp.
"Evan, he's super into knives," says Tompkins, "I let him sharpen one of my knives one day to see if he was any good, and he was really good, and I said to him 'maybe you should think about running a little part-time business sharpening knives by hand, because there's no one in Fredericton doing it. His first pop up is in a few weeks."
Big ideas in a small city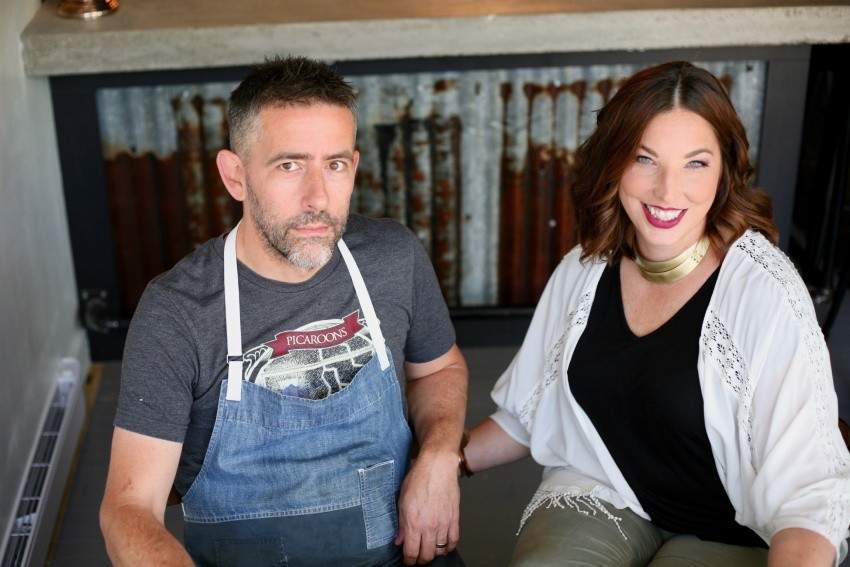 By moving back home to Fredericton, Wilson and Tompkins have been able to fulfill the dream of owning their own restaurant, and have successfully created opportunities for others who share their passions.
"Growing up here…if you don't necessarily know the right people, it's hard to get connected. We both dealt with that, so we look for opportunities for people to really shine", says Wilson.
"We are more than just a business and a restaurant," adds Tompkins, "there's an underlying philosophy that we are trying to get across."
So although it sounds like Freddy is ready, a new question has been created: could all this have worked in a bigger city?
"By coming and doing this here, it enabled us to do what we want," says Wilson, "I'm not saying we could do this anywhere else, like in Toronto. It's working right now, here."
From a customer's point of view, the proof is in the pudding (the one I refused to share).