Being a newly minted member of Air Canada enRoute's 2019 Canada's Best New Restaurants Top 10 list is reason enough to describe an eatery as "buzzworthy", but chef Dale MacKay's new Regina venture, Avenue, was abuzz months before it opened its doors in mid-June.
When the Grassroots Restaurant Group (known for Ayden Kitchen and Bar, Little Grouse and Sticks and Stones in Saskatoon) announced it was expanding to the Queen City, the excitement could be felt for miles. (Yes, you can watch your dog running away for miles in Saskatchewan, too.) Now, with the enRoute accolade under their belt, there is no doubt that the restaurant's initial popularity will only gain momentum.
Avenue is based on the same concept that Ayden has made popular: prairie ingredients served in elevated dishes reminiscent of comfort food, but with a modern edge. Just like at Ayden, mixologist Christopher Cho ensures the restaurant's craft cocktail menu and wine list are up to snuff.
For executive chef and co-owner Nathan Guggenheimer, his goal is to keep Avenue evolving as Regina continues to grow and improve.
"We're going to make sure that we're always that new cool thing on the avenue," he says.
Avenue--whether you're at the open kitchen, long banquette or next to the floor-to-ceiling windows--has quickly become a place to see and be seen in Saskatchewan's capital, thanks to a modern aesthetic that mixes warm neutral tones with grey and pops of deep plum and lime green.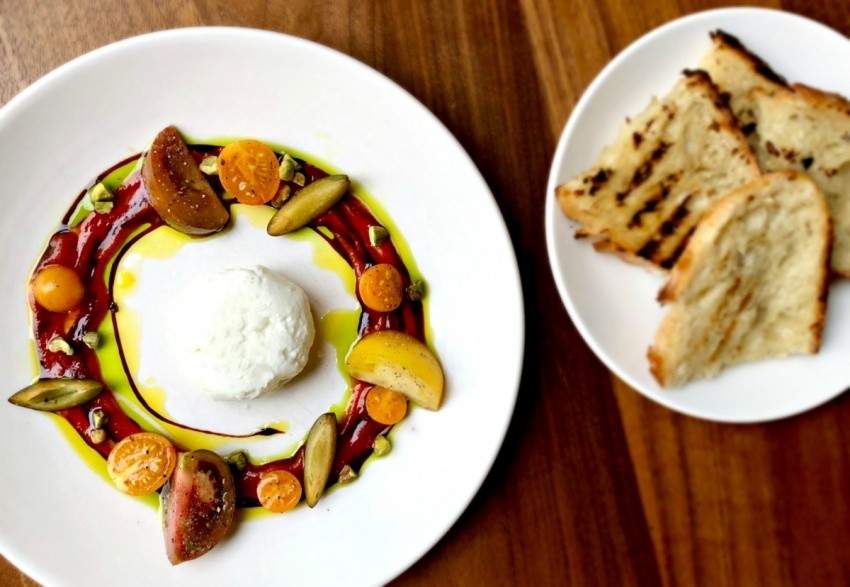 On the food side, by sourcing from a variety of Saskatchewan farmers and producers, Guggenheimer provides diners an avenue to have new culinary experiences and learn about the local food trail.
One of those producers, Allisha Grigg, operates Acre 10 Gourmet Greens just outside Regina. Earlier in the season, her heirloom tomatoes stole the show in a starter that combined house-made goat cheese, fresh plum, smoked tomato coulis, pistachio and sourdough that's baked fresh daily.
"I love that I can tell her tomatoes are grown with love," said Guggenheimer. "There's a lot of care taken. It smells great, it tastes great, it's fresh. You can just see her in the ingredients."
Similarly, Guggenheimer sources goat's milk from a farmer near Saskatoon.
"Every couple of Sundays, one of us has to drive out to pick up 170 litres of goat's milk," he laughed.
Making the cheese in-house is an important way for him to help build the local food community.
"When you find a great milk and then make that cheese yourself, I think it's just a far superior product."
Also on the snack menu is the best-selling slow-cooked pork belly: pork belly, gochujang, tamari, cucumber kimchi and sesame on rice. Served sushi-style, the dish mixes sweet and spicy Korean flavours with tender pork belly and a pop of crunch on the palate.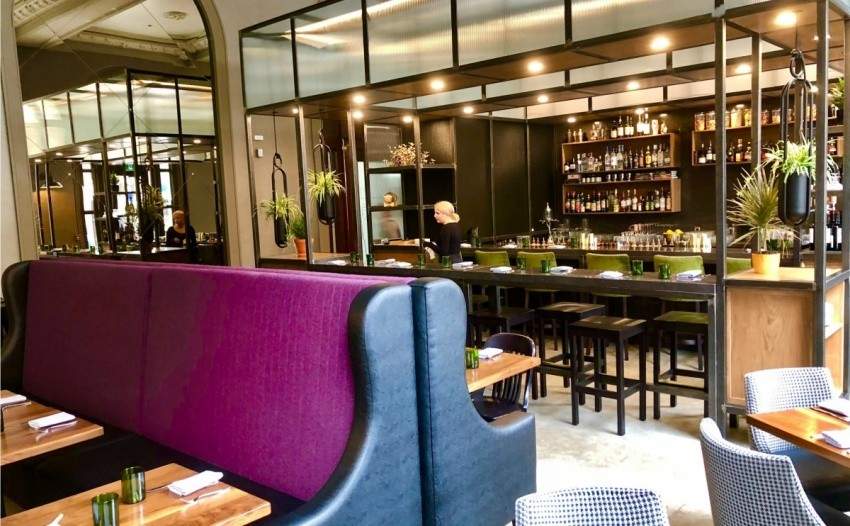 Avenue, located fittingly on 11th Avenue in the heart of Regina's downtown, is in a tastefully remodelled space that maintains the 1914 heritage building's character. Once home to the Canada Life Assurance Company, the original vault remains in the basement where Guggenheimer and his staff now have cooler storage.
Make a point of ordering the Diefenbaker trout as a main to see a dish executed to match the restaurant's colour scheme. and for dessert, try the delicately executed raspberry soufflé served alongside a sour cream sorbet with toasted oats.
No matter when, how or why you end up dining at Avenue, make sure to take a moment to appreciate the the fact that this is the first time a Regina restaurant has ever been recognized on a nationally respected list such as Canada's Best New Restaurants; yet another quality restaurant helping Saskatchewan get a piece of the Canadian culinary limelight.
I can certainly cheers with a Christopher Cho-crafted cocktail to that.