Prairie winters can be unforgiving. The regular minus 30 C mornings — not including wind chill — is no way to start your day, no matter how happy-go-lucky you are. Bundling up isn't just for the sake of staying comfortably cozy, it's practically a necessity in Saskatchewan. That being said, one of the lovliest things about our frigid Canadian months is that we can really appreciate comfort food.
Whether it's a big bowl of soup, plate of lasagna or a scoop of mashed potatoes with a rich gravy, November brings along with it a seasonal appreciation for warming meals. Perfectly embodying this idea of comfort and cozy is Saskatoon's Prairie Harvest Café.
I don't often dine in restaurants located in strip malls with ballet schools and movie rental shops, but I find myself visiting Prairie Harvest Cafe — set in a residential area — again and again when I'm back in Saskatoon. It's worth venturing away from the downtown hotspots for.
"It was a little scary at first especially since we opened in the dead of the Saskatchewan winter," explains owner and chef Mike McKeown about opening his restaurant a tad off the beaten path back in January, 2012. "I think it has remained a place to go to because we have stayed true to what we set out to do [initially] and have been consistent in our product."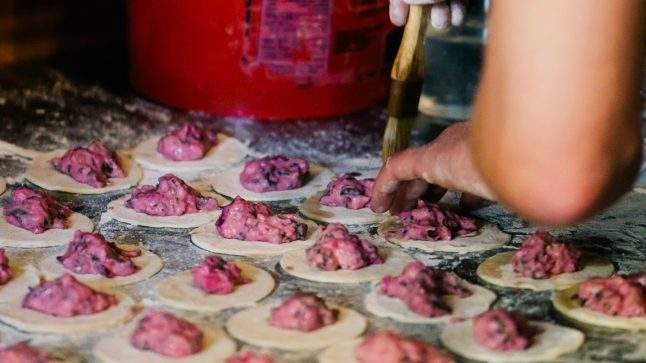 Best described as elevated Saskatchewan comfort food, McKeown cranks out signature dishes like his signature PH Lasagna, artisan perogies and made-to-order maple bacon doughnuts to a packed restaurant almost every night of the week. I've been to many cities across the country and do you know how hard it is to find good perogies? Pretty hard.
Plating appropriately to the season, one can cut into the chef's interpretation of the Ukrainian classic dish to find beets, tomato creme fraiche, dill and cabbage — think borscht in a doughy pillow, sitting on top of a dollop of creme fraiche and caramelized onions.
"The lasagna is a staple on our dinner menu," says McKeown. "It differs from other variations in the city because it's made with in-house noodles, braised beef short ribs, pork belly, in-house ground beef and layered with local tomatoes and demi-glace."
Again, something here that is best enjoyed when the snow is falling.
Chef McKeown may keep things fairly rustic on the plate at the café, but he also knows when to kick things up a notch, if his recent placement in the top three of regional round of the city's Gold Medal Plates competition is any indication. It's a testament to the chef's understanding of balance, which any diner can see stays consistent throughout the menu.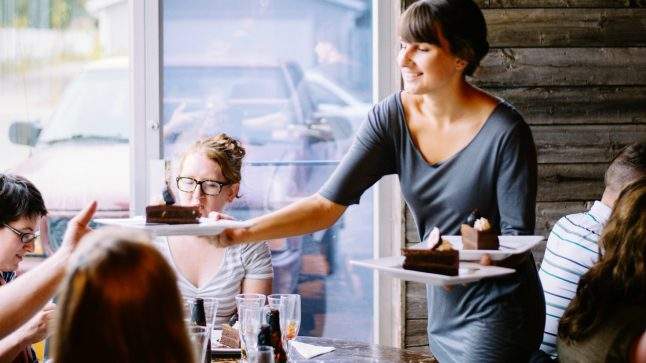 When it comes to the interior, the décor here would likely make any restaurant designer cringe, but impressing with fancy light fixtures and marble tabletops isn't really McKeown's goal. And, why should it be? Instead, the room's unabashed charm lies in the mismatched tables and chairs, the quirky art on the wall and the shape of the dining room itself, which somewhat resembles an "O" with the bathrooms in the middle. As strange as it sounds, it's a room that's hard not to fall in love with.
"It was Lee Helman's (previous owner of the space) vision to turn the weird little space into a restaurant (originally Truffles, which relocated to the downtown area, on 21 St. E.) that allowed us to do what we are doing now," says McKeown. "As for the look of the space, we wanted it to be bright and colourful, to give people something to look at while they eat."
The wilderness-meets-pop art that adorns the walls is courtesy of local artist, David Stonhouse, a long time friend of McKeown's. Everything here has a feel-at-home kind of aesthetic. During dinner service, it always feels like a family affair, with smells of slow braised meats and roasted vegetables wafting from the kitchen. It's almost like being at Grandma's house for dinner, with the exception of her overcooked pot roast and under-salted, steamed brussels sprouts.
McKeown continues: "For the chairs and tables, we wanted it to kind of remind you of home, so we scoured Kijiji and found tables, augmented them and made them fit the space. We also found a variety of mismatching wood chairs to complete the look."
One of the most commendable things about McKeown's establishment is that it sticks to what's available locally when it comes to keeping its menu seasonal. I think we can all agree that the term "local" has been used to death, but in harsh Saskatoon winters, that ideology is not easily executed. So in this case, it still impresses.
"The winter is a challenge, obviously, as the produce availability really shrinks," the chef admits. "We try to freeze what we can from the summer, and we use a lot of root vegetables. But, both Joel (sous chef) and I really love putting winter menus together in Saskatchewan as there are few things better than slowly braised meats and hot, filling pastas. [It's] a challenge, but also one of my favourite things to take on."
McKeown's eatery continues to be one of the top restaurants in the Prairie city. While other cities' dining scenes can latch onto food trends on a whim in fear of not keeping up with the (Chef) Joneses, there's something to be said about ignoring all of the bells and whistles in the kitchen and just doing right by simple ingredients.
If you can have dinner at a place like this in Saskatoon, why would you even care how cold it is outside?
Another plate of perogies, please!
(2918 Early Dr, Saskatoon. Twitter: @PHcafeSK)
Photography courtesy of Bob Deutscher.