A multi-course meal comprised of foraged wild foods, locally-sourced produce and bison, prepared on a hilltop overlooking sweeping sunset views of the South Saskatchewan River and the Opimihaw Valley. Sound too good to be true?
It's an experiential dining event like no other, which also happens to be at Canada's longest running archeological dig site, Wanuskewin Heritage Park.
Wanuskewin, which translates to peaceful gathering place in Cree, contains 19 sites where people lived, hunted and processed their meals, along with the world's most northerly medicine wheel. Every single nation from the northern Plains tribes came to these lands at some point throughout history. Because of this, Wanuskewin is on the tentative list as a UNESCO World Heritage Site. If it's approved, it will become only the second site on the Prairies to be recognized in the same ranks as Machu Picchu and the Great Barrier Reef.
The Han Wi Moon Dinners educate about the park's history and bring that history forward in an event that combines traditional Indigenous cuisine with modern culinary methods.
The evening begins with an interpretive walk through the park, where guests learn about everything from bison jumps to the sacred significance of tipis. Chefs Jenni Lessard and Kirk Borchardt greet guests with a pre-dinner treat: bannock roasting over an open fire. Crushed saskatoon berries with wild mint and spruce tip butter await for spreading on the hot bannock.
Lessard, Wanuskewin's new executive chef, foraged some of the ingredients earlier in the season (spruce tips in June, saskatoon berries in July) so she'd have enough for each dinner, held monthly from May to September.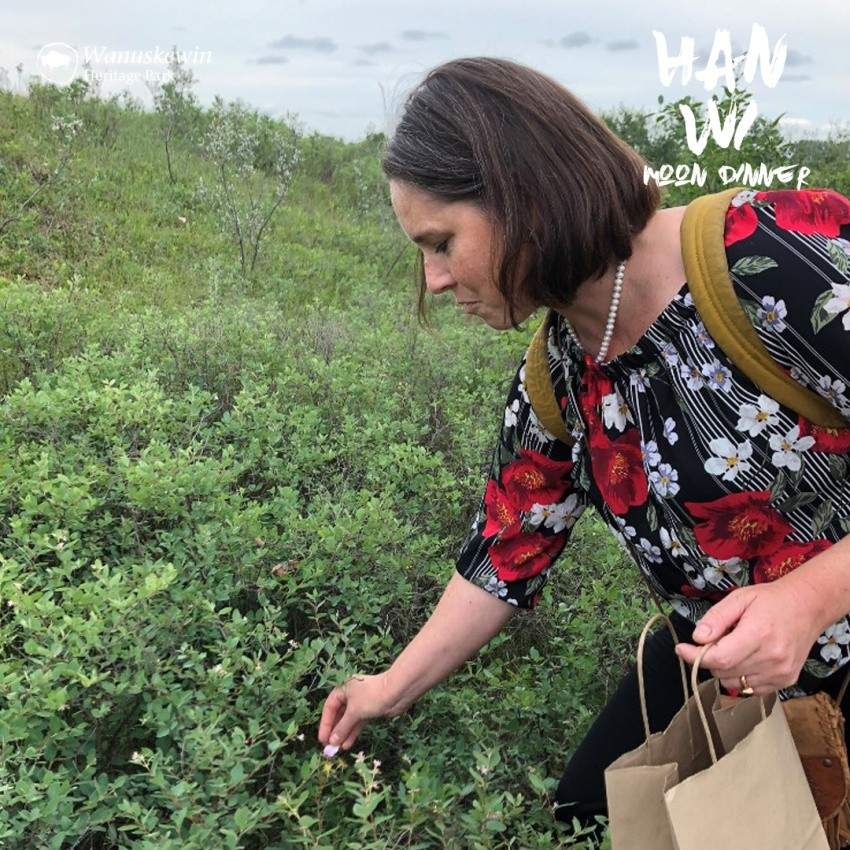 She picked chokecherries, mint and nettle in the valley on the day of the August dinner. She follows foraging guidelines, never taking more than she needs.
"It's a real gift and a privilege to be able to share with people the bounty, the fruits, the herbs and the medicines that people have been harvesting for thousands and thousands of years," she says.
Lessard, who has been involved with Han Wi since its inception two years ago, carries over some of the ingredients for the following May's dinner.
"I process, freeze, dry things for the next year, like wolf willow berries. I make a powder and save that. In the fall, I'll take the tamarack leaves when they turn yellow and I'll make a tamarack curd and freeze that. The seasons blend into the meal."
Juniper and lemon northern pike cakes over nettle purée were served with lettuce from the askîy garden in Saskatoon (an urban agriculture internship for Indigenous and non-Indigenous youth), chokecherry vinaigrette, toasted sunflower seeds, fried yarrow and dried bison. The main course was a succulent affair: smoked and seared bison tenderloin topped with spruce tip butter.
Stars poked through the clouds as dessert was served in little glass mugs: brown butter and sage custard with a wild rose petal coulis. So too was the moon, beckoning us all back to stories, singing and drumming (courtesy of Curtis Standing and Teedly Linklater), around the campfire as the sun dipped below the horizon.
Lessard would like to hold a winter dinner at some point, perhaps in Wanuskewin's tipi village.
"People lived off this land, in these shelters, as a community. And storytelling was a huge part of it. You enjoyed the fact that you weren't starving because in the summer you went out and harvested enough to last."
Han Wi Moon Dinners run from May to September at Wanuskewin Heritage Park. Each dinner is kept to just 20 people to minimize impact on the land. The park is taking bookings for 2020 dinner dates, which are already half sold-out.