The popularity of classic cocktails has been on a sharp rise in North America for the last few years, and that's no exception even in a smaller, less cosmopolitan city like Saskatoon. Restaurants like Ayden Kitchen and Bar, by Top Chef Canada winner Dale MacKay, have embraced this delicious and boozy trend. More cocktail options are popping up on menus in Saskatoon every month.
I bellied up to the bar one evening to talk all things cocktail with Ayden bartender Chad Coombs. I've known Coombs for years, and even written about him before, because he is a wicked, take-no-prisoners photographer and artist. So, it was fascinating for me to watch him in this element. It didn't escape me that the time and care one puts into mixing a cocktail, and the imagination involved in dreaming up liquid creations, make tending bar an artistic endeavour of sorts.
Coombs got into bartending and cocktails while he was living in Toronto, where they say, "If you don't know how to make an Aviation, don't apply." He had some previous experience, so he was able to get his foot in the door. (And he makes a damn good Aviator!) When Coombs and a supervising bartender disagreed over whether a drink should be shaken or stirred (an argument he subsequently lost, because the other guy was the boss), it spurred him on to do some research, and he discovered that he had been right--the drink should have been shaken. Doing this research really lit the fire of fascination within Coombs, and he started to embrace the history and design of many of these drinks.
"Stories and urban legends won me over," he says, making me a drink that's aptly called The Saskatchewan. Legend has it that this cocktail was served in the 30s and 40s in the Hotel Saskatchewan in Regina.
While Ayden has a hard-working cocktail list, I wanted to get Coombs' take on classic cocktails that you can make at home without too much trouble. Sure, it's fun to go out for a few drinks, to see and be seen, but there's also something to be said about sticking around home while impressing your guests, and your taste buds, with your cocktail crafting prowess.
So thanks to Ayden and Chad Coombs (as well as head bartender Chris Cho, who popped by while Chad was getting me sloshed), for giving us some cool, yet simple, recipes for cocktails you can mix at home.
The Saskatchewan
A bittersweet cocktail with tones of lemon and honey.
1 ½ oz rye
½ lemon (squeezed)
½ oz honey water (honey dissolved in hot water)
A dash of angostura bitters
There are a few things you'll want to keep on hand to have a versatile bar in your house. You don't need to go crazy, but there are a couple of items that you can use in multiple drinks. In this case, it's the Angostura bitters. I keep them around because I pour a lot of Old Fashioneds into my booze hole at home and bitters are one of the ingredients in that classic. You can buy them at specialty stores (like Ingredients in Saskatoon).
"They're a small investment that give you some flavours to play with," says Coombs.
The Aviation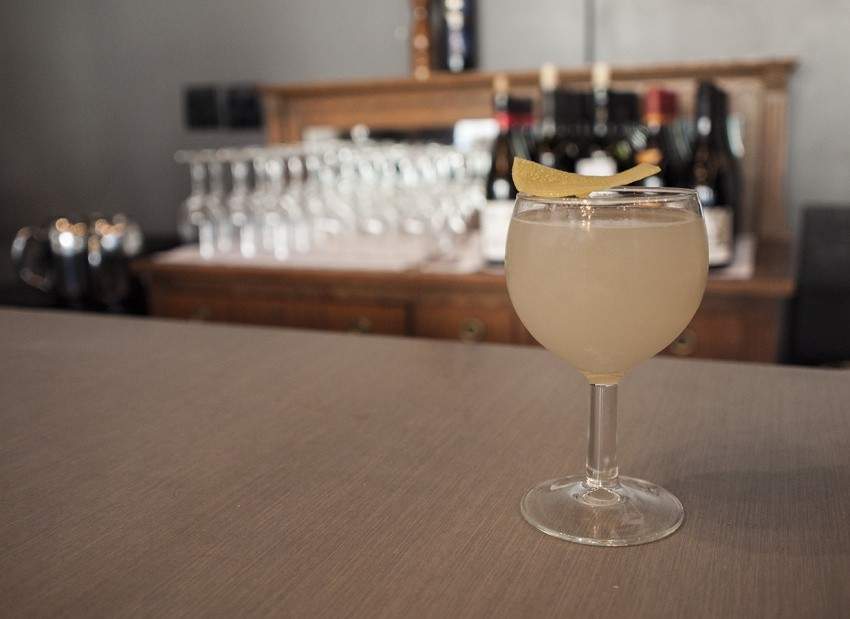 Bright and lemony, but with a bit of boozy bite as well.
"It should be the colour of early morning perfect sky," Coombs says. One gets the sense that this was an eye-opener for pilots in another time.
1 bar spoon of Crème de Violette
1 ½ oz. gin
¼ oz. maraschino
½ oz. lemon juice
Maraschino is another versatile must for novice bartenders, and like the bitters, a bottle lasts a long time.
The Last Word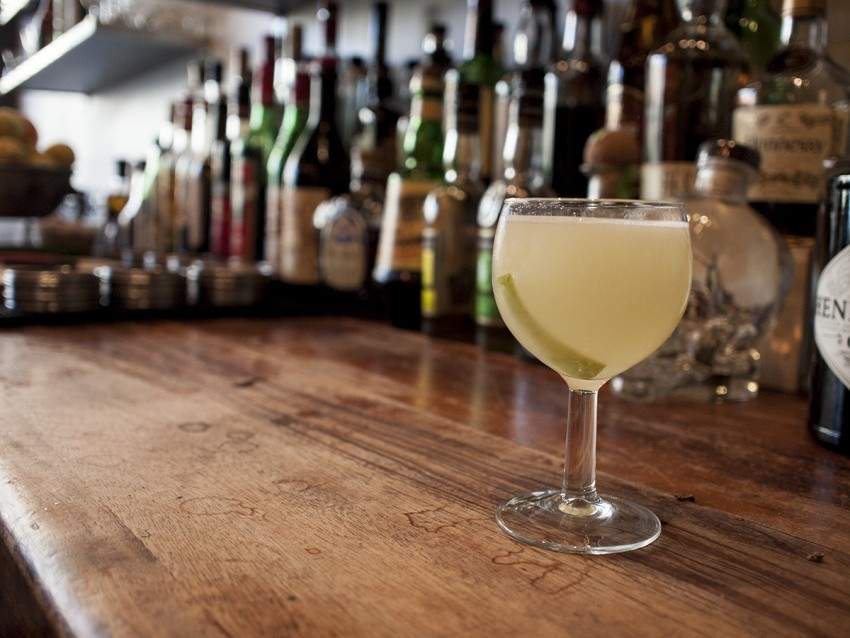 A prohibition era cocktail that was created at the Detroit Athletic Club and rediscovered in Seattle years later. A balanced drink that's kind of sour and kind of sweet.
Equal parts:
Gin
Lime
Maraschino
Green Chartreuse
Like Maraschino, green Chartreuse is another staple cocktail ingredient that the home bartender should keep around the house to kick their game up a notch. It's a French liquor with more than 130 herbs, plants, and flowers. Monks have made Chartreuse since the 1700s, and the exact recipe is actually a secret. Remember the urban legend about the two executives from Coke that know parts of the recipe and aren't allowed to travel together? Well, that is a reality with Chartreuse. The recipe is prepared by, and only known at any given time, by two monks.