If you hear a quiet chattering in the air, it's likely the collective sound of restaurateurs across the country nervously nibbling their fingernails as they wait with baited breath for the Canada's 100 Best 2023 list to be revealed.
Alright, that's a tad dramatic, but it's hard to deny that this annual unveiling is one of the most talked-about annual restaurant lists in the country.
From award-winning Vancouver restaurants like Published on Main and L'Abattoir to Lupo in Banff, Edmonton's Biera, Calgary's River Cafe, Alo, and Bar Kismet in Halifax, the 2023 list of Canada's 100 Best has officially arrived. While not everyone will be happy with the results, it is an undeniable coast-to-coast celebration of Canadian cuisine.
Exciting things to note on this year's list are Bar Kismet landing in the 12th spot, the highest-ever ranking for a Nova Scotia restaurant, Mon Lapin taking the number one spot for the first time, and Edmonton returning to the list for the first time since pre-pandemic. Manitoba's deer + almond and Maque have also made the cut this year, but Saskatchewan is nowhere to be found.
Anyone else surprised with how many Ottawa restaurants wound up in the Top 100 this year? Perhaps another trip to the country's capital is warranted!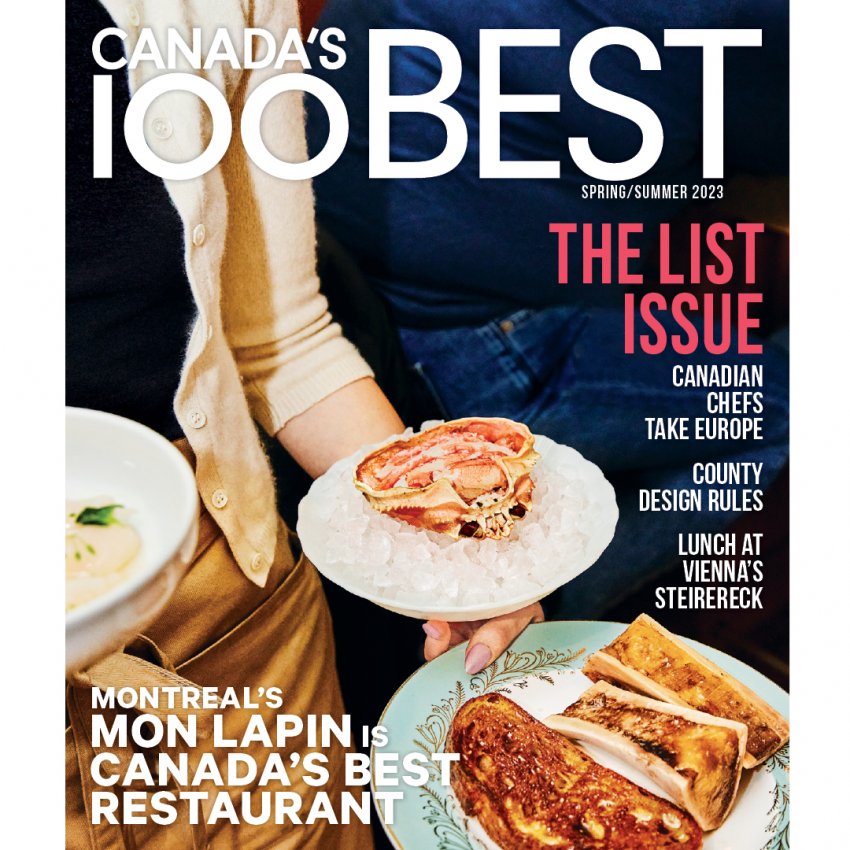 1. Mon Lapin (Montreal)
2. Alo (Toronto)
3. Published on Main (Vancouver)
4. Edulis (Toronto)
5. The Restaurant at Pearl Morissette (Jordan Station, ON)
6. St. Lawrence (Vancouver)
7. Langdon Hall (Cambridge)
8. Beba (Verdun)
9. AnnaLena (Vancouver)
10. Kissa Tanto (Vancouver)
11. 20 Victoria (Toronto)
12. Bar Kismet (Halifax)
13. Major Tom (Calgary)
14. Giulia (Toronto)
15. Pichai (Montreal)
16. Monarque (Montreal)
17. Prime Seafood Palace (Toronto)
18. Canoe (Toronto)
19. Sushi Masaki Saito (Toronto)
20. Hawksworth (Vancouver)
21. Montréal Plaza (Montreal)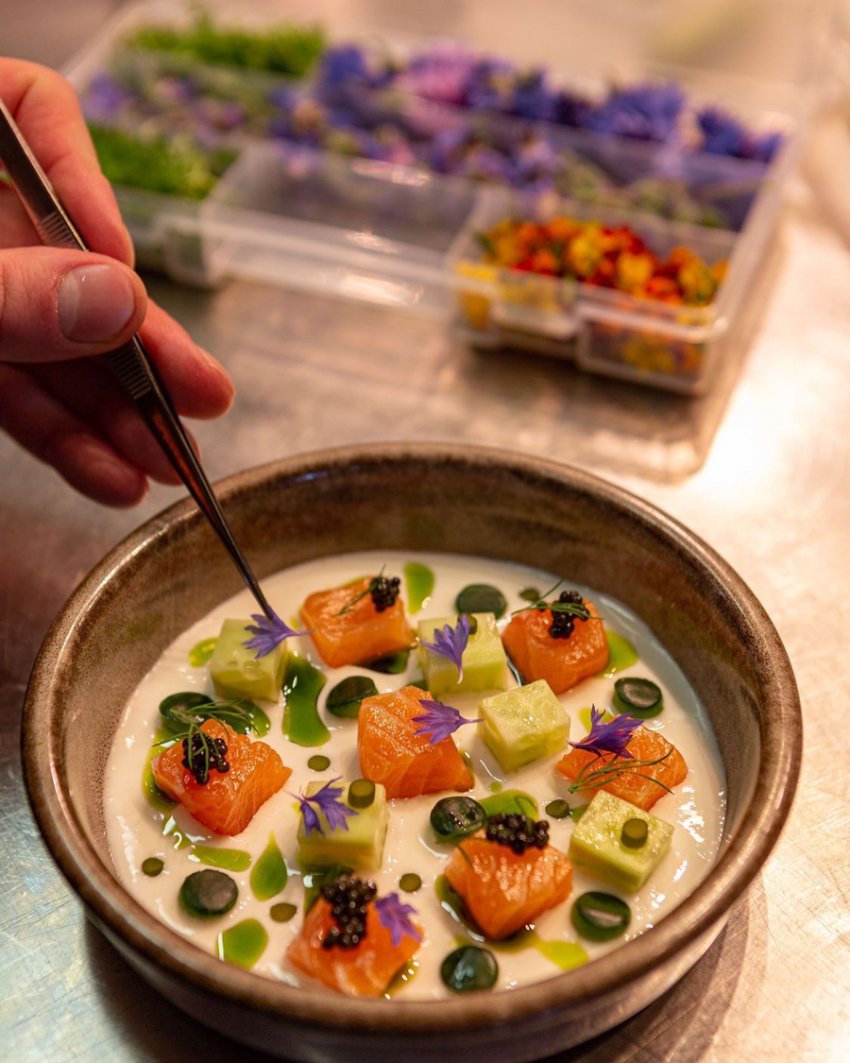 22. River Café (Calgary, pictured above)
23. D.O.P. (Calgary)
24. Joe Beef (Montreal)
25. Mimi Chinese (Toronto)
26. Quetzal (Toronto)
27. L'Abattoir (Vancouver)
28. Moccione (Montreal)
29. Dreyfus (Toronto)
30. Salle Climatisé (Montreal)
31. Alice (Ottawa)
32. Giulietta (Toronto)
33. Pluvio (Ucluelet, BC)
34. Hexagon (Oakville)
35. Don Alfonso 1890 (Toronto)
36. Gia (Montreal)
37. Eight (Calgary)
38. Bernhardts (Toronto)
39. Cabaret l'Enfer (Montreal)
40. Shoushin (Toronto)
41. Le Mousso (Montreal)
42. Portage (St. John's)
43. Boulevard (Vancouver)
44. Mott 32 (Vancouver)
45. Toqué! (Montreal)
46. Pompette (Toronto)
47. The Pine (Collingwood, ON)
48. Paloma (Montreal)
49. Riviera (Ottawa)
50. Île Flottante (Montreal)
51. Oca Pastificio (Vancouver)
52. Masayoshi (Vancouver)
53. Nora Gray (Montreal)
54. Bearfoot Bistro (Whistler)
55. Mastard (Montreal)
56. L'Express (Montreal)
57. Drift (Halifax)
58. Bouillon Bilk (Montreal)
59. Deer and Almond (Winnipeg)
60. La Cabane d'à Côté (St-Benoît de Mirabel, QC) 61 Chez St. Pierre (Rimouski, QC)
62. Arlo (Ottawa)
63. Supply and Demand (Ottawa)
64. The Bicycle Thief (Halifax)
65. Café Boulud (Toronto)
66. Wild Blue (Whistler, BC)
67. Willow Inn (Hudson, QC)
68. Le Vin Papillon (Montreal)
69. Cioppino's (Vancouver)
70. Maison Publique (Montreal)
71. Tojo (Vancouver)
72. Otto (Montreal)
73. Maenam (Vancouver)
74. Café Lunette (Halifax)
75. Lulu Bar (Calgary)
76. The Inn at Bay Fortune (Bay Fortune, PEI) 77 Lonely Mouth Bar (Calgary)
78. Arvi (Quebec City)
79. Burdock and Co. (Vancouver)
80. Parcelles (Austin, QC)
81. Jun I (Montreal)
82. Shokunin (Calgary)
83. Place Carmin (Montreal)
84. Biera (Edmonton)
85. Perch (Ottawa)
86. Tinc Set (Montreal)
87. Milos (Montreal)
88. Atelier (Ottawa)
89. RGE RD (Edmonton)
90. La Tanière (Quebec City) 91 Alma (Toronto)
92. La Quercia (Vancouver) 93 Le Serpent (Montreal)
94. Okeya Kyujiro (Montreal)
95 Lupo (Banff, AB)
96. North & Navy (Ottawa)
97. Gitanes (Ottawa)
98. Maque (Winnipeg)
99. Park (Montreal)
100. Richmond Station (Toronto)
The annual Canada's 100 Best list is the result of input from 135 hospitality professionals and food media representatives from across the country.