There are very few things that humour does not complement--except for break-ups, I suppose--so it's only natural to pair some laughs with a meal. Bridging the gap between humour and food is Toronto's Mairlyn Smith.
"I think when I said, 'I want to be an actress!' to my parents when I was young, there was some sort of filter in their ears that made them hear, 'I want to become a hooker!'" says Smith about her beginnings as a home economist.
After not becoming her parents' worst nightmare by securing a degree and becoming a high school teacher for drama and home economics, Smith took a little break to take one more crack at acting. She ended up becoming a member of The Second City comedy troupe, made famous by alumni like John Candy, Eugene Levy and Catherine O'Hara. From there, it was nothing but a whirlwind of television spots, cookbooks and learning the best way to share her knowledge of cooking and eating with her audience.
What Smith strives for, though, is no laughing matter. A professional home economist, the bestselling cookbook author and television personality is dead set on getting people to eat better.
Getting you to eat better.
Getting me to eat better.
Smith is on a serious mission to revive good eating, basic culinary skills and, honestly, just general kitchen common sense. She's taken this one step further with her brand new cookbook, Homegrown, a collection of recipes from Smith and fellow professional home economists that focus on Canadian-grown ingredients.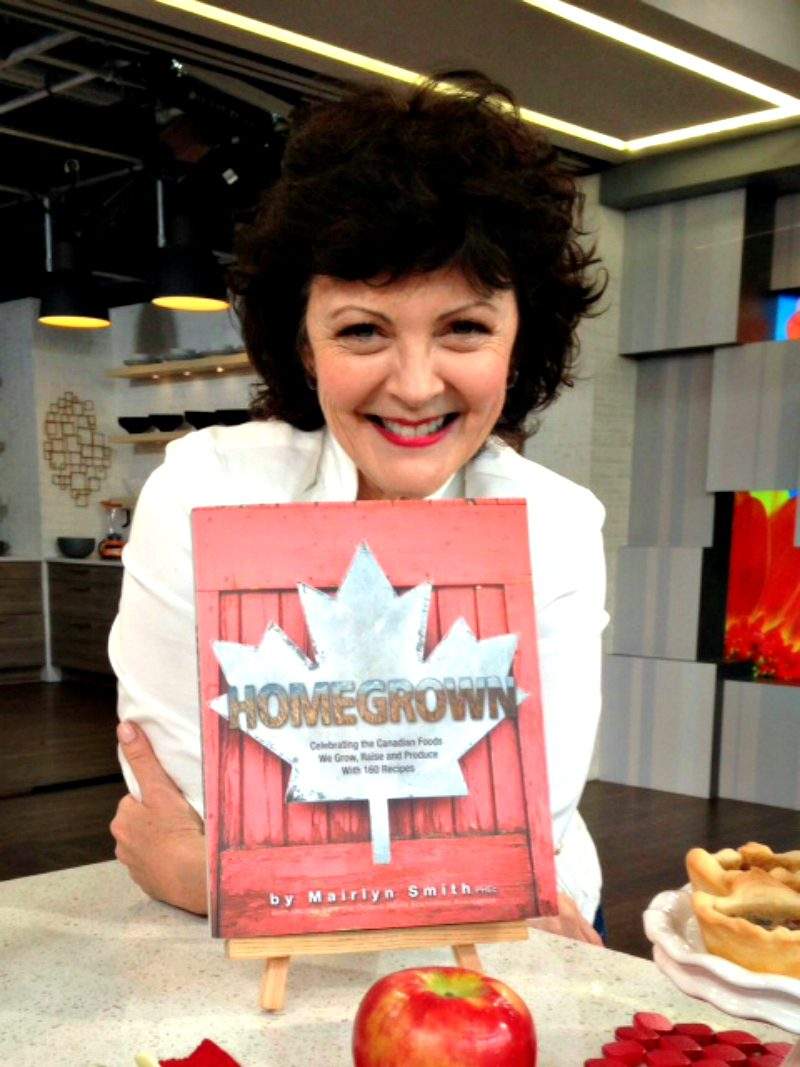 Do you think this book concept would have been of interest to the average Canadian 10 years ago?
I'm thrilled that consumers are searching out local seasonal foods. I think this is the perfect time for this cookbook to come out. We've taken that whole "eat local" mentality to a new level by embracing Canadian ingredients and not just produce--Canadian grains, Canadian cheeses, our beef, our pork, fish, VQA wine, craft beer. Use only Canadian ingredients, aside from condiments and spices. We didn't want this to be a pioneer cookbook!
As professional home economists, we wanted to make this cookbook accessible in both ingredients and instructions, and I think we've accomplished that in a wonderful way.
You always inject a bit of humour into everything you do. Is that just you by nature (I think it is!) or do you find people are more open and receptive to learning about food when they're smiling?
I come from a really funny family! My dad in particular can find humour in everything, so it's just my nature to include humour in my writing. But, I do totally agree with you that people are more with you if you offer information to them in an open and light-hearted way.
The worst thing about recipe testing for a cookbook is...
Cleaning up after every recipe. I hate washing dishes and I don't have enough room in my kitchen not to wash the dishes before the next recipe.
And the best?
When you have an initial idea, then you make it for the first time, and it actually tastes better than you thought it might! Exceeding your own expectations. It's rare, but it keeps me going.
Were there any Canadian ingredients you discovered or learned to used better while putting Homegrown together?
I'd love to say that about birch syrup, hemp hearts, and ice wine syrup, but I've been playing with Canadian ingredients for so long; it was just a matter of finding the right time to share. There were some recipes we tested that I had never cooked before: duck and goose. That was a fun day of testing.
After working on this book for so long, how would you best sum up Canadian cooking to someone who is from another country and unfamiliar with Canada?
Well, this isn't really about Canadian cooking per se, it's about our Canadian ingredients. So, what I'd tell someone who is from another country is that Canada has a diverse source of amazing ingredients. Go to your local grocery store and just start playing.
Tips for anyone who wants to write a cookbook?
Does, "Run away!" sound bitter? Ha, ha, ha. You really have to love the entire process. It's not just creating recipes, that's the fun part. You have to love to write, rewrite, cut recipes that you love--it's so much more than cooking and eating! So, be passionate about what you are going to write about or half way through the entire process you are going to lose your mind!
Who do you look to, or follow on social media streams, to stay up-to-date on different food scenes and trends in different parts of Canada?
I love following Canadian chefs and other food writers. I love your pictures on Instagram, Todd Perrin of Mallard Cottage, Jenn Bartoli and Annabelle Waugh from Canadian Living, Claire Tansey from Chatelaine, The Brunette Baker pics, of course Julie Van Rosendaal of Dinner With Julie. Mostly, I just check out anything food and see what everyone's talking about.
What's one piece of advice about the food writing/media business that you would give to a younger version of yourself?
I would tell me to just relax! I'm such a type A personality that I'd say, "Honey, just breathe. It's going to be OK!"