This judging panel features some of the top editors, food/wine writers and critics, foodservice and agricultural experts and cookbook authors. This esteemed panel of judges joins us from across the country and beyond to read and judge our Eat North Rising Award Scholarship submissions and help us find the next great Canadian culinary writer! Thank you to the students who submitted their pieces. We were blown away by the entries. Lucky for us, we've got some amazingly talented culinary folk to help us with the difficult task of picking a winner.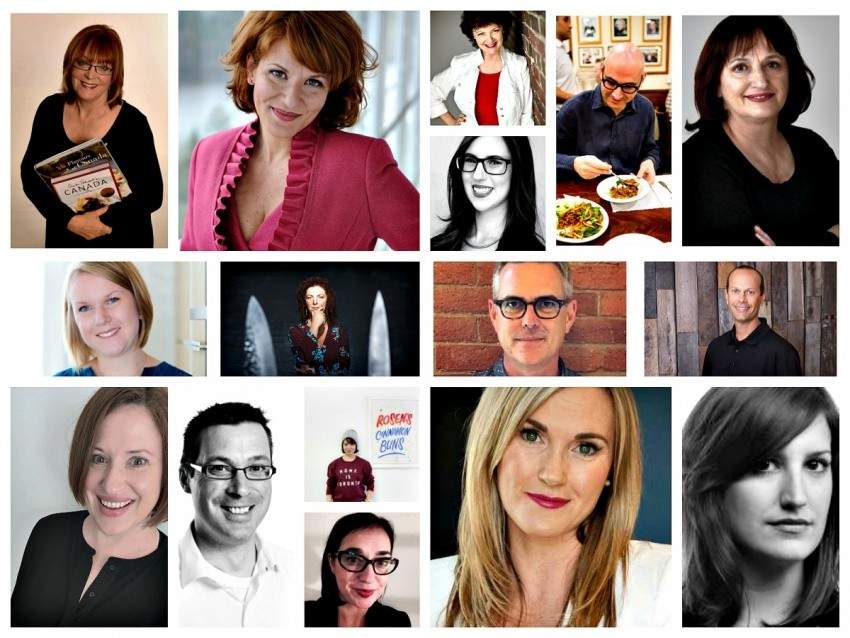 Our judges have an appetite and thirst for the Canadian culinary world and are extremely passionate about Canadian food. Many of these judges have helped to shape the Canadian food and restaurant scene and for that, we thank them. They are an inspiration to us.
Judges, we cannot thank you enough for your participation and for encouraging young Canadian culinary writers.
Based in Calgary, Shelley Boettcher is an award-winning writer whose work has appeared in newspapers and magazines around the world, including The Guardian, the Toronto Star, The Globe and Mail, and more. A former deputy lifestyles editor for the Calgary Herald, she is a contributor to Travel Alberta's website, a national wine columnist for CBC Radio's morning weekend shows, and the author of three books about wine. She started her magazine career as the assistant editor of Avenue magazine, followed by four years as the executive editor of Wine Access magazine. She holds a master's degree in journalism from Western University and her advanced WSET certification.
Dan Clapson, The Globe and Mail Canadian Prairies restaurant critic and Eat North co-founder
Dan Clapson is the The Globe and Mail restaurant critic for the Canadian Prairies and has contributed to many publications including WestJet's in-flight magazine, Ricardo magazine, Air Canada enRoute and more. He is also a regular guest expert on television shows like Cityline, Global Calgary and CTV Morning Live Vancouver. When Clapson is not writing, eating or travelling across Canada, he's probably relaxing at a pub in Calgary with some friends or watching RuPaul's Drag Race.
Tom Firth, Culinaire drinks editor, wine writer
Tom Firth is a freelance wine writer, wine consultant, and wine judge based in Calgary, Alberta. His love for wine and the beverage industry stretches back to the mid-90's when he got his start in drinks working at several of Calgary's fine wine merchants before moving to writing. His work appears in City Palate, Avenue magazine (Calgary), Alberta Liquor Retailer and Culinaire magazine along with various online content. In April 2013, he joined the team at Culinaire as their contributing drinks editor and is the competition director for the Alberta Beverage Awards (now in its sixth year).
Firth has judged wine at domestic and international wine competitions, including the International Value Wine Awards, the Canadian Wine Awards, the All Canadian Wine Challenge, The Artisan Spirits Competition of Canada, and the National Wine Awards of Canada; and has judged at Concours Mondial de Brussels, the Argentina Wine Awards and been a grand jurist at the Portuguese Wine Challenge. He firmly believes that great riesling is proof the universe is unfolding as it should.
Follow him on twitter @cowtownwine
Mallory Frayn, food writer and PhD candidate in clinical psychology
As a food writer and PhD candidate in clinical psychology, Mallory Frayn thinks about food a lot. Whether she's promoting intuitive eating through groups or debunking diet culture in her writing, her mandate is to help people develop healthier relationships with food. She regularly contributes to publications like Eat North and Eater Montreal, and also has her own site, Because I Like Chocolate. Follow her on social media @cuzilikechoclat.
Megan Gibson, foreign editor at Monocle
Gibson oversees Monocle's foreign affairs coverage, commissioning, writing and editing stories about politics, diplomacy, defence, urbanism and global relations for the magazine. She has also worked for Time magazine and the New York Times.
Alexandra Gill, The Globe and Mail's Vancouver restaurant critic
Alexandra Gill is the British Columbia restaurant critic for The Globe and Mail, a position she has held since 2005. She writes about food for numerous publications, has been nominated for a National Newspaper Award and is also a judge for the Chinese Restaurant Awards and Canada's 100 Best Restaurants.
Jennifer Hamilton, executive editor at RedPoint Media & Marketing Solutions
Jennifer Hamilton came to Calgary and began working for Avenue magazine in Calgary in 2005. She has also acted as executive editor for Avenue Edmonton. She loves travel, food and wine…but she balances these calorie-rich interests with skiing, snowboarding, downhill mountain biking and rock climbing.
Ian Harrison, associate editor of Ricardo and former editor of Eater Montreal
Harrison is the associate editor at Ricardo, a nationally distributed cooking magazine based out of Quebec. He was also the founding editor of Eater Montreal.
Robert McCullough, publisher of Appetite by Random House and a vice-president of Penguin Random House of Canada
Robert McCullough is the publisher of Vancouver-based Appetite by Random House, an imprint of Penguin Random House Canada. Before launching Appetite in 2011, he spent 21 years working for Whitecap Books, where he developed one of Canada's largest cookbook programs.
At Appetite, McCullough and his team have carefully curated a diverse list of more than 100 bestselling and award-winning food, drink, health, design, memoir, and lifestyle titles. Appetite's list features authors such as Yotam Ottolenghi, Nigella Lawson, Anna Olson, Deb Perelman, as well as new voices, such as Jackie Kai Ellis's bestselling memoir The Measure of My Powers, and Lindsay Anderson and Dana VanVeller's fascinating road trip across Canada, Feast.
Clinton Monchuk, executive director of Farm & Food Care Saskatchewan
Clinton Monchuk grew up on a mixed dairy, beef and grain family farm outside of Lanigan, Saskatchewan. He received his bachelors of science in agriculture, majoring in agricultural economics from the University of Saskatchewan in 2000 and masters of business administration in agriculture from the University of Guelph in 2002. He has enjoyed numerous roles as a researcher, educator, manager, economist and director of trade policy, while residing in Mexico, Washington DC, Ottawa and throughout Saskatchewan.
In late 2016, Monchuk accepted the role of executive director with Farm & Food Care Saskatchewan to promote farming and ranching to consumers. Clinton understands the value of increasing public trust in agriculture and actively promotes engagement between the agriculture industry and consumers.
Breanna Mrozeck, associate editor of Avenue Edmonton magazine
Breanna Mroczek has been writing about food for over six years in various editorial roles at Where Edmonton, Where Calgary and Avenue Edmonton magazines. She's judged for more than a few Best Restaurant lists, and when she's not writing about food she's ordering off a menu somewhere.
Diana Ng, Eat North co-founder
Diana is our overall nit-picker. She is a web content specialist, big-picture thinker and serious food nerd. She has established Eat North's vision and direction to help promote the stories behind Canada's food scene. Prior to starting Eat North, Ng was the web editor for WestJet's in-flight magazine, and she was an online lifestyle editor at Postmedia Network. She has also written for Avenue, Culinaire, Fodor's travel guide and more.
Heather Persson, editor of the Saskatoon StarPhoenix
Heather Persson is the editor-in-chief of both the Saskatoon StarPhoenix and the Regina Leader-Post. A journalist for almost 25 years, she spent 11 years working in British Columbia before returning to her home province to take the helm of the Prince Albert Daily Herald. She has now been in Saskatoon for about a decade. An award-winning writer herself, Heather has led the StarPhoenix to the most National Newspaper Award nominations in its history. She also created the Raise A Writer program, which encourages people—especially youth—to explore their own personal stories and set goals through writing.
Lia Rinaldo, managing director for Devour! The Food Film Fest
Lia Rinaldo is the managing director of Devour! The Food Film Fest in Wolfville, Nova Scotia—the world's largest film festival dedicated to all things culinary. The festival takes place annually in the fall and has expanded to include satellite events throughout the year all over the world—from Berlin to the Bahamas, from Osoyoos, B.C. to Fogo Island, NL.
Rinaldo was the recipient of the 2014 Gary MacDonald Culinary Ambassador of the Year Award (along with business partner, Michael Howell), the 2013 Progress Women of Excellence Award in Arts & Culture and has made the Chronicle Herald's Arts & Life Honour Roll in 2013 & 2014.
She is a freelance food and travel writer including posts as a senior food writer at Halifax Curated magazine since 2013 and is a regular contributor to Occasions magazine, amongst other publications. She also consults with the local culinary industry on marketing, PR, social media and fundraising. She is a current member of the International Food, Wine & Travel Writers Association.
Amy Rosen, cookbook author and award-winning journalist for enRoute, Food & Wine, and Food & Drink
Amy Rosen is a James Beard nominated, award-winning freelance journalist and former food editor at Chatelaine and House & Home magazines. She writes regularly for publications including Food & Wine, enRoute and The Globe and Mail, and her stories have appeared in the American anthology, "Best Food Writing". She develops recipes for Food & Drink magazine and brands such as Lindt. Rosen's fifth cookbook, Kosher Style, will be released in the autumn of 2019.
Mairlyn Smith, professional home economist and food writer, Cityline food and entertainment expert
Mairlyn Smith is the only professional home economist and food writer in Canada that is also an alumnus of the Second City Comedy Troupe, making her a popular TV and media food personality, and the self proclaimed funniest professional home economist in the world. The author of seven best-selling cookbooks, Ultimate Foods for Ultimate Health and don't forget the chocolate! which she co-authored with dietician Liz Pearson, won Gold at the Cuisine Canada Cookbook Awards making it the first healthy book to ever win Gold at these prestigious Canadian Culinary Awards. Smith is a regular guest expert on CityLine and Breakfast TV in Toronto and has her own YouTube channel – the hilarious and educational My Left Frying Pan.
Anita Stewart, Canadian culinary author and food activist, and the founder of Food Day Canada
As the first Canadian to graduate with a master of arts degree in gastronomy, Anita Stewart has been not on doing but thinking and communicating about the food life of Canada for decades. She was honoured with a doctor of laws (honoris causa) in 2011 and a Order of Canada in 2012.
Lucy Waverman, Toronto-based food journalist, editor, columnist, food consultant and cookbook author
Lucy Waverman is a Toronto-based food journalist, editor, columnist, food consultant and cookbook author. Her Wednesday food column "Weekend Menu" and Saturday column "Fresh Tastes" appear in The Globe and Mail, Canada's national newspaper, and she is the food editor of Food & Drink magazine by the LCBO. She has done extensive recipe and product development for major companies, restaurants and public relations firms. She has also appeared on television and radio shows across Canada and the United States, including 12 years with CityTV's CityLine.