The month of November has come and gone, and the holiday season is now officially underway. For most food- and drink-loving Canadians, no Christmas is complete without indulging in a few holiday-themed culinary events. If you happen to be in the Vancouver area this December, there are plenty of possibilities to choose from.
Whether you're looking to treat yourself to a luxurious multi-course meal, feast on classic Christmas comfort food with friends and family, or indulge your sweet tooth with an array decadent holiday treats, there truly is something out there for everyone.
From a sensational seven-course Italian seafood feast at Cibo Trattoria to party packs of plant-based comfort foods at Beetbox, to a seemingly endless list of festive desserts at Mon Paris Pâtisserie and Temper Chocolate and Pastry, here are nine festive ways to celebrate the holidays in Vancouver.
Beetbox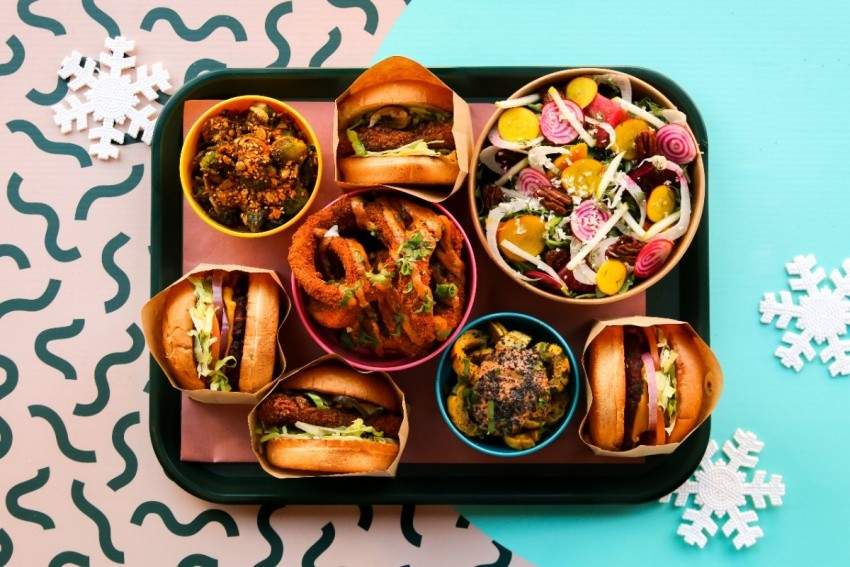 One of the newest and already most popular plant-based restaurants in Vancouver is taking its crowd-pleasing comfort dishes and packaging them up into one holiday-themed box. The aptly named "Beetboxes" from West Vancouver's Beetbox serves groups of four or 10, and contains favourites such as plant-based burgers, tempura onion rings, seitan fried chick-un sandwiches, and more.
The Beetboxes will be available from December 4 to 31 and cost $89 for groups of four or $209 for groups of 10. Beetboxes are offered exclusively by delivery via DoorDash and Foodora.
Burdock and Co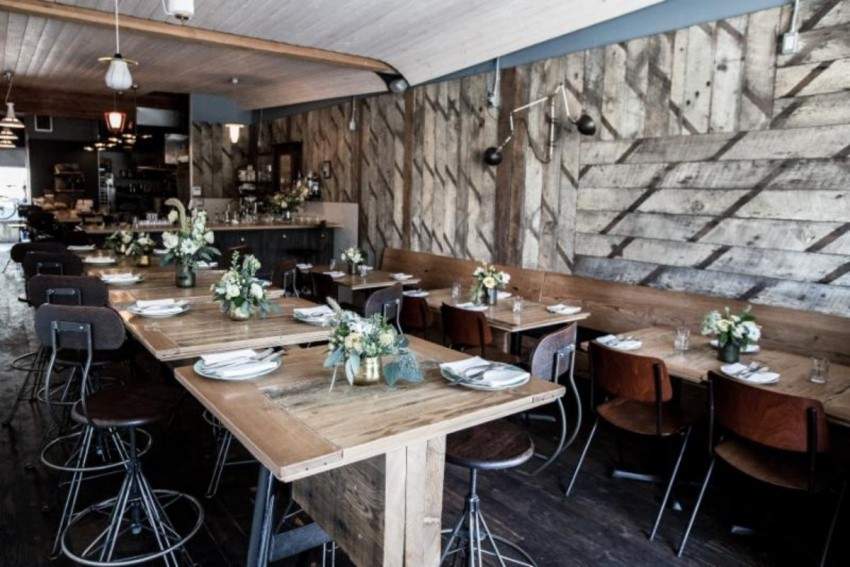 Burdock and Co's sleek space is perfect for hosting small holiday parties and special occasions for up to 34 guests. Additionally, Burdock and Co is offering event add-ons like sparkling wine and canape service, raw oyster bar, edible gift bags, and a guided wine tasting. As always, chef Andrea Carlson's seasonal menu will provide diners with fresh, approachable, and ethically-sourced farm-to-table fare. Fans of the Main Street eatery can also purchase a collection of Carlson's favourite recipes in Burdock & Co: Poetic Recipes Inspired by Ocean, Land and Air, perfect as a gift and stocking stuffer.
Holiday reservations can be made online and the Burdock & Co cookbook is available at most online retailers and bookstores across Canada.
Cibo Trattoria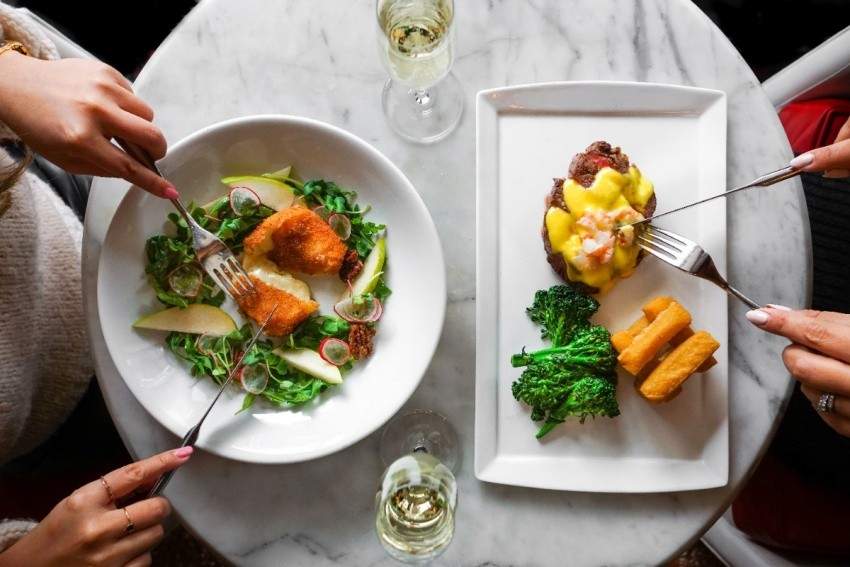 Cibo Trattoria's annual spin on the Italian Feast of the Seven Fishes is back for 2019. Guests will be treated to a sensational seven-course menu from chef Curtis Luk, showcasing fresh and local seafood. Dishes such as salt cod croquettes, caviar capellini, involtini of trout, and seared octopus will be on offer, with additional wine pairings available upon request.
The Feast of the Seven Fishes menu is priced at $89 per person. Reservations can be made online.
Fable Diner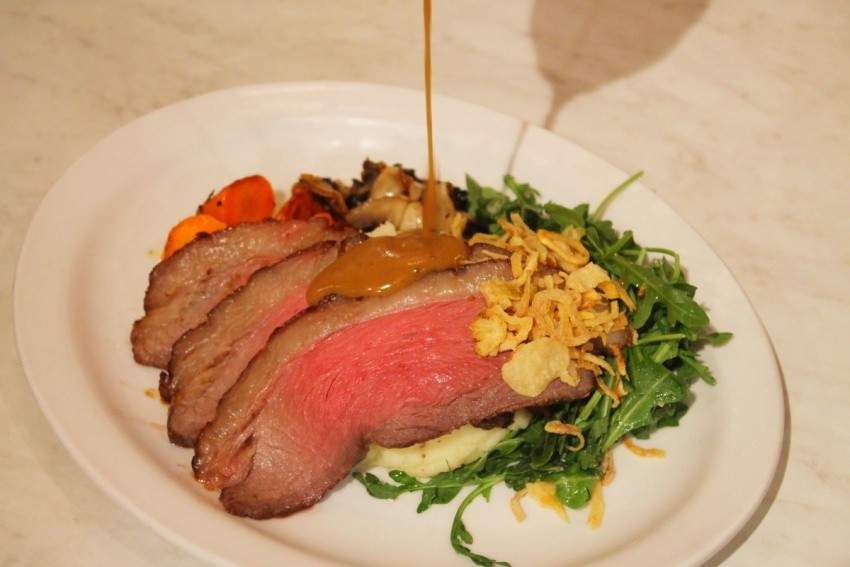 The beloved modern-day diner at Main and Broadway is throwing an Orphan's Holiday Dinner with a contemporary take on a traditional Christmas dinner. Guests of the Fable Diner dinner will be treated to an impressive spread of roast beef and horseradish cream, roasted vegetables, mashed potatoes with house-made gravy, and a personal pavlova for dessert, with the option to add bread rolls and a fresh local salad to start. Additionally, the restaurant's new cocktail menu will be on offer for half price during the Orphan's Holiday Dinner service, and an extensive array of eggnog milkshake specials will be available for the entire month of December.
Seating is limited for the holiday season, so reservations are strongly recommended.
Feast, The Neighbourhood Table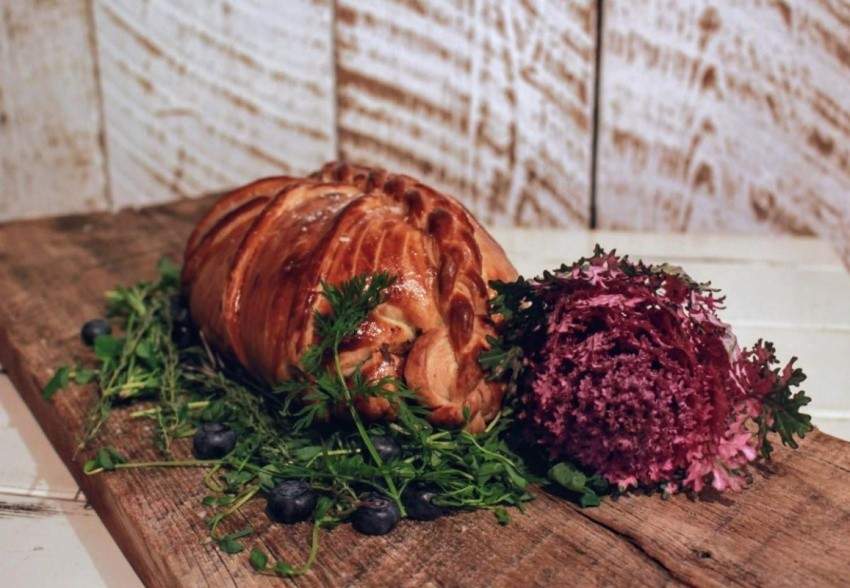 Whether you like to celebrate the holidays by treating yourself to a decadent multi-course dinner at a restaurant or by indulging in a communal feast in the comfort of your own home, Feast, The Neighbourhood Table is showcasing a pair of Christmas offerings this year to satisfy every holiday wish.
The West Vancouver bistro's elegant Holiday prix-fixe menu features pan-seared foie gras, crispy squid flower, charcoal tomahawk steak, and hazelnut tiramisu for dessert. Wine pairings and coffee or tea packages are available upon request. The menu is priced at $115 per guest.
Also on offer throughout the holidays is a festive take-home feast. The gourmet meal package by chef Johann Caner includes a ready-to-cook beef Wellington, accompanied by an assortment of roasted seasonal vegetables. Packages for groups of four ($80), eight ($140), or 12 guests ($220) will be available for pickup at the restaurant on Sunday, December 22.
Reservations for the prix-fixe dinner and orders for the take-home feast can both be made online.
Juke Fried Chicken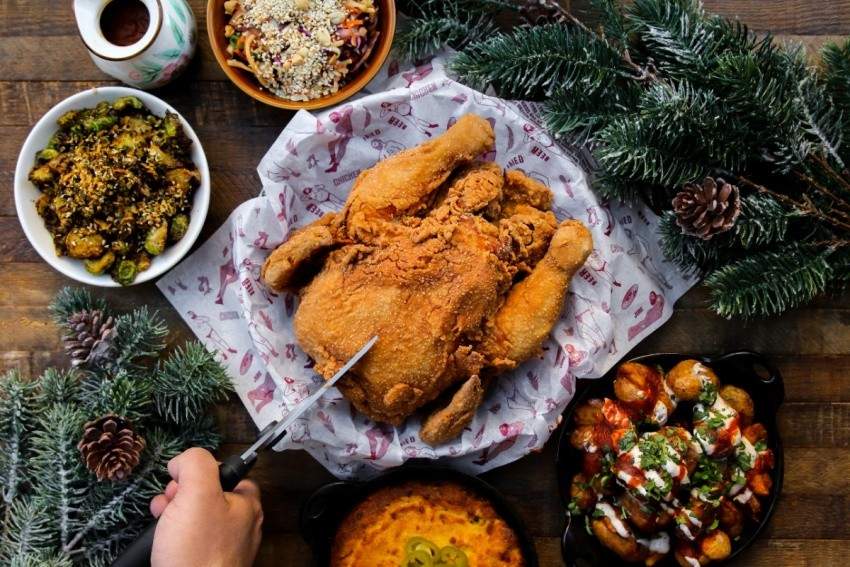 Vancouver's premiere Southern-style fried chicken eatery is welcoming friends, families, and "orphans" alike for its inaugural Christmas Eve Eve Dinner. This special dine-in-only feast for two to four guests includes a half or whole fried chicken, Juke's signature slaw, skillet cornbread, triple-cooked potatoes, Juke ginger cookies, and more.
The Juke Fried Chicken Christmas Eve Eve Dinner takes place Monday, December 23 and costs $25 per person. Seatings will be limited so reservations are strongly recommended.
Mon Paris Pâtisserie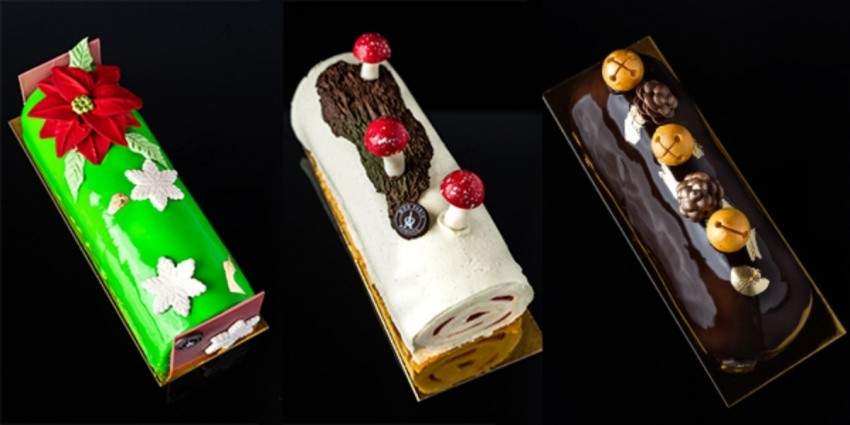 Mon Paris Pâtisserie is featuring a few of its most famous Christmas treats along with a selection of new creations for the holiday season. Playful chocolate characters, delightful stocking stuffers, lavish advent calendars, and a lineup of decadent yule logs are available at the Burnaby pâtisserie from now until Christmas.
Orders for yule logs, holiday collection treats, boxes of macarons, and Belgian chocolate bonbons can be made online, in-person, or through email.
Savio Volpe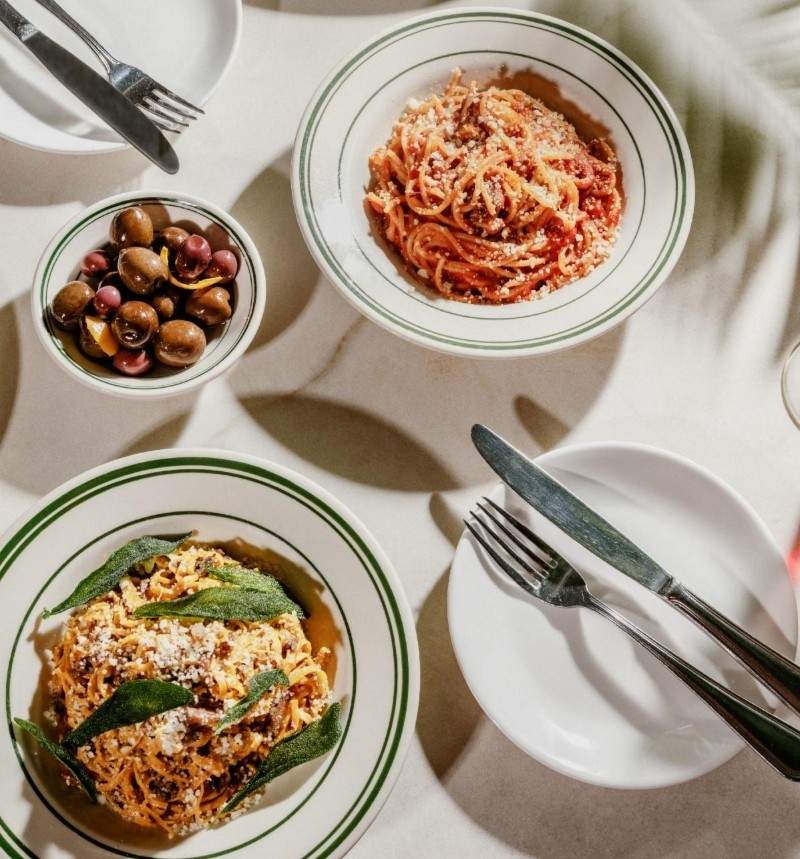 The 2019 Vancouver Magazine Awards' Best Italian Restaurant is celebrating holidays with an array of seasonally inspired traditional Italian offerings. Savio Volpe's holiday tasting menu features generous platters of fresh, handmade pastas, including tortellini in brodo, grilled panettone with zabaglione, wood-fire grilled bistecca and taleggio-topped chops, and much more. Guests will also have their pick of house-made gelato in classic Christmas flavours like buttered rum, white chocolate and candy cane, gingerbread and hazelnut praline, and dairy-free sorbetto in Meyer lemon, dark chocolate, and apple cider.
Savio Volpe is open for dinner seven days a week from 5-10:30 p.m. Reservations can be made online.
Temper Chocolate and Pastry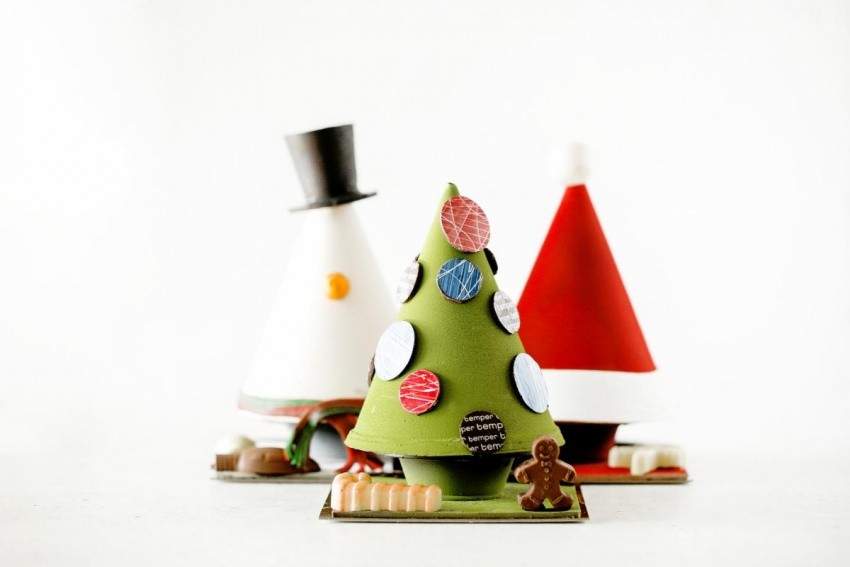 It wouldn't be Christmas in Vancouver without an assortment of delicious desserts from Temper Chocolate and Pastry. The West Vancouver pâtisserie has a myriad of holiday-themed treats on offer, including its annual advent calendar, ginger cookies, eggnog truffles, mini chocolate snowmen, Yuletide-inspired treats, to name just a few. Temper also has a selection of festive beverages available, such as eggnog latte, spiced apple cider, and peppermint mocha.
Find the full list of incredible holiday offerings at Temper Chocolate and Pastry.