Following an overwhelmingly positive response from the community to its inaugural launch in 2020, Winnipeg's Bijou Patio officially reopened for its second season this week.
Located in Bijou Park in the heart of Winnipeg's Exchange District, the sprawling Bijou Patio space provides patrons with direct access to a number of food and beverage businesses throughout the neighbourhood. Through its sophisticated smartphone ordering system and Local Eats menu, Bijou Patio guests can select from a variety of Exchange District destinations and patio "runners" will deliver their orders directly to their table.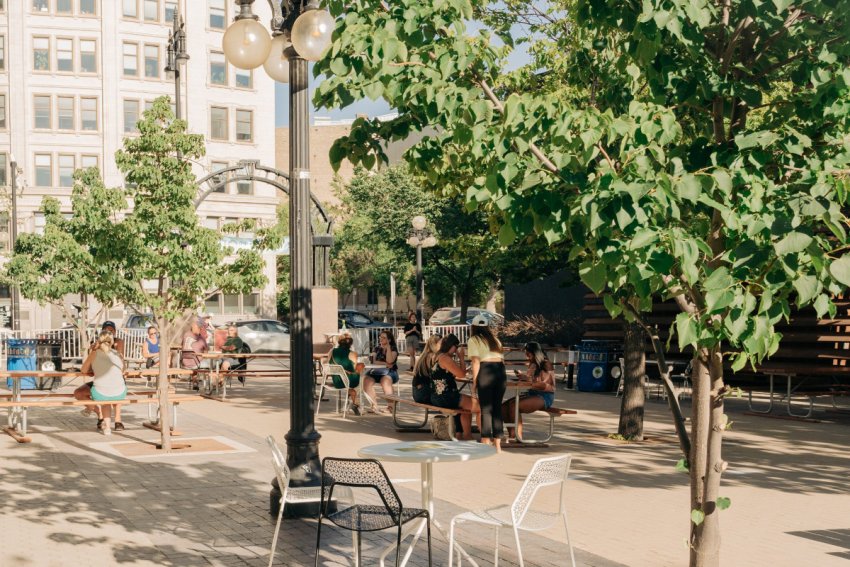 "The diversity in our drink menu is amazing: cocktails from Patent 5 and Forth Bar, and a sweet selection of beer from our neighbourhood brewers of course," says Pam Kirkpatrick, manager and curator of the patio's bar. "We are also super excited to carry a new seltzer line called Nifty Drinks which is the brainchild of Patent 5 and Nonsuch Brewery."
In addition to the aforementioned array of local libations and a curated wine list courtesy of Ellement Wine and Spirits, a growing number of restaurants are also available to order from, including Clementine, King + Bannatyne, Shawarma Khan, and Bodegoes.
Bijou Patio is currently open Monday to Saturday from 11 a.m. to 10 p.m. The full list of participating food and beverage businesses can be found online.