Art and food have always been intrinsically connected. Within Canada's culinary landscape, there are various avenues for artistic foodies to express themselves creatively, from plate presentation to interior design, but one Toronto-based artist has taken the connection to a whole new level.
Every bake on CBC's The Great Canadian Baking Show is presented with an accompanying illustration, and every one of those illustrations was done by Toronto-based artist, Kenna Barnes.
Barnes' food illustrations are playful, precise, and packed with character. Just one illustration for The Great Canadian Baking Show can take her up to ten hours to complete, yet, she still manages to produce a steady stream of greeting cards, restaurant artwork, and recipe commissions for clients looking to enhance their food-related products.
We recently had a chance to chat with Barnes, who provided some insight into how she finds artistic inspiration, her experience on The Great Canadian Baking Show and more.
When did you start doing food illustrations and what inspired you to take your career in that direction?
I started in Kids TV in 2015, in animation, and then moved into food illustration in 2017. The Great Canadian Baking Show (GCBS) was actually my inspiration. I hadn't done food illustration prior to working on the show, but even during the audition phase for the position, I could already tell it was something I should have always been doing. I kept saying to myself, "If this doesn't work out, and you don't get this job, at least you have discovered this is something that you love to do."
How does food illustration differ from other artistic endeavours?
It feels like I'm drawing something that is already a piece of art. So many foods--whether they are meticulously designed cakes or a piece of raw salmon--are already really beautiful. They have neat patterns, textures, and shapes that make them extremely fun and captivating to draw. Plus, food is a really forgiving subject because it's naturally imperfect.
Also, inspiration is literally all around you; even grocery shopping takes extra time when you're busy eyeballing the curves of an heirloom tomato. It makes it easy to feel inspired and jump into an illustration, whereas some other forms of art take longer for me to find that spark.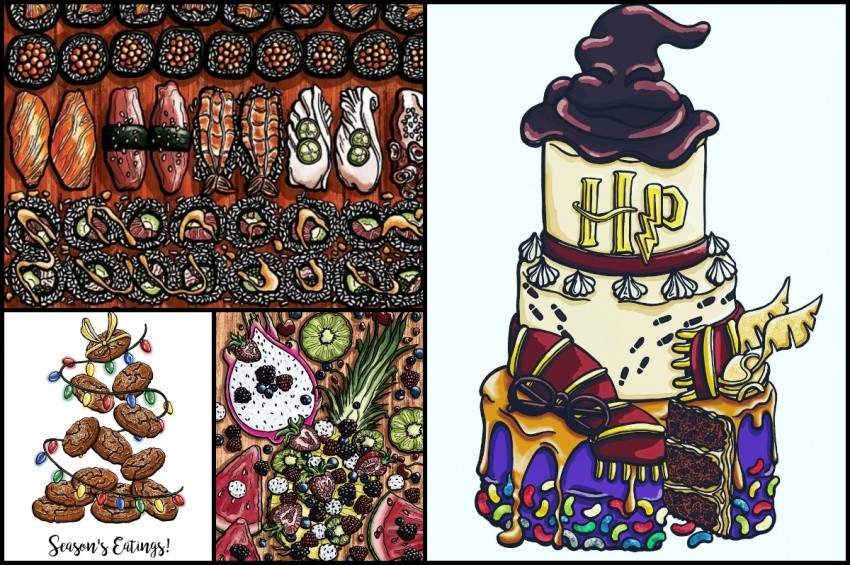 How did you come to work for The Great Canadian Baking Show?
I was working for a company called Smiley Guy Studios as a production manager, and Proper Television (GCBS) reached out looking for an artist that might be interested in auditioning to be the illustrator for the show. I was a huge fan of Great British Bake Off, and a huge fan of food, so I leapt at the chance to audition. I hadn't done a lot of food illustration and I had no idea that this position would end up changing my life, which sounds a bit corny, but it really did! I can't imagine doing anything else now; it's truly my favourite thing to do and has entirely redirected the career plan I had in my head.
Can you describe what working with CBC and The Great Canadian Baking Show is like?
It's really great! The process has been fairly seamless, mostly because we all collaborate really well together. The team is incredibly friendly, and everyone genuinely loves the show and their jobs, which makes for a great working environment.
Food brings out the best in people. Even at the auditions, all of the bakers are kind to each other and excited to be there. Instead of eyeing their competitors nervously, they share tips and chat about their favourite things to bake. By the end of the day, everyone has become friends and is very genuinely wishing each other good luck to be chosen for the show.
The actual GCBS set is the same idea, just longer days. It feels like walking into a group of old friends who all love food just as much as you do.
You seem to do a lot of recipe commissions. What is that process like and why is it rewarding?
I love the recipe commissions. It was something I started doing for fun with some of my own recipes, and it really caught on.
The process starts with the client sending the recipe(s) they want me to illustrate. It's usually a family recipe, or something sentimental, so I ask if there is anything about the recipe that is quirky, or sparks a particular memory. For example, I had one over Christmas where the grandmother would sneak bananas into a pancake recipe, so that the kids got their nutrition. Those little stories and edits to the recipe are the fun part, because I can tie them in to make it a truly personal illustration.
I find it one of the most rewarding commissions to do, and I think it has a lot to do with the old expression, "food brings people together," even if the food is illustrated. It brings back memories of gathering around a table to eat a particular meal, or of sneaking into the kitchen to try to lick the batter off a spoon. To a lot of people, cooking or baking for the ones they love is how to express that love, and to be able to illustrate that for someone is really special.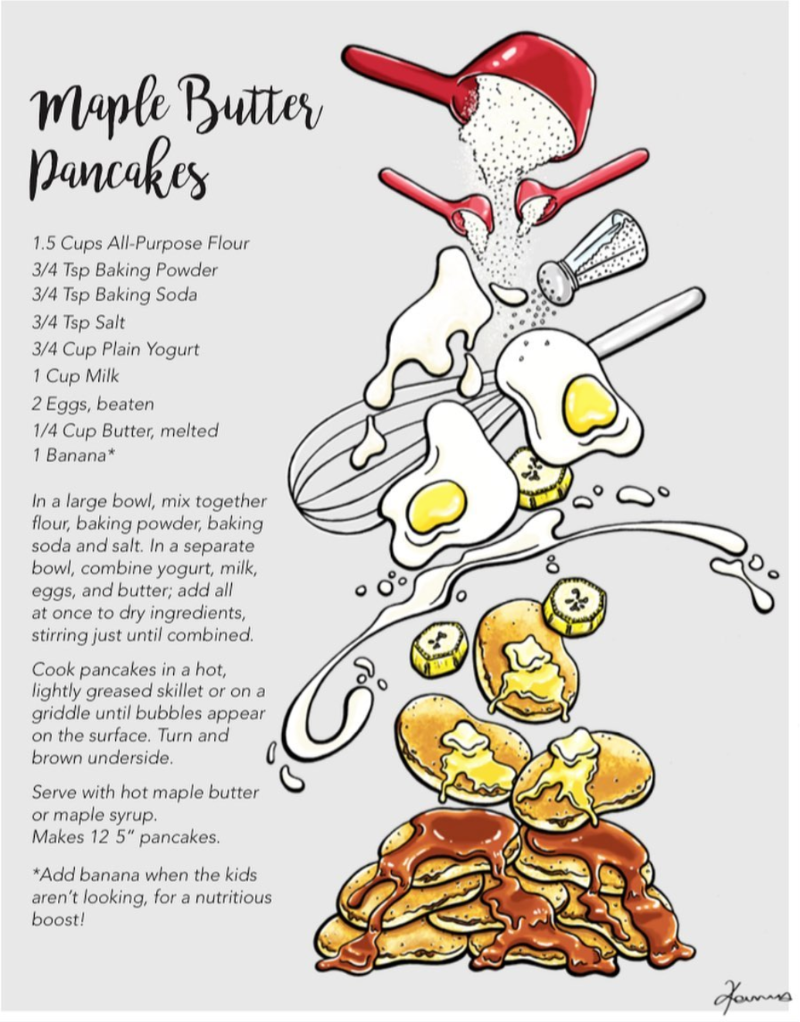 What advice would you give an aspiring food illustrator?
I'll say what they've probably already heard before, which is: practice, practice, practice. It's like any form of illustration, where you'll only improve the more you do it. Food illustration isn't just the still life bowl of fruit we all drew in Grade 10; you can have fun with it. What happens when you drop food? Smear food? Deconstruct food? The possibilities to play with it are endless. Keep pushing your imagination.
Otherwise, be sure to really look at what you're eating, even if that means stopping your partner from biting into something so that you can analyze it, which I do often. For example, noticing the way that the layers of pastry in a croissant are formed, or the way a bit of mustard moves over the onion on a burger--it's all inspiration, and it all helps to teach you how the food works, and how to illustrate it convincingly.
I guess my advice is: eat and draw a lot.
What's next for you?
Right now, I'm working on four large illustrations for a new restaurant in Toronto called King's Diner, which has been a lot of fun. I would love to do more restaurants, as well as more recipe commissions. The ultimate goal is a cookbook one day. Otherwise, expanding my client base, putting together an online shop. And I really want to draw a falling taco, so there's that too. It should be an exciting year!