Canada's favourite home-baking competition is set to make its highly anticipated return to CBC TV and CBC Gem this weekend, and thanks to a record-breaking number of hopeful applicants and millions of captivated viewers around the world, the fifth season of The Great Canadian Baking Show is poised to be bigger and better than ever.
With Canada's excitement for the upcoming season premiere on October 17 currently at an all-time high, we decided it would be a perfect time to chat with the two internationally-acclaimed pastry chefs who comprise The Great Canadian Baking Show's esteemed judging panel, Bruno Feldeisen and Kyla Kennaley, who filled us in on what to expect for the coming season, what it's like to work alongside comedians Alan Shane Lewis and Ann Pornel, and more.
What do you think sets GCBS apart from other reality-based cooking competitions?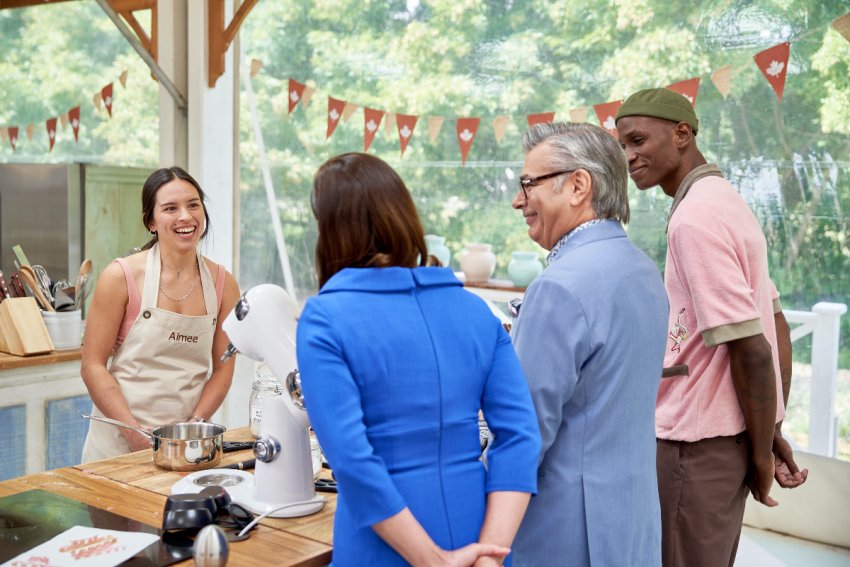 Kyla: We're nice.
Bruno: I think it is a competition but everybody still means well. There are no dirty tricks, there are no bad moments; everybody helps each other. Even if it's a competition people go to each other's stations and help each other and I think that's the beauty of it.
How do you think the Canadian version differs from other iterations around the world?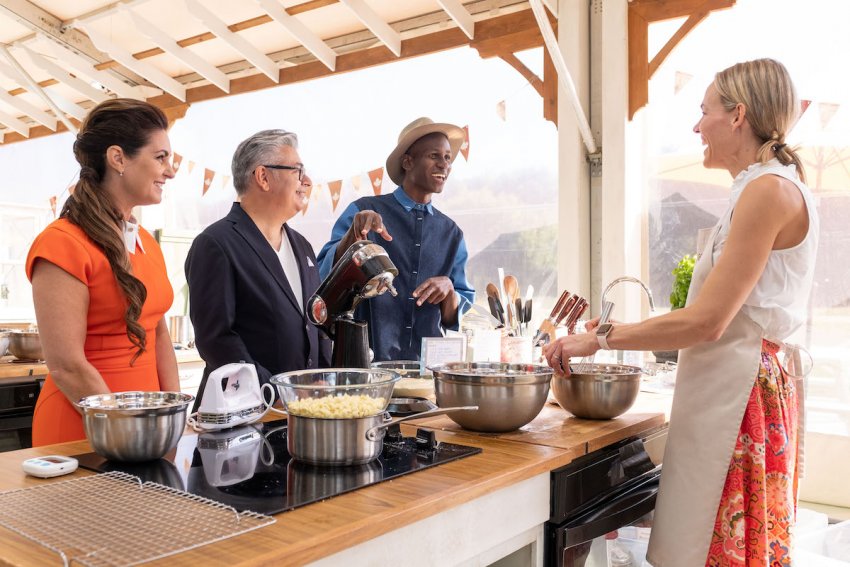 Kyla: I think it's a perfect fit for Canada because it speaks to who we are as a community and it gives us a platform to showcase it. With the concept being originally British–and I'm actually sitting on a terrace in London right now by the way–they love the show here, but it really fits the Canadian culture.
How has GCBS evolved over the years?
Bruno: I think because of COVID a lot of people took interest in controlling their own food situation.
Kyla: I think also since this was the fifth season and it's been on Netflix, it's really an opportunity for people to rewatch episodes. They have three places to find it; maybe they watched the first season on CBC but now they can rewatch it on Gem and on Netflix.
So I think people can come into the competition more prepared and, without giving away any spoilers, we saw some really creative and interesting bakes. There are some moments that are just so amazing and it's because people have seen the show and they know what's coming, so they know how to push themselves and still stay true to their own baking.
Bruno: I also think it's becoming a reference for people in terms of baking. When people want to check a recipe they now go on Netflix and check that episode about that specific cake or dessert and I've seen people commenting more about that, which is great for us.
Kyla: And even last season I think more people tried the technical challenges at home and put their feedback online. Whether they loved the recipe or gave us flack because we made them really challenging, I think people had a lot of fun with it.
What has it been like to work alongside Alan Shane Lewis and Ann Pornel?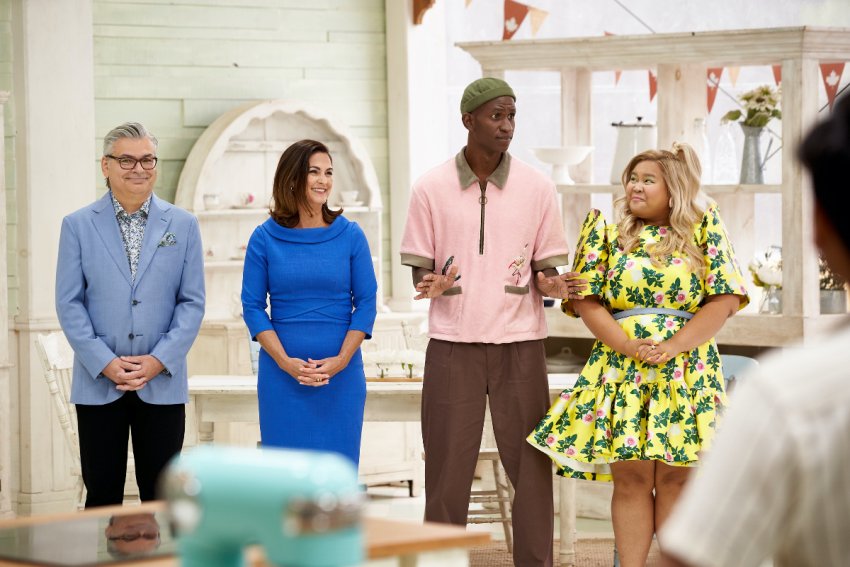 Bruno: It's non-stop a blast.
Kyla: It's hilarious. Your face hurts at the end of the day from laughing so hard. And it's been cool to see their growth, especially Alan. In the beginning he admitted full-on that he'd never baked anything in his life and now you listen to him and think he might be vying for the job of being a judge.He's just learned so much and embraced it fully.
The way they both are and the way they can make the bakers feel at home is amazing and to see them become part of the family so instantly has been incredible.
You mentioned that you saw some really creative bakes in Season 5. Is there anything in particular that stood out to you from this season that you weren't expecting?
Bruno: I think every season brings on surprises and Season 5 brought it again.
Kyla: It doesn't disappoint, I can tell you that. It will not disappoint. On every level, I mean, unexpected flavour combinations–there's one that is so good–and also seeing the diversity of skill sets. There are some unexpected moments where people just wowed us. We knew they were talented but there are some big wow moments.
Bruno: There are some great TV moments.
Is there a particular theme that either of you look forward to most during the competition?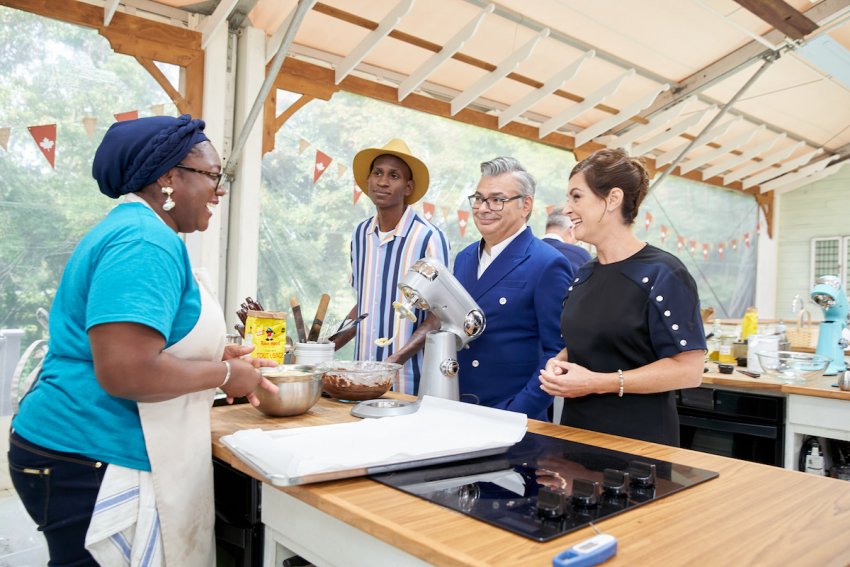 Kyla: It can go either way, there's the ones we want to eat the most and the ones we want to learn from the most, because when Bruno and I are not on camera we're always talking about how much we learn. It's like you think you know everything about this business and then someone comes out with something new that makes you want to try it.
Bruno: I think as long as we can eat as much as we can and learn, it's a perfect combo for us. So there really is no favourite week. As long as it's edible and has a lot of new flavours we get excited. Also when you bring us [something that reminds us] of childhood memories it's always exciting.
Kyla: I mean we all have little favourites and areas of expertise, but sometimes the best weeks are the ones that you aren't anticipating or expecting to be your favourite.
Is there a theme or challenge that you think is most daunting to competitors?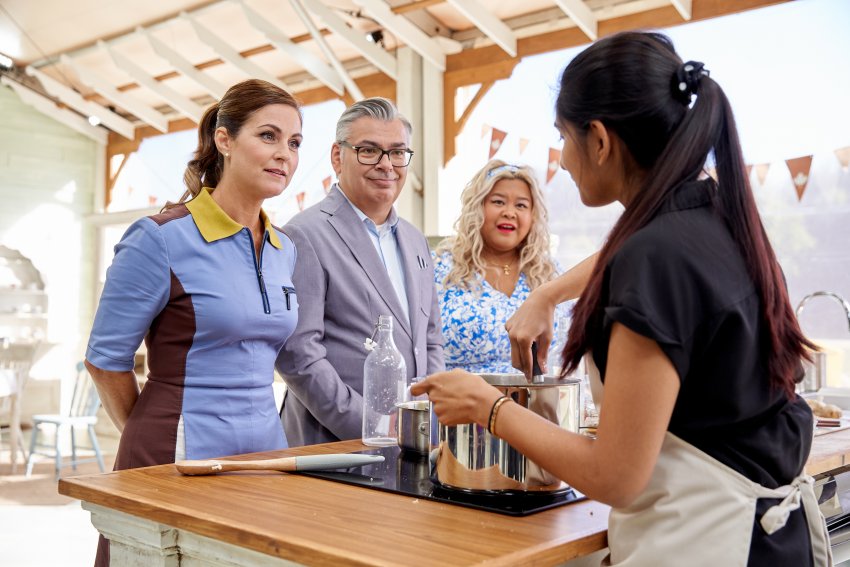 Bruno: I would say that the technical bake is always the most challenging, even for us.
Kyla: Sometimes it's the area that they are most confident about that they practice the least, and we've seen that in other seasons, where somebody who we expected to go all the way perhaps didn't prepare themselves properly. So that's where I think we have those unexpected moments where sometimes people think they're good at something and they falter because the competition gets them.
What do you think is the most challenging aspect of judging amateur bakers?
Kyla: I had to learn very quickly from Bruno–because he did it for a couple of years before me–to remember that they are amateurs. I actually had to force myself out of my commercial kitchen and bake at home because it's a very different ballgame.
It's hard to remember because they're so talented, but remembering that this is not their career and they didn't go to school for this, so our expectations have to be realistic. That was something Bruno really coached me on when I joined the show in Season 3.
Bruno: And also removing any form of bias you might have, like thinking a young baker doesn't have as much experience or somebody coming from another country doesn't have as much French experience, so you really need to get rid of all of those old ideas and really focus on the bake itself.
What advice would you give to home bakers who are considering applying for future seasons?
Bruno: Practice, practice, practice.
Kyla: Do what you love. The bake will know if you don't love doing it; the bread will fight you back, the pastry will not flake, so do what you love.