After another intense week on CTV's hit music series The Launch, R&B and Pop artist Saveria has been chosen as the third champion. Despite a fearless performance from her opponent in the final stage, Saveria emerged victorious with her vigorous vocals and commanding crowd camaraderie.
The 21-year-old singer-songwriter has been touring Canada with her guitar since 2010. She's performed in various fairs, festivals and charities, including Family Channel's Stand Up anti-bullying campaign. Now, her career is poised to reach new heights, as her single, "Down to the Roots" has been released to radio stations across the country and streaming platforms worldwide.
Growing up in London, Ontario, Saveria adopted the motto, "Live, breath, create," and when she's not coming up with fresh soulful vocals and psychedelic pop fusions, she's often creating culinary memories in the kitchen with her family.
Family food traditions
Definitely pasta. My mom is always making things like homemade linguini and she has a really good secret family recipe for her sauce that runs down the family. I always use it in my sauce that I make. I don't normally make pasta but when I do, I'm using her recipe.
I love cooking. Cooking has always been a passion of mine and in my family. My background is Italian so a lot of the time, if I go over to my mom's house, there's always a home cooked meal or I'm bringing leftovers home. Having a home cooked meal always makes me feel like I'm back at home with my mom and my family.
Recently, I got a slowcooker so I've been cooking up some stews. The last stew I made was this taco stew. It's got a beef broth, with a bunch of vegetables mixed in; like things you put in tacos essentially, but without the carbs.
Breakfast and brunch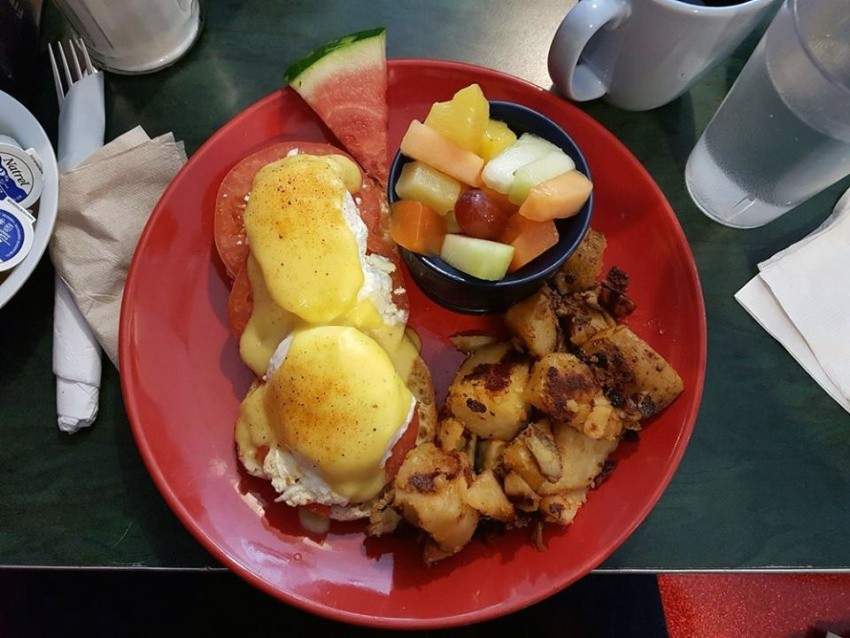 There's a lot of good places in London. I would say probably Campus Hi-Fi. It's kind of near the university in London. They have really huge portions of breakfast. They have a meat skillet that I always get when I go there. It's between scrambled eggs and an omelet. I always like a really hearty breakfast.
Lunch
I don't usually go out for lunch. I usually pack my own lunch, especially if I'm working, but there's a place attached to my work that I go to sometimes that has really great food. It's called Edgar and Joe's Cafe and it's really good. Usually, I'll get their soup of the day. When I bring my own lunch it's usually salad or something simple. I usually just go with a plain salad dressing like olive oil and salt. My mom always does that and it's tasty enough for me!
Dinner
I've really been loving Dimi's. It's like a Greek restaurant on the main strip of downtown London. It's always packed. They have a really great drink menu and really good cocktails and portion sizes. There's nothing better than a lamb chop with potatoes and green beans on the side. It's so good!
Drinks
I go to Call The Office a lot in London just because it's really chill there. It's kind of dingy. You go in there and are like, "Am I in a huge garage?" It's that sort of vibe, but they have lines of pinball machines. It's really iconic. A lot of amazing bands like Radiohead have played there in the past. It's pretty wild and they have great live music and really cool dance nights like Motown night and 90s night, which is really cool. It's seriously all my favourite things and it's cheap too. You can go there and you don't have to pay $10 for a beer. It's really nice.