Late in the months-long process of writing the cookbook proposal for Vegetarian Việt Nam, Cameron Stauch asked Dianne Jacobs, American journalist and writing coach, to review what he thought was a mostly finished document. "She pointed out that I wasn't talking about myself at all and told me it was a Canadian trait," he says chuckling. In a metaphorical sense, Jacob's was saying his stew needed seasoning. Acting on her advice, he went back to work and began shaping the narrative around his culinary journey and experiences living in Vietnam. That's when his beautiful cookbook, infused with new energy and purpose, started to take shape.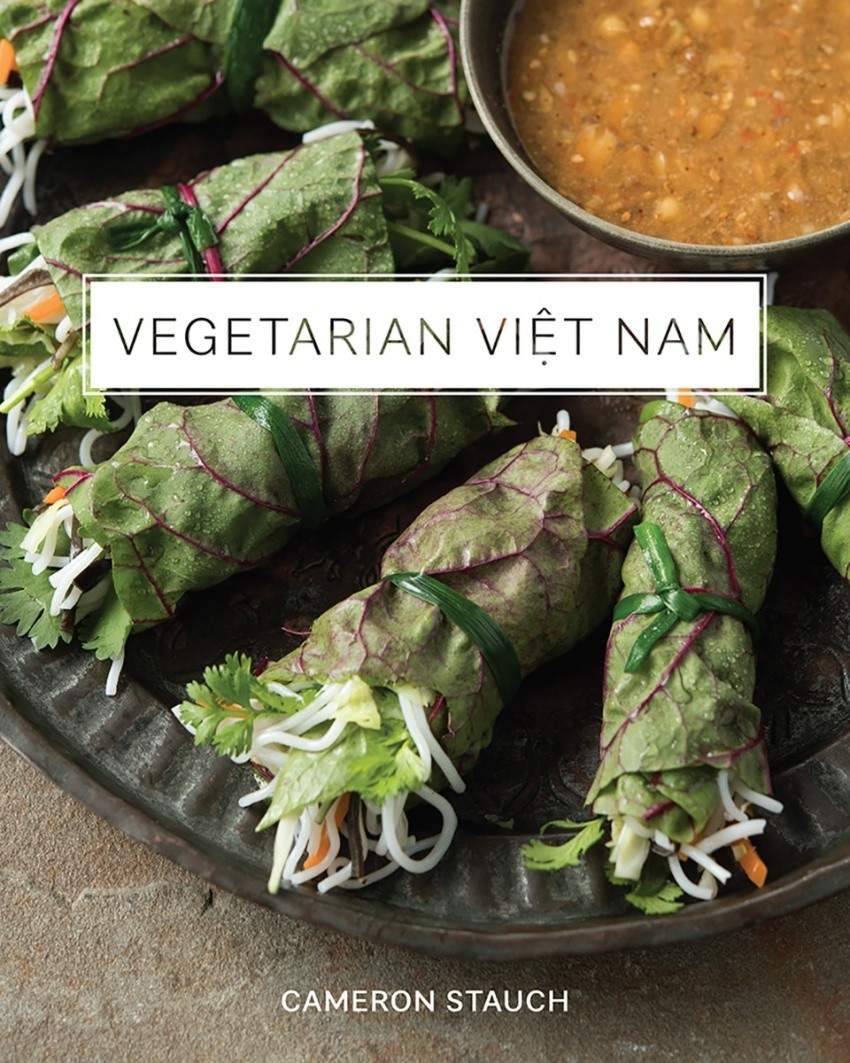 Cooking wasn't on the list of skills he needed to acquire for the task. In Canada, he'd studied at the Stratford Chefs School and spent six years in the kitchen of Rideau Hall in Ottawa. One of his jobs was creating meals for guests who were vegetarian, vegan, or had food allergies. "I was challenged to replicate the meat courses in look and flavour, so the person wasn't in the spotlight," he says. The experience would prove invaluable once in Vietnam, where he would face a similar challenge.
In 2012, Stauch and his family moved to Hanoi where his wife Ayesha, a Canadian diplomat, was posted. Fascinated with the food, he began to observe and question how dishes were cooked at street stalls and in the market. "I have basic Vietnamese language skills so I can buy stuff, chat with taxi drivers, and talk to people about their families and what I'm doing," he says, "It helps because they have a sense I like the culture."
A confluence of events led him to look on local food through a new lens. First, his four-year-old son announced he no longer wanted to eat meat, and then friends living in North Vietnam shared with him their struggle to find vegetarian food. He'd also taken cooking classes with Vietnam's Julia Child, Nguyen Dzoan Cam Van, and she was vegetarian. So what began out of necessity in his home kitchen would soon become the substance of his cookbook. "Most of the recipes are dishes I enjoyed in markets that were made with meat," he says. In recipes like green mango rice paper ribbons, or bahn trang tron chay, Stauch did away from the typical shredded squid, dried shrimp or beef garnish, replacing it with five-spice tofu.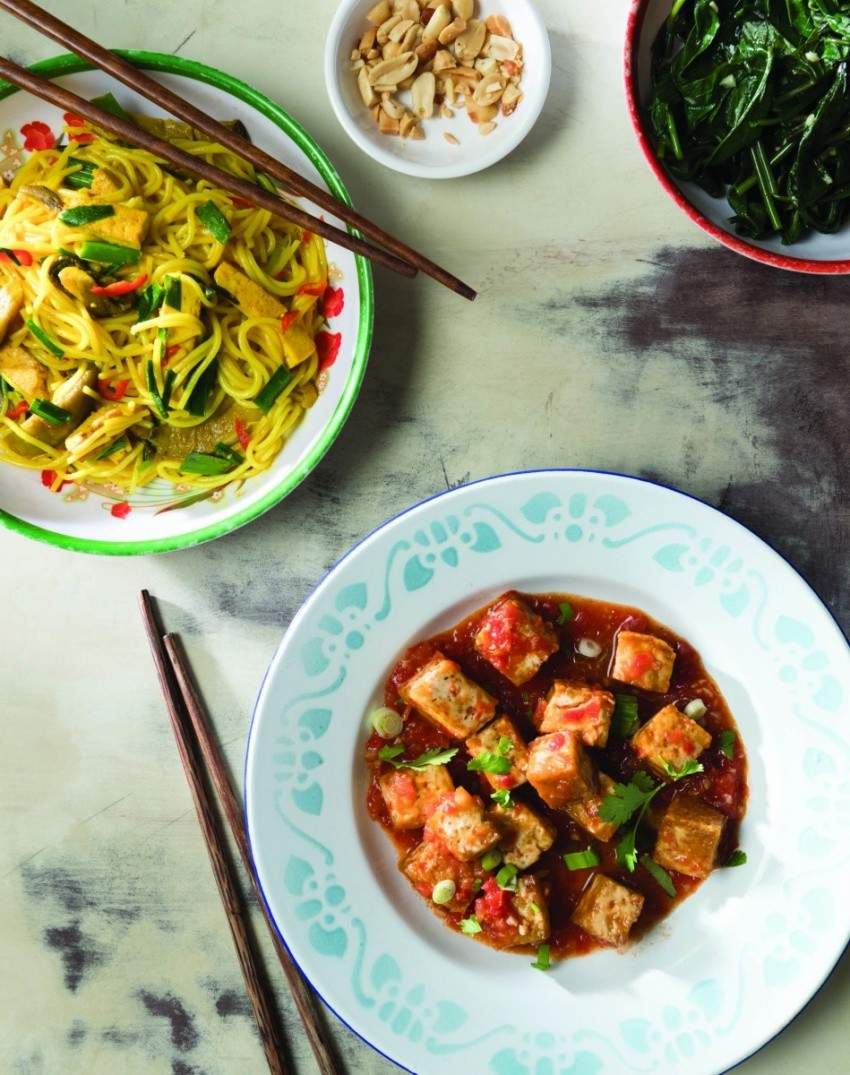 While the idea was germinating, Stauch made several research trips outside of Hanoi to determine if there was enough material for a book on Vietnamese vegetarian cooking. He returned buoyed by the knowledge that the moment was ripe for what he had in mind. For inspiration, he turned to cookbooks by fellow Canadian, Naomi Duguid, and then-husband Jeffrey Alford. "When I saw their books, I realized it was not just about the things I was preparing with my hands," he says, "It was also about history, geography and travel."
Following in their footsteps, Stauch did all the location photography—intimate shots of women making rice paper in markets, iron pots over a wood fire in the kitchen hearth at a Buddhist nunnery. He also wrote a traveller's guide into the appendix he hopes people will photocopy and take with them when they visit Vietnam. He's a gracious guide, and his love for the country shines throughout.
Because it started in his home kitchen, the recipes are doable, even for busy weeknight meals. "Most people are familiar with at least a couple of Vietnamese dishes like pho and banh mi," he says. He fills his version of the crusty baguette sandwich with nutty mushroom pate and glazed tofu, traditional pickled daikon and carrot, and lots of fresh herbs. "The use of coriander, mint and Thai basil is magical," he says. "Herbs add an important extra layer of flavour."
Vegetable side dishes like soy ginger glazed eggplant can be on the table in less than 30 minutes. And there's plenty of new types of protein to explore, like dried tofu skin. After an overnight soak, its soft chewy texture is perfect in the fresh, fragrant, and highly addictive cucumber and shredded tofu skin salad." Golden crispy rice and mung bean crepes, or bahn xeo, is a great dish for filling with leftovers and can be ready in minutes. "It is an easy dish, but the challenge is having the confidence to cook it at high heat," says Stauch.
His manuscript landed in the hands of the esteemed editor, Maria Guarnaschelli, whose work includes classics like the The Zuni Cafe Cookbook and Julie Sahni's, Classic Indian Cooking. "A lot of people told me she was tough," he says, "But I wanted to become a cookbook writer and looked on the process as a master's program."
Turning the idea into reality was one of the hardest things he's done. He had to flex new muscles in writing the introduction and header notes for recipes. His culinary background came in handy because he knew the watch points to emphasise. But to be friendly to the home cook, all chef language was scrubbed from the script.
Stauch has since moved to Bangkok with his family, and this year, he'll make several North American promotional trips to the U.S. and Canada. The gorgeous cookbook he created, along with his easy-going charm, is sure to win him plenty of new fans. "Writing is an isolated process, and I'm looking forward to getting out with people."