What started out as a simple collaboration between chef Eva Chin of Momofuku Kōjin's and k.Market's chef Ken Yau, has turned into a dynamic feast with a cause in the wake of tragic incidents towards the AAPI (Asian American and Pacific Islander) communities across North America.
The unique feature menu, Feast of Harmony, celebrates all things Southern Chinese cuisine. Eva Chin feels like this menu is something that finally represents her Chinese roots.
"I have spent my whole life in kitchens making and learning other cultural cuisines, but I have yet to celebrate my own heritage-driven food," she says.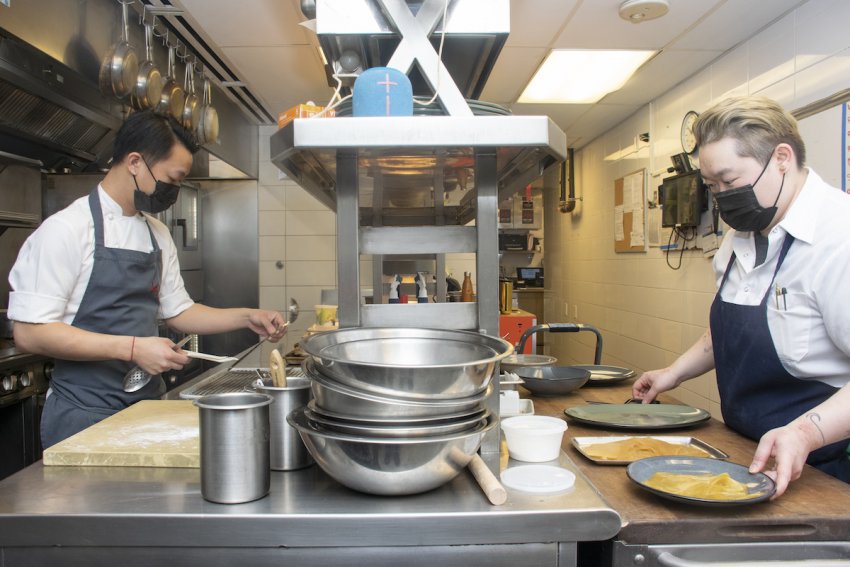 Chin first heard of Ken Yau through her sous chef. Once they got on the phone, they discovered that there was an instant connection to southern Chinese cuisine. Plus, they both bonded over their long stints of working abroad for very well-known restaurants.
For both chefs, this is the most familiar collaboration in the history of their careers.
Yau is no joke. He has worked at the prestigious Scaramouche and Nota Bene in Toronto. In addition to that, the chef has also cooked at famed three-Michelin-star restaurant, The Fat Duck in the UK. His inspiration comes from his community, his mother's cooking and his travels.
Since the onset of the pandemic, k.Market model had to pivot to e-commerce store featuring snacks, hand-rolled dumplings and sauces.
Chin is a master in the kitchen and owes it all to her grandma. She's worked at a three Michelin-starred restaurant, Maaemo in Norway, along with many other high-end eateries around the world before landing at Momofuku Kōjin. Kōjin is a modern Canadian restaurant that highlights Ontario meats and produce, all cooked over a charcoal flame, while the menu reflects Eva's Hawaiian, Singaporean and Chinese culture.
Available for dinner beginning today until 17, and from April 21 to 24, the menu sounds beyond enticing. This limited-time takeout dinner event will also be donating meals to the Yee Hong Centre for Geriatric Care, an institution that supports elders in the Scarborough community.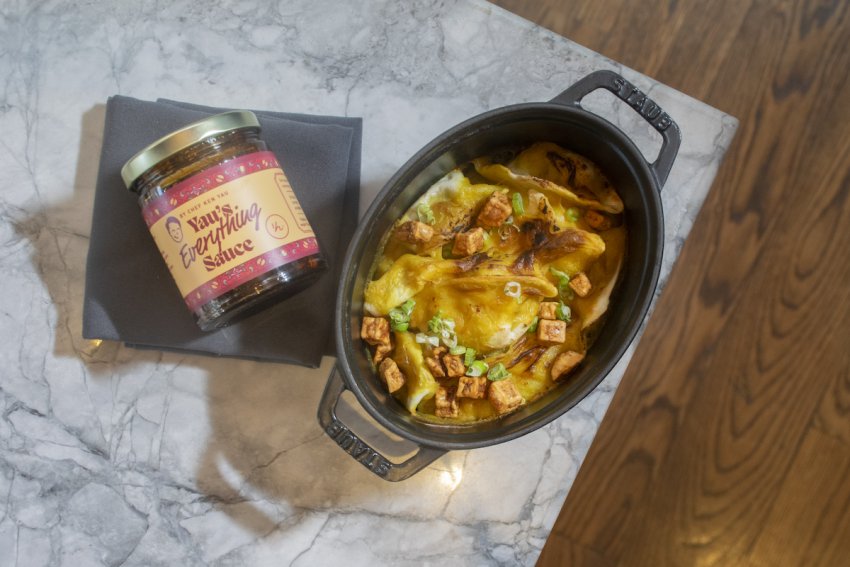 The dinner menu features Yau's chicken curry dumplings, with Macanese chicken curry, coconut, and potato, a winter melon and celtuce with fried black bean and Yau's "Yau Everything Sauce." Also featured is a B.C. rockfish congee with fish balls, inspired by the classic breakfast served in Hong Kong.
There's also a soup dumpling with XO sauce, filled with steamed crab and pickled ginger and Chin's special black vinegar sauce. The charcoal heritage pork belly adds to the spread, made with a secret spice rub and smoked hoisin.
The feast is rounded out by twice-cooked milk pudding–a dessert served with ginger, rhubarb and egg.
The chefs' collective Feast of Harmony will likely happen again and promises to feature a rotating menu when it does. To stay in the know, sign up for Momofuku Toronto's newsletter to hear what's coming up next.