Chefs aren't the only ones changing their menus at the start of the season. With gardens coming back to life and our palates awakening from fresh flavours, bartenders are responding with new cocktail menus and looking forward to a newer set of attitudes and ideas. We asked a few of the country's most celebrated mixologists about what's new in libations.
Christopher Cho — Ayden Kitchen & Bar, Saskatoon, SK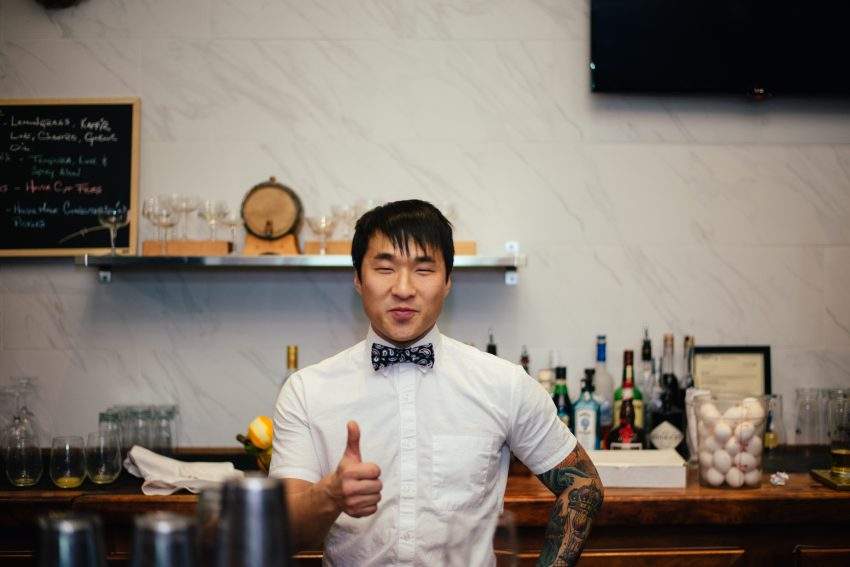 After working on the bar program at many acclaimed restaurants in Canada, including Fable and Charcut Roast House, Christopher Cho has reunited with chef Dale MacKay to work on the program at Ayden Kitchen & Bar.
White spirits
Brown spirits have been so popular, but in the past year, specialty craft gins have become more in demand. I have a fascination for rums. Most people think South Side when it comes to rum cocktails but I like mine a bit more hot.
Bitters and tinctures
I have guests approaching me at the bar and telling me that they just bought bitters from a specialty shop and want to see what they can do with them. I like hearing that; it shows me that people who aren't your typical bartenders are mixing it up at home.
In-house components
With the cocktail scene exploding, I feel that more bartenders are reading more and expanding their knowledge. Doing everything in-house makes a restaurant special when it comes to the food aspect of things. So I see doing everything in-house on the bar side of the restaurant being big.
Vintage glassware
You'll see a lot more vintage-style glassware and coupes behind the bar. I'm a strong believer in keeping things traditional (like putting your cereal in a bowl and not a coffee mug) and using the proper glassware that the cocktail deserves without being too trendy.But I see vintage glassware being a major trend in 2014.
Danielle Tatarin — The Keefer Bar, Vancouver, B.C.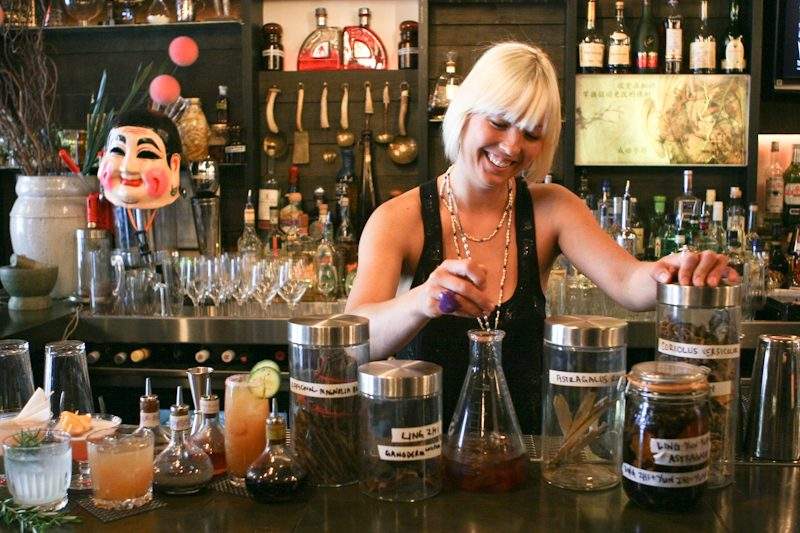 As a founding member of the Canadian Professional Bartenders Association and general manager of Vancouver's popular Keefer Bar, Danielle Tatarin clearly isn't a wallflower in the country's cocktail scene. No, she has her finger on the pulse and is actively shaping the culture. Here's what she is seeing in Canada.
Mezcal
I've been drinking a lot of mezcal lately. This beautiful spirit is starting to make its way into the global market with artisanal mezcals now being exported from Mexico. To me, this spirit is one of the most complex and unique drinks to sip straight or have mixed into a cocktail for a whole new depth.
Women bartenders
The talent of women behind bars is growing and it's great to see.
Simple drinks
Drinks with less ingredients, but with more flavour. Classically-inspired drinks that incorporate unique contemporary ingredients simply to enhance flavour of the drink without overpowering.
Savoury cocktails/ingredients
A little bit of salt brings out the flavour in food; the same goes for cocktails. Think saline solution, a pinch of salt or even a dash of soy to drinks.
Shaun Layton — L'Abattoir, Vancouver, B.C.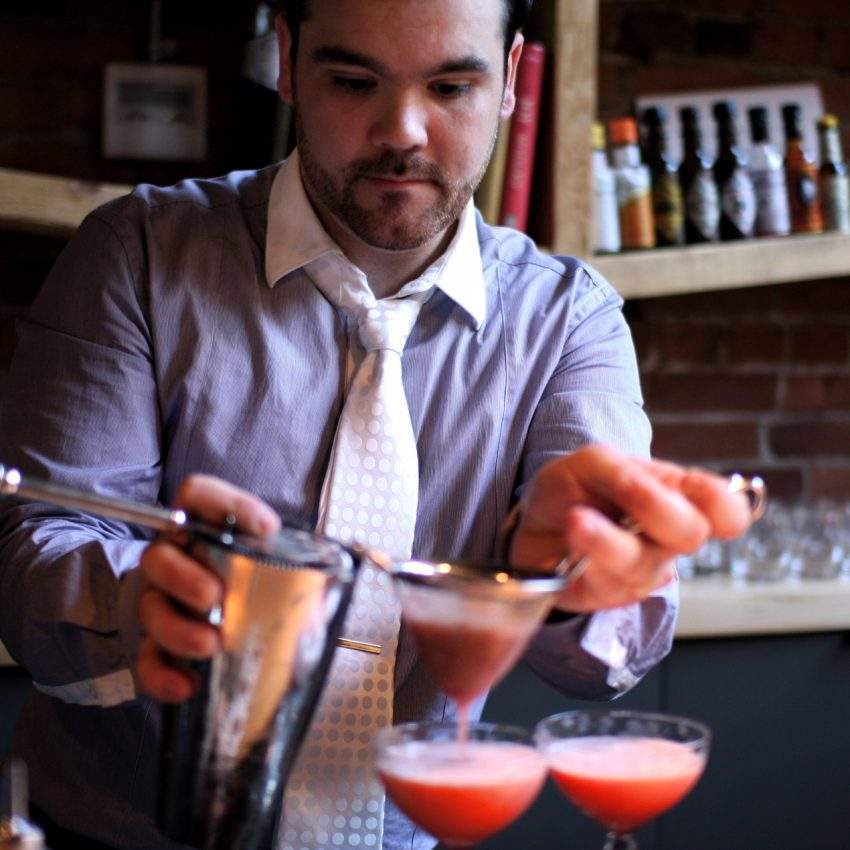 It's almost uanimously agreed upon that you must have a meal at L'Abattoir when you're in Vancouver, B.C., and — not to discount or minimize the quality of the food — a large part of what makes the restaurant so special is the cocktails. Head barman Shaun Layton makes some of the city's best cocktails. Here's his take on what you'll find in the cocktail scene.
Micro-distillery
I think the micro-distillery trend in Vancouver is really picking up. A few great small distilleries opened this year: Long Table, Yaletown Distilling co, East Van, etc. It's awesome to see this happening. Also, brewery lounges like Brassneck are really cool!
Service
Your clientele is something that will become more important. I think instead of opening a certain type of bar that is very specific to one spirit, for example, bars are starting to look at who they are serving and adapting their lists to them. Vancouver is too small a city to open a rye bar in the West End. I like to focus my lists on who I'll be serving, not what just I like to drink, so to speak.
Small lists
Another trend is smaller cocktail lists. Once you go over 20 cocktails, you start to lose focus. I'm way more a fan of a small, focused list.
Savoury ingredients
They are really cool right now. I put an avocado cocktail on the list, thinking it would be a risk-taker's order. It is now our number one drink in sales. It's pretty cool to see Vancouverites jumping out of their comfort zones; we've come a long way.
Reaction to liquor laws
Finally, with the liquor reforms in B.C., happy hour will soon be legal. I hope this isn't a flash in the pan. This can create some much needed culture for our drinking scene, and hopefully, all the little neighbourhood places will jump on board. I look at cities like Seattle, and they have a great happy hour.
Wes Galloway — The Cocktail Parlor/Byblos, Toronto, ON
Middle Eastern and Mediterrean flavours may not be the obvious go-tos for cocktails, but Wes Galloway will be making them shine at Byblos, the new venture from Toronto restaurateurs Charles Khabouth and Hanif Harji. Here's what Galloway says to look for.
Tiki
Tiki is coming back in a big way -- all the rum, all the tropical drinks, 1940s, Donn Beach -- all that stuff is going to come back a little more.
Non-alcoholic drinks a lighter drinks
The spirit-forward market is really saturated; everybody was doing the boozy classics from the late 1800s. Maybe the trend will go back to doing a little more fresh stuff. Along with tiki and lighter drinks, you're going to see a lot of fresh juices coming back, the softer side of mixology; a lot of lower-proof drinks, especially with Ontario lowering the allowable blood alcohol concentration from 0.08 to 0.05. Virgin cocktails is another trend. A lot of people are putting virgin cocktails together for people who don't drink: pregnant women or people who have to drive.
Service
Service is another one, not that it's really left. Service is coming more and more to the forefront and is focused on being able to give the guests what they want, making it well and focusing more on the experience (feel and the vibe of your bar), making sure people have a really good time. It's almost going back to an old-school bartender way where it was more about being a great host than it was about creations.