Lauren Mote has long been a fixture in the Vancouver cocktail scene, with experience behind the bar, as well as with Bittered Sling, the leading Canadian bitters company she runs with husband, Jonathan Chovancek (chef of Cafe Medina). Earlier this year, she was awarded Bartender of the Year at the Vancouver Magazine Restaurant Awards, being recognized for her hard work in the West Coast city.
It's hard to imagine that between managing UVA, creating cocktail programs for a variety of other restaurants and producing an extremely popular line of bitters, Mote has time for much else (or sleep for that matter), but she always seems to find time for a little competition, too. Last week, Mote added a national award to her mantle, after being crowned the 2015 Canadian Bartender of the Year in Canada's biggest and most celebrated bartending competition, Diageo World Class Canada.
"I cannot begin to express how amazing this feels," says Mote, who just returned from hosting a series of educational cocktail seminars in Montreal and Toronto, and will soon travel to New Orleans for Tales of the Cocktail® 2015. "To simply compete amongst my incredibly talented friends and colleagues was an honour, but to win is an absolute privilege."
In addition to winning the coveted Diageo World Class Canada Bartender of the Year title, Mote is the first woman to do so and only the second woman to compete at the national level (alongside her friend and peer, Danielle Tatarin, of Vancouver's The Keefer Bar).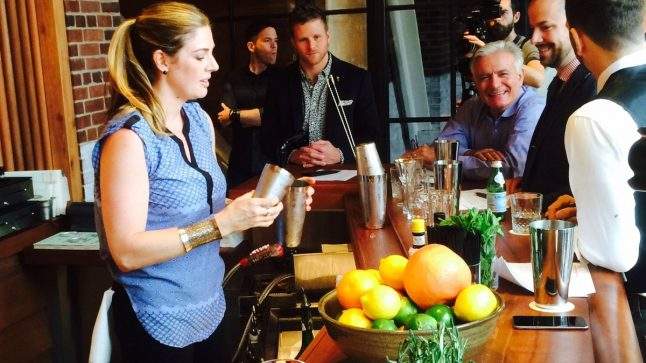 Mote's road to Chicago began in May, when she presented her cocktails, named Kid Video and Au Lieu de Ski, at the British Columbia regional finals, held at Vancouver's Boulevard Kitchen & Oyster Bar. She then headed to Chicago, IL, where 10 of Canada's top bartenders competed in seven gruelling challenges over three days, from June 22 to June 24. Judging the competitors on their knowledge, skill, speed and showmanship behind the bar was a panel of 12 influential bartending and spirits experts: Charles Joly, Dale DeGroff, David Nepove, Dennis Tamse, Jacques Bezuidenhout, Jeff Bell, Jim Meehan, Julie Reiner, Ricky Gomez, Steve Olson, Tony Abou-Ganim, and last year's Canadian champion, Grant Sceney, of Vancouver's Fairmont Pacific Rim.
"Now that I've had a few days to digest it all, I can honestly say participating in Diageo World Class Canada finals was a watershed moment in my career," Mote shared on Facebook yesterday with friends, family and fans. "I'm humbled by the talent I encountered in both the judges and the competitors, and emboldened by the fact that I came through the experience in one piece...Thank you to Diageo and Wirtz for organizing the event and to my family, friends, staff, and colleagues for their support and encouragement."
Now, after claiming the national title at this upper echelon cocktail competition, Mote will head across the ocean and down south to Cape Town, South Africa in late August for the international finals. There, she'll be shaking and stirring it out with other champions from a total of 57 countries for the top World Class spot.
With the booming success that is Bittered Sling and cocktail creations in many well-known establishments, like YEW at the Four Seasons Vancouver, UVA and The Nash in Calgary, as well as her always-growing list of awards and accolades, it's really no surprise that a world title is within Mote's grasp.