Calgarians never need a reason to visit Banff. Only a little more than an hour away, it's the default and perfect playground for everyone, from outdoor sports fanatics to those who just want to relax at the hot springs or spa in the resort town.
Food and wine enthusiasts can now add The Vermillion Room at Fairmont Banff Springs to the list of places to go to unwind. One of the most iconic hotels in North America, Fairmont Banff Springs has long been the go-to accommodation for those who want to experience the best of Banff. This Castle in the Rockies offers a unique setting in a stunning backdrop, as well as multiple restaurants to satisfy the appetites of every guest.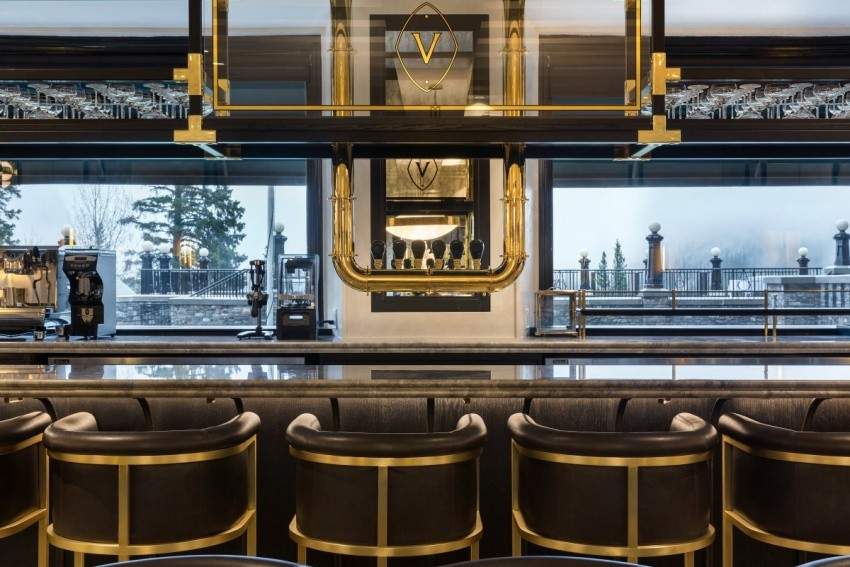 Formerly known as The Bow Valley Grille, the restaurant recently underwent a dramatic facelift. In its place stands The Vermillion Room, a stunning, modern French brasserie brought to life with the help of chef Ryan Watson on the food and Frank Architecture and Design (which recently worked with Fairmont Chateau Whistler, and has designed many of the top eateries in Calgary) on the design.
The newest restaurant within the hotel to undergo a reinvention, The Vermillion Room now boasts a bright interior, blue velvet seats, brass details and marble tops that all work together to showcase the traditional French menu.
Daily specials entice guests every day of the week, from Monday's Coquille St. Jacques (seafood and mushrooms in a cream sauce and topped with cheese to Sunday's cote de boeuf.
Chef Ryan Watson brings together Canadian and sustainable ingredients and French techniques in dishes like the locally-raised Rangeland bison bourguignon and Ocean Wise certified seafood features.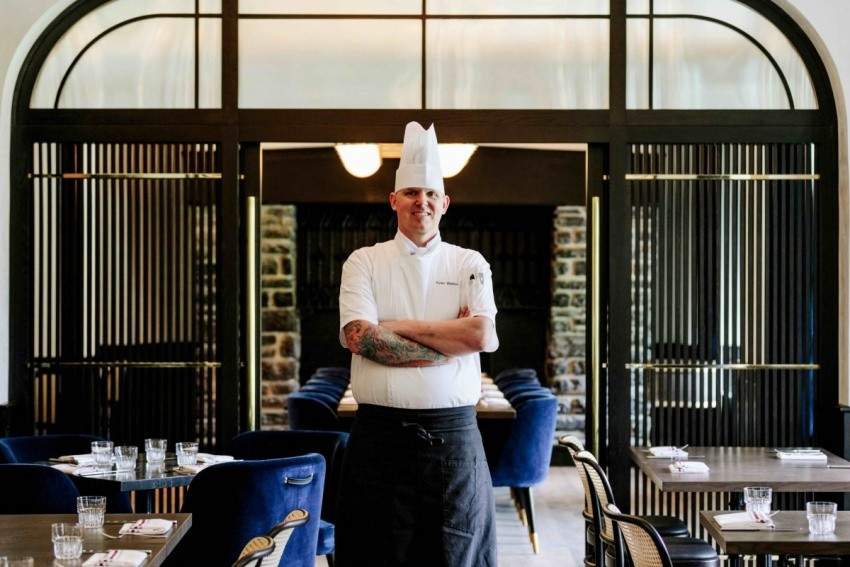 "This is simple food done perfectly, having the opportunity to show young chefs the importance of using their senses, and most importantly, tasting everything over and over until it is just right," says Ryan Watson, chef de cuisine of Vermillion Room.
To complement the French menu, a variety of cocktails, beers, wines, and non-alcoholic drinks are available, all with French or Canadian origins. The cocktails are all classics with a twist, as illustrated by the AAA Caesar, made with Canadian rye whisky and house French onion broth; as well as the celery gimlet, made with Wild Life gin and house celery syrup. Its beer list is as Canuck as it gets, including Grizzly Paw Chinook Red IPA from Alberta and Unibroue A Tout Le Monde from Quebec, among others. The Kronenbourg 1664 is the only non-Canadian option and it's an appropriate nod to French restaurant. The wine list, made up of only Canadian and French wines, is consistent with the restaurant's philosophy and style.
Open for breakfast, lunch, dinner, and weekend brunch, The Vermillion Room is there for you anytime you want to indulge in traditional French fare in the heart of Banff.