Though there likely won't be royal tours happening any time soon, the next instalment of the Toronto Railway Museum's Virtual Lecture Series is placing focus on royal train tours of Canada from days past. Happening Wednesday, April 21 from 6:30 p.m. to 9 p.m. ET in honour of the Queen's birthday, historian Dr. Carolyn Harris will lead a elegant, fun and historic night providing insight into how Canadian Pacific Rail executed various royal tours throughout the 1900s.
General and VIP tickets are available for $10 and $25 respectively and can be purchased online.
Dr. Harris–who also a instructor in history at the University of Toronto School of Continuing Studies–has provided us with a few fun food and drink facts, surely just the tip of the iceberg of what folks can learn tomorrow night during the Royal Train Tours of Canada virtual event.
The 1901 royal tour by the future King George V and Queen Mary showcased Canadian cuisine, especially seafood.
Artist C.W. Jeffries who was one of the press on the royal train tour later recalled, "Incidentally, I might mention that our menu on the Royal train advertised our food resources admirably: we introduced our visitors to Restigouche salmon in the east, to Nepigon salmon west of Lake Superior, and to Pacific Salmon on the coast, with bass and trout and whitefish everywhere, as well as partridge, venison and prairie chicken."
After the future King George V and Queen Mary toured Canada by train in 1901, British journalist Melton Prior asked where he could purchase Canadian mineral water.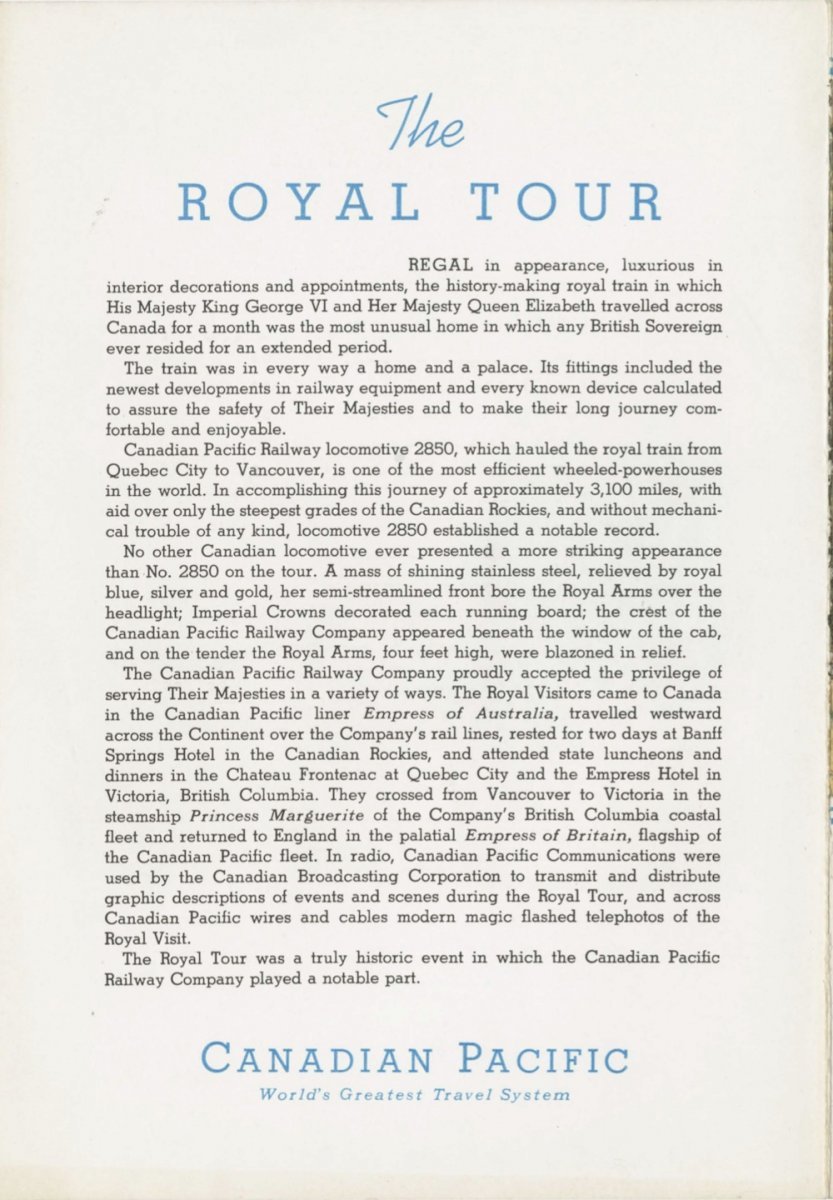 C.W. Jeffries recalled, "We were reminded of his visit some time afterwards by the advertisement in the shape of a facsimile letter from Prior to the proprietors of a certain Canadian mineral water, well known at the time, enquiring where in England he could procure their very excellent mineral water, as supplied to the dining cars on the Royal Tour."
The china pattern in the dining cars for the 1939 Royal Tour by King George VI and Queen Elizabeth was blue and gold, matching the distinctive colours of the train.
Following the royal tour, Canadian Pacific continued to use the blue and gold china pattern for food service in its business class until 1950. Judging by the image above, the menu matched the colour scheme too!
The royal train for the 1939 royal tour featured a dining room for twelve, decorated with maps of Canada so that King George VI and Queen Elizabeth could follow the train's progress across the country.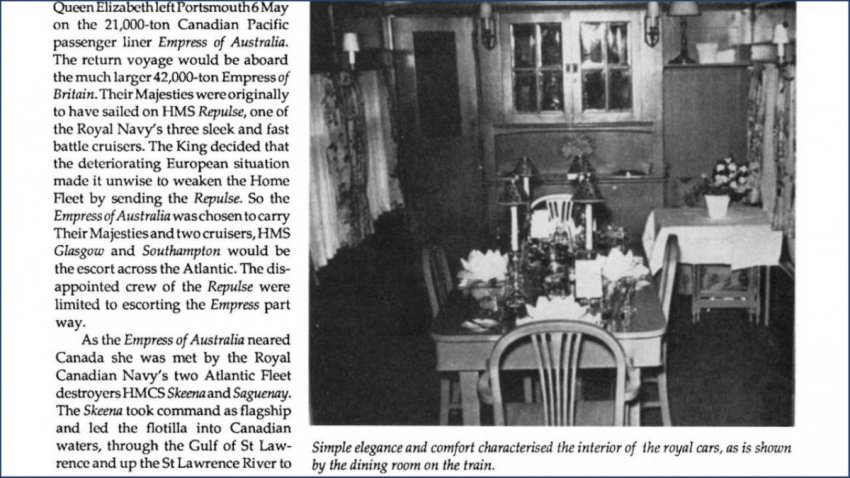 What did people do before Google Maps? Real maps, of course!
Toronto Railway Museum's virtual event Royal Train Tours of Canada happens Wednesday, April 21 from 6:30 to 9 p.m. ET, in honour of Queen Elizabeth II's 95th birthday. Tickets are available to purchase online.