It isn't often you see a hotel with the history that Toronto's Fairmont Royal York has, let alone a hotel bar that has been around for over four decades. Built like the inside of a CP Rail train car in 1972 in the heart of the Royal York, York Station was a speakeasy-style destination long before speakeasies (as we know them today) were trendy, and has remained in this tradition ever since.
This is all largely due to resident bartender, Alina Budzinski, keeping things on track. Unfortunately, its long journey is soon to come to an end.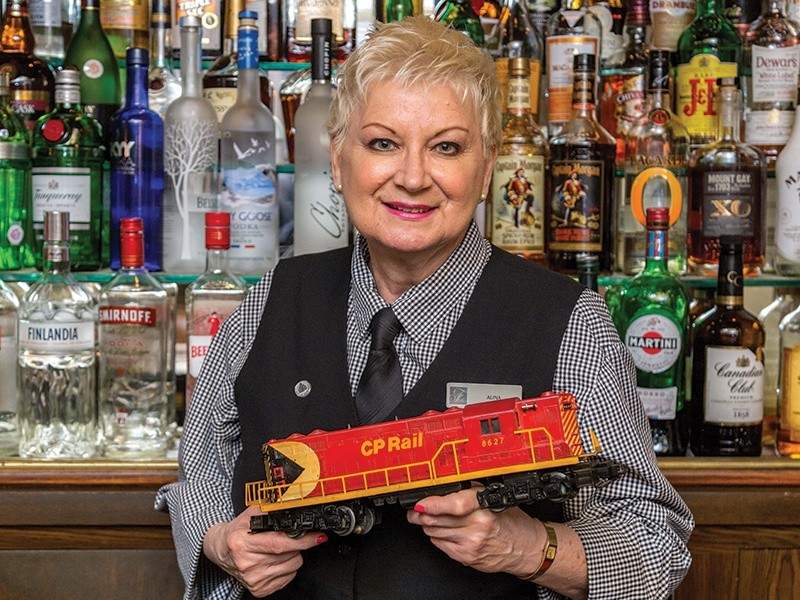 Budzinksi came to Toronto in 1975 and quickly worked her way up the ranks of the dining and beverage outlets at the Royal York, and has been York Station's go-to barkeep for decades. Now, 42 years later, she will be serving her final drinks on June 30th to customers who have come to love her passion for all things service and hospitality over the years (so much so that she has even hosted an annual Christmas party to thank her regular customers).
When asked what has kept her going year after year, Budzinksi says that it has been the guests who return (alone or with a friend) that have meant the world to her, even through all of the ups and downs. Her favourite drink, both to make and to drink, is a classic gin martini. She will certainly be shaking up a few more before the end of her tenure at the end of the month.
As for the space, it will receive a much needed renovation and will be expanded as part of the Royal York's 2018 to 2019 refurbishment project.
In recent years, many Fairmont properties across Canada have undergone substantial renovations. Of those, the most recent and noteworthy would be the transformation of the Pacific Rim's ORU Cuisine into Botanist, a concept in Vancouver that boasts a Champagne lounge, experimental cocktail bar, dining room and stunning interior design; as well as the Fairmont Empress, located in Victoria, which finally wrapped its extensive renovations last week.
You won't find Budzinksi behind the new bar though, as the industry veteran isn't planning on settling into a normal routine just yet. Instead, she plans to travel across Canada and Europe.
Her train may have departed York Station, but it's bound to keep on rolling!