For gin lovers, there is nothing quite as exciting as discovering that a new micro-distilled gin has hit the market. As Canada's microdistillery scene continues to boom, new spirits are almost a dime a dozen these days. Thus, it takes something thoughtful and unique to stand out behind the bar.
Since opening just over 10 years ago, Victoria Distillers has become one of the country's most well-known spirit producers. If you're having a drink at a quality cocktail bar in any major Canadian city, it is highly likely that its namesake gin will be on offer. The hemp vodka, also a signature, but more popular in Western Canada, is another notable notch in this distillery's boozy belt. This week, the company has further added to its liquor lineup, unveiling its newest and royal purple gin, the Empress 1908, which is made in collaboration with the Fairmont Empress.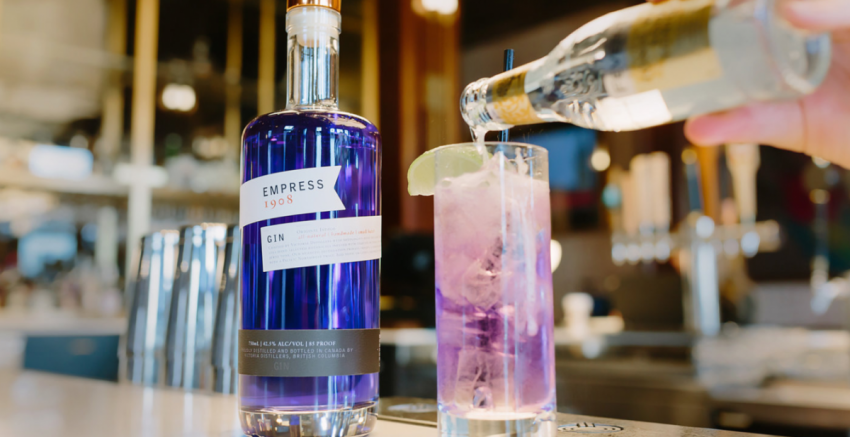 Being one of the country's most famous hotel properties, most people know that the Fairmont Empress has plenty of regal ties. Both Queen Elizabeth I and II have graced the hotel with their royal presence, as have Prince Charles and Camilla. The noble history is apparently just as filled with gin as it is with royal visitors and tea services. What you might not know is that almost 100 years ago, Sir Winston Churchill sat in the Empress lobby lounge, secretly sipping on gin poured out of a teapot during prohibition. I'll take that little historical visit over a queen's wave any day of the week.
Jumping closer to present day, the hotel and Victoria Distillers have also had quite a close relationship as the same lobby lounge played host to the launch of the distillery's first batch of gin in 2007. After years as an essential part of the hotel's bar program, the two entities decided to collaborate on a special spirit that could pay homage to the hotel's history--a custom cheers, if you will. The resulting botanical blend consists of rose, coriander seeds, grapefruit peel, ginger, juniper, cinnamon as well as the signature Empress blend tea.
But, wait a second. What's with the colour?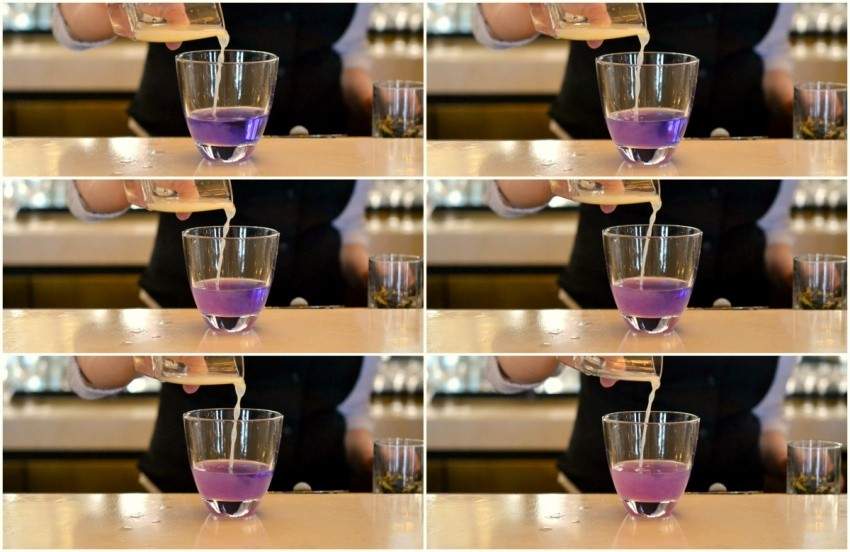 There's no need to fret over bizarre food colourings and chemicals as the beautifully dramatic transformation (shown above) comes naturally, courtesy of dried butterfly pea flowers. Because of the infusion of the flowers, when the gin interacts with anything acidic, like tonic and lemon juice, it will change from a deep indigo to light pink. It's a charming effect that will no doubt be welcomed with oohs and aahs from unsuspecting folks watching their drinks being made.
The colour change is reminiscent of the "unicorn effect" that's running rampant in the North American food and drink scene. Rainbow shades and hues of purple and pink command people's attention, whether it's from a smoothie bowl, bagels, beer or, most prominently, Starbucks famously gimmicky Unicorn Frappucino.
Unlike that myriad of tacky creations, the metamorphosis doesn't detract from the quality of the gin itself, which drinks like a London Dry with a little twist. Try it simply with a good quality tonic and a grapefruit peel garnish to see it shine.
The Empress 1908 gin is now available in select liquor stores across Canada and will also be shipped to American markets as of June. It's rare to see a Canadian-made spirit available for purchase in the United States, so it will be interesting to see how the Empress 1908 is received by our southern cocktail-mixing neighbours this summer.
Fairmont Empress' new signature cocktail, The Q 1908