Dog people are the best kind of people. However, when you're a dog person who travels for work, pleasure or otherwise, it's only natural to miss your furry friend that's waiting at home and likely missing you just as much. Because of this, many hotels have a dog or two on site for their guests. Typically, people have the opportunity to take a hotel's dog for a walk, or just visit and pet them in the lobby. They are meant to have a calming effect on people, guests and local passersby alike, and help to further create a welcoming atmosphere in a hotel in general.
Hotel dogs, or "canine ambassadors" as Fairmont Hotels like to call them, are primarily on-site for guests, but there is definitely a sort of pack mentality from the hotel staff that goes into taking care of the dogs. Interestingly enough, Fairmont properties across Canada as a whole have a partnership with Canadian Guide Dogs for the Blind based out of Ontario, where they take on certain dogs that don't graduate from their guide dog training.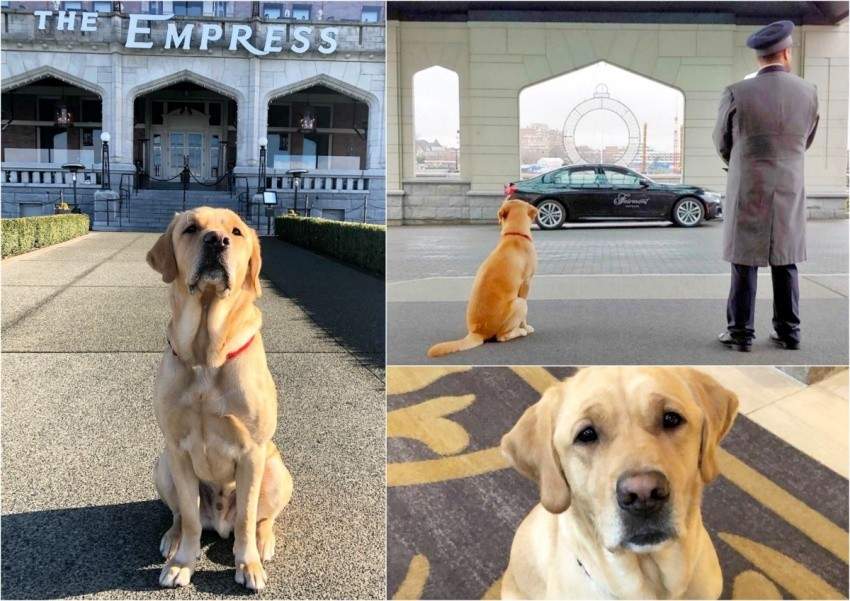 What's the issue? In short, the guide school flunkee are too friendly.
Sometimes, I wish more humans had that problem!
Recently, the Fairmont Empress debuted former guide dog trainee and eager new canine ambassador named Winston and he has been all abuzz on Vancouver Island for his charming demeanour, in person and via his own Instagram account. The feed shows him posing around the property with "coworkers", walking the pier in downtown Victoria and more.
"Winston definitely has a spring in his step, and couldn't be more excited about his new career move," jokes the hotel's marketing manager, Jeremy Heryet. "Our colleagues are thrilled about Winston's arrival. Over the short time he has been canine ambassador, he has become an essential part of the team at Fairmont Empress."
If he's not following along his fellow Fairmont workers like Q at The Empress executive chef Ken Hookham, strolling the shores or at home with his official owner, Fairmont Empress director of food and beverage, Jessica Pearce, you can find the friendly canine "working" in the reception lobby Monday to Friday from 9 a.m. to 5 p.m.
"Since starting his role [at the beginning of the new year], he already has guests and local residents lined up to meet him," says Heryet who goes on to add that both Victoria locals and visitors, in addition to hotel guests, are encouraged to pop in to say hi throughout the week.