Put on annually by the Oliver Osoyoos Winery Association, the Half Corked Marathon will be taking place on Saturday, May 27, 2023. This playful run sees racers, almost all of which in costumes, making their way through some of BC's noted wine-growing areas, the Black Sage and Golden Mile Benches. While there is some running involved, it's less a race and more of a wine-sipping adventure as winery stations are set-up along the 24km route.
It's a highly sought after event to take part in and as such, the ability to buy tickets is provided to potential racers via the race's general lottery. Interested individuals can enter online until Monday, January 23, 2023. After the 23rd, winners will be contacted with a link to purchase. Tickets are $265 plus tax.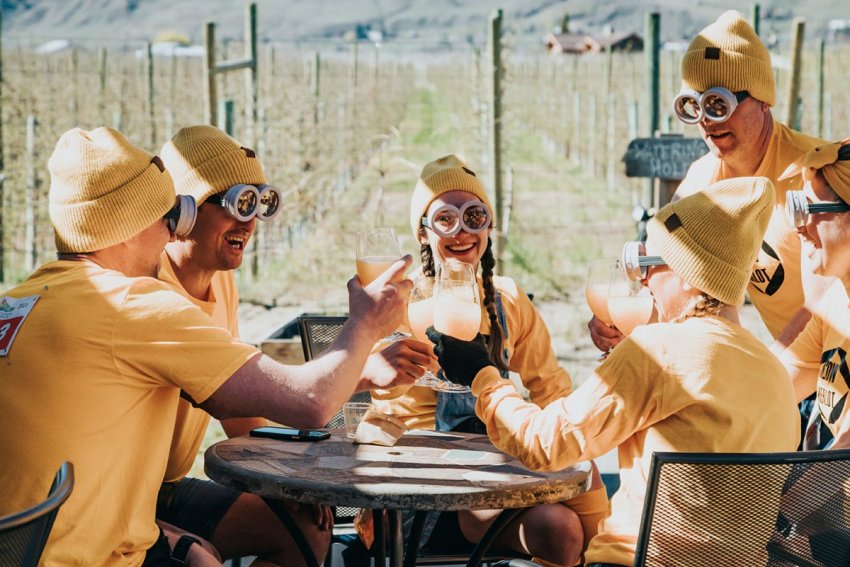 The Party at the Finish Line is always a highlight for new and returning racers alike, boasting live music, food trucks...and plenty more wine. It's here that race organizers award prizes for best individual costume, best team and best skit. This post-race event takes place at Oliver Community Park and is open to everyone, not just racers.
The night before the race, Tinhorn Creek will be hosting its Primavera Party (May 26, $135.60 plus tax) in its vineyard and amphitheater. The night following the Half Corked Marathon, Culmina Family Estate Winery is also hosting a special dinner (May 28, $166.80 plus tax) that is limited to 50 guests and will see small groups will be hosted by a winemaker or winery owner who will pair Culmina wines to each course.
More information on all events over the Half Corked Marathon can be found on the Oliver Osoyoos Winery Associate website.