Sure, almost every Canadian foodie knows Susur Lee and Lisa Ray, but there are some personalities in the Canadian food industry who modestly contributes to different areas, from TV and restaurants to food manufacturing and recipe development. Dana McCauley may be well-known as a judge for two seasons on Food Network Canada's Recipe to Riches, but she is also a seasoned marketing executive with extensive experience in all facets of the food business and taking ideas from concept to kitchen to commercialization. She's the founder and on-air presenter for Food Trends TV, a YouTube channel that publishes new, original content each Monday morning and curates the best food trend videos to be found throughout the rest of the week.
Breakfast
I'm not a huge fan of fry-up style breakfasts, yet I love eggs! That's why you'll often find me at What a Bagel for its very zesty, healthy Shakshuka. For the uninitiated, it's a skillet dish that features stewed veggies and tomatoes and softly cooked eggs.
Lunch
The 500, a quinoa based salad from small scale chain restaurant Joey, is one of my fave lunches in the city. It's hearty, only 500 calories but really flavourful and stylishly presented. And, if I'm a bit hungrier, they will add chicken to make it more hearty.
Dinner
For white tablecloth, farm-to-table dining, I have to let my bias show and say that my husband Martin Kouprie's restaurant Pangaea is still consistently fabulous after 18 years in business. For a more casual atmosphere, but truly wonderful food, my new favourite discovery is Byblos at Duncan and Pearl Streets. Toronto has lots of Mediterranean restaurants but Byblos is very unique. The food is truly sophisticated and unlike anything else in the city.
Drinks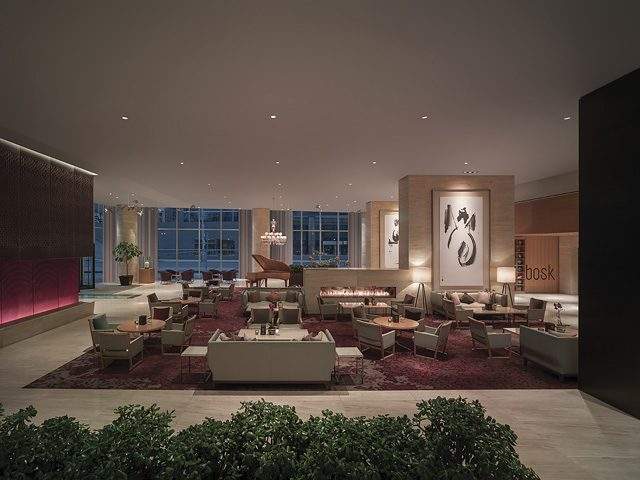 I adore the lobby bar at the Shangri-La Hotel. Subdued but luxurious, the service is excellent and they have terrific live music. The wines, cocktails and other drinks are showcased in a little library of hard cover books which pleases the book nerd in me. But, the piece de resistance, for me, is its two-storey Champagne fridge. I feel pampered just looking at it!
Food Trends TV
McCauley's newest venture is Food Trends TV, a weekly online video series, where the expert tackles different trends in the food world and the reasons and history behind them. She stresses the importance of knowing the difference between a food fad and a food trend in each of the short and sweet segments that run about 1 1/2 minutes apiece. So, no reason not to catch up with the last few weeks, really!