With the impending 100th anniversary of Calgary Stampede's pancake breakfast tradition, there is only one thing that could overshadow the iconic A.M. meal format during its centennial: a truly epic drag brunch.
Cowboys Music Festival's Drag Me To Brunch event is back for a third year and people have been buzzing this week thanks to its stellar celebrity performer lineup and its returning co-hosts, RuPaul's Drag Race judges Carson Kressley and Michelle Visage. While there is sure to be plethora of local performers that are not yet announced for the wildly popular brunch event, the Drag Race stars taking the stage are Alyssa Edwards, Gigi Goode, Symone, Detox, and Tayce (RuPauls Drag Race UK).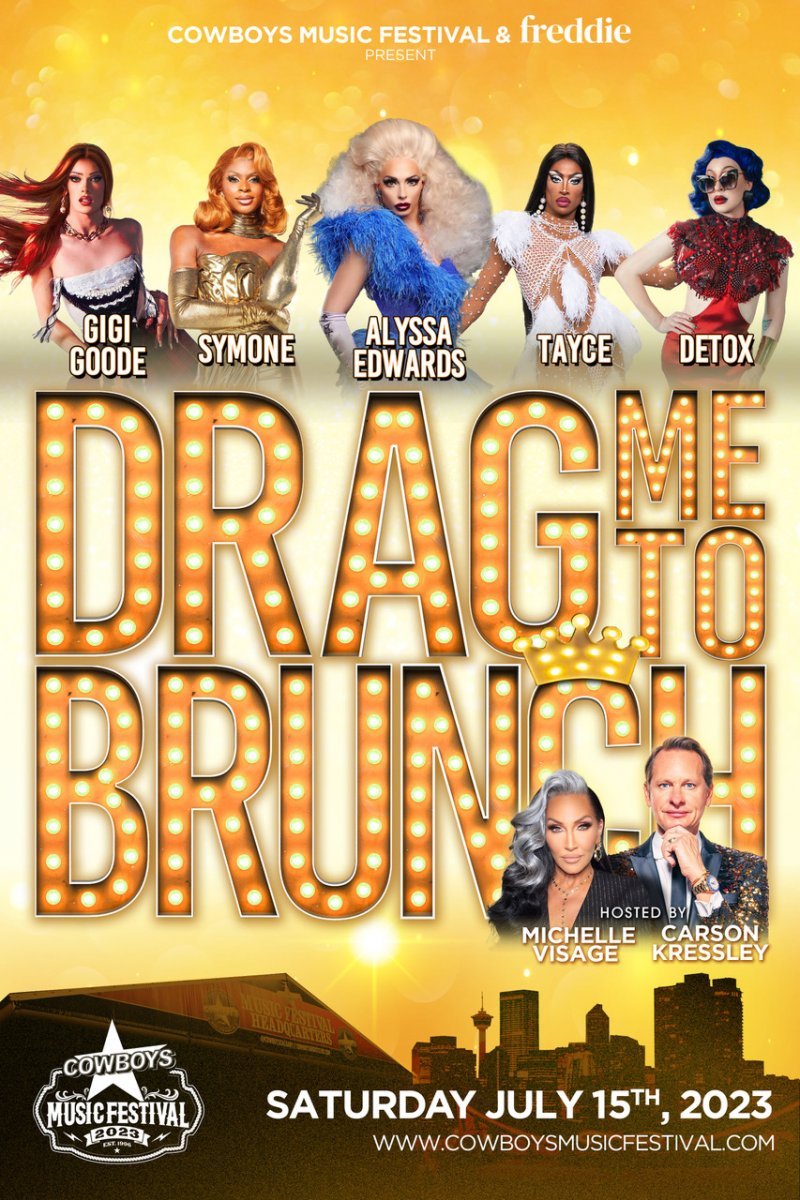 Pre-sale general admission tickets are on sale now via Showpass and cost $29.99. Accessibilty general admission tickets can also now be purchased for anyone with mobility restrictions seeking barrier-free access to the Cowboys Music Festival tent for the duration of Drag Me To Brunch 2023.
Meet-and-greet tickets will also be available to purchase at a later date, and any VIP secton inquiries should be directed to the Cowboys Music Festival sales team via email.
This year's brunch options (not included in ticket price) come courtesy of three on-site food vendors: Cowboys Cookhouse, Big Sky BBQ, and The Dog Father. Of course, an array of drinks will be available to purchase from one of the tent's many bars.
Like past years, Drag Me To Brunch is being put on in support of various queer community initiatives including Skipping Stone Foundation and Pride Calgary.
It may not have the official designation of the "world's largest drag brunch", but rest assured there will be 1000s of drag queen fans in attendance on Saturday, July 15. For more information and to purchase tickets to Drag Me To Brunch 2023, head over to Showpass.