Encased in soft flaky pastry, the warm filling of my traditional New Zealand-style meat pie from Dartmouth's Humble Pie Kitchen is rich, comforting - and surprisingly easy to eat.
Served in a simple paper bag, with no knife, fork or condiments, I expect hot gravy to squirt out, or the pastry to crack and create a flaky mess on my shirt, but neither incident occurs. In fact, co-owner Mike Noakes assures me, if I were to take that big first bite and then invert the pie toward the floor, the filling (like a good Dairy Queen Blizzard) would defy gravity and stay put. This, says Noakes, is the sign of a good pie.
The Humble Pie Kitchen, on the corner of King and Ochterloney Streets in Downtown Dartmouth, has grown up within the renaissance of relatively new Dartmouth restaurants including The Wooden Monkey, Two if By Sea, The Canteen, Battery Park Beer Bar, Yeah Yeah's Pizza and most recently, The Watch that Ends the Night.
Since relocating from their stall at the Halifax Seaport Market in 2015, the collaboration between native New Zealander Noakes, wife Denise Noakes and business partner Shauna MacLean, has been attracting a regular flow of customers, swelled recently by an enticing article in local food and drink magazine, Halifax Curated. "People are coming in from all parts of the province," says MacLean.
Community-minded, Humble Pie also acts as the only Dartmouth pick up point for Afishionado, a sustainably-sourced seafood subscription company.

The menu is simple – nine different styles of savoury double crust pies, small enough to hold in two hands, each labeled with a small decorative pastry shape - a triangle for the pepper steak, a circle for the steak and cheese, and a heart for the most popular pie - chicken, cranberry and brie…and so on. There is also the vegetarian option of a spinach and feta roll.
The pies, which are common take-out fare in New Zealand, are soft, hot and filling, perfect for a quick lunch, or an impromptu picnic at nearby Alderney Landing. Designed as a grab n' go, there is also the option to sit down in the modest but warmly decorated 8-seater restaurant area.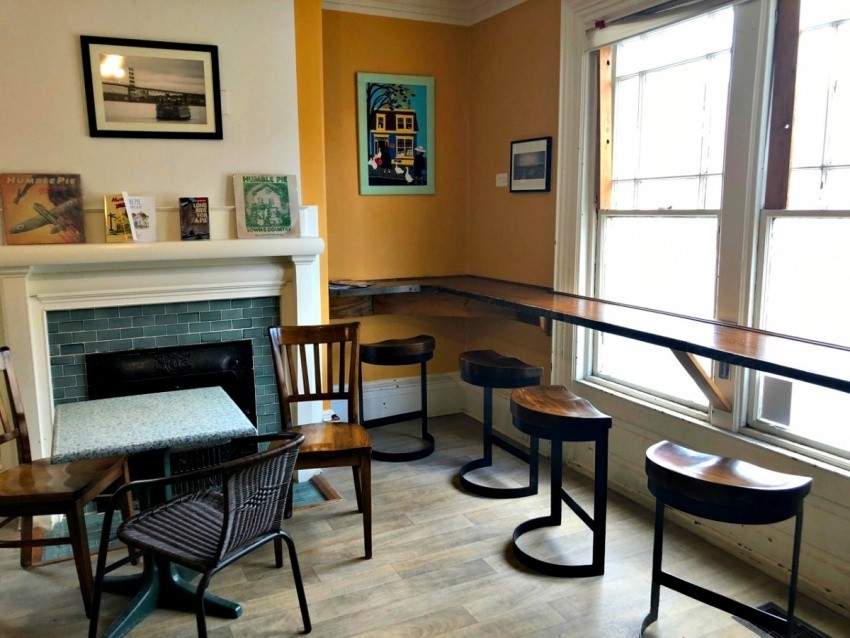 Like most small businesses in Halifax-Dartmouth, Humble Pie is friendly with everyone. They bought their pie oven from fellow bakers at the Seaport Market, Maritime Pasty Co., possibly the first company to sell hand-held pies to Nova Scotia about 10 years ago. (Maritime Pasty kept the name but now focuses on making delicious Lobster sandwiches on fresh-baked rolls at Peggy's Cove.)
Another friend is Bennetto O'Brien at the Handpie Company on Prince Edward Island. The Handpie Company has a similar business model to Humble Pie, but with a different product. PEI handpies are Cornish-style pasties, rather than the round New Zealand style pie, and O'Brien offers a wider vegetarian selection including a popular beet, corn and goat's cheese filling.
An absence of competitors makes Dartmouth's Humble Pie Kitchen the only true antipodean-style pie shop in town…but if anyone else is thinking of picking up the rolling pin, they will have a hard act to follow. Since it opened, the store has garnered rave reviews.
If you love hot, homemade comfort food, head to Dartmouth, Nova Scotia and eat some Humble Pie.