The mark of a good baker is their pastry. So, it will be interesting to see how the bakers fare this week on The Great Canadian Baking Show with the finicky demands of pastry.
Our lovely hosts' opening has something to do with Pictionary and pastry and I don't know what. Julia Chan has a sort of Victorian schoolgirl aesthetic going on with her little blue dress and barrettes. In fact, I might have a picture of my younger sister in a similar look in 1976.
It's pastry week. Andrei Godoroja has "pastry elbow" from over practicing and it seems that Timothy Fu didn't get the memo that everyone was supposed to wear florals. I realize now that I haven't yet commented on Sachin Seth's rotation of perfectly-ironed patterned white shirts, but I like them and he is probably the only person in the world who could keep them clean while baking.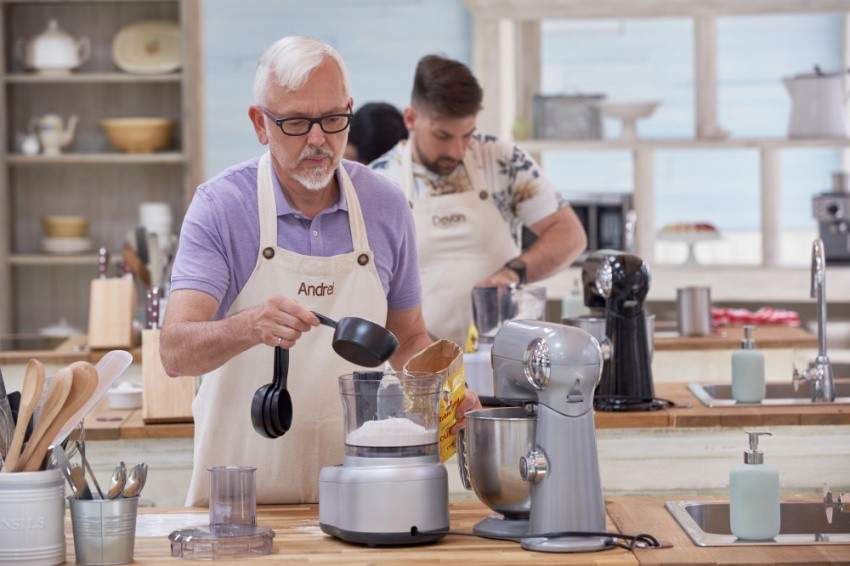 Signature Bake
The Signature Bake is a slab pie, which is a pie baked in a large jelly roll pan. It is a kind of a yummy church-basement, feeds-a-crowd, food.
Occasionally there is a debate about what the best fat is to use in a pie crust: butter, lard or shortening. But everyone knows that butter is the right answer. Butter has the best taste, if not the flakiest crust. The bakers obviously agree with me because they are all using butter.
This is the week we have been waiting for to make as many soggy bottom jokes as possible. Julia Chan knows it too, and in her voiceover, she says par-baking is the way to avoid the dreaded soggy bottom.
Devon Stolz seems to have used too much butter, as the dough for his Dungeons and Dragon's pie was too soft and greasy. He knows it, and even baking it a little longer during the par-bake doesn't help. The pie starts to smoke in the oven. Surprisingly, it emerges from its smoker looking fine.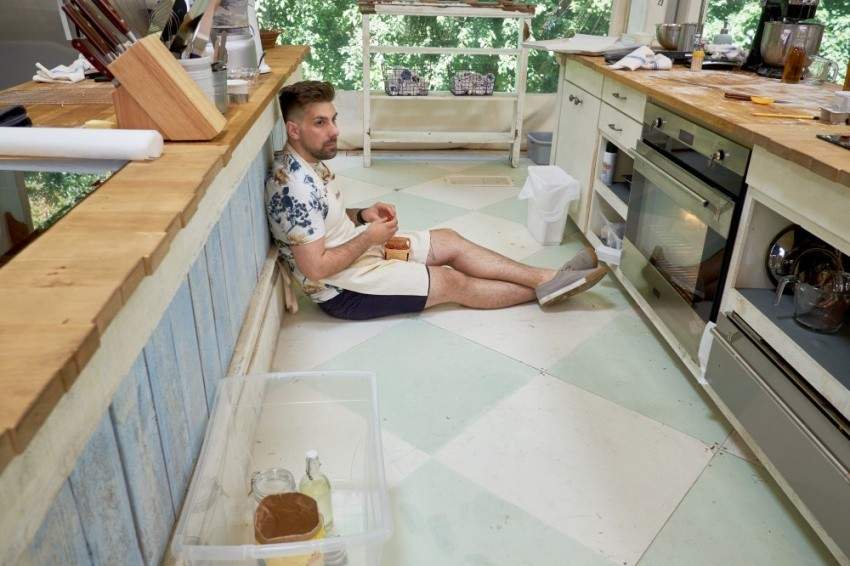 I want a GIF of Devon laughing when Dan Levy makes a rolling device joke at him. It was sort of a "he-he-heh" fake laugh that made me laugh out loud.
Devon's pie looks fine, but it has a soggy bottom! No jokes were made but I know everyone was thinking it.
Megan Stasiewich also falls prey to the soggy bottom. She ignored the advice and did not par-bake her bottom crust because her Grammy told her not to. Rochelle Adonis reminds her that she may want to ignore Grammy's advice sometimes. Megan is in tears, and I'm a little worried because this error shows a lack of basic technique that could not be disguised by artistic handiwork.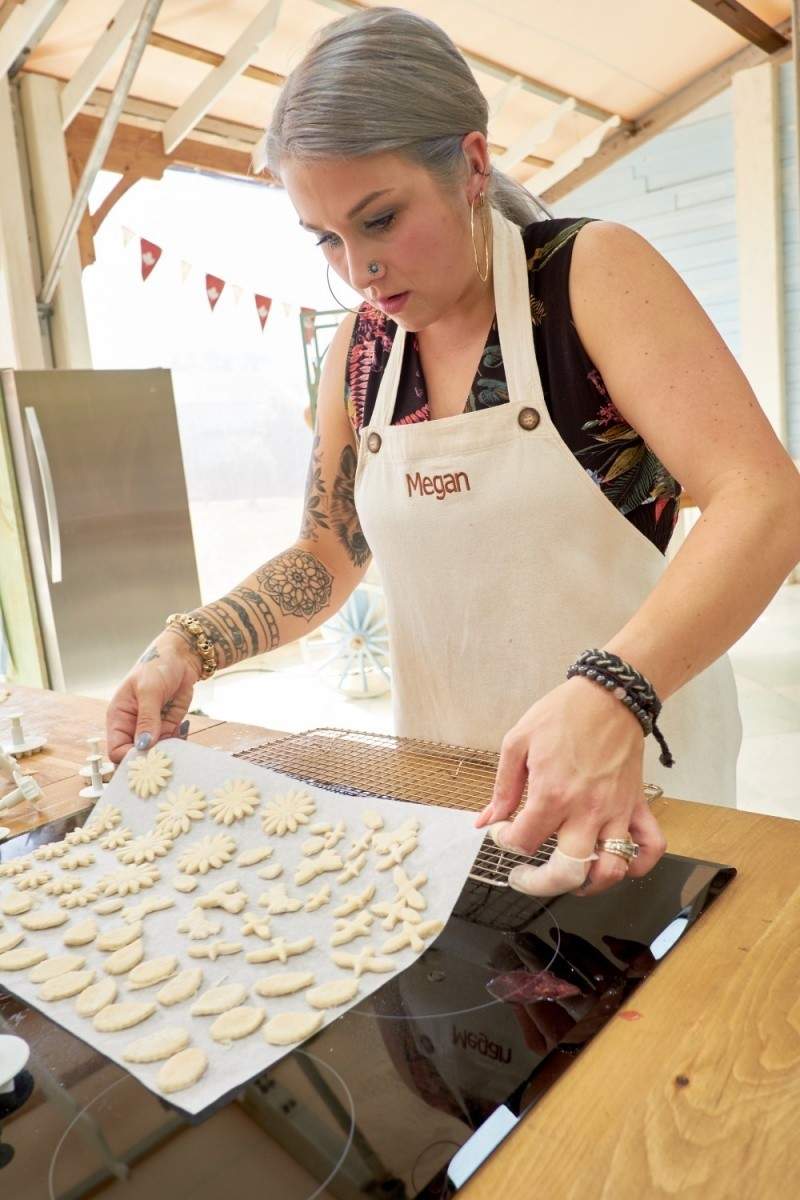 Mengling also underbaked her bottom but her blueberry filling wows the judges. She memorialized her dog Nimbus on the top of the pie, along with his best friend. Dan wonders if he met his best friend at summer camp, but maybe I'm just having pie envy.
Rounding out the soggy bottoms is Timothy Fu. His blueberry and banana (or bahnahnah, according to Rochelle) pie tastes better than it sounds, according to the judges.
Sachin and Andrei have good pastry technique. Sachin's apple frangipane pie looks like the beginning of an amazing concept but doesn't quite work. But Andrei's strawberry, balsamic and black pepper pie is an ode to the 80s, and also the obvious winner of this round.
Technical Bake
Julia says that this mystery challenge is delicate, fussy and flaky—just like Dan, and utters the best joke of the night. The bakers have to make sweet and savoury palmiers out of a rough puff pastry dough.
Most of the bakers are not familiar with palmiers and are sort of eyeing their neighbours. As usual, Sachin and Andrei know what they are doing, or seem to.
Julia's voiceover says that the dough should only be folded three times, or the puff will not be puffy, but Andrei is over the top and folds six times. Devon figures that Andrei knows what he is doing and copies him.
Mistake.
But Andrei does know that to create the palmier shape, the dough should be folded, not rolled. He is the only baker to figure this out. Too bad his exuberant folding lands him in third spot at the gingham altar.
Devon's overworked dough is last. Mengling comes out on top, with Sachin in second.
Devon knows things are not going too well for him but as he says, he has saved himself with a brilliant Showstopper before. We will see.
Showstopper
The Showstopper is a breakfast basket made out of six croissants, six danishes and a sweet bun. The pastries can be sweet or savoury.
For close watchers of the show, it's obvious that the Showstopper is the day after the first two challenges. In fact, every week, someone says something about yesterday. The strange thing is that the contestants and the judges are always in the same outfits for both days. Do they wash them in between? Do they bring two sets? These questions bother me more than they should. Also, does Megan redo her nails at nighttime? Does that relax her?
Who knew that pears could inspire obsession? But Megan professes to be pear obsessed and is putting them in a lattice jail. She is pairing them with hibiscus croissants and coconut lime buns.
Sachin, of course, makes a wonderful Christmas morning-themed basket of pastries, but he is surpassed by Andrei, whose Parisian treats are next level. Bruno Feldeisen wants to take them home and encourages him to move to Paris to open a patisserie.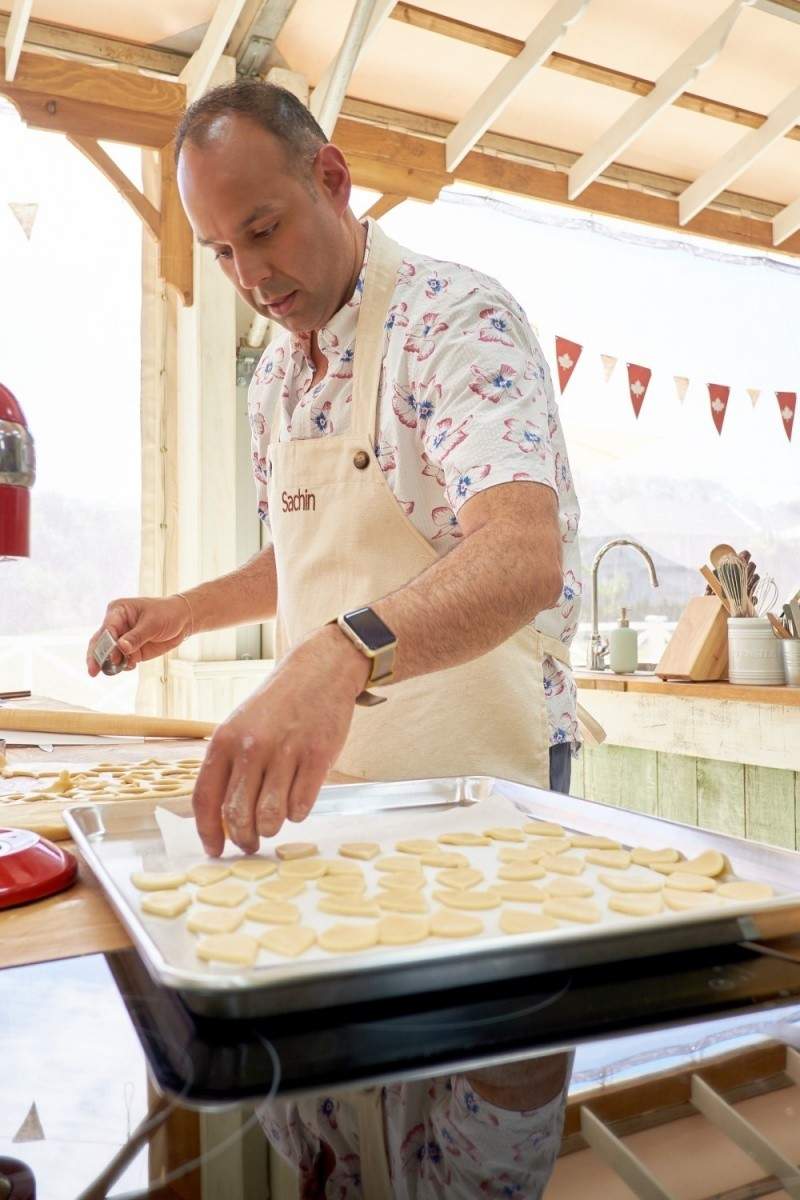 Timothy also does very well with his playful basket, one of which is a melonpan, which is a sweet bun with cookie dough on top.
Mengling stumbles. She decides to only fold the dough two times, instead of three, and the judges can tell right away that she cut some corners. Her croissants are not as laminated and don't have the flakiness of a good croissant.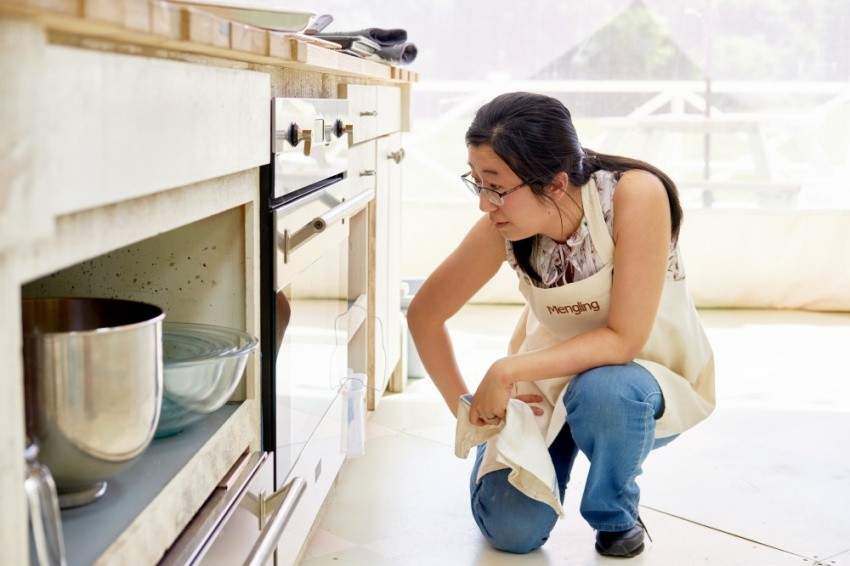 But it is Devon who fails to deliver. His dough is not laminated enough. And his sweet bun is made from the dough of his other two pastries, which Rochelle points out would have been fine if the dough had been better. Devon needs this win and doesn't get it. It's clear before the hosts even announce his name that his time in the tent is done.
It's also no surprise that Andrei is star baker. His baking elbow didn't slow him down one bit. We've lost half the bakers and next week is when the tent really heats up. (Also, I heard form a good source that the summer heat is a big factor in an upcoming show.)
Kitchen Crumbs
I'm sorry to see Devon go, as he has lots of personality (probably more that we didn't see) and I think added some levity to the show. But as Bruno said at the end (and I'm paraphrasing), Devon always delivered on flavour; but this week was all about technique, and Devon floundered when the technique was very exacting.
I think this was Dan's favourite week so far, or at least he was the hungriest this week, because he was happily munching away. We still haven't seen Julia eat anything.
The judges said laminated dough so many times that we could turn it into a drinking game.