How sad to see our co-hosts for the last time on the second season of The Great Canadian Baking Show. Their cheesy repartee is an endearing part of the show, and they even show Julia Chan eating cake for the first time—what a beautiful goodbye gift.
There is a nice retrospective to kick off the finale. I think they squeezed every contestant in there. We even got to hear both Timothy Fu's and Mengling Chen's giggles for one last time.
The judges then give us some thoughts on the final three.
Andrei with his intricate bakes is a great honour to French patisserie; Megan Stasiewich's intuition never let her down and she has triumphed in the technicals many times, but she lacks experience, and shows a lack of confidence sometimes; and Halifax's Seth Sachin is calm under pressure. His baking is elegant and consistent.
The judges are dressed to impress. Rochelle Adonis' white sleeves seem like a questionable choice for a baking show but at least she isn't wearing a jacket in the summer. Julia is sporting that striking yellow eyeshadow again. Third time's the charm, because it's grown on me. Maybe it is the new pink hair that is distracting.
The first challenge is 24 Swiss Rolls. Think of Little Debbies, but without all the fake ingredients and aftertaste.
The judges say that everything is reset to zero for the finale. Usually, I think the bakers' entire season should be taken into account and not just the finale but the bakers all have strengths and I can live with any one of them winning. (Though I think it should be Andrei.)
Andrei's is making mango mascarpone rolls and opera cake swiss rolls. He is using freeze dried mango powder and doing a funky stripe like on the mini Joconde cakes from last week. This guy always has a bag of tricks.
Every child of the 80s appreciates a Neapolitan flavour combination, and Sachin is bringing it back in one of his swiss rolls. His other one is lemon-ginger flavoured.
Megan is making a carrot cake Swiss roll and a chocolate strawberry roll–all the flavours of her family. She plays the homespun Alberta mom, but she also has some tricks, including using a strawberry emulsion.
The bakers were all working hard on their spirals, the visual key to a swiss roll. Megan nailed the swirl, but her strawberry-chocolate roll is too "top-heavy" and overly sweet, say the judges.
Sachin's minimalist rolls are a little too minimalist, showing all the flaws. And just like in Neapolitan ice cream, his chocolate has overpowered the other flavours.
It's a Debbie Downer situation, as Andrei is lacking in the swirl department, but his flavours are delicious. So, no one perfects the Swiss roll challenge.
This is a very stressful episode and my concern for Rochelle's white sleeves is not making it any easier.
Technical Bake
The technical challenge is princess cake, which is not, to my surprise, a cake baked in a bowl with a Barbie shoved into the middle. It is a layered sponge cake with raspberry jam, pastry cream and a whipped cream molded on top and then covered in a pale green marzipan.
There are lots of ingredients but none of the components are very difficult. The difficulty is in the assembly.
The bakers are busy but don't seem overwhelmed. Sachin asks Dan for moral support, which Dan attempts with some words, but it's not his comfort zone. Julia also gets into some trouble when she admits to knowing what filigree is but can't tell Megan, but you can tell she wants to.
The gingham altar is quite bare with only three cakes that all look pretty good. I assume the judges can identify which cake belongs to which baker at this point.
Andrei didn't nail the shape, Megan's colour is a bit too green but Sachin's marzipan coating has the most issues. So, Sachin places third, Andrei is second and Megan wins yet another technical challenge. To be honest, I don't think this challenge was worthy of a finale. I think they chose it because the clock was one of the biggest obstacles.
Showstopper
Megan has a slight edge heading into the Showstopper, a "magnificent" choux tower with three layers, two shapes of choux that are filled with three kinds of fillings. They have four and half hours to create eclairs, chouxs and profiteroles.
Baking is a science and lots of things can throw off the final results, including the environment. And the finale is on the hottest day of the shoot. Heat works against a tower because it is hard to stick things together with caramel and icing when everything gets hot and melty.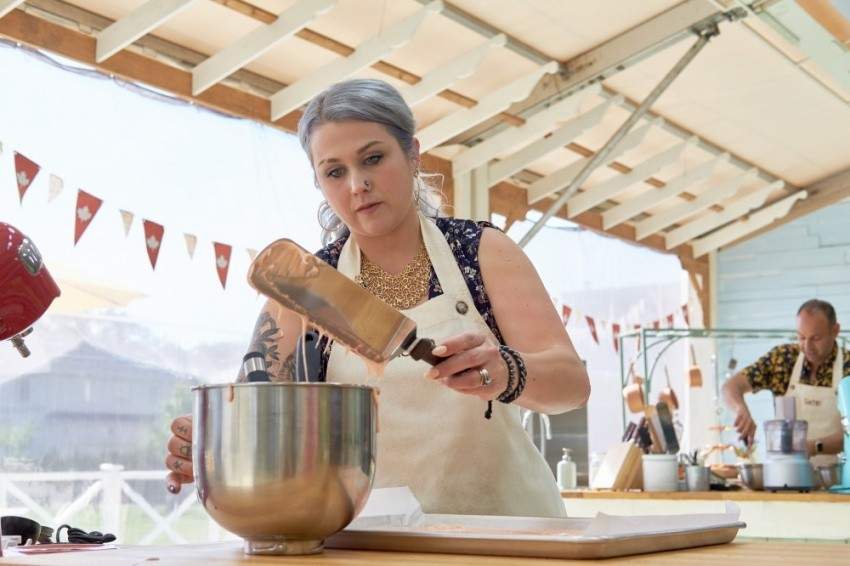 It's retrospective time! Megan's family is very proud of her and the kids are all adorable. Andrei's mother is proud and Sachin's wife chokes up when talking about how kind he is.
The bakers are all stirring their pastry madly over the heat and looking quite sweaty themselves. Megan is looking blotchy and Sachin says it is too early to be sweating so much.
Andrei pretends not to know why he has to mix over the heat, but we know Andrei knows all about the science of glutens and starches. His "hommage a la Patisserie" is going to have a Paris Brest, Gateau St Honore and a croquembouche on top. Rochelle claps in delight at the thought of it all. (An aside: a croquembouche was my mother's wedding cake in 1983 and has always seemed incredibly elegant to me.)
For Sachin's Indian wedding choux tower, he will have strawberry champagne cream puffs, pistachio kulfi eclairs and then a coffee liqueur eclairs.
Everyone in the tent looks like they are melting as fast as their caramel. Outside of the tent, the past bakers are gathering with friends and family awaiting the results.
Devon Stoltz says he is happy to be outside of the tent and not baking in it, but it doesn't look like Sadiya has gotten over her loss. Mengling thinks Andrei will win because his baking is from "another planet". Anne Marie Whitten says Sachin is going to win because of his precision, but Wendy McIsaac from P.E.I. thinks Megan is a baking artist and will take the title.
Back in the tent, the heat is causing some panic, especially for Megan, whose choux are not sticking to her structure.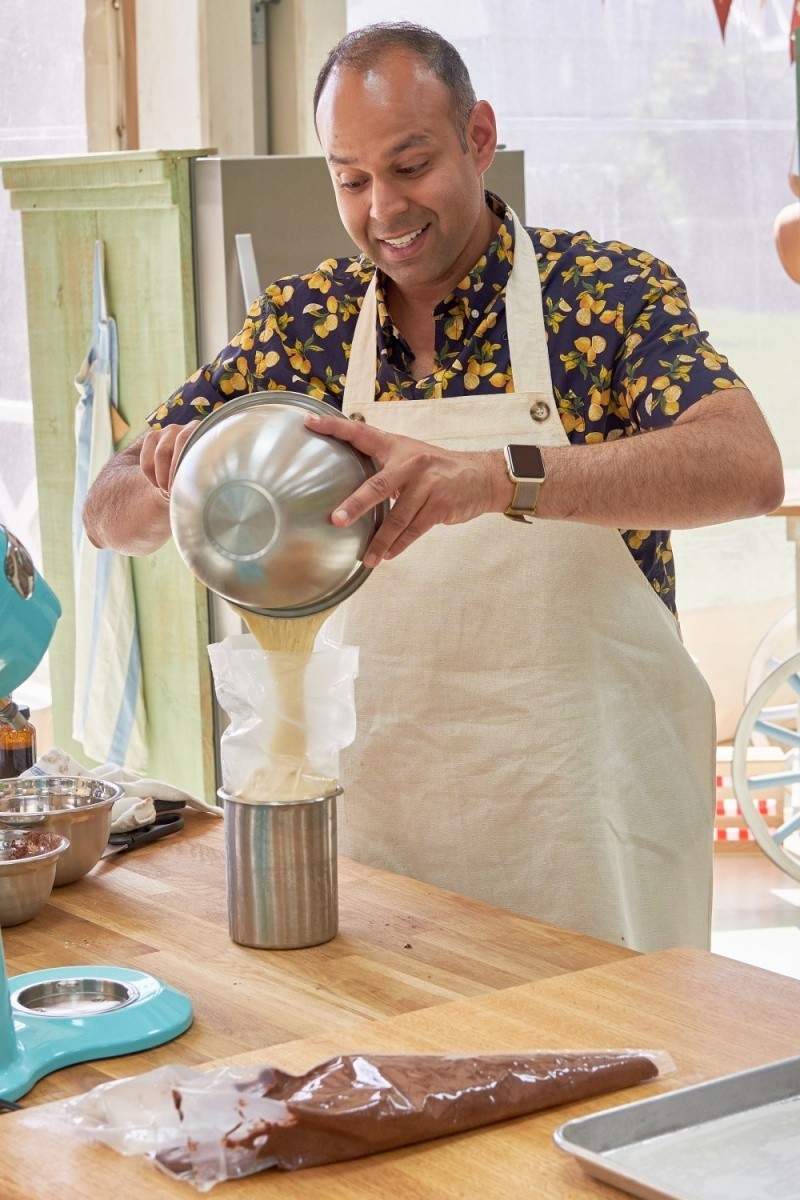 Sachin is very concerned because he has never been so messy in his life. I believe that. The bakers are using a cooling spray on their structures and themselves. I can imagine that some assistant had to run out at the last minute to scrape that product up.
Megan's owl does not look as good as her other bakes and she knows it. During her one-on-one with the camera, her eyes look like she had either had an allergy attack, or shed some tears. She tries to say that she is happy, but she doesn't look like she is.
Andrei is happy with is tower and the sugar crown on his croquembouche is quite impressive. Sachin is smiling as always and says it was crazy fun.
When Megan presents her showstopper, the judges acknowledge her problems with time management and the heat. She made up her own shape for the feathers but they weren't filled enough. The chocolate bark is cakey and delicious, but her cream puffs at the bottom weren't filled enough. It's a disappointing finish and unless the other two have had giant fails, Megan looks like she is out of the running to win. I would like to know how the owl would have turned out without the heat issues, but something tells me that the entire project was a little too kitschy for this challenge anyways.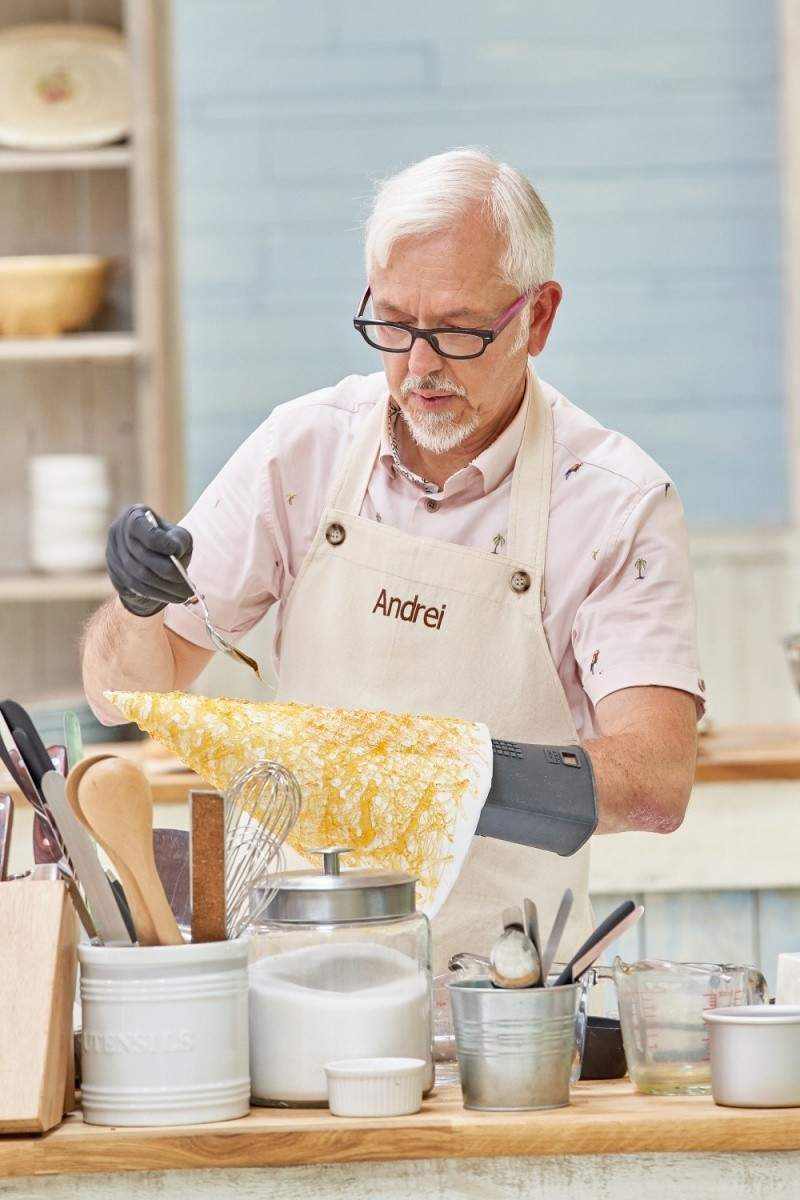 Andrei's tower is the opposite of kitsch, it is incredibly elegant and could be a wedding cake. Rochelle loves the raspberry cream and wants a bowl of it. Bruno Feldeisen says his St. Honore is a Paris classic. His Showstopper is perfection.
Rochelle comments that she can tell that Sachin has put so much love into his tower. (It's my pet peeve when judges say this; it's a cop-out.) His strawberry-Champagne puffs have something artificial to their taste but the coffee flavour has the pow that the judges were looking for.
The judges know that Megan is an artist and aimed for artistry with her owl, but Rochelle's voice has a strange little crack when they talk about her edge coming in to the Showstopper. Andrei's creation was flawless and confident and then we hear all about the love again when it comes to Sachin.
The bakers then have a very long walk across a giant lawn with their heavy creations to their waiting families.
Once the judges and co-hosts arrive at the party, Dan and Julia do the expected yadda-yadda-yadda about the season and the decision not being an easy one.
And after the dramatic pause… Andrei is the winner!
The biggest surprise is how surprised he is to have won. He seems speechless.
Bruno says Andrei blew his "little French mind". Rochelle calls him a class act.
I believe Andrei when he says he didn't expect to win. Megan and Sachin seem honest in their praise of him, and of the friendships that were made in the baking tent.
I think the right person won: he had the most knowledge, he could be creative when he needed to be and his technique was close to flawless.
The show ended on a lovely note, with the bakers all hugging and showing that their friendships go deeper than just icing on the cake.
Crumbs
I'm sad to see these bakers go back to oblivion. We will see if any of them use their new-found platform to further their baking careers. Andrei, Megan and Sachin are all on Instagram and it looks like they are all taking private orders.
Overall, I think this season was better than the last one: the challenges were more difficult, the co-hosts were looser, and the baking was very high-level. I missed some of the more outrageous personalities from the last season, however.
If Sachin ever moves to Toronto, I want him to be my dentist and bake for me.
Lots of people were rooting for Megan (including my silent co-writer, my husband) because watching her grow, and her amazing concepts come to fruition was a very satisfying part of the show. We will see what comes next for her.
Shoutout to Kenna Barnes, who does the amazing illustrations.
Bruno was, as always, delightful. Keep an eye for him in upcoming shows, doing baking classes and he has some cookbooks coming out.