The opening sequences of The Great Canadian Baking Show keep getting weirder and weirder. This time, Dan Levy is talking about a strange dream, the movie Inception, and I don't know what else.
Is the dream theme continuing because Dan is dressed in mismatched pajamas and Julia Chan has on bright yellow eyeshadow that is slightly off-putting? (Not that much can dim her adorable-ness.) Her stylist was going for edgy but I'm not sure where they ended up.
It's Bread Week, and the first challenge is to make a quick bread; not a banana or zucchini bread, which is what I think of when someone says quick bread, but this bread uses actual yeast and requires kneading. Each baker has to make two loaves, or 12 pieces, of their quick bread, with a companion spread.
Making a great loaf of bread takes a combination of science, artistry and a little ESP. Predictably, Andrei Godoroja and Sachin Seth are strong with the science and their breads rises to the occasion. Andrei makes a Russia-themed bread with buckwheat and a salmon roe and dill spread that is accompanied by a shot of frozen vodka.
Megan Stasiewich says she makes bread at home and is excited for the week. (She is also sporting shorter, darker nails this week instead of the green and black talons of the last couple episodes.) She makes a beery Tex-Mex bread with an onion-bacon homemade butter. Timothy makes a similar bread but does not execute it as successfully.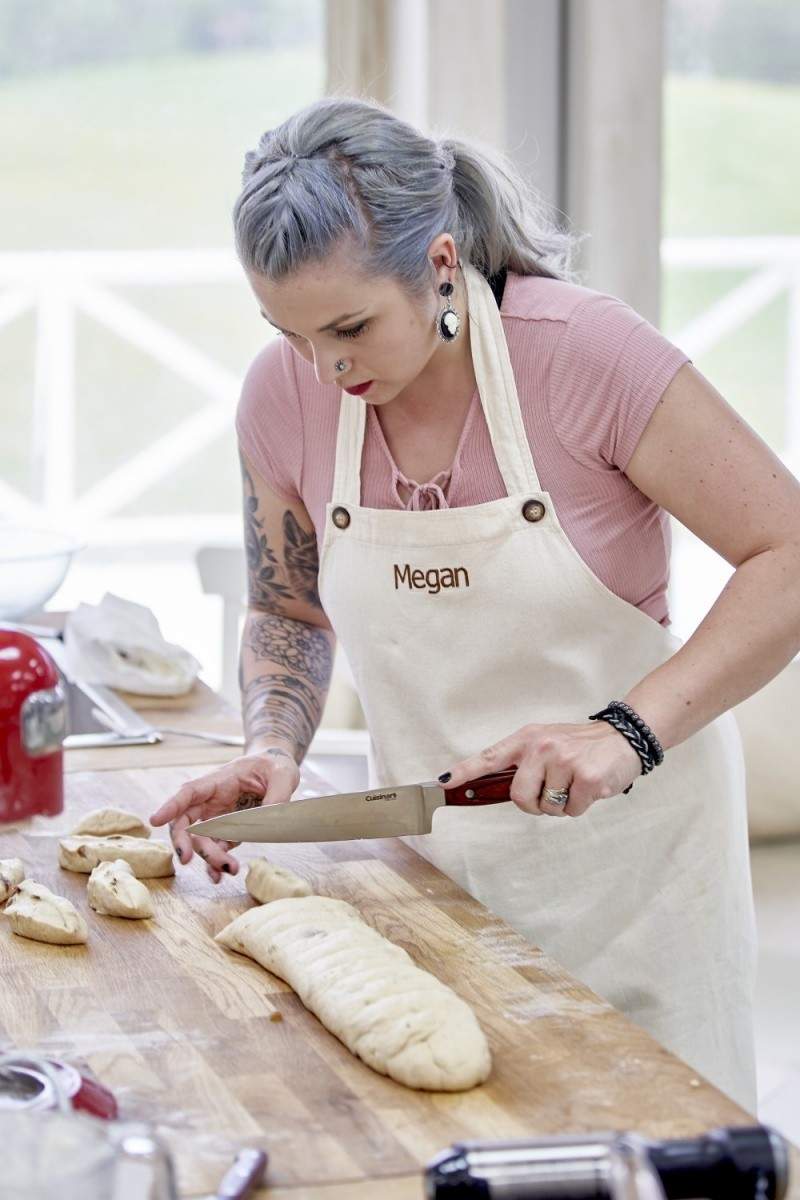 Sadiya Hashmi breaks the mould and makes 12 individual naan bread without the use of yeast. The judges were doubtful about her method, but in the end, her naan breads with tomato jam win over judges Bruno Feldeisen and Rochelle Adonis. Or, maybe it is because she made an extra one for Dan. It's Sadiya's first time in the winner's circle.
The Technical Challenge
Hot Cross Buns are this week's challenge. Like last week's digestive cookies, this challenge favours those who grew up with hot cross buns and is firmly planted in the Anglo tradition.
The bakers need to make 20 identical, nicely-spiced buns with a good glaze and a cross on top.
The recipe neglects to mention the quantity of spices, dried fruit or the bake time. The bakers also have to use the proofing drawer at their station to encourage a good rise.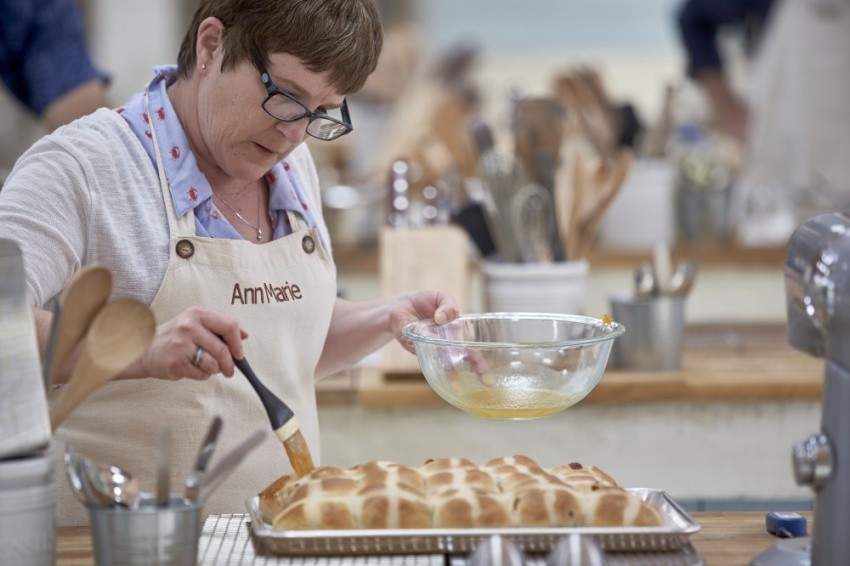 An over-kneaded bun will be tough and an over-proofed bun will have a taste of yeast. There are bakers who created buns that fall into both categories. Devon Stolz and Ann Marie Whitten struggle the most with their buns. In fact, Devon's buns are so misshapen and unappetizing that Rochelle won't even take a bite. Andrei wins the gingham alter with Mengling in second, and Devon in last.
I am left with a feeling that there could have been a lot more tough buns jokes to be had. I wonder if they were too racy for the show?
The Showstopper
The dream sequence at the top of the show makes more sense when the judges announce the Showstopper challenge: a savoury bread cake, with layers of homemade bread and savoury fillings in between, and then iced with a savoury icing so it looks like a cake. The segment is almost hard to watch as it's so disconcerting to watch the judges cut into the cakes and then have shawarma or fish fall out.
Andrei goes all in with his cake, which has a koi pond suspended in aspic as the top layer. His fillings are tuna tataki, strawberries and cream and cucumber. Rochelle notes that Andrei always sets out to challenge himself, but the cake is not perfect as it's too heavy on fillings, and the aspic is a bit wonky.
Mengling also opts for seafood with her mall sushi cake. She makes what looks like a giant California roll, and the cake is pretty to look at, and tastes good too (according to the judges).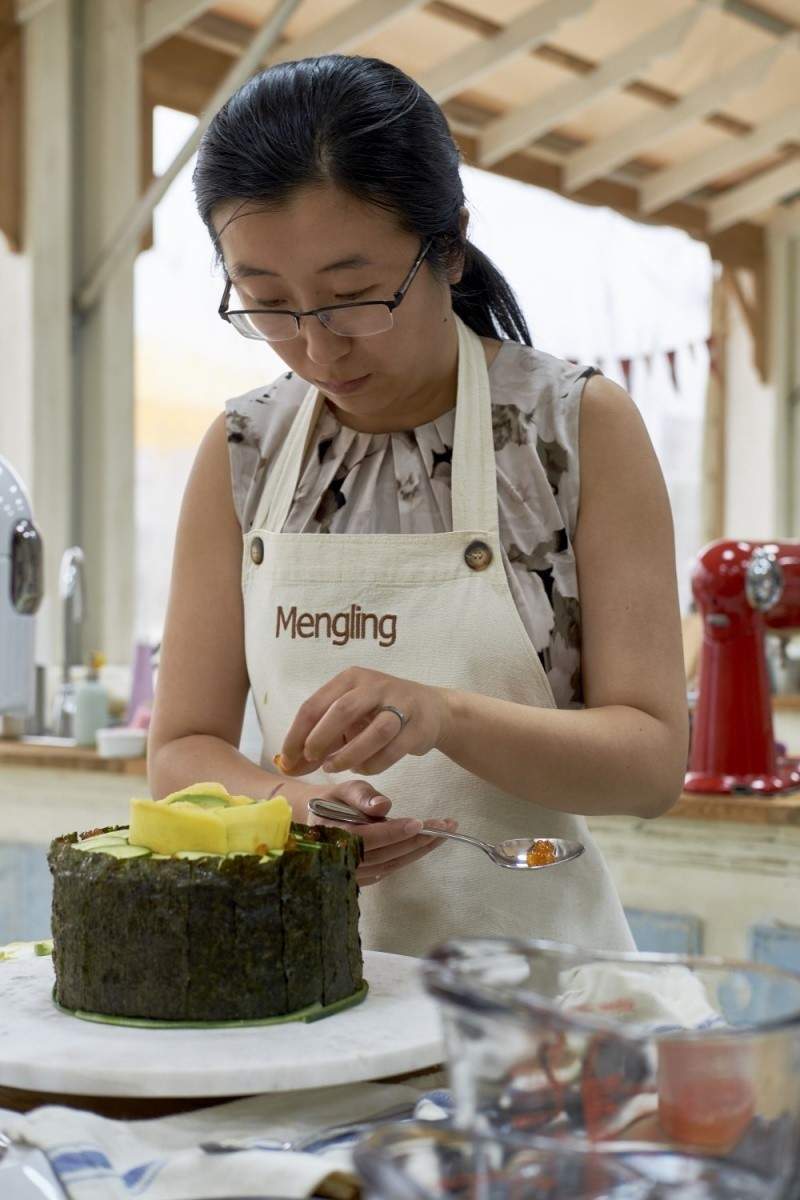 Ann Marie rounds out the trio of seafood-based cakes, but her bread is underbaked and the presentation is not very impressive. She's in trouble.
Devon is also on shaky ground after his lumpy buns, but he is hopeful that his Greek-flavoured savoury cake with souvlaki, saganaki and a tzatziki frosting will save him from elimination. I am rooting for him as he delivers it to the judges, even with all those pimento-stuffed olives on top.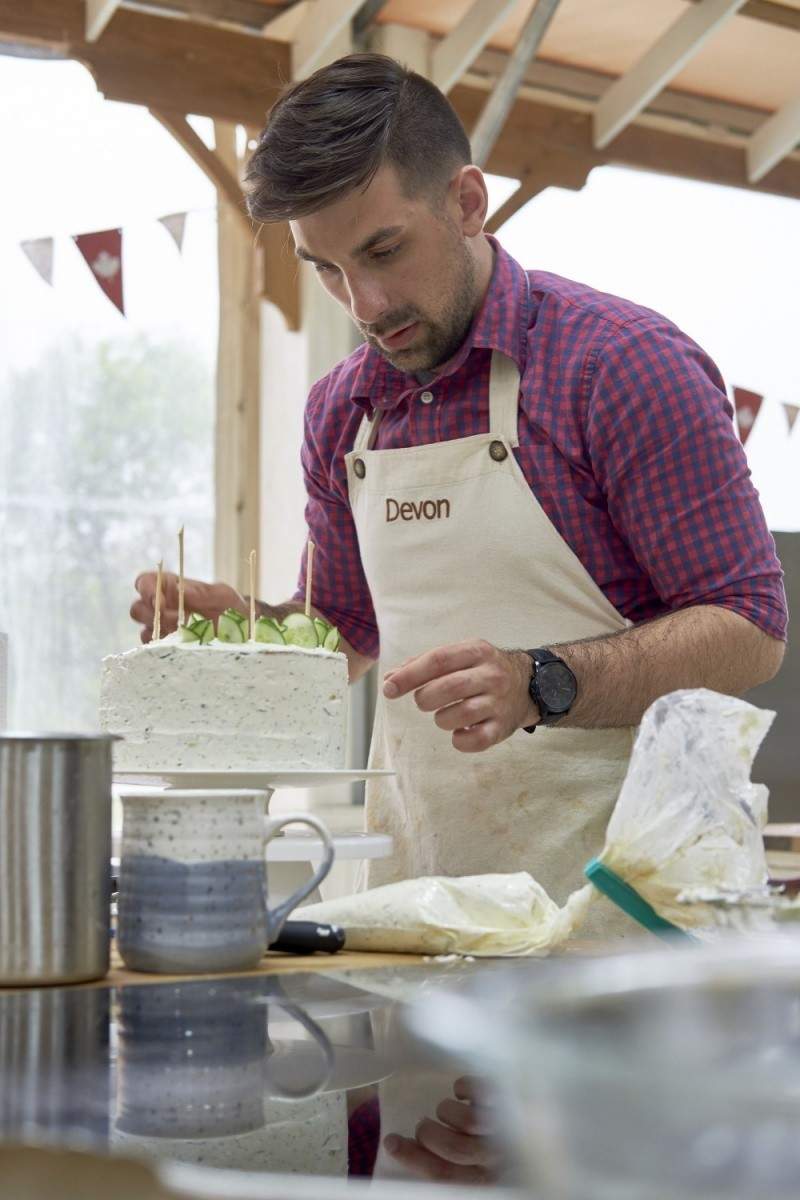 In fact, the judges are tasting all the "cakes" with smiles on their faces, except that I can't help but feel a bit squeamish each time they cut into a cake and it's filled with meat. Even though I understand rationally that the cakes are just giant multi-layered sandwiches with the mayo on the outside.
Timothy makes a cake filled with pulled pork and coleslaw and the outside is covered with mayo and shredded veggies. The judges say it tastes better than it looks but I have to wonder how long Timothy can hold on with his lack of presentation skills.
If only Megan could give Timothy some art classes. She has the heart of an artist and her cake with hand-dyed and cut veggies is beautiful. Her bread has good rye flavour but there is too much of it, say the writers.
Sadiya's cake has the tastes of Bahrain with shawarma filling and a labneh frosting. It is simple and the judges love it.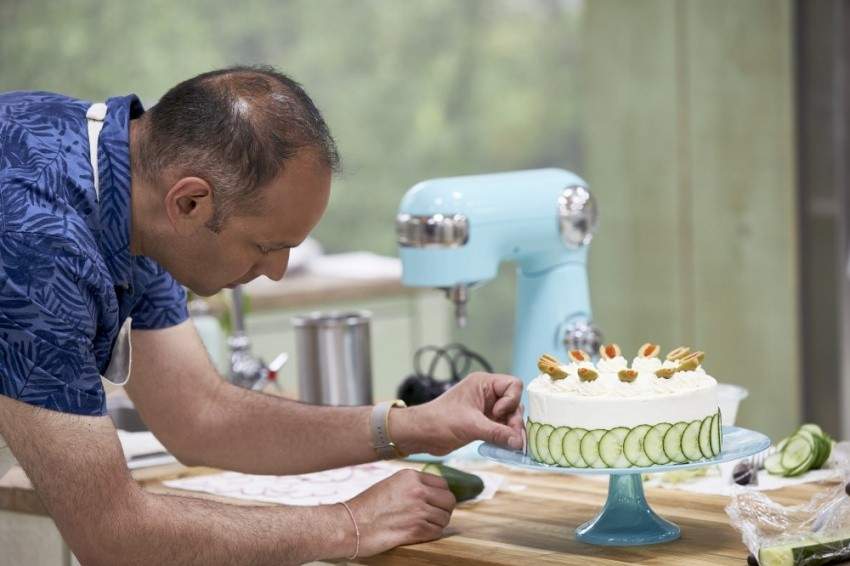 Sachin also went for simple, and I think, the smart solution. He made a muffuletta cake. A muffuletta is a pressed sandwich filled with meat, cheese and olive spread. It's already a giant sandwich so I can see it as a large cake. As usual, it is simple but doesn't elicit the oohs and aahhs of Sadiya's cake.
When it comes time for the hosts to name who is going home, Devon looks like he wants to be swallowed by the floor. But it seems his Showstopper saved him, and it is Ann Marie who is saying goodbye to the baking tent.
Sadiya is the star baker and the other bakers seem genuinely thrilled for her, but I don't see her taking on the top three of Sachin, Andrei and Megan (and maybe Mengling).
Crumbs
There seems to be a big gap between the four skilled bakers and everyone else. As the show goes on, we will be able to focus more on the people with the good technical skills.
There were a couple very nice moments in the show when the contestants who had finished their tasks helped those who were running out of time. These small moments are what people remember—the bakers don't compete against each other, they compete against themselves.