The third episode of The Great Canadian Baking Show opens with hosts Aurora Browne and Carolyn Taylor playing catch with a loaf of bread. It's not that funny; the openings are never funny, they are more awkward. I like Carolyn and Aurora, they are funnier as the Baronesses, but they are more themselves as hosts of the baking show.
It's bread week. Bread takes a while to bake so there is a lot of footage of the bakers sitting in front of the oven, peering through the tiny window.
Signature Bake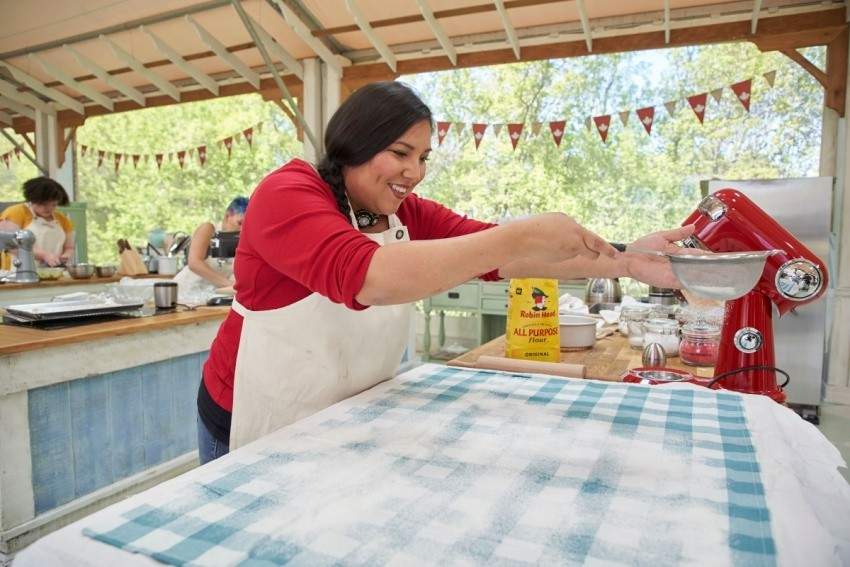 The Signature Bake is povitica. The Slovenian and Croatian pastry is known by many names around Eastern Europe. It has a thin dough rolled around sweet or savoury filling, though the most popular kind is filled with chocolate and ground nuts. The first question is: does the star baker Nataliia Shevchenko have an advantage because she is Ukrainian?
But Nataliia says she's not a fan of bread, she's a "cake girl". She is stepping out of her comfort zone though and filling her povitica with mango and hazelnut. She makes a lovely checkerboard filling and it is a good start for her day.
Jodi Robson, however, says she is a bread person and makes a round povitica--it's fun to say!-- instead of a loaf, which seemed like a good idea, but it is under-baked.
This may be the first time that a povitica has been filled with taro, coconut and black sesame seeds. Chris Koo's Asian-inspired fillings show off his technique.
Is anyone surprised that Liam Harrap has a sourdough starter that is named Petunia? He veers from the crowd and makes the only savoury bread. The Ethiopian-inspired filling of ground chicken and berbere spices is a hit, but it is the homemade butter that makes judge Bruno Feldeisen smile.
The judges also like Jasmine Linton's spumoni-coloured fillings and Jay Smidt's black forest flavours. Andrea Nauta's coffee pastry bread also does well.
Colin Asuncion doesn't sing once in the entire episode, but he does win high honours in the Signature Bake this episode with his almost perfect spiced chai povitica.
Technical Bake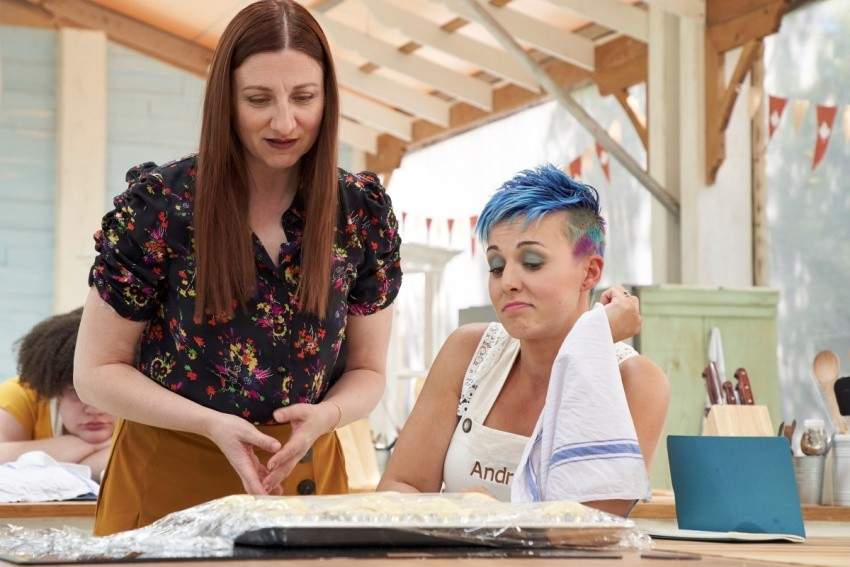 The Technical Bake is also fun to say: brioche a tete. It's a brioche bun that looks a bit like a double decker snowman with a square of chocolate in the middle.
Once the dough is made, the bakers add in butter--a lot of butter. The dough gets very sticky and at this point, some decide to add more flour to make it easier to work with. They should not. Rather, the bakers have to use the slap and fold method. (Insert joke here, because the hosts didn't.)
At the gingham altar, there are lots of inconsistent brioches a tete; even Nataliia has some that don't quite live up to the judges' expectations. Liam's, however, are the worst, with Jasmine and Andrea rounding out the bottom. Colin wins this one too, with Nataliia second and Jodi in a solid third.
The Showstopper is to bake a bread sculpture of their choosing. This is an eerily similar challenge to last week's cookie fantasy. And still, no double entendres; not one joke about baguettes, or dough, or bread being the staff of life. I hope there were some when the cameras were off, at least.
The bakers have to use at least two kinds of dough. Some, like Liam, use three types of bread. He has plans for a 3D bird cage, complete with a butter bird in the middle. And he pulls it off.
Jodi creates a wrestling ring with a doughy replica of her wrestling husband. The judges like her earthy rye bread and pretzel ropes.
Jay's challah butterfly with fougasse wings seemed like a good idea, but the wings don't fly. So, it looks like a flattened butterfly.
Nataliia's Ukrainian-Canadian girl is beautiful. I don't think we really got a good look at the details around her face. As lovely as she is to look at, she is under-seasoned and the taste falls flat.
Colin's crab with pretzel claws has a simpler construction, but his attention to detail in both design and taste wins over the judges. Colin has definitely come out of his shell this weekend.
Chris also heads under the sea and creates a mythological mermaid which has a delicious nori fougasse, but his challah component is too dry.
Jasmine's pandas with grissini bamboo are cute, and she makes a throwaway comment about them being a mix of black and white which tells me that she is thinking about these things. Unfortunately, her mama bear is overdone.
Andrea kept saying that she was scared of bread and she has some trouble with her showstopper. The vase filled with flowers is colourful, like her hair. Unfortunately, the flavours of her bread do not have the same creativity and her showstopper falls flat, kind of like her stumpy vase.
After the judges deliberate, Aurora has to kick off the failed baker. Did I notice her eyes welling up at the task? Andrea is sent home, did the dough smell her fear?
It's not a surprise that Colin hit all the high notes this week and wins star baker. He has unseated Nataliia. Is this a new trend?
Kitchen Scraps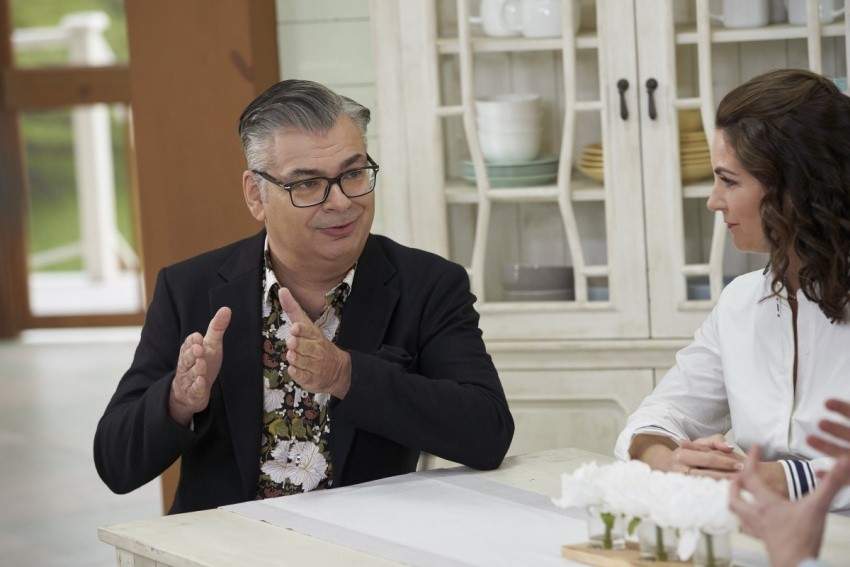 Obviously, bakers have strengths and weaknesses, but I'm not sure that having big weak spots like cakes or breads is a good strategy for bakers who are aiming to stick around for a while.
Megan Stasiewich (finalist in last year's GCBS) said on our most recent podcast that Bruno's advice to the bakers is that they are not competing against each other, they are competing against themselves. I think that is what makes this show different from other reality shows. There is no strategy that involves finding other people's weak spots, it is all about managing your own.
If you love The Great Canadian Baking Show, you will want to listen to More Than Maple Syrup this week, we have Megan giving us some inside knowledge and interviews with both the judges and the hosts.