It's International Week on the Great Canadian Baking Show. The week we assume that every flavour that hails beyond the North American borders are outside the norm.
Colin Ascunion is all geared up to use his "Filipino cards" and Jasmine Linton says she has lots of backgrounds to play with, and Chris Koo is going to use flavours from his Chinese heritage. Nataliia Shevchenko will reliably use something Ukrainian. But, why just today? Why can't they showcase their backgrounds every day without it being special? It's not international to the people who grew up with those flavours.
I understand what the producers are going for. I just think there is another way to do it.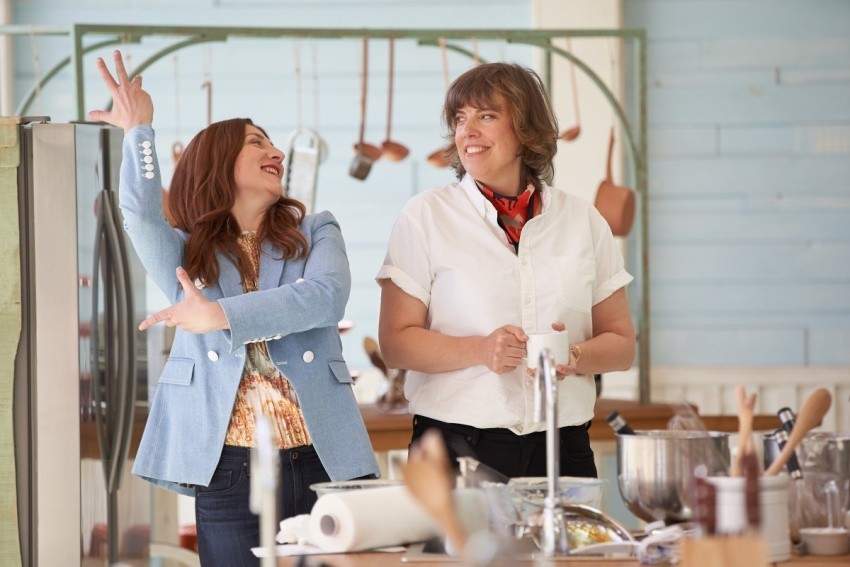 Signature Bake
The Signature Bake is a tres leches cake with an additional flavour. One of the key elements of this cake is to soak the sponge with flavour, but an over-soaked cake is a wet mess, and an under-soaked one is dry like the desert. Each baker has a different technique for soaking, which the judges can tell when they taste it.
The resident "caffeine freak", Jodi Robson makes a traditional looking coffee-infused tres leches cake that the judges love. We are getting lots of hints about Jodi in this episode. She is the only baker who has not been star baker yet.
Nataliia uses walnuts in her pretty cake. She and judge Bruno Feldeisen reminisce about growing up with walnut trees and getting hit by the shells. But she painted her sugar syrup on with a brush, instead of pouring it over the cake, so her cake is dry.
Colin's Filipino card is purple in this challenge. He is using ube, which is a purple tuber, common in Filipino cooking. After trying it, the hosts say that it is potatoe-y, but "not in a dinner way". The ube and coconut go well with the tres leches, and his purple and white icing is a nice hint to the vibrant colour inside. He can tell his mom that he made a great cake.
Chris, as usual, is making things complicated with three layers of cake infused with three kinds of tea. It's a lot of "mental work" in his yin and yang cake. I love tea, but I am always disappointed by tea desserts, which never have enough flavour for me. But I was wrong, because the judges like his "simple but complex" flavours. It's a true yin and yang, says Judge Kayla Kennaley.
Jasmine heads back to her happy place--the liquor cabinet--for her cake, using ponche de creme, but her soaking technique didn't work and the cake is wet in some spots and dry in others.
Host, Carolyn Taylor obviously loved this challenge because you can see her casually reaching over the shoulder of the judges with her fork in hand. I want to be Carolyn Taylor.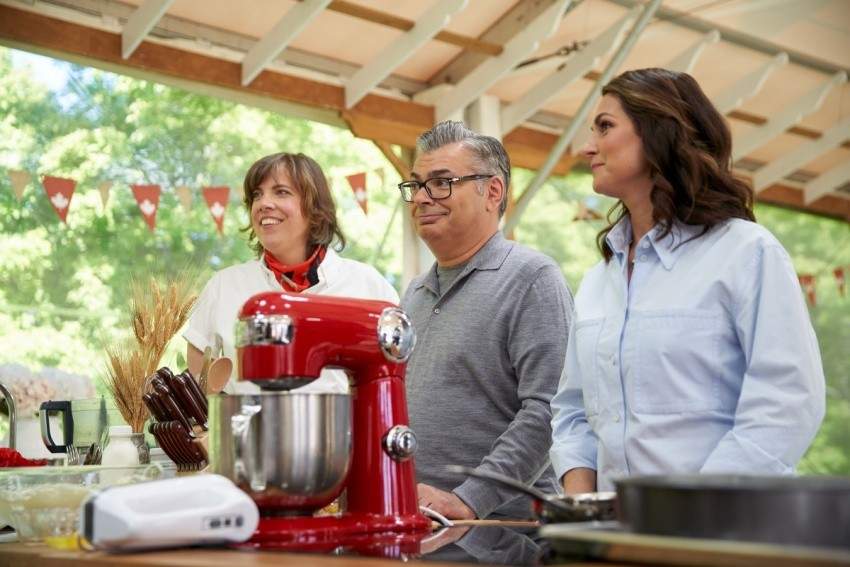 Technical Bake
The next challenge is to make a Norwegian kransekake cake, which is a tower of 18 almond cookies in ascending size held together by royal icing. Google tells me that the cake is often made for special occasions like weddings and birthdays, but none of the bakers have any idea what it is. The bakers only have enough dough for exactly 18 cookies. The devilish part is that the delicate cookies break easily.
Jodi, who measures the lemon zest "with her heart" is making me very happy with her cutesy sayings, but the funniest interaction is about Jasmine's former baking blog. Jasmine had a baking blog when she was in high school, where she baked something different each week. It was called I licked it. Jasmine's brother is a germaphobe so she named it to shame him, in a way. (Yes, I googled it. No, I didn't find it. Yes, googling "licking" is not a good idea.)
The bakers are trying to figure out the molds and the timing, which is difficult, but the situation gets worse when Jodi, Nataliia and Jasmine all break cookies and are trying madly to glue them all back together to make 18.
At the gingham altar, Jasmine's tower is noticeably shorter than the others. Jodi cobbles hers together but her cookies are upside-down. I guess the rest of the towers are terrible because Jodi's upside-down cookies come in first. Chris' tower was almost perfect, except his royal icing looked like a child did it, so he comes in second. Then it's Colin and Nataliia, with Jasmine coming in last.
Showstopper
The Showstopper challenge is cheese cakes of the world. Cheesecake can be very tricky; it's easy to make into a hockey puck, or a gummy mess. The bakers have four hours and the judges hope they will use their time wisely.
Nataliia makes a zapekanka, which is a Russian baked cottage cheese cake, often filled with dried fruit and citrus zest, and eaten for breakfast. It's usually a simple cake, but Nataliia builds hers into two tiers, bathed in chocolate and gorgeously decorated. The judges especially like the top tier, with Kayla pointing out that she likes the delicate flavour, but the bottom tier is a little too dry.
Jodi takes the traditional Sicilian cassata cake and turns it tropical. The complicated layer cake is infused with rum and has a beautiful hand-done sugar pineapple on top. Even Nataliia is impressed with her sugar work. Bruno says that it tastes so good that he can't find a good reason to stop eating it. Jodi has not stopped smiling throughout this episode.
Colin chooses a Filipino cassava and cheddar cake, which sounds very risky. But he is confident that he can make the traditional recipe. Bruno says that it works, and he is always happy to try new flavours.
Jasmine has an interesting idea of making an ancient style Greek cheesecake that is an "altar to Demeter," the Greek Goddess of the harvest and fertility. She obviously loves being a student and gives herself extra homework by making a plaque every week for the star baker, just for the fun of it. Unfortunately, her cakes burn and are an unappetizing colour, although her marzipan corn is adorable. She's definitely having a bad day and will not be getting the plaque.
Chris makes a strawberry mojito Japanese cheesecake, which is similar to a souffle. He is very preoccupied with the baking of the cake and does not spend the time creating any decorations. It's unclear what he did with four hours, which reminds me of my kids when they are supposed to do homework and four hours later, only have one page written up. Kayla says he nailed the flavours but wonders what he did with his time instead of making some design elements.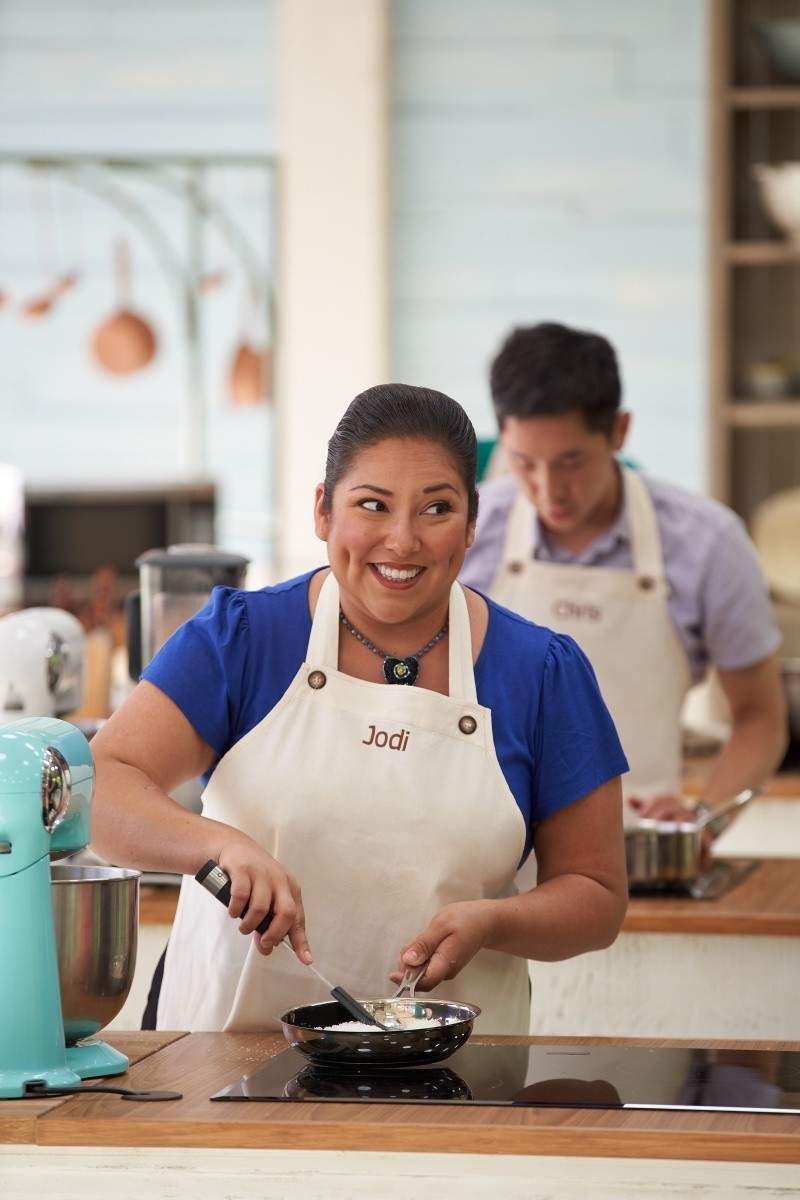 These bakers are fairly evenly matched at this point; they all have different strengths and weaknesses. A good or bad day can elevate them to the top or send them home. And that is what happened: Jodi is finally star baker, but Jasmine had a bad day is on her way home back to the books.
Kitchen scraps
In our house, we call it the "kitchen yips" when nothing works out. Seems like Jasmine had a bad case of them because her technical skills are usually on par with the other four. I wonder if Jodi still got the plaque?
Chris often thinks big for his cakes, but his design skills are not as strong as the others. Will this torpedo his chances?
Four bakers and only a couple of episodes left. I think Colin's star is rising with a bullet, as they say.