Heavens to Betsy, I thought the opening on this week's Great Canadian Baking Show was funny. I'm not sure how Aurora Browne's British accent fits into Old School Week, but it was cute.
I'm not sure what Old School Week means. Will it be margarine and canned products, like soup? Or will they reach back further and have to bake without electricity? (That's a great segment idea, if I say so myself). Nope, it just means desserts that have been popular for a long time, and maybe hail from the 70s or 80s. They call them "retro kitchen classics." I say they're desserts that have stood the test of time.
Signature Bake
The Signature Bake is coffee cake and it must have a streusel topping. Every single baker did a coffee cake that had some fruit in it. I think they were missing a great opportunity for toffee bits.
Only Jay Smidt went truly outside of the box and added bacon and peanut butter streusel on top. Too bad for Jay, the cake was also raw in the middle.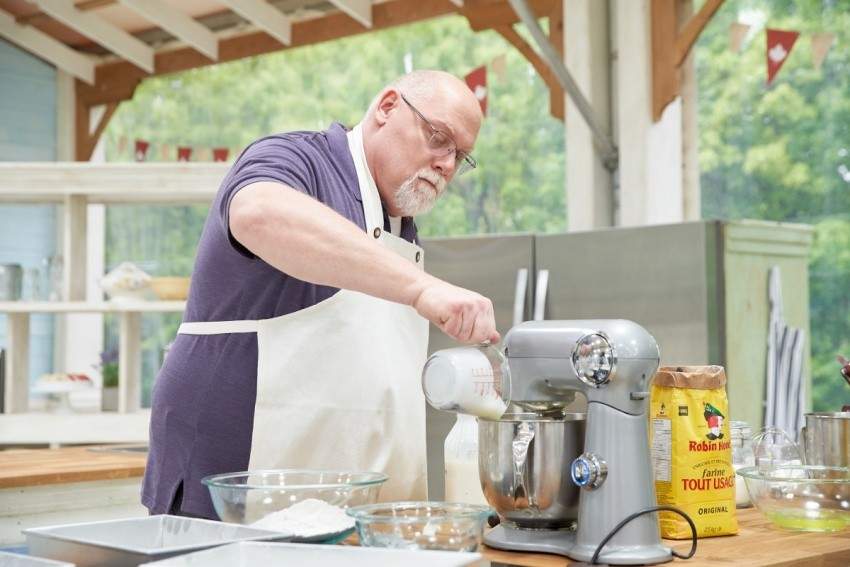 Liam Harrap also pushed the boundaries by putting totally-intact poached pears into his cake, which is kind of 80s-inspired. We were all worried for him (and with him) that it wouldn't be baked through, but his cake worked.
Jasmine Linton admits that old-school for her was around 2006, and I started to root against her for a minute. But I couldn't stay mad for very long because her peach and raspberry cake scored high points.
Colin Asuncion's morning glory breakfast cake has figs in it, which is a win for me. Unfortunately, his crumble topping melded with the cake.
I find that Chris Koo's flavours always sound appealing, but he has been criticized for holding back too much. This time, he punches up the flavour but the chai cake was dry.
Jodi Robson's rhubarb and strawberry flavours were all there and the judges enjoyed it, but judge Bruno Feldeisen hinted to her to be a little more careful with the details.
Meanwhile, detail-obsessed Nataliia Shevchenko got nervous that her cake would not be done and inched up the oven temperature, which resulted in a beautiful cake that was too wet in the middle and too brown on the outside.
Technical Bake
Crème caramel was very popular until crème brulee took the one spot for custards with burnt sugar on menus across the country. The recipe for it, something that looks easy but is very hard to pull off, had very little information on it, but most of the bakers had some idea of what they were doing—until they don't and everything falls flat.
You can tell the hosts really want to help the struggling and stressed out bakers. Aurora looks like she doesn't even want to announce the five-minute mark. The bakers start to flip over their ramekins and splat! One after another, the crème caramels fall into messy blobs.
When judges Bruno and Kyla Kennaley walk towards the gingham altar and see all the liquified custards, they laugh. Bruno suggests that they need straws instead of spoons. Some soupy custards taste good, while others were too grainy and eggy from overcooking. In the end, Colin is first, with Chris and Jasmine rounding out the top three with Jay and Nataliia at the bottom.
Showstopper
The Showstopper is a slab cake, the favourite of kids' birthdays everywhere. I love homemade slab cake, and I know there are fans of grocery store versions as well (which is an obvious case of nostalgia winning over tastebuds).
The bakers have to fight time and space for this challenge. The cake is supposed to be bigger than the oven, so they have to make multiple cakes and hold them together with icing.
As if this was not enough to do, Chris, as usual, decides to take too much on. In doing so, he forgot to add his many pounds of butter to the cake batter and has to restart. He adds sliced bananas to the middle. The judges like the flavour, but the time crunch meant he was unable to finish decorating his cake.
Colin uses olive oil instead of butter for his cake, which can create an interesting and rich cake, but in his case, it was too dry. His jewel decorations look nice though.
Nataliia is also playing with the ingredients. She makes a bright green spinach and mint cake. Bruno is concerned about making a smoothie into a cake, but... surprise! It's delicious. Bruno says it may be his new favourite cake.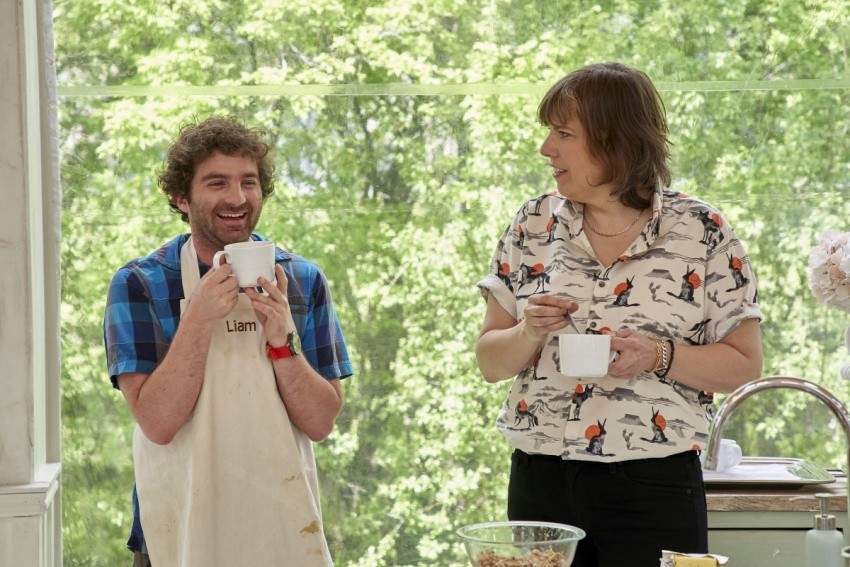 Liam has big dreams for his slab cake in honour of Grace, the caribou. It wouldn't be an episode of Season 3 without Liam giving us an adorable name for something that doesn't need a name. His antlers don't quite live up to his fantasy, but his carrot cake gets solid marks.
Jodi's mascarpone and strawberry cake looks great, and her intricate writing makes it even more special.
Jasmine's graduation cake looks fantastic. She uses a whole bottle of Moscato with lemon and strawberries. As the judges are raving, all the other bakers applaud Jasmine and her cake. It's a sweet moment.
Jay also has a colourful cake celebrating pride with sprinkles baked in. It looks good, but his all egg-white sponge cake doesn't have good texture or taste. Sorry, Jay. Sponge is just too retro, I guess.
The judges work through their cake coma and award star baker of Old School week to Jasmine. Unfortunately, Jay is sent home. He seems like such a warm and friendly presence. I'm sure he will be missed by the bakers and those of us at home.
Kitchen Scraps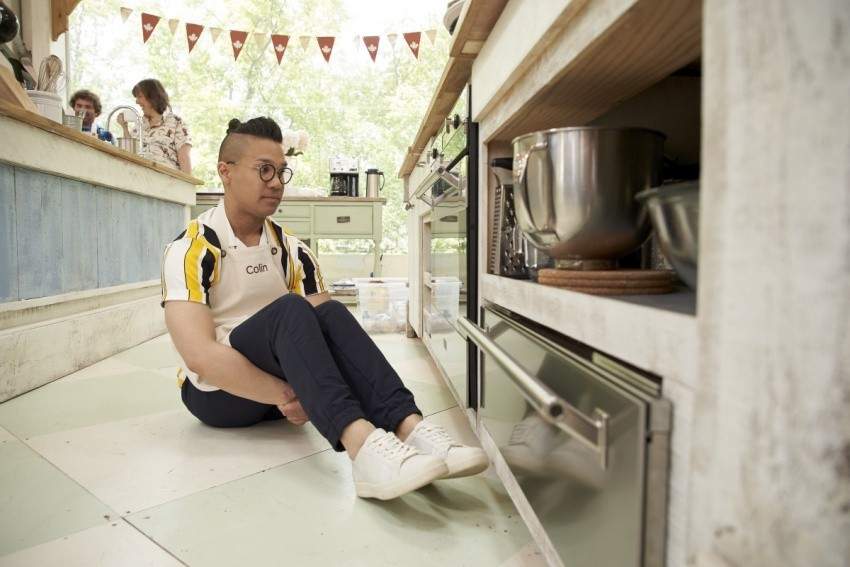 With Nataliia faltering the last couple of weeks, it seems that we have no clear frontrunner. Colin and Jasmine are definitely rising stars.
It's interesting that we don't have anyone with the technical prowess of the last couple of years. Was this a decision by the casting producers or just a different mix of bakers?