It's the final bake on the Great Canadian Baking Show. I'm so sad to say goodbye to our hosts Aurora Browne and Carolyn Taylor, though I am not quite as sad to say goodbye to the cheesy openings. As a fan of The Baroness Von Sketch show, I liked seeing a more personal side of these funny women.
I am pleased because I called Nataliia Shevchenko and Jodi Robson for the finale with Chris Koo as the third. But it is Colin Ascuncion who is in the top three, and he absolutely deserves it. In fact, I think that he could possibly take the baking crown away from heir-apparent Nataliia.
At this moment, Colin is full of "buttercream and tears". Nataliia says she feels like the time in the tent has been a fairy tale. And Jodi has learned a "mountain of stuff". As for the finale, judges Bruno Feldeisen and Kyla Kennaley says that every week is a clean slate, and it is the same this time around.
Signature Bake
The Signature Bake is a fraisier, which is a French strawberry cake with both mousse and sponge. It has unfrosted side so you can see the layers and the cut strawberries. The trickiest parts to a fraisier is ensuring that the mousse is set. This means you need excellent gelatin and time management skills. The additional challenge is that the bakers have to turn this already complicated dessert into something that reflects their own personality.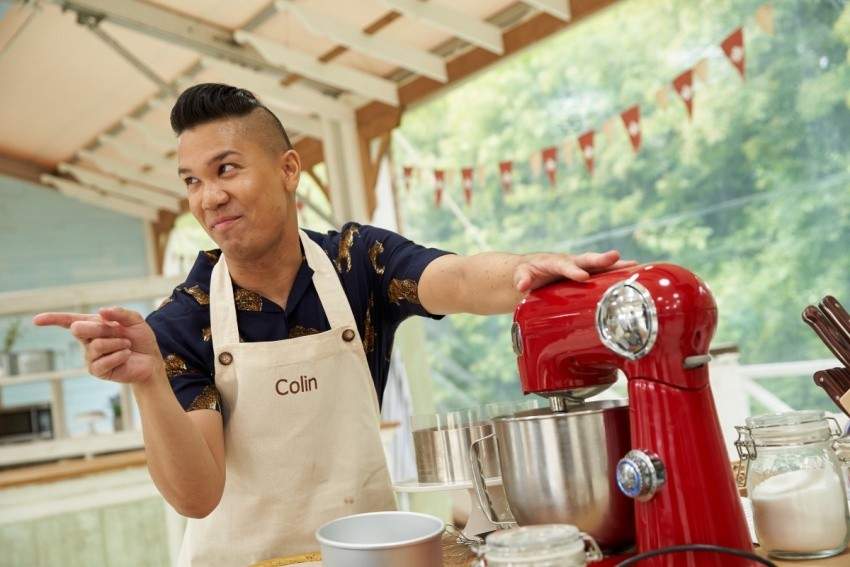 Colin is making a French toast fraisier. It is a maple mousse with a brown butter sponge and shards of caramel on top. Nataliia is doing a matcha sponge cake with white chocolate and strawberry mousse. Jodi stays traditional and makes a chocolate sponge with a strawberry jam. It is time to unwrap the cakes from their plastic casings. The question on everyone's mind is, will it be set? Or will it be "sploosy-sploshy", as Liam said during the great chocolate marquise disaster of episode five.
The hosts are watching with bated breath as the unmoulding begins. Colin's unwraps perfectly. Jodi seemed to have the greatest splooshy potential, but hers is also set. When Nataliia unwraps her multi-layered cake, you can hear gasps in the tent (or was it just me?). Her cake is so beautiful, the green and pink layers are perfectly offset by the strawberries. It's a wowza.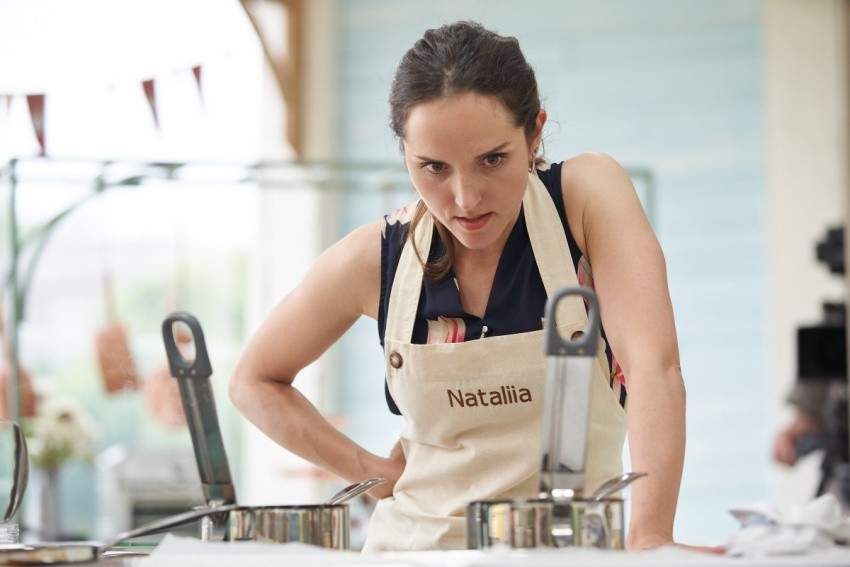 At tasting time, the judges like her cake. It's dense but not heavy and the matcha is good. Kyla feels that the other layers are missing a bit of their "zing". The look, however, is unbeatable.
Colin's cake does have the wow-factor when it comes to taste. His berries and mousse aren't quite fused together but Bruno gleefully gives Colin a high-five and calls it lip-smacking and scrumptious. Kyla says it is the best French toast she has ever had. Colin is chuffed, saying that it is the most proud he has ever been.
Jodi had some issues while baking and had to start again, which put her a little bit behind the clock. Her mousse set, but as soon they slice it, the jam comes spilling out. Bruno steals another spoonful of the tasty jam but it's obvious that Jodi is a step behind at this point.
Technical Bake
The Technical Bake is a marjolaine: another French layer cake. This one has layers of dacquoise, French buttercream with praline powder and chocolate ganache. Aurora says playfully that the technical challenge is another complicated French dessert. Was she talking about Bruno or the cake?
I have already lost count of how many steps there are in this cake. I do notice Aurora cleaning up Colin's station with a cloth like mom.
The most irritating step is making the pecan praline and then grinding it up to add to the buttercream. There is also cutting of dacquoise, layering, piping and then sticking slivered almonds to the outside. It is eerily quiet in the tent, but when the hosts call time, the three finished products all look good.
Once they lay their cakes on the gingham altar, they can rest knowing there are no more technical challenges in their future. The judges try Colin's cake first and find the dacquoise too crunchy. Jodi is up next and it looks like her ganache wasn't quite thick enough, as shown by the flat piping. Nataliia's piping and dacquoise are good but her buttercream is a bit waxy. Despite this tiny flaw, her cake is deemed the best, followed by Colin and Jodi.
As the show moves into the second day and the last challenge, the judges reflect on the bakers. They agree that Nataliia had an amazing day but Colin's French toast fraisier was the tastiest Signature Bake and that everything Jodi made was delicious. It's anybody's bake, they declare.
Showstopper
The Showstopper is a big one: pièce montée. The judges want a sculpture that incorporates choux pastry, icing and cookies in the shape of a landmark. It must be spectacular, show a progression and structurally sound.
Jodi is making the Eiffel Tower out of cookies, petit fours and choux pastries. It's her daughter's dream to see it. Jodi has always baked for her family and brought their spirit into the tent. She has seamlessly woven in stories of her kids, husband and her Indigenous culture. In a video clip, her husband says that his wife is one of the best bakers in Canada, and he could not be prouder. Jodi's appeal is that she is so natural; she is a natural storyteller and an instinctive baker.
I'm not sure what the baking show would have done without Colin. His one-liners and little riffs made the show eminently more watchable. He gives good camera presence, and the show is lucky that he stuck around until the finale. His mother runs out of words when she is talking about how much she loves him.
Colin is honouring his hometown by making a CN Tower out of eclairs, choux pastries and kransekake. The kransekake is a throwback to International Week when the bakers tackled the Nordic ring cookies. He is using the flavours of milk tea and matcha in his pastries.
Nataliia is making a replica of the Ukrainian World War II Motherland Monument. For those who don't know it, it is a giant person standing with their arms outstretched holding a shield. Nataliia's base is a chocolate sponge filled with "drunken prunes" and the choux have pistachio cream in the middle. In a video clip, her husband says that she bakes to connect with her culture back home. Her mother-in-law is obviously so proud to be Nataliia's Canadian mother and is rooting for her.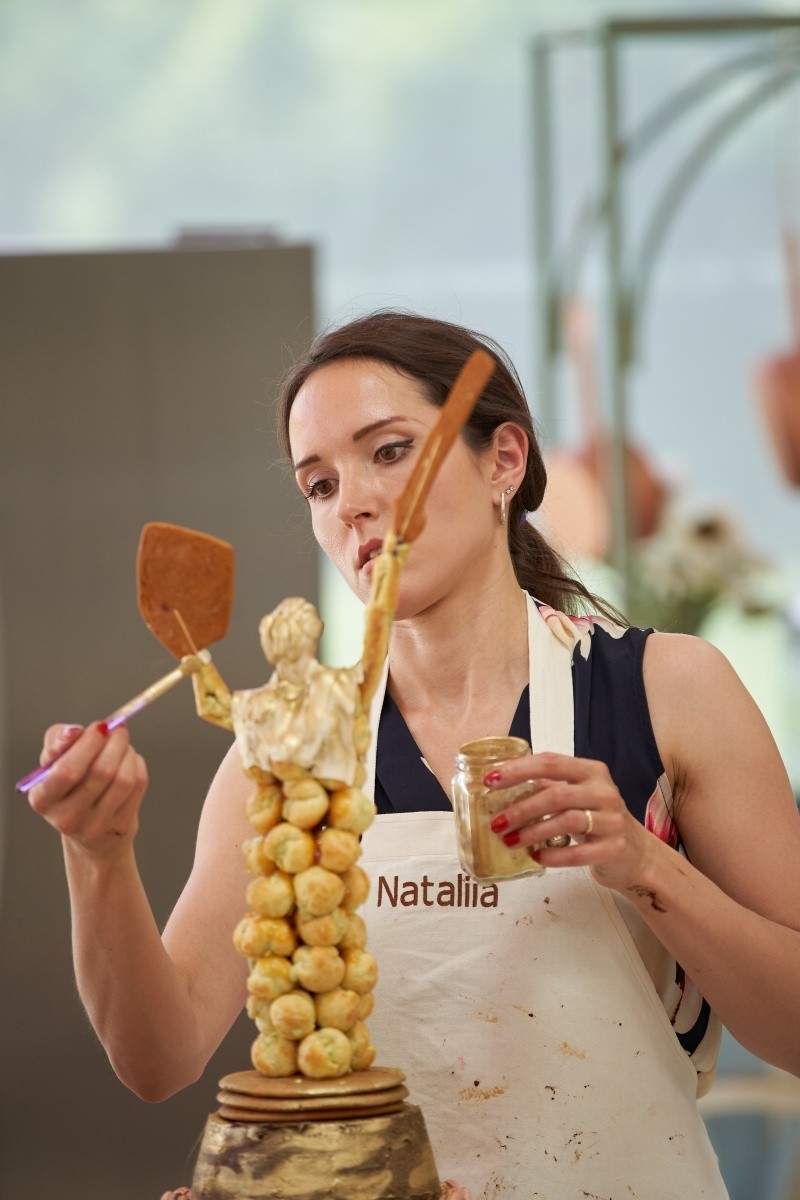 As the bakers progress, we cut to the picnic on the lawn with families and past contestants. Jay Smidt's laugh is back, and I am immediately struck by how much I missed him. Some of the past contestants weigh in on who they think is going to win. Each baker gets a vote of confidence.
Back in the kitchen, things are not as sunny. Jodi says she is falling apart, and, "Bang!" We hear a cookie hitting the floor. Aurora goes back into mom mode and tries to help, but there isn't much to do. Jodi constructs her giant Eiffel Tower missing one side panel.
The bakers look a little stunned by the time they are done. They have spent the last month thinking about baking and now their last bake is done. There is a group hug and it will all be over soon.
The judges come in to taste the last Showstopper, starting with Jodi, who wins points for the tallest structure. Bruno suggests that instead of highlighting her missing cookie, she should have removed another side and created symmetry. Her pieces are pleasant but you can tell the judges are not wowed.
Nataliia's offering on the other hand, has the attention to detail that the judges are looking for. Even the shield has a nice carving on it. Bruno praises her perfect macarons and the alcoholic prunes in the cake. No doubt about it: Nataliia finished strong.
Colin is her competition at this point. His CN Tower has many components, but Bruno notes that his piping skills lacked finesse. The lychee and milk tea flavours are challenging but Kyla says they work. The matcha is fresh tasting--which is difficult to pull off as most matcha desserts lack the grassy notes and are just bitter. His pièce montée shows the "spirit of the CN Tower".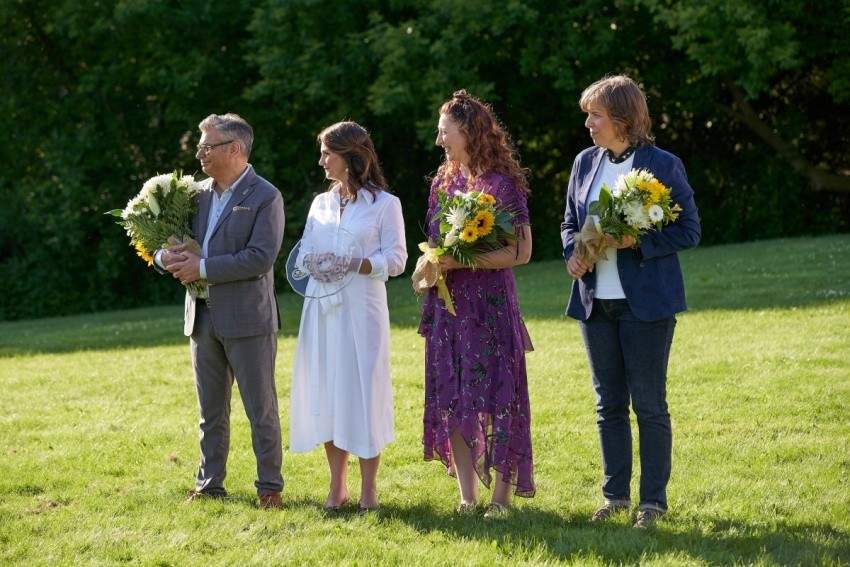 The bakers walk awkwardly to the lawn with their sculptures. The judges say that they have to think back to yesterday to make the right decision. On the lawn, everyone congregates nervously. When Aurora and Carolyn say to the crowd that it was an absolute honour to spend eight weeks with the bakers, we know that is true. (Well, almost true. They actually film over three to four weeks.)
And the winner is: Nataliia!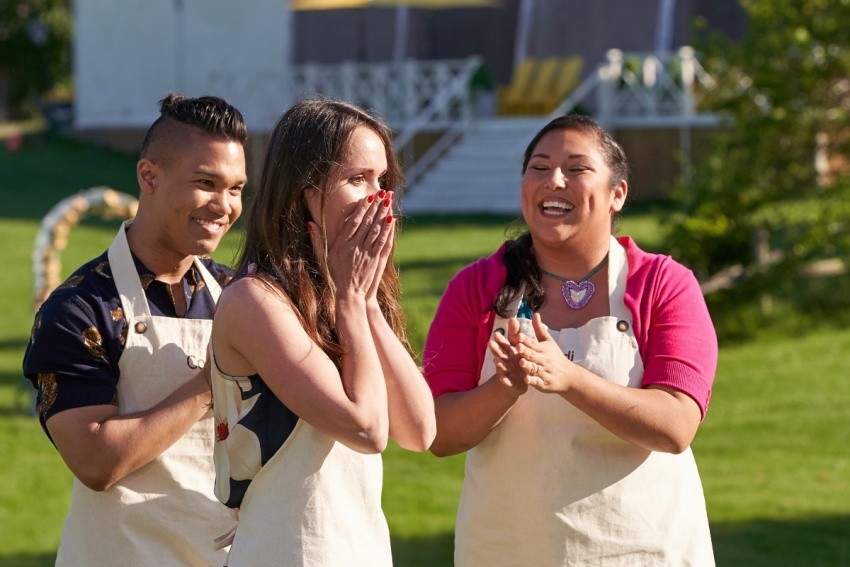 It's not really a surprise to anyone there but it's smiles and hugs for all.
Nataliia says that it was an honour to bake with Jodi and Colin, and they deserve to be winners as well. She is overwhelmed with emotions and says she wishes she could call her mother and tell her. But her Canadian family is there to congratulate her.
She moved to Canada three years ago and said Canada "made my dreams come true".
What could be more Canadian than that?
Kitchen Scraps
One of the most interesting things about any competitive show after the winner is announced is figuring out who makes the most of their platform. While neither Vandana Jain from season one nor Megan Stasiewich from season two won, they have used the GCBS as a platform to launch themselves into more television opportunities and sponsorships.
My guess is, we will be seeing more of Colin, who already knows how to perform.
If you are already missing GCBS, fear not. There is a holiday baking special with aforementioned Vandana and Megan, plus James Hoyland from season one and Timothy Fu from season two. The party will be rounded out by Aurora, Carolyn, Kyla and of course, Bruno.