The appeal of the Great Canadian Baking Show is that it is comfort food, like warm cookies and milk after school. We know what to expect, and we love it.
So, here we are, back with ten humble bakers (all humble lovely and nervous) from every region of the country. We have our two hosts, pun-loving and supportive Dan Levy and Julia Chan; and the two judges, the effervescent Bruno Feldeisen and the slightly cooler Rochelle Adonis.
Signature Bake
Befitting of a baking show, it is cake week! The first challenge is an upside-down fruit cake. Anyone who has had burnt pineapple stuck to a pan knows there are some pitfalls with this cake.
The first show is all about introducing us to the competitors and giving us hints of what we can expect this season. GCBS loves its stereotypes and uses employment and marital status as shorthand for personality traits. So, we know that Ann Marie Whitten is a middle-aged newlywed from Pickering. We can expect lots of honeymoon jokes. She also has a good palate and pairs her figs with rosemary to success.
Wendy McIsaac hosts P.E.I. kitchen parties and is bringing the East Coast flavour with blueberry molasses. We can expect down-home maritime flavour from her.
Andrei Godoroja is a software engineer from Vancouver. He is the only one who uses the very modern technique of cutting the fruit in a parquet floor style. This tells me that he has experience and a good eye.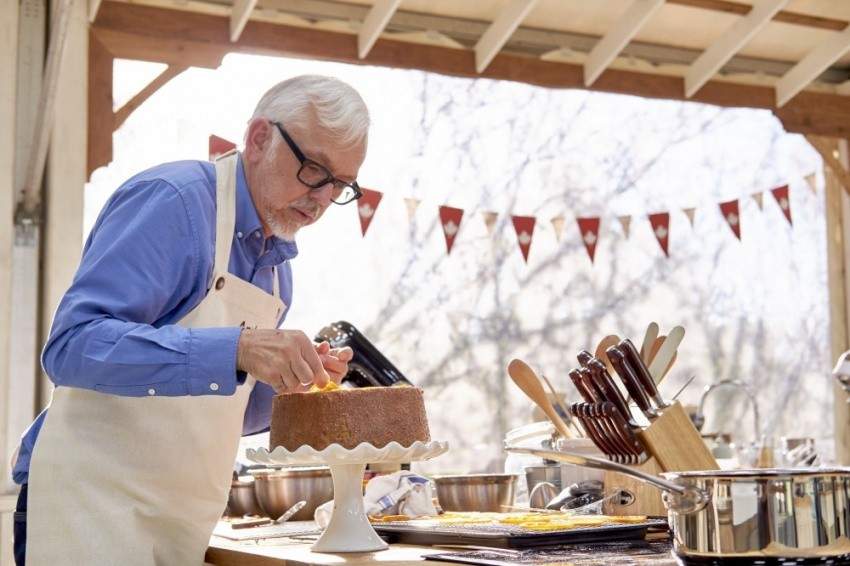 The promo of Tim Chauvin from Brockville makes me wonder if Home Hardware paid any sponsorship money. He makes a bundt cake covered in fruit.
The youngest competitor is Timothy Fu from Edmonton. He started his high school baking club and plays the trombone. This intro kind of writes its own joke. His cake shows he has poor knife skills but the taste win the judges over.
The show scored bigtime with Devon Stolz, who works in the family business in Saskatchewan, as a tombstone carver. Rochelle says his mango gingerbread is "ugly delicious", which is an overworked phrase (thanks, David Chang) that I do not want to hear again.
Mengling Chen is the lone Toronto baker. I'm sure they could have figured out a better way to promote her than making a birthday cake for her dog. She seems nervous. Her apple, pecan, bourbon cake shows her confidence, however.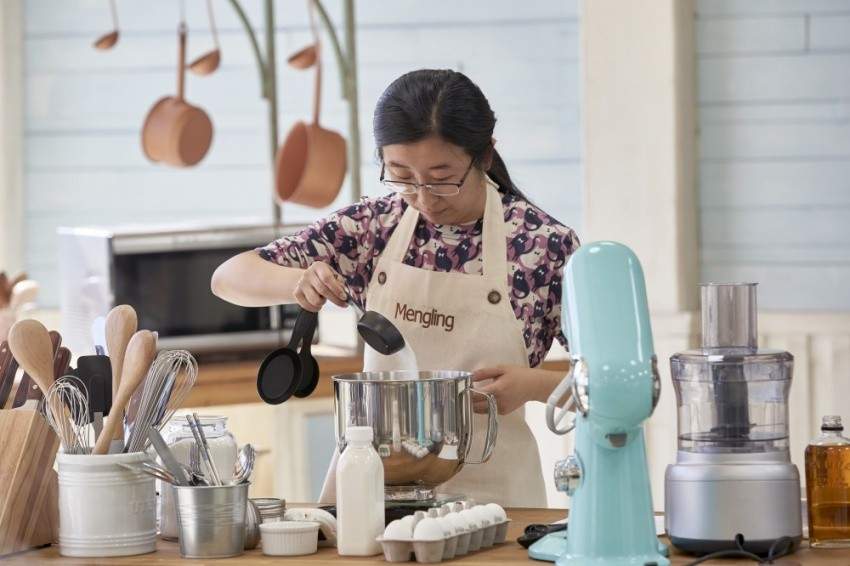 Irony alert! Sachin Seth is a Nova Scotia dentist who loves to bake. A good dentist will bring an eye for detail to the baking tent. His chai pear cake looks good enough to skip teeth-brushing to me.
We have a rebel, her name is Megan Stasiewich. We know she is a rebel because of her blue hair and tattoos, but also because she puts mint cheesecake in the middle of her cake. I was doubtful, but the judges liked it. She is also a mom to three boys and lives in rural Alberta.
Sadiya Hashmi is also a mom. She has an MBA and she home-schools her kids who were the ones who pushed her to apply to the show. Maybe they thought it would mean a vacation from the math homework? She is a bit flustered but makes a lovely looking fruit cake with pistachio. But alas, the pistachio is too heavy and greasy in the cake.
Technical Bake
The real challenge of GCBS, is about time management as much as technique. The best home baker may take hours to put together one beautiful cake but, on this show, they only have the prescribed amount of time. For the orange chiffon cake in this challenge, along with the time constraints, the bakers' recipes are missing key instructions like how long to bake the cake for, and how to candy the citrus for decoration.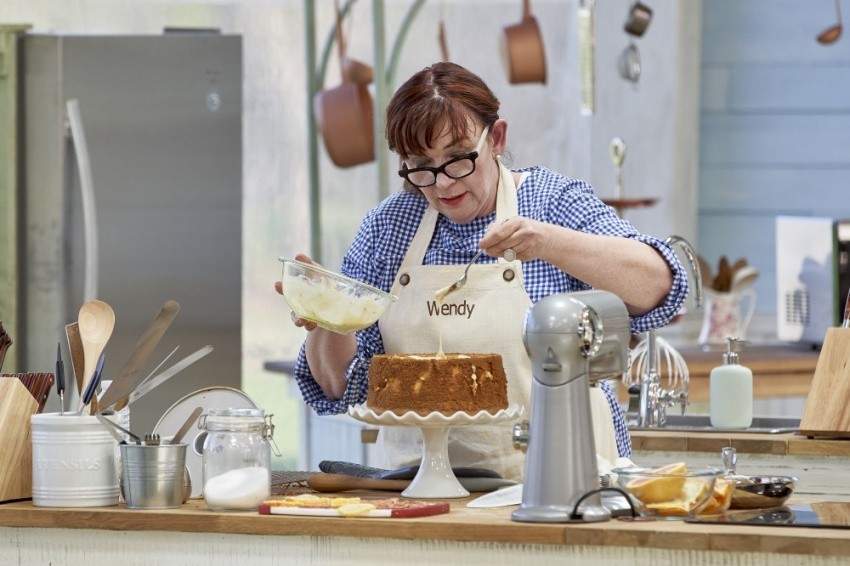 Each cake on the Gingham Alter looks completely different. It is a blind tasting and Sachin, the dentist, is the winner; with Mengling's cake second. Timothy's is last.
Showstopper
It's no surprise that the Showstopper is a birthday cake. Dan Levy speak his soul when he says a birthday without a cake is just another day reminding you that you are getting older. I love Dan, who loves dessert.
Bruno is looking for height width and flavour bursting out of his mouth. When he said it, it did not sound like a double entendre.
Wendy's Anne of Green Gables cake has great flavour and inner polka dots. She even used raspberry cordial and has probably won over a few kindred spirits this week.
Andrei's cake is for anyone who wants to be "Queen for the day", Rochelle, Julia and Bruno all sign up. His white and dark chocolate cake with the sugar crown and roses looks special without being kitschy.
Mengling's blueberry lime cake has berries and basil. She is in wild panic mode again and the colours of the cake look totally unappealing to me. But the judges say it has good flavour. She seems like a good baker, but can she stand the stress?
Ann Marie is struggling again. She forgot the sugar in her cake and lost the most precious of resources: time. Her first cake made me think she was a frontrunner, but she has to get used to the pressure or she will not last long in the tent.
Dan is in love with Sadiya's cookie butter buttercream, but her cake construction skills are lacking a little and she sacrifices two of her layers. Julia has to calm her down mid-challenge.
Tim loves his tools and has brought a chocolate warmer with him. He is making an ocean-inspired cake but should have spent more time on the cake itself; the cake batter is leaking through the icing.
Megan has brought her party game and is making a cookies and cream cake with a beautiful Mexican Day of the Dead skull on top. It's the most stunning cake in the kitchen.
Timothy has a high-end concept of a phoenix rising through the ashes, but it doesn't work. Luckily, the cake tastes better than it looks.
Devon makes a Japan-inspired coconut and matcha cake and it is what I might order if the show had an "order now" function. (Maybe next season?)
Sachin makes a s'mores cake. He rolls crispy rice treats to make giant candles, which seems both genius and obvious. His cake looks so perfect, I can easily imagine it at a bakery.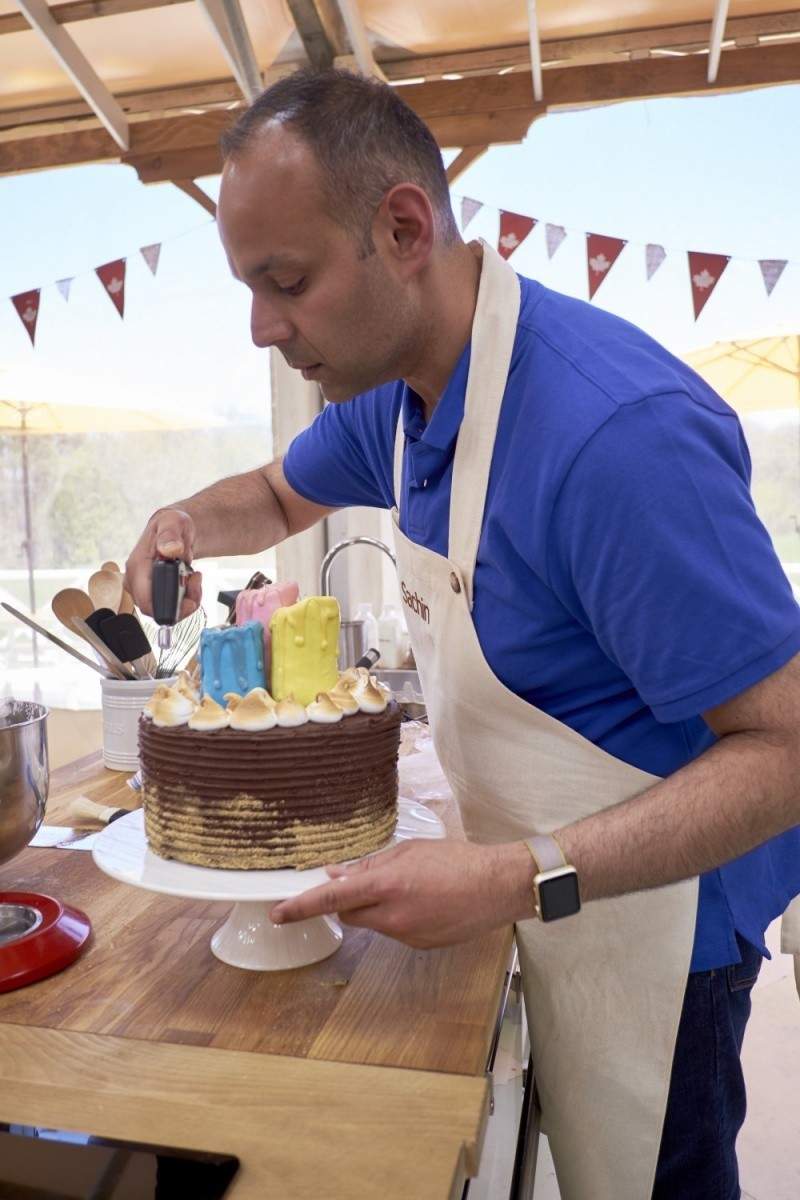 It's obvious that the top bakers today are Sachin, Andrei, Mengling and Megan. The ones struggling are Timothy, Tim and Ann Marie.
Just like last year, the judges tell us what they are going to say before they say it. So, it's Dan's job, he tells us to announce star baker: Andrei!
And Julia says it's her job to say who is going home, and it is Tim.
I'm surprised it's not Timothy, but sad for Tim. It can't be easy to go home after just one show. And I don't think it is always good luck to win the first challenge either.
Crumbs

The ability to focus goes a long way in the tent and both Andrei and Sachin has great focus and purpose. We will have to see if their flavours are as good as their designs.
Megan is a sleeper to me. Bruno said that she has great skills, but she doesn't know it yet. Hopefully, she will find out soon.
We will see if Mengling can handle the stress; she obviously has good technical skills.
I thought Timothy was on the chopping block. Maybe the judges see potential or a good demographic and want to keep him around. But he doesn't seem ready for the national stage to me. Call me Toronto-centric, but I think they could have found more bakers from Toronto that had better technical skills.
I'm calling Devon a fan favourite.
The show was off to a good start. Most importantly, it took my advice and made the challenges more difficult. I hope that increases even more as the season goes on.