I could listen to host Julia Chan speaking Italian for a little longer before the Great Canadian Baking Show opens on International Week. Am I alone in feeling that "International Week" is a little tone deaf? The competitors already have international roots, so naming their cultures "international" feels like reinforcing the idea that anything outside of Canada or England is "other". I understand that the Canadiana of the show is part of its appeal, but there probably other options to bring in mochi and Italian cookies.
Signature Bake
The Signature Bake is hand pies, the contestants are instructed to make hand pies from their own culture, and most do.
Andrei Godoroja makes his mother's recipe for a Russian pie with a salmon and vermicelli filling. He seems most concerned about letting his mother down. Judge Rochelle Adonis seems most concerned about the potential appearance of raw salmon in her hand pie. Neither should have worried, because the koulibiac are just fine.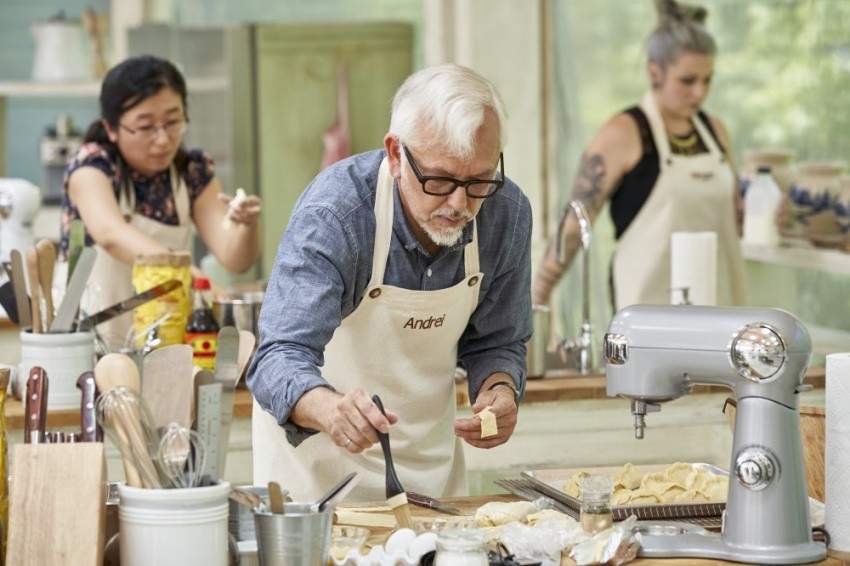 Megan Stasiewich stays true to her Alberta roots by making a "burger" pie of beef, bacon and moose with a special sauce. While it is never mentioned, this is an Alberta riff on a Big Mac, sort of a McDonald's goes hunting hand pie. It's also not mentioned how she got the moose, which you cannot buy in Ontario; only hunted meat can be consumed. Host Dan Levy is obviously a fan of both the meat and the "special sauce" with homemade pickles. Rochelle suggests bottling the sauce and selling it, but also suggests a brioche dough next time.
Devon Stolz is inspired by his time in Japan and makes a colourful bulgogi hand pie. Sachin Seth fries up some perfect samosas. Mengling Chen's Xianglong pies are well-received. Sadiya Hashmi's fatayers are beautiful and tasty. Even Timothy Fu gets a lukewarm response with his east-meets-west spring roll hand pies.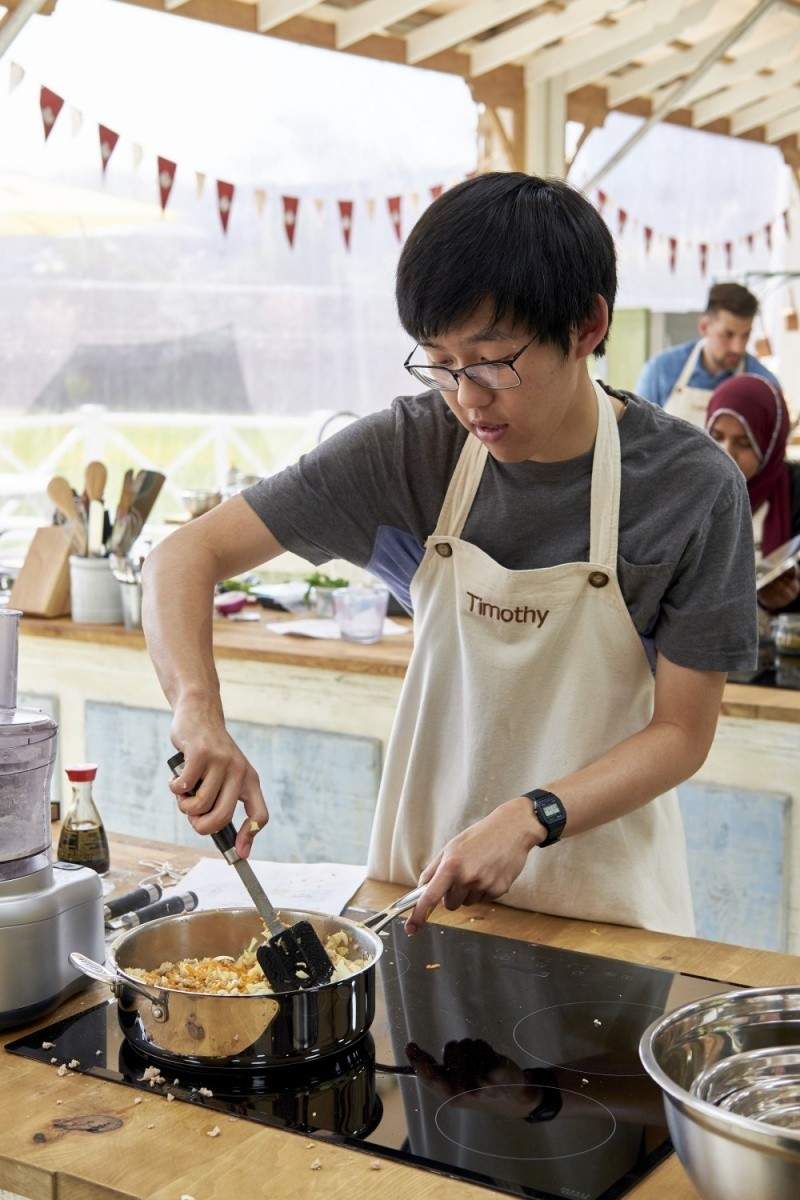 The clear winners are the co-hosts, who get to make many pie puns throughout the bake, but no one ends up with pie on their face after this Signature Bake.
Technical Bake
It's International Week, so where in the world will they choose a baked item from? It's Japan and the daifuku mochi. Mochi is a stretchy rice-based dough that is often wrapped around a delicate item such as ice cream, whipped cream or in this case, strawberries encased in red bean puree. Judge Bruno Feldeisen says they are the perfect spring dessert.
Devon is the only contestant who knows what he is doing. Unfortunately, Devon doesn't read the recipe carefully and ends up with a gritty red bean puree. Devon's Achilles' heel is being systematic with a recipe (though his design skills are on point, but more on that later).
The colour of the mochi should be a light pink but some are too dark. The red bean puree should be smooth, but some of the bakers left their puree chunky, and the strawberry should be smoothly-encased under both. The final product should be vaguely breast-shaped, or perhaps pyramid-like (maybe those are the same thing?).
The Gingham Alter is a disappointing place, as none of the contestants have a perfect mochi, but Megan's are crowned top of the heap one even though they are too red. Timothy is second, followed by Sachin. Mengling's lumpy mochi are last, and Devon, who recognizes he should have done better, is sixth.
Showstopper
We travel from Japan to Italy for the Showstopper. The challenge is to make a sculpture with Italian cookies. You know why they chose Italian cookies? Because they are sturdy, and dry and can be used as building materials. (To me, this does not make them delicious.)
Devon adds more liquid than one would expect to his S-cookie dough, which makes the judges concerned, but his cookies turn out well. His cactus is strong, and his piping is beautiful. Devon's artistic skills get forgotten in comparison to Megan, but he is good with a piping bag. (But he needs to stop winging things.)
Timothy has been lacking in the artistry department, but his bus stop looks fairly good, and the judges like the lemon cookies inside the bus.
Sachin makes a Sphinx with coloured tiles, and for once, his commitment to simplicity hurts him. The judges feel that he could have pushed himself a little harder.
In living up to its name, Sadiya's Showstopper also did not deliver. Her Ludo game board has a nice story but it does not have the structural components of the other contestants. What really hurts her is when she admits that she was lacking imagination when it came to this challenge.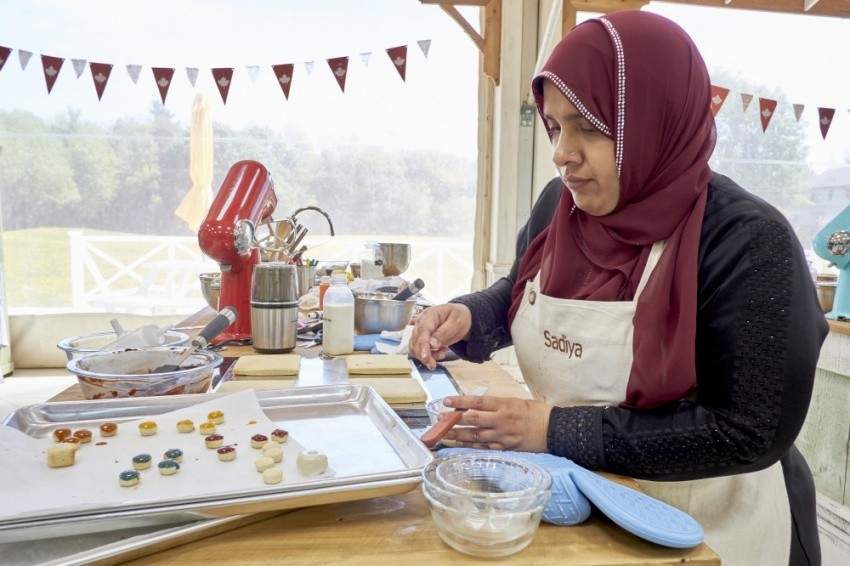 As usual, Andrei thinks outside of the box and has a very carefully-planned dessert. He makes a beautiful 3-D fish using many different cookie doughs. He uses the details of the cookies to portray the fish without any extras.
If there is a polar opposite to Andrei, it is Megan, who creates an Alberta nighttime scene complete with Northern lights painted on a sugar wall, a cabin, moose and a crazy-looking fire using a chef's technique involving isomalt and secrecy. It's a stunning scene and the judges like her use of Italian cookie dough.
When it is Mengling's turn, the judges focus on how she was having fun with her beehive. I think Mengling is fun every week.
At this point, it's not obvious who is leaving the tent this week. Is it Devon, who can't stick to a recipe but did well on the showstopper? Is it Sadiya, who is lacking ambition but was the Star Baker last week? In the end, it was Sadiya's lack of imagination that does her in.
In the end, it is Megan, who was inspired by her home of Alberta in two of the challenges this week, who is Star Baker. Is this the beginning of Megan's rise?
Kitchen Scraps
We are halfway done the show and the six remaining bakers are the best of the lot. I stand by my prediction that Sachin, Andrei, Megan and Mengling are the top bakers, but there is always a surprise on these shows.
I wouldn't want to eat any of the Showstoppers this week (but I would eat any of those hand pies), and the further I get from the show, the more I am admiring Andrei's fish, whose natural beauty showed truly good technique.
Megan is my husband's favourite. He is a super organized (opposites attract) and he loves to point out that Megan is more than an artist. She has great organizational skills, which help her with time management and strategy.
Did everyone catch the moment when the bakers rushed over to help Sadiya, who was falling behind? It's moments like these that make everyone love the Great Canadian Baking Show.