It's pie week and the semi-finals on the Great Canadian Baking Show. The three bakers left at the end of this episode move onto the finale.
I like pie; in fact, I love pie. But a whole hour about pie with three challenges seems like a little bit of a stretch. Judge Kyla Kennaley used to own a very popular bakery in Toronto (RIP Madeleines) that was famous for cherry pie, so we expect her sweet and sour observations should be extra sharp this week.
Spoiler: no one used rhubarb, the best pie ingredient.
Signature Bake
The Signature Bake challenge is to make a pie with a face on it. This means that the bakers will have to overwork their pastry dough and add food colouring, which to me ruins the pie; but they had to make it challenging with the face.
The bakers must decide if they are going to go for the richness of an all-butter crust and risk a lack of flakiness, or mix with shortening. Most go for butter (the correct decision) and blind baking.
Jodi Robson makes a cream cheese and fruit pie with the face of a black bear on it. The eyes have incredible depth and it looks good… for a pie with a face on it. She gets a thumbs up from the judges.
Colin Ascunion says, while standing in front of the oven, that it's like the Great Canadian Waiting Show (just one of his zingers this week). He covers his curry pie with the face of Medusa and all her green hair glory. The hope is that the Medusa will set his victory into stone. The judges think that the curry is a little flat tasting but like the risks he's taken.
Nataliia Shevchenko's egocentric pie has a picture of her on it. She says it was her husband's idea and it is beautiful. Host Aurora Browne says it looks like a shampoo ad. The judges say the sourness of the apricot filling balances out the rich cashew and butter crust.
Chris Koo adds pastry leaves to the edges of his pie crust, which turns to carbon in the oven. He then has to scrape them off in hopes of salvaging the look of the pie. The good news is that it looks better than it did before he scraped, the bad news is that it still looks terrible. But the savoury filling of bison and cheddar is spot on. Kyla seems frustrated with Chris, noting that his palate is "spot on" but the attention to detail is lacking.
Technical Bake
The Technical challenge is to make a pithivier filled with frangipane and sour cherry jam. Wikipedia explained to me that this is a French tart originating in the town of Pithivier, consisting of two discs of puff pastry filled with sweet or savoury filling. The top is a golden brown with swirls and scalloped edges. I didn't even know how to spell pithivier until five minutes ago, and it looks like the bakers don't know what it is either.
The recipe is, as usual, vague. It turns out that making the puff pastry dough is the easiest step in this process; it's the assembly that is the challenge. All the bakers make different designs on the top, though it looks like Chris' creation is the closest to the traditional wavy lines of a pithivier.
The bakers are all holding a small tool that looks like someone cut a bottle top in half. Colin and Nataliia use theirs to scallop the edges correctly. Jodi does it upside down, and Chris doesn't have time to do any scalloping at all.
While in the oven, Jodi's jam is leaking and burning all over the cookie sheet. This is going to make her tart taste like a smoke show, and not in a good way. It looks like Colin's frangipane is also making an exit while baking.
In the end, no one really wins sky-high praise at the gingham altar this week. Colin comes first, Nataliia second, and Jodi third. Chris didn't add enough filling to his pithivier, so all he is presenting is an empty shell.
Showstopper
On to the Showstopper. This challenge is the last obstacle on the way to the finale, so it's make-or-break time. The judges say that everyone is on the same level at this point, but that feels like an empty threat, as it is obvious that Chris is in trouble.
The challenge is to make a tower of themed pies. They have four hours to make them, which means that the pies are going in and out of the oven at a rapid pace.
Colin stays traditional and makes a tower of family favourite pies that remind him of summers at the cottage. The bottom is pecan pie, followed by peach, blueberry and ginger, and then bumbleberry. The tower looks pretty, with pastry cutouts sticking vertically out of the pies.
Jodi explains that as a shift-worker, her meals can be all out of order, so she has invented Brunchuppert: a mix of different meals. Her bottom pie is beef and sweet potato, followed by a dill and salmon pie, and then a beautiful small apple tartlets.
Nataliia makes four different doughs for her European dinner. She is "busy, busy" as she creates her tower of a pirog filled with sauerkraut and black bean, a meat pie, a salmon quiche and finally, a cherry tart on the top. She runs into issues as she drops her cherry tart pastry while removing it from the oven but quickly recovers and bakes another.
Chris heads to Alsace, France for inspiration. His tower features a tarte flambée, followed by two pâté chaud and sweet fromage blanc tarts on the top. It's hard to tell if he is running out of time, or if it is all coming together. His tarts on top are surprisingly lovely.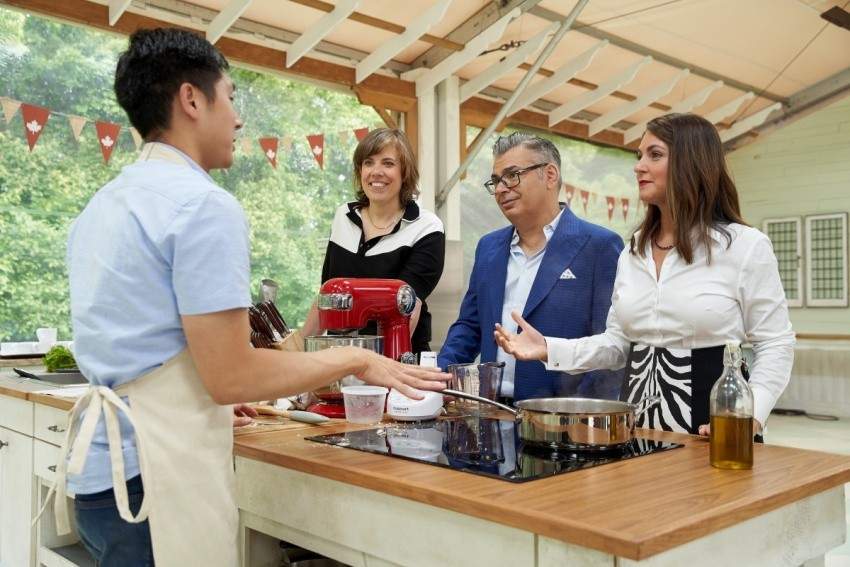 But Chris falters when it comes to building the tower. All the bakers struggle with creating a structurally sound tower, using levels, or dowels in the middle of the pie. As the clock is counting down to two minutes, Chris' tower is wobbling. Then suddenly, when the clock is stopped, his pies are balanced on metal rounds. This is not what he was working with two minutes ago. It is not explained to the audience what just happened. But, to be honest, instead of being irritated that they obviously played with the timing, I'm just happy that Chris is successful.
The judges say that Jodi's showstopper is both sophisticated and approachable. Bruno Feldeisen adds that her apple tart is the best that he has had in a long time. High praise!
Nataliia also does well with her European dinner, her quiche custard is excellent and Kyla, the queen of cherry pies, says Nataliia's version is perfect.
Colin's cottage tower is also praised. The pies are juicy without being overly soggy. The judges do wish the pecan pie had just a little more filling though, but overall, he gets an excellent.
The judges also like Chris' Alsatian tower, though Bruno is skeptical of the tarte flambée. His meat pies are flavourful and the small tarts at the top are good, but there is a feeling of doom around Chris this week.
When the hosts announce who has to go home, it is confirmed. Chris' flavours are always good, but his execution can't compete at this high level.
Nataliia is the show's last star baker. Do her bookend wins this season mean she is set up to win it all?
Kyla tells Chris, through everyone's crying, that he comes to the tent with crazy ideas and his food is always delicious. Everyone is sorry to see him go.
Kitchen Scraps
I would happily eat Chris' baking. I bet he is a good savoury cook as well. It's too bad that his technique couldn't quite go as far as his imaginative palate, but he always has that medicine thing to fall back on.
It struck me that the combination of Nataliia's decorating skills, together with Chris' palate, would be the perfect mix. Since they are both from Alberta, they could go into business together and open a bakery. They can thank me later for my brilliant suggestion.
Unlike last year, the finale is anyone's game. The three remaining bakers all have different skills and appeal. Nataliia may be the frontrunner by an edge. Her baking is not to my taste but I can see her strengths. Colin's highs are the highest of the bunch. If everything comes together, he could win. Jodi is one of my favourites too. I love how she weaves her story into her baking in such an effortless way. I also think her artistic skills are underappreciated. She could be the sleeper and her smile just lights up the tent.