Canada is not a boring country. We have a lot to offer—music, art, and a rich culinary history. But you wouldn't know that from this week's baking show, which was as obvious as a painting of a Mountie on a moose. The challenges just weren't that challenging. In order for us to see the personalities and the abilities of the bakers, they need to be truly tested, or the whole show becomes an exchange of niceties and above-average baked goods. Like any good critic, I do not offer any solutions to this issue. Sorry to be a bummer. But on to Canada week!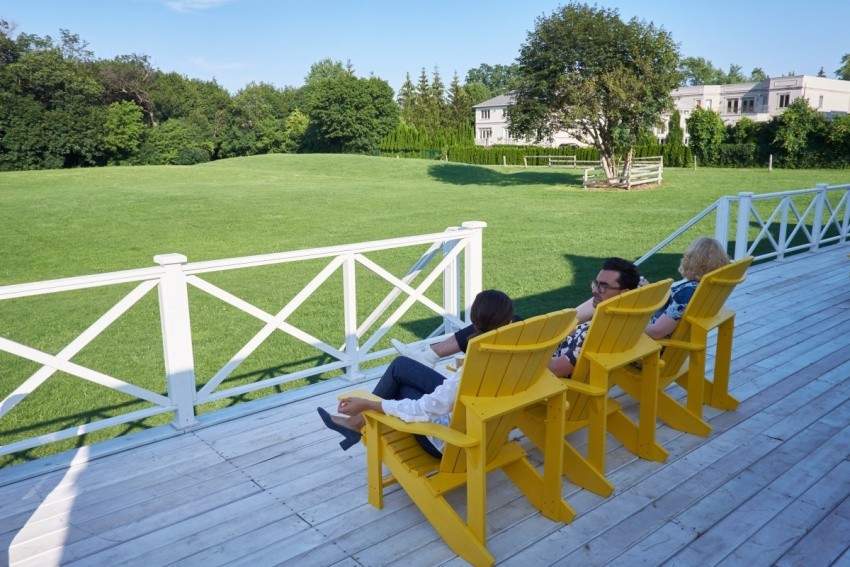 The show opens with our two hosts sitting in the bright yellow Muskoka chairs making jokes about how much Canadians apologize. This eagle-eyed recapper spots a couple of Caesars, though no mention is made of the best Canadian cocktail.
Signature Bake
The Signature Bake is savoury this week. The bakers are going to make their own version of Quebec's tourtiere. Judges Bruno Feldeisen and Rochelle Adonis tell the camera that the crust should be flaky and the meaty centre should hold together without being dry.
Julian D'Entremont is making a donair tourtiere, which sounds like a fairly good idea. The classic Nova Scotian treat is similar to a shawarma and comes with a side of sweet sauce. At one point, Julian sits on the floor smoking tomatoes. I really hope someone made an inappropriate joke about him hotboxing the tent. Alas, the judges rule that his donair pie is too dry.
British James Hoyland pulls out the swim goggles to chop onions, and adds needed levity. When we find out that he has been a vegetarian for 28 years, I am relieved to find out something new about a contestant beyond their location, job and family status. He uses beets and almonds to give the pie substance and the doubting meat-eater judge, Bruno, loves it. James seems to have unknown depths that we have only glimpsed before.
Vandana Jain also opts for a vegetarian pie, using curried cashews and chickpeas. Unfortunately, her pie is a little short in stature, but Bruno says her flavours are magic. In a possible first, Julia takes a bite of a finished product on camera.
Rochelle asks Linda Longson if she feels the pressure as the reigning star baker; she nods. She makes a ground beef tourtiere with a well-received sweet chili sauce.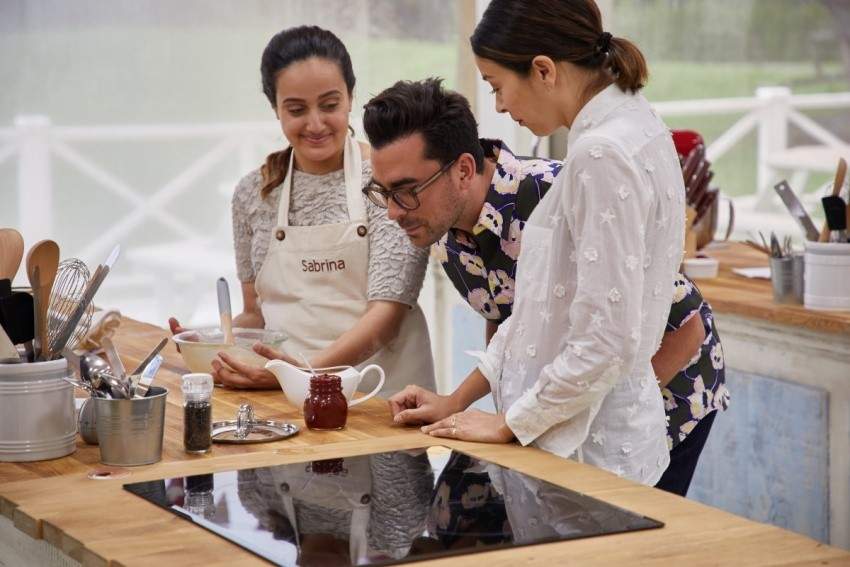 The lone Québécois, Sabrina Degni makes a homestyle tourtiere with gravy and ketchup on the side. The judges don't love it, saying it tastes like a burger in pastry.
Jude Somers is representing the west with a pork loin and bison tourtiere with yams. (I must point out that a yam and a sweet potato are not the same thing, and she is using sweet potatoes.) She adds cloves, which we know is going to be a mistake, and it is. The judges are not thrilled.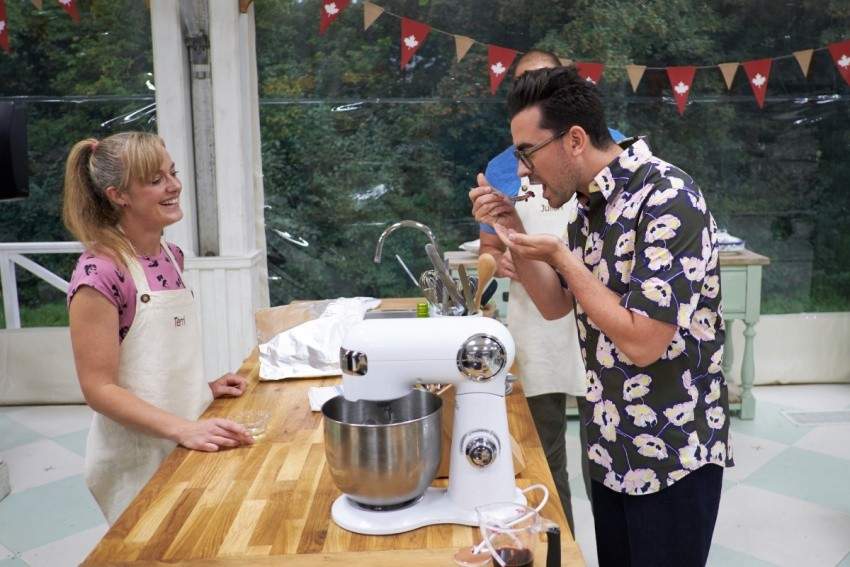 Sweet Terri Thompson is talking to her food again. Her bacon and turkey tourtiere is a Christmas tradition. After taking a bite, the judges think her family is pretty lucky.
James' saucy vegetarian pie rules the day! But at the end of the challenge, I am left wondering what the difference is between a personalized tourtiere and a meat or veg pie.
Technical Bake
Now we are onto the Technical Challenge. Traditional Canadian desserts evolved from pioneers and the Filles du Roi using the supplies on hand to make something sweet: butter tarts, sugar pie, Saskatoon berry pie. But that's not what they are making. No, the bakers are making a Canadian treat made famous by a cookie company. They have to make 16 identical maple cookies; the thickness of the shortbread and the filling have to be perfect.
James implies that making shortbread cookies is not too hard. And he is right. High-level bakers can make shortbread cookies, in fact, even amateur bakers can pull off shortbread cookies once a year.
The bakers roll, cut out, and fill their cookies and carry them to the gingham alter. The entire technical bake seems to come down to amount of filling that people piped in and the judges use the word filling so many times that I start to tune out.
Technically perfect Linda is first, James is second and Julian is third; Vandana fourth. Sabrina is not looking happy at fifth; Terri is sixth and Jude is rolling up at seven.
Showstopper
The Showstopper Bake is doughnuts, in which bakers must fry up two kinds of doughnuts. The judges disagree, however, on what makes the perfect donut—Bruno loves a filled doughnut, while Rochelle likes a glazed cruller. (I side with Rochelle, but I actually don't like doughnuts that much. I had my fill working in my university newsroom.)
Sweet Terri makes some crazy combination that includes a marshmallow puff. She puts us normal moms to shame, as she tells the judges that she whips these up for playdates. My kids would be over there every day. The Judges think they are overly sweet, and Sweet Terri looks downtrodden. She has a lot of talent, but I worry about her handling the pressure.
Sabrina needs a win here. And both her s'mores doughnuts along with her poutine doughnuts that are shaped like fries with caramel sauce and mini homemade marshmallows are winners.
Most of the bakers make yeasted doughnuts but Vandana is the only one who makes two kinds of cake doughnuts. She makes one set with Saskatoon berries and one with a sour cherry limeade. They aren't her best showing so far, but the judges like them enough that she is not in jeopardy.
Julian makes some boozy doughnuts with what should have been a cute rum runner canoe and one filled with triple sec. But the canoe didn't rise enough to be more than a disc. Nonetheless, his flavours are good enough to stay.
Linda stays safe with six maple bacon doughnuts and six double-double coffee flavoured ones. As always, her technique is perfect. Her chocolate decoration melted slightly but they are tasty.
Jude is choosing to showcase her whimsical side and make a set of glazed starfish doughnuts and a set jellyfish shapes filled with blackberry jam. But her dough is over-proofed, which does not bode well for the finished product. It's obvious that she is in trouble.
Choosing to make two completely different recipes is a risky decision for James. He is fighting the clock, but his peach beignets and raspberry-glazed crullers are the perfect choice for the two judges. The judges are thrilled with his tasty doughnuts, which look plain, but pack a flavour punch. James has some mad skills this week, we will see them again?
The Judges' deliberation isn't very tense as it is obvious who has to go home. Even Jude knows that it is her turn. Her ideas are fantastic, but her technique is not up to the other bakers. Bye Jude, we will really miss you, as you have a personality.
Messy James is messy no longer. He is star baker this week.
Next week is Britain week, it looks like trifle and afternoon tea are on the menu. Does this give James an advantage?
Crumbs
The remaining bakers have all had good moments and obviously have some good technical skills. The judges' deliberations are thankfully going to get much more difficult. I just hope that the technical challenges also ramp up and really test the bakers.
Any showstoppers for me? I love meat encased in pastry so I would have tried any of those tourtieres, even the vegetarian ones. In fact, the two vegetarian pies had the most interesting flavours. And doughnuts, meh. But I thought Sabrina's poutine ones were very clever. And if pushed, I would eat a hot beignet from James.
I'm still a little bummed about the lack of butter tarts. Though, there is a recipe on the CBC Baking Show website if you want to make some. (Yes, I like raisins. No, I don't want to debate it.)