We open Britain Week with Dan Levy pouting about how Kate Middleton hasn't called him back. It's low hanging fruit as far as jokes go, but elicits the correct response in me, and I assume everyone else watching--Dan I will be friends with you.
Julia Chan's recap of last week says that Canada week got dramatic; I disagree. It was dull. We have higher hopes for this week, which highlights the birthplace of the Great British Baking Show.
We open on our lone Brit, James Hoyland, saying that as last week's star baker, he is feeling the pressure. Terri Thompson is done with feeling nervous and says she is going to bake for her family and have fun.
Signature Bake
After a Notting Hill reference, the bakers are challenged to make a boozy, multi-layered trifle in their Signature Bake. This first bake is becoming my favourite because it's where the bakers show off their personal style in one large dish.
James starts off by brewing some loose leaf tea, so I know that I could trust James to make me a cuppa, even though the mess might not be worth it. (Kidding, it would be totally worth it.) He makes a gin and blueberry trifle with an Earl Grey custard. His trifle doesn't look as good as the artful drawing but Rochelle Adonis and Bruno Feldeisen like it. Rochelle calls it "ugly delicious". I don't think that James' food is ugly, I think that his presentation is average. It just can't compete with the Sabrinas of the world.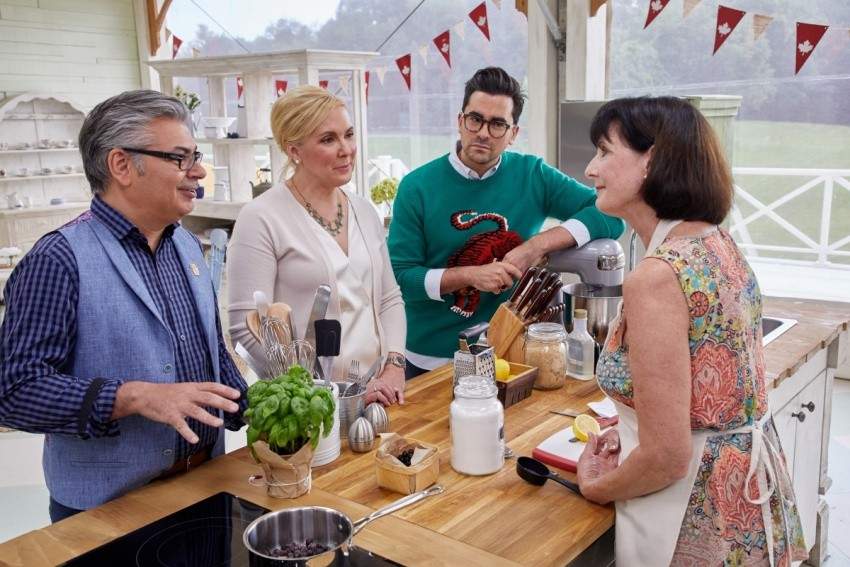 Linda Longson shocks everybody by using the new-fangled machine called a microwave to make the custard for her raspberry-lemon trifle. The sugar work and Saskatoon berries on the top make it look gorgeous. Bruno would have liked more berries and the doubting-Thomas Rochelle says the custard works.
Sabrina Degni is smart and makes a roll cake, which looks lovely through the glass, her strawberry swirl trifle is bursting with limoncello flavour and Dan calls it a lethal weapon.
Vandana Jain's trifle looks beautiful with its vibrant mango. She uses the mango boba (the little bubbles from bubble tea that burst in your mouth). It's a winner. Once again, she has brought some new flavours to a dish that we think we know.
Julian has been throwing himself some shade this week saying he doesn't know how to bake British goods. He puts a chocolate ganache on top, but he doesn't repeat the layers enough. He also cheats by adding a little gelatin to his custard, which antagonizes Bruno.
Technical Bake
And quickly, we are onto the technical bake. I was worried that it was going to be some kind of shortbread again, but no, we have brandy snaps: a rolled confection that are baked for a brief period, rolled while hot and then filled with whipped cream. They are difficult to pull off and Rochelle says to expect tears from frustration and burnt fingers. I'm happy that there is finally a technical challenge that is finicky and will test the tempers of the bakers.
In the first few minutes of the technical bake, we have multiple shots of the of the Cuisinart scale. So I'm adding Cuisinart to the list of sponsors.
The bakers can only bake three discs at a time, which calls for lots of pan rotations and can be very annoying. The bakers are clearly frustrated and my guess is that if they allowed for swearing on the show, this segment would have been much longer.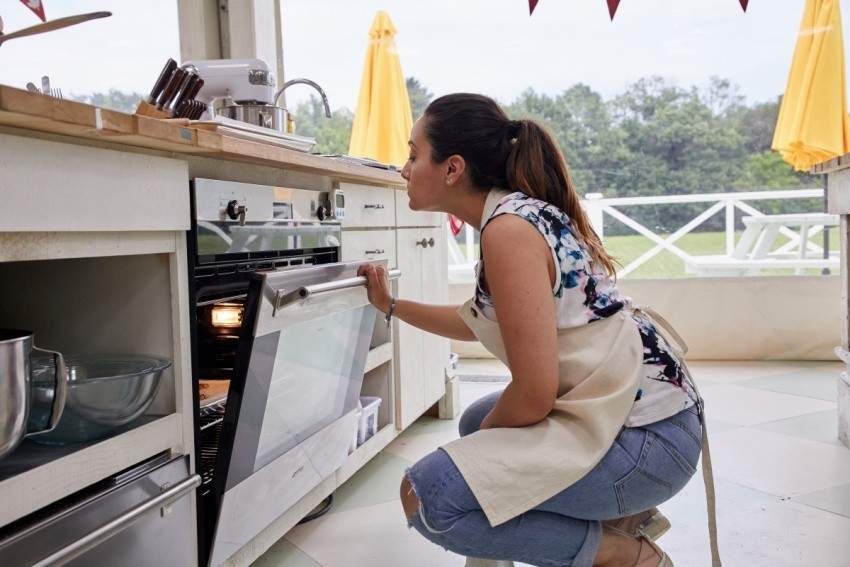 I don't think anyone really enjoys brandy snaps that much and even the judges don't seem that enthused. Sabrina did not think that the snaps were like cannolis, even though they look similar. But her cannoli-rolling paid off and she is first in the Technical Bake.
Terri is second with her brandy snaps which aren't as whole-y as they should be. James is third, Linda is fourth, Vandana's are underbaked and is fifth. Julian's chewy brandy snaps are too chewy.
Julian says the whole experience was terrible, and I'm sure it was. But I'm glad we finally saw some of the bakers (metaphorically) sweating.
At the judges' tete a tete, they say that Sabrina and Vandana are looking good. They were surprised that the normally unshakeable Linda showed some nerves, but they do not underestimate her. The men, however, are not looking good–they both seem to have the same problem with managing the details. Julian's flavours and presentation is good but the technique is lacking, whereas James' presentation and time management are shaky.
Showstopper
The showstopper is high tea. Bakers have to produce three different items, with one savoury treat.
Vandana is heading back to the days of the Maharaja. The colours are vibrant and beautiful. Indian desserts are deceivingly delicious. They don't look like much, but the flavours are intense and surprising. She has bright pink sandesh, which is cooked down milk and sugar; dhokla, which is a bright yellow fermented rice square; and gujiya, which is fried dough stuffed with nuts and fruit. It is beautiful, colourful and sets high tea on its head. Namaste, says Bruno to Vandana, which unless Bruno just ran a yoga class or is extremely knowledgeable about Hindi or Nepali, is not really appropriate.
James makes some British classics: a Wensleydale cheese sandwich with homemade bread, a bakewell tart and orange. He has a military breakdown to keep him on time, but his end product still doesn't look as good as the others. The judges like it without being effusive.
Scones are what got Linda into the competition, so it makes sense that she makes some more for high tea. She also makes mini Yorkshire puddings with bison and small chocolates. She slices her bison before cooking, which dries it out but otherwise, her Alberta high tea is fine.
Julian, however, can't catch a break today. His plan for making Romano cheese cups to hold his smoked mackerel isn't working out and they turn out to be crisps. His blueberry grunt is too dense and he left his apple tarts in the pie tin, which makes them hard to get out. Though, those apple roses are stunning before Rochelle gets a fork into them.
Sabrina's peach high tea is also lovely and could easily be served in any royal household. Her amaretti cookies look like mini peaches, her scones are filled with peaches and cream, and the prosciutto and peach sandwiches are lovely.
Terri returns to her flavours of home and I'm happy because someone finally made a butter tart. She lines her tarts with bacon and also tops them with bacon in the shape of ducks. I think the "animal" was overkill, but I would eat it all. She also has small pistachio and chocolate eclairs and sweet potato fritters with sriracha. (I shouldn't be surprised about her use of hot sauce, but I am.)
The judges return to their lair to decide the outcome. Rochelle says the boys are in trouble but I don't want them to leave. James' sly sense of humour is much appreciated and the show would be lesser without him. Julian's presentation is always surprising, and I like his use of East Coast products.
The judges need to discuss if Vandana's incredible trifle and high tea will trump her lackluster showing in the technical round or will Sabrina win for the second week.
For some reason, Dan and Julia always announce which one has the happy job of announcing star baker and then whose job it is to kick someone off. It's like when you are in a meeting, and they hand you the agenda and then read off the agenda, as if you can't decipher the words yourself. It is obvious who is announcing it, when they announce it.
After the preamble, this week's the star baker is… Vandana! Yay, my favourite won. Now, she will probably go home next week, because my favourites never win.
And sadly, Julian is heading back to the East Coast permanently. We will miss you and your foraged products and nice presentation.
Crumbs
The showstopper for me was Vandana's high tea. I love Indian sweets.
Next week is Christmas week, but I hope they keep raising the stakes and give more difficult challenges. We are in the "hump day" of the season, and the only way to keep people interested is to produce more.