It's holiday week, says our hosts on the GCBS, as they are pulling their suitcases through the forest. Their kitschy opening is both painful and endearing. Is that I'm starting to warm up to their bad jokes or is there chemistry starting to gel a bit more?
The narrator's reminder that Julian D'Entremont got booted last week despite James Hoyland's struggles could be a warning of what is coming, or could mean absolutely nothing. I'm becoming concerned for Terri Thompson; she seemed to shine in the beginning, but her technical skills seem to be faltering.
We are reminded that this is the quarter final, which means there are five bakers left, each having been Star Baker, so it will be interesting to see who goes.
Cut to Julia Chan in a pair of mom jeans. I can't decide if I'm happy that the stylists bypassed the ugly holiday sweaters to dress the hosts normally, or a bit disappointed because we know that Dan would rock the elf hat. Meanwhile, Dan Levy is quite flashy in a floral shirt that one intrepid Twitter follower identified as a Gucci shirt also sported by Harry Styles. Who wore it better? You decide.
The Signature Challenge is a bûche de Noël, or a yule log for the uninspired. It is a log-shaped sponge cake rolled around a cream filling and often smothered in chocolate. The decorations are generally woodland creatures by way of Snow White at Christmastime. Personally, I am not a fan, as I don't like the texture of the cake and they always have too much icing. But I think it is a good challenge as the cake must be a specific texture to roll properly and it needs a steady hand with the finishings.
I am not surprised that Terri is a holiday fanatic. She is making a birch tree log with a vanilla sponge and candy cane cream. The white icing on it is a little thick, but she makes an adorable chocolate bird that perches on top. Judges Rochelle Adonis and Bruno Feldeisen think the cake is a little too sweet. This is not the first time that they have found Terri's creations too sugary, and I am concerned that her baking prowess is a little too homey to move forward.
Linda Longson makes a pumpkin cake, which she says is her family's favourite. Australian native Rochelle, who has (luckily) missed the pumpkin trend here in North America, isn't too sure if that is going to taste good, but the orangey cake with caramel cream cheese cream and chocolate frosting is "spectacular". Although, it isn't rolled very tightly.
The queen of interesting flavours, Vandana Jain, heads in a more traditional direction with a chocolate cherry combination doused in brandy syrup. The judges say it is delightful and technically flawless.
James, as always, thinks outside of the box and makes a Joconde sponge instead of a Genoise. Chef Google explained to me that a Joconde sponge is an almond flavoured cake baked in layers whereas as Genoise is a yellow sponge . He is not going to ice his cake, but creates grooves in the cake before baking that look like bark. Well that's his plan until he realizes that he forgot the butter and needs to make it again. But his risk pays off, and Bruno is delighted with is knowledge of chocolate technique. (Bruno is a chocolate expert.)
Sabrina makes a gingerbread spice roll with an eggnog filling. We find out the all-important information that Julia has never tasted eggnog. Sabrina makes a beautiful spiral but her cream is grainy.
It seems to me that Vandana and James ruled the bûche de Noël task.
Now, we are on to the Technical Challenge and it is rugelach! The bakers are shocked; that came out of left field. I have so many thoughts about this challenge. But first, I have to tell you that I screamed in surprise because I was eating some delicious chocolate rugelach that I brought back from my recent trip to Israel, while I was watching the show.
Despite the bakers' shock and apparent ignorance of the traditional treat. Rugelach are not very exotic and can be found in any Jewish and Eastern European bakery. I assume there aren't too many Jewish bakeries in Regina or High River, but I'm not sure what Montrealer Sabrina's excuse is. They are also not a specific Hanukkah dessert but are enjoyed all year round with a cup of coffee and are not very difficult to make. I am really missing contestant Corey Shefman at this point to school them on the joys of rugelach. Rugelachs are made with a cream cheese dough, and then filled and rolled into small crescents.
Bruno says they will have to show their technical and problem solving skills on this challenge. While the cookies aren't hard to make, the judges leave off important details in the recipe (like timing) that does make it tricky. But I am still fighting my lack of empathy for the contestants because they have never heard of something that that I have sitting on my counter right now. (Maybe my jet lag is making me bitchy.)
The heavy dough takes quite a long time to cook, and because the recipe lacks specific directions, most of the bakers don't put their cookies in for long enough. The gingham alter judging is not a joyous experience. Even though James had never heard of rugelach before, his crescents come in first. Vandana's were slightly underdone but she is second, Sabrina's were raw but still third. Linda's dough was overworked and underbaked but she came in fourth. And Terri trails the crowd at fifth.
Essentially, they all sucked.
Onto the Signature Bake. It's a bluey-grey and pink day for the judges.
They bakers are to make gingerbread houses that look and taste good. The judges want to see some techniques like sugar glass windows, and incredible decoration. The bakers have 4.5 hours to make something spectacular.
Sabrina is making a giant Rockefeller center with a candy ice rink. Her finished product is very tall, but especially considering some of her other creations, looks a little boring. It looked like she decided that size was enough. The judges are not thrilled with her lack of detail.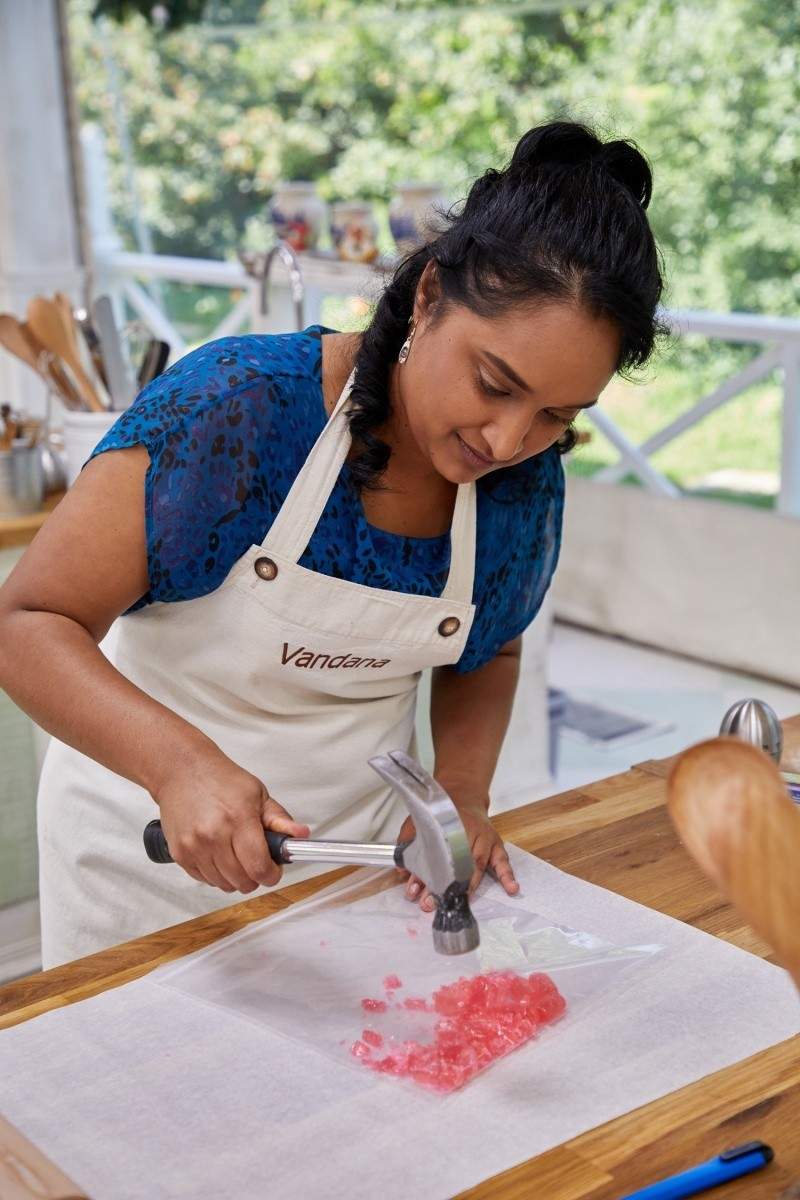 Vandana is inspired by her son's love of treehouses and makes an adorable small gingerbread house perched in a tree of mint leaves. There are a lot of details and Rochelle is very moved by the whole scene. Her gingerbread is well-spiced but may be overbaked.
Terri makes the gingerbread farmhouse of her animal-loving dreams. But the icing could be a little more elegant and it is overwhelmed with candies. I wonder what happened to the Terri who made the intricate moose out of chocolate. Rochelle sets up the best laugh of the season when she suggests Terri could have used the chocolate bird from her bûche de Noël and Dan has to sheepishly admit that he ate it. All the love for Dan.
James is creating a modern eco-friendly home, complete with solar panels, because of course he is. The solar panels even power lights on the house, which is so adorable I can't stand it. The judges love it too, and commend James on his improved piping skills.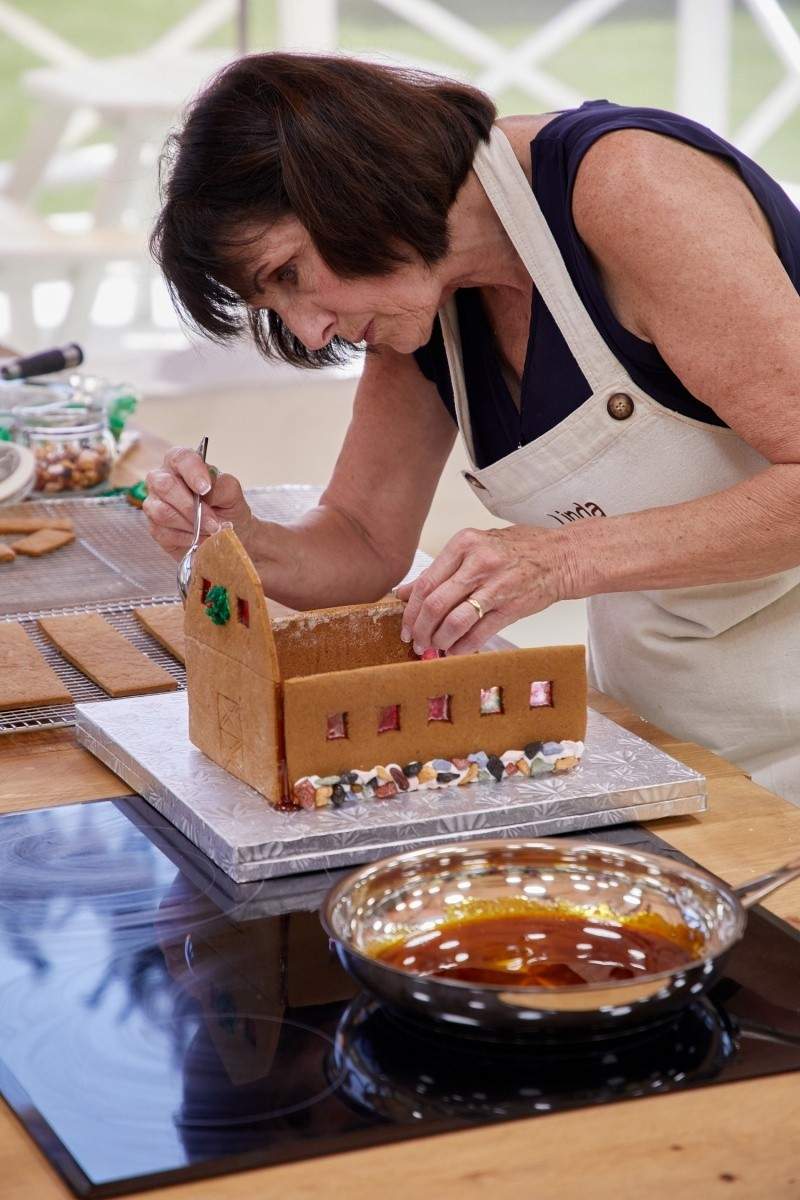 As far as looks go, Linda's gingerbread barn surpasses the others. She even attached tiny fairy lights on the roof. It's particularly amazing because she burnt her first gingerbread and had to make more dough. The judges start to push her to show some emotion but Linda is merely speechless at the love they are throwing her way. Rochelle tells her that the successful showstopper is "who you are". I'm not sure what the judges were getting at here – perhaps they were trying to show the viewers more sides of her because she is obviously in the show for the long-haul.
Terri and Sabrina look glum when the judges return for the final announcements. They know that they are at the bottom this week, and I think we know who is going to be sent home. But first, Dan tells us that the Star Baker is Vandana for the second week in a row. Yay, Vandana. She didn't use any of her amazing Indian-inspired flavours this week, which was maybe a good idea to prove that she can also be "traditional".
Julia has to give out the lump of coal this week–and it goes to Sweet Terri. I am sad to see the food-talking Terri leave. But the constant criticisms of her food being too sweet shows that she still has to work on upping the sophistication of her baking. But she is a fabulous homebaker and I expect that she is making beautiful and delicious holiday treats as I write this.
She tells the audience that the whole experience was surreal but she is happy with her success and to be returning home to her family.
Linda still seems surprised that the judges thought her gingerbread was so special. And Sabrina just looks relieved to still be there.
Next week is French pastry week. Let's hope the they bring some technique and je ne sais quoi to the tent.
Crumbs
I'm happy they tried to branch out beyond the usual Christmas treats and incorporate some Jewish baking. But they can tell me on TV that rugelach is a Chanukah treat and still be wrong. Also, if you haven't tried chocolate rugelach, then you should run to a bakery right now.
Now that we are down to the four best bakers--and I do think they are the best--I hope the show really tests their abilities with professional-level challenges.
One of the aspects that the producers think about when casting the show is who will be able to carry the brand forward as a media personality. I'm not sure if that affects who the actual winner is, but watch the judges and the editing try to shape people's characters in the next few weeks. I think this is what we saw with Linda this week.