It's the season finale! Hold on to your measuring cups, because we only have three bakes left before Canada's Best Baker is crowned.
Sadly, there is no cheesy opening to usher us into the momentous week. Instead, we have co-host Julia Chan doing a recap regaling us with tales of the bake tent. Well, not really. They do a quick recap of the "lasting friendships forged in fire", then onto describing the three finalists who all have "distinct personalities".
We are told that Linda Longson's "experience" shows through and she has been committed to her Alberta roots through the season. I think that Linda is the best technical baker on the show. Whether it's her age--as the show has implied--or just that she has studied and practiced her technique; it's clear that her technical skills are better than the other bakers. But I don't think it is enough for her to win. Her presentation is often flawless, but her desserts and flavours are safe. She may be the loveliest person in the tent, but she lacks the charisma to take the title. This is a TV show after all, and the producers need someone who can do the circuit and drum up PR for the next round.
At 24, Sabrina Degni is the youngest baker in the finals. The narrator says sometimes she needs a push out of her comfort zone, but is bringing the drive to the finals. Some of Sabrina's creations have looked incredible, and when she is on a creative roll, she can really take the cake. She has skills, she has personality, and as Jude says, she has good shoes. She is a contender, but I think she needs more time to learn new techniques that are outside of her safe zone of Italian and Canadian desserts.
In these recaps, I have not hidden my bias towards Vandana Jain. She is described as calm, intensely focused and has been consistent; Julia says she has been doing a marathon and not a sprint. Unlike Sabrina's reliance on Italian flavours, Vandana has used her Indian flavourings to push herself and the judges. She has brought new flavours to the tent, and we are all the better for it. Her technique is not quite as good as Linda's but what is more Canadian than melding Canadian and flavours from abroad into something distinctly new and delicious? People have compared her to Nadia, the favourite winner from The Great British Bake Off, who now co-hosts the The Big Family Cooking Showdown (available on Netflix ). I think she and Bruno (and maybe James) have emerged as the true stars of the show. We will see.
Signature Bake
After the short stroll down memory lane, we are up and running. The Signature Bake is mousse cakes. The bakers have to make two sets of mousse cakes with different flavours. Bruno says that a mousse cake, which contains flavoured mousse and a sponge or cookie crust, will showcase everything they have learned in the last "seven weeks". This is a TV white lie as the whole show was filmed in less than a few weeks.
The competitors did not have more than a day between shooting days to plan and prep. But they did get the list of Signature Bakes and Showstoppers before filming. Imagine all the prep time that competitors like Corey Shefman and Julian D'Entremont wasted on the weeks when they didn't bake. (Note to self: make friends with someone who is going to go on the show to eat their practice bakes.)
This is the last Signature Bake and has some pitfalls built in: the mousse needs time and gelatin to set properly. The cake at the bottom has to be soft enough to bite through but hard enough to balance all the toppings.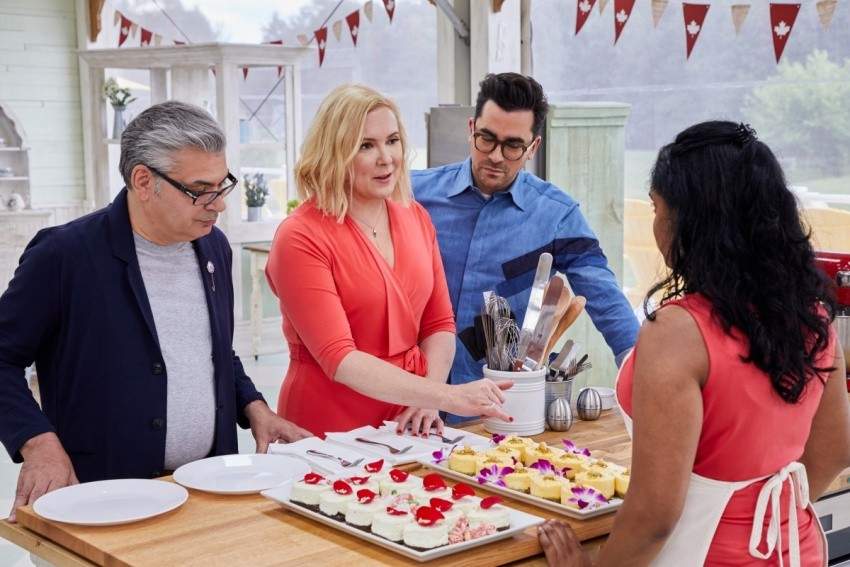 Vandana is making a set of passionfruit cakes and set of white chocolate mousse ones. The chocolate bottom of the white chocolate mousse is drenched in thandai syrup. Dan is representing all of us when he wanders over to try it, and he seems to love it. I love Dan and I love Vandana for using something I have never heard of, but sounds amazing.
As a vegetarian, Vandana is using agar-agar instead of gelatin in her mousse. Agar agar is made from seaweed and can be even more finicky than gelatin. Unfortunately, the agar agar doesn't set well with the cream, and Bruno says Vandana's mousse separates slightly. But as usual, her flavours have a real beauty to them.
Despite the agar-agar issues, Vandana's cakes set properly, this cannot be said for Linda's cherry-chocolate and coconut-pineapple cakes. They are the leaning tower of Pisa of mousse cakes, with some of them just being mousse. Rochelle bestows the James Hoyland compliment of "ugly-delicious".
Sabrina also has some technical difficulties with her blueberry-apricot and strawberry mousse cakes. She was smart and cut some strawberries lengthwise along the outside of the cakes. The judges suggested tweaking her flavours slightly but they are wowed by the beauty of the presentation.
Technical Bake
The judges are waved off for the final Technical Bake of the season, which is pear charlotte. It's a slightly obscure dessert of layered Bavarian cream and poached pears, lined with lady fingers on the outside. (Obscure unless you took cooking classes in the 80s with my mother, Lucy Waverman. The final dessert in the intermediate class was a Charlotte Russe, which instead of poached pears has lemon Jell-O. It was high art in the 80s, and extremely tasty.)
None of the bakers have any idea what it is, nor what it looks like. For one of the first times this season, their stress is palpable. This is a tough challenge.
Linda has made lady fingers before, so she knows they should be soft and not mushy but her first attempt at the custard curdles, eating up her time.
Dan is here for the lady fingers, and gives Sabrina a boost of confidence by telling her that they are good. All three women struggle a little with placing the lady fingers in the Charlotte mold, reminding me of my kids with a new Lego set where the instructions are difficult to understand.
Sabrina, Vandana and Linda make their last trip to the gingham altar. The judgement is swift. Vandana's cake looks good but the cream is a little too thick. When Rochelle tastes Linda's Bavarian cream, she is shocked at how good it is. Sabrina's cream is likened to bubble tea because of the graininess.
It's no surprise to hear Linda ranked first, Sabrina second, and for some reason, Vandana third. Linda is redeemed from her mousse disaster.
Showstopper
It's now the final Showstopper, which is the most important bake of the 23 different bakes each of the competitors has done in the tent. It's also the last time we get to comment on Dan's outfit, so I'm taking a minute to pay homage to his white suit.
The bakers are instructed to make a wedding cake with three layers. I may be in a minority, but I think wedding cakes are one of the least delicious cakes out there. You take a perfectly good cake, over-bake it and then pile on too much frosting and decorations that are not meant to be enjoyed while eaten.
The Showstopper is supposed to represent who they are, and their story as bakers and people. So, cue the wedding flashbacks.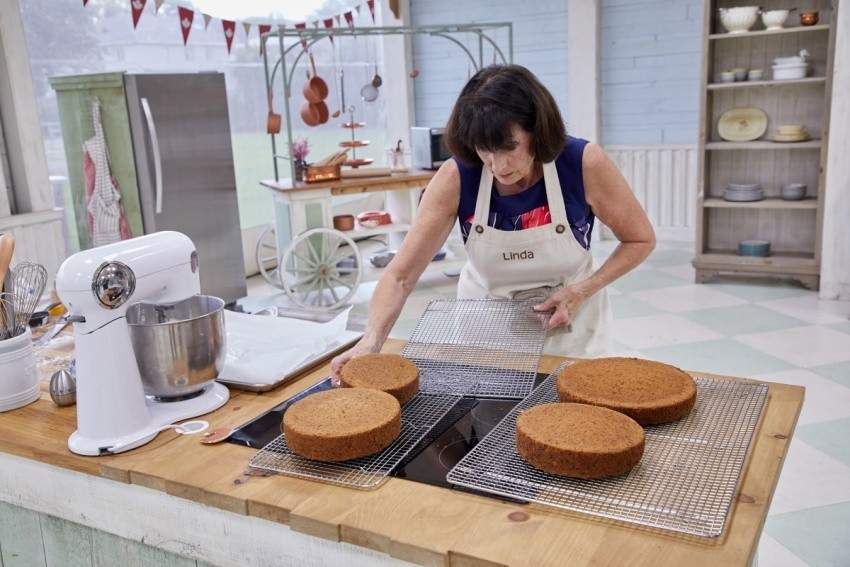 Linda is making a traditional carrot cake--because who doesn't like carrot cake? (Bruno, as it turns out.) It is reminiscent of her own wedding cake 45 years ago. In the requisite montage of Linda's family back home saying how proud they are of her, we hear how Linda never sits still, is selfless and a perfectionist. Her daughter cries when talking about her, and we are all convinced that Linda bakes with love. I think that Linda bakes with more than just love, she obviously researches and practices her technique of difficult recipes as well. For example, she is using homemade fondant in this challenge.
Sabrina adds pink champagne to her batter instead of water or milk. I assume she knows that it will bake off and be flavourless, but it's a nice touch. Her wedding cake will be a glorious pink flower explosion with some extra lustre dust, which Dan also loves. In her montage, her mother talks about her love of baking, which she did beside her beloved grandmother. She has been baking since she was a child, which at 24, wasn't that long ago.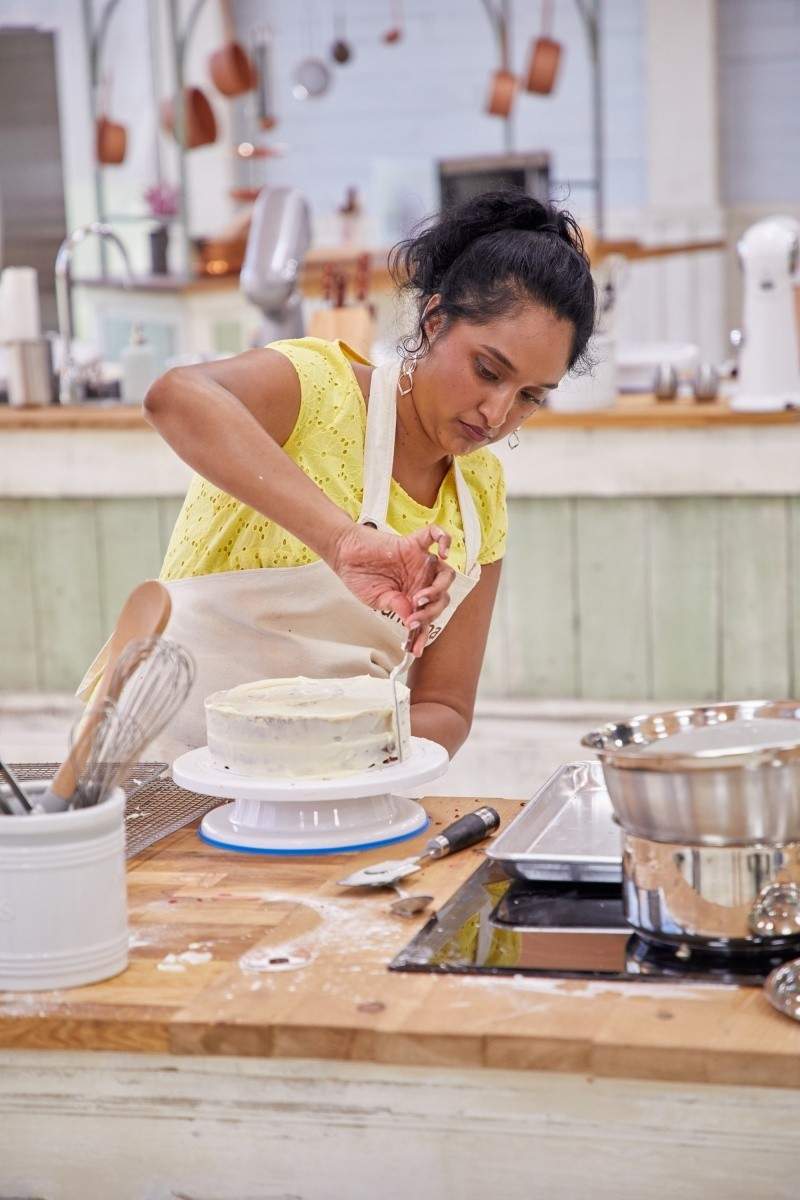 Vandana is making a four-layer red velvet cake with red and gold fondant icing. Her inspiration is her own wedding cake, matching the sari that she wore at her own wedding. In her video, we meet her husband, son and parents, who are all very proud of her. Her talent with eastern flavours has been handed down to her by her mother. I wish she had employed more of those flavours in her red velvet cake. This seems a little simple for Vandana, and I wish she had upped the flavour quotient a little.
The illustrations that have accompanied each and every of the 103 bakes this year were done by Kenna Barnes, a Toronto artist. It would take her between two and half to ten hours for each drawing, totalling approximately 925 hours. They are very similar to The Great British Bake Off's drawings, and are lovely. I hope the bakers get copies of their favourites. I think Kenna deserves at least one dessert from each week for her contribution to the show.
There is a touching moment when all three bakers lay down their tools for the last time and hug. There are tears in their eyes (and maybe mine). It is obvious that these three women care for each other, and have had gone through the season as competitors, but also friends.
Outside of the tent, there is an old-fashioned celebration going on. All the contestants have arrived, along with the finalists' families to celebrate their journey and the winner. Pierre (remember him?) echoes Canadians everywhere when he comments that everyone on the show is unbelievably nice. Sinclair is in a doughnut shirt, and thinks Sabrina is going to win. Jude is funny, Terri wants to be Linda, Corey is diplomatic and James is on team Vandana (smart man). I can't believe it; I actually miss these people.
The judges set down the finalists' Showstoppers. Linda gets lots of kudos for her lovely piping and making her own fondant, but her cake is a little dry. It is a nice traditional three-tier cake with white flowers. I have already forgotten what it looks like, other than to say it was very pretty.
Vandana's cake has lovely red and gold icing. She used poured fondant too, which she learned on the show. The judges like to know they taught the contestants something, so they like her "growth"; but her red velvet cake lacks deep chocolate flavour.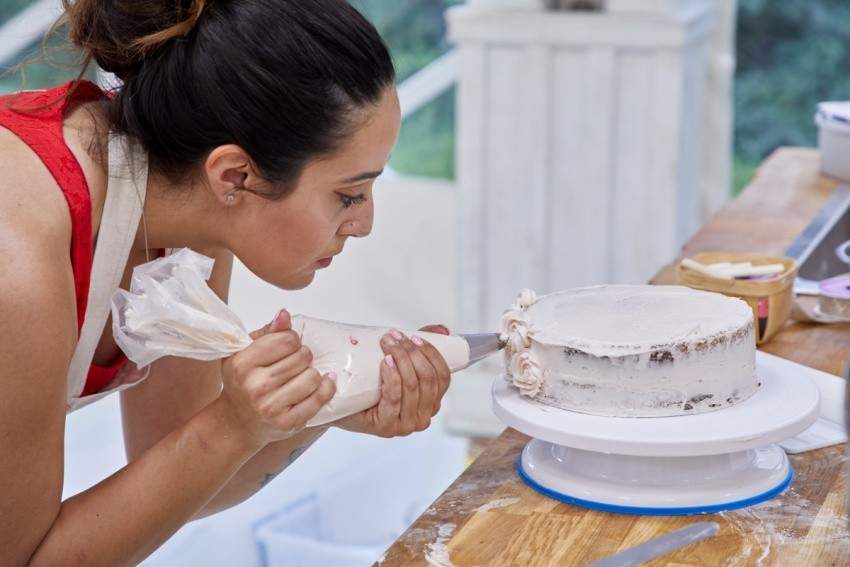 Sabrina's cake really does look the best of the three. It screams pink wedding with sparkles thrown in. She opted for tasty buttercream, and although the judges can't taste the champagne, the idea is there. The word magnificent is thrown around.
The judges have a big decision ahead of them. I love when Bruno gets philosophical and says that, "When food has a story, it tastes beautiful." Rochelle adds that when it is "baked with love, you can taste it."
It's true that these women are all baking with love and honour for their families, histories and cultures. I'm not sure if it really makes it taste better but as a mediocre home baker myself, I hope so.
The three women then march out with their top tiers, as the judges walk with bunches of flowers and a glass cake plate, which I assume is the trophy. What would you do with a giant glass cake plate? Would you put a cake on it? Or would you need to build an extra shelf to hold it so you can tell everyone you won the very first Great Canadian Baking Show?
The judges and baker face each other, surrounded by everyone. Dan has the honour of announcing the winner. and then there is a dramatic pause that lasts a long time.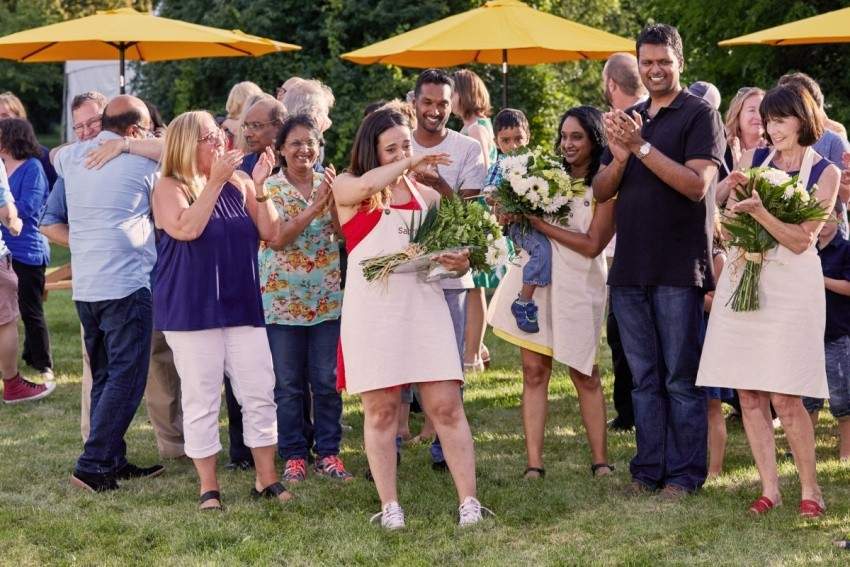 Sabrina!
All three hug and you can hear Linda saying that she knew it was going to be her. The judges say that she has a natural flair and talent beyond her years. Everyone is happy and hugging, and the only way it could be more Canadian is if it started to snow and maple syrup came flowing down the river.
And so the Great Canadian Baking Show ends. Keep your eye out for Sabrina on a number of morning shows next week.
Go bake with love.
Crumbs
I wasn't a judge and never tasted any of the baked goods, so I can't rule on the judges' decision. We weren't told how much the judges took the whole season into consideration. And it doesn't really matter. Sabrina is a good baker, she will represent the show well.
The big question now is if there will be a second season. If there is, we can probably expect better bakers as it proves the show has momentum. This season had talented people, but there are lots of people out there who have incredible technical skills, as well as flair. I hope they audition.
I have a suspicion that both Rochelle and Bruno are hilarious off-air. I would love to see some outtakes with them and Dan.
Everyone was very nice on this show. So nice. People do get bitchy under stress. I think the Canadian audience can handle a little more scrappiness amongst the bakers. Yes, part of the show's appeal is the lovely interactions, but lets get a little more grit in there as well.
Julia and Dan were good co-hosts. Yes, I would have liked more zingers, but they definitely warmed up over the season. More GIFs of Dan sneaking snacks would also be appreciated; just more Dan, generally.
Vandana, I'm sorry I cursed you.