Show opens, as always, on our adorable hosts Julia Chan and Dan Levy. They are lounging in bright yellow Muskoka chairs as if they were in cottage country instead of North Toronto. Julia utters some deep existential thoughts but Dan shuts her down by mentioning dessert and then we are off, into Dessert Week (I still contend every week is dessert week).
Our messy Brit James Hoylan tells us his problem is that the other bakers are all better bakers than him. That is a problem, but it's not really foreshadowing.
Signature Bake
The Signature Bake challenge is to make a tart that shows off the bakers' mastery of pastry, and decoration; but fans of the Great British Baking Show will know that a pastry challenge is really just an excuse to use the term "soggy bottoms" as many times as possible.
And we know we are in for some soggy bottoms, as some bakers foolishly choose not to blind bake their crust. Baking a pie crust before adding the filling ensures the crust is baked through. Jude Somers and Corey Shefman both end up with the dreaded soggy bottoms. Even Jude's interesting flavours can't save her. Corey's pie was a general beige mess.
Grandma Linda Longson goes rogue and shreds lard into her pie crust. Julia says to her, "This isn't your first rodeo," leading to the subtext of the week--that Linda is old. Her raspberry pie looks like heaps of whipped deliciousness and wins kudos. The stealth baker rises once again.
Sweet Teri Thompson is talking to her blueberries and makes a work of art with a chocolate moose (the animal, not the dessert) on top of her northern lights pie. If this baking thing doesn't work out, she can still do something with her forte that is chocolate piping.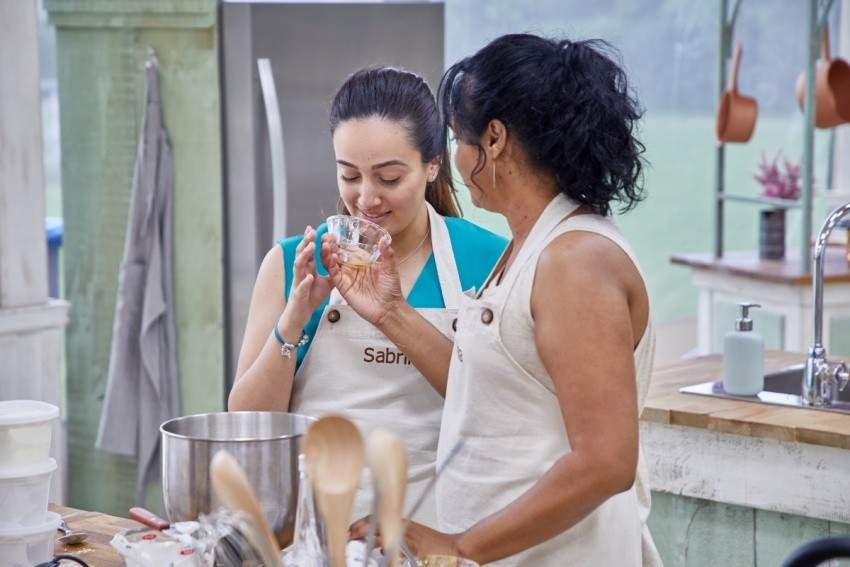 Vandana Jain's mango and ginger pie looks and sounds outstanding. My son, who is a guest recapper this week because of the flu, perks up at the thought of Vandana's pie.
Sabrina Degni makes an odd-sounding grapefruit cream for her pie. The judges tell her it's too bitter, and I wonder if she chose the citrus fruit just for the pretty colour.
British James, the physicist, wants to make a "pi" pie, but he has returned to his messy ways and the pie is too hot to decorate and so it ends up looking like chaos theory.
Technical Bake
There is a strange quick shot of fornicating beetles before we move on to the Technical Challenge. The challenge this week is to make one dozen fondant fancies, which have to be identical. Fondant fancies are small squares of sponge cake with jam in the middle, that have buttercream and fondant on the outside. We have already done a buttercream, fondant and jam challenge with the similar Battenburg cake, so I'm wondering why we are bothering with this one. (Is it because of the prominently placed jar of Smuckers jam?)
The judges, Rochelle Adonis and Bruno Feldeisen, tell us this is all about precision - the squares need to be cut and iced perfectly so that each square is covered with fondant.
The biggest mishaps are when neither James nor Corey reads the directions properly for how much jam goes in the middle. Corey, I hope you read your legal briefs better than that. They both end up at the bottom of the gingham alter.
Vandana, Linda and Terri are at the top for their nicely iced, and perfectly boring fondant fancies.
Showstopper
Now onto the Showstopper--drumroll please--it is pavlova. My son and I are happy because the meringue-based dessert is a family favourite and one that we have made together. It will probably be the only showstopper I have made at home. Pavlovas are beautiful to look at and deceivingly easy, if you are patient with your meringue.
James and Jude both add chocolate and other fixings into their whipped egg whites: a bold move, because anything that adds weight or needs extra mixing can deflate the beautiful pouf of a meringue. There are many shots of the bakers staring into the oven window waiting for their meringue as they have to bake at a low temperature for a long time.
Pavlovas are named after a Russian ballerina, the meringue mimics the lightness of her tutu. Jude takes this literally and places a ballerina on top of her music box meringue. But her meringues are too thin and are crunchy instead of soft in the middle. Will there be an encore for Jude's whimsical presentations?
Sweet Terri makes a peaches and cream pavlova, and it is lovely and tasty, and I have already forgotten it. But she is safe.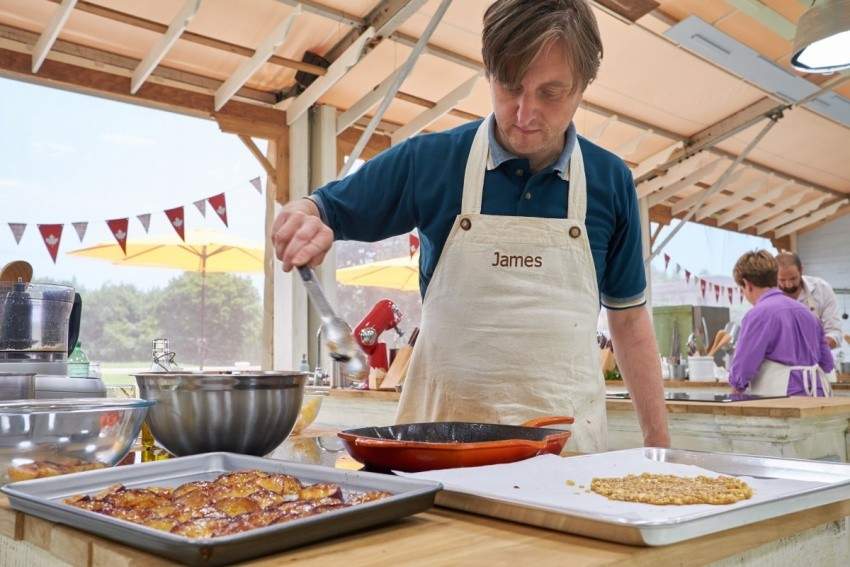 British James' flavours of chocolate, hazelnut and grilled plums keeps him baking for another week.
Julian makes a beautiful blueberry pavlova with piping on the sides. Rochelle Adonis says it is cloudlike--simple and lovely. It is also the only thing my son wants to eat right now.
Corey decides to go all out with flavours and brings in a vat of pureed pumpkin. Pumpkin flavouring is risky, especially since Corey did not grow up with it. (Personally, I hate all pumpkin-spice items, so I am concerned about Corey forcing it onto an innocent Pavlova.) His meringue is good but the giant puddle of orange mush is a bit off-putting to the judges, even though they liked the idea of and the cranberry sauce.
Sabrina makes a lovely swirl with raspberries and pistachios, but last week's star baker adds in too much rosewater for the judges tastes.
Vandana pushes the flavour envelope once again. She uses yogurt mixed with cardamom and saffron instead of whipped cream on her "pav", but the judges like the tanginess.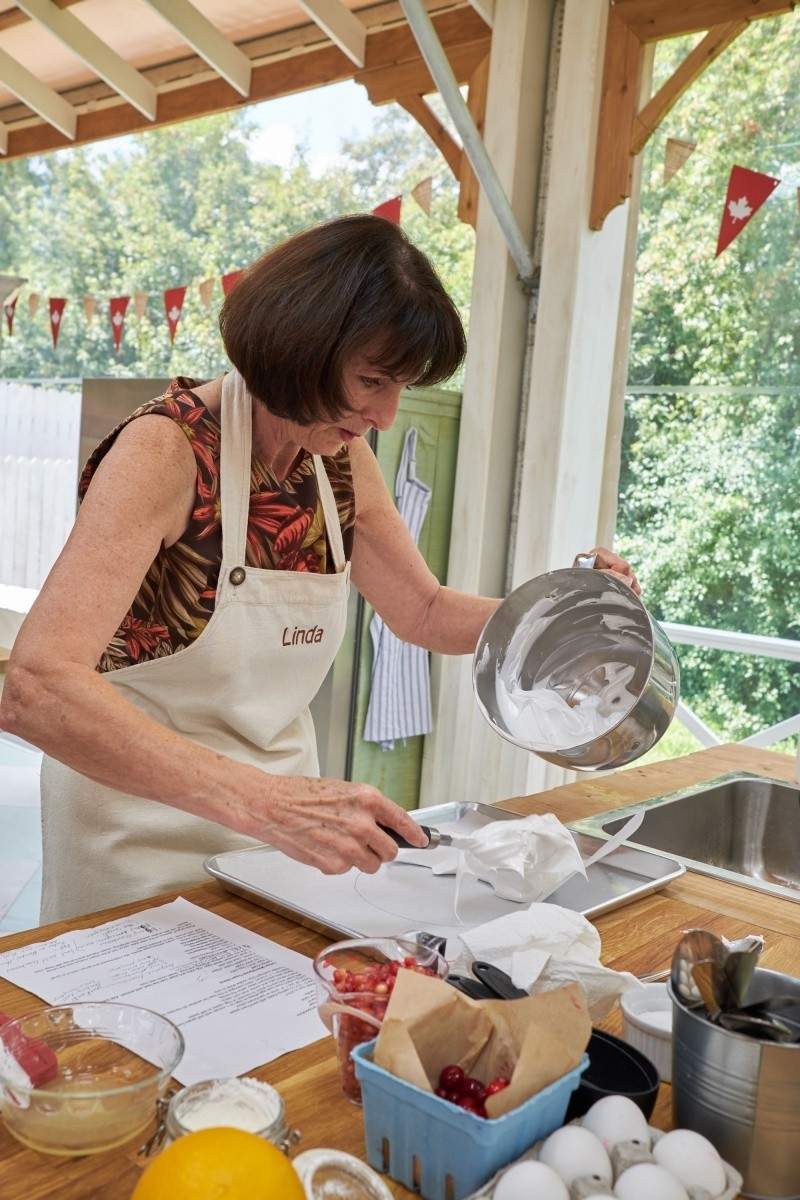 Lovely but "old" Linda makes a simple pink wreath. The judges declare it perfect; in fact, Bruno has rarely seen a meringue so well done.
And now we are back to the judges table where they discuss who will go. Jude and Corey are obviously fighting it out to stay; and Linda and Vandana are the top two bakers this week.
Back in the tent, Dan says that Linda is the star baker. Rochelle says her years of experience have paid off, once again telling us that Linda is old (though she doesn't look that old to me. I think they should lay off the ageism). Sadly, we are saying goodbye to Corey. Shalom, buddy. Email me with your challah recipe.
Crumbs
For a baking show, I thought dessert week was a little dull. The challenges didn't seem to be overly complex or surprising. The most interesting combinations were in the Signature Bake, which seems backwards to me.
If you have been reading my recaps, you know that I have had my eye on Linda. Her presentation is always beautiful, but there was never much said about her. Are we now going to see the rise of Linda?
Also, not enough soggy bottom jokes.