Regina and Saskatoon have plenty of fantastic places to eat, but sometimes, a journey off the beaten path will lead you to some of the prairie province's finest food. Just 30 minutes southeast of Regina, you'll find a restaurant with an exceptional dining experience in Vibank.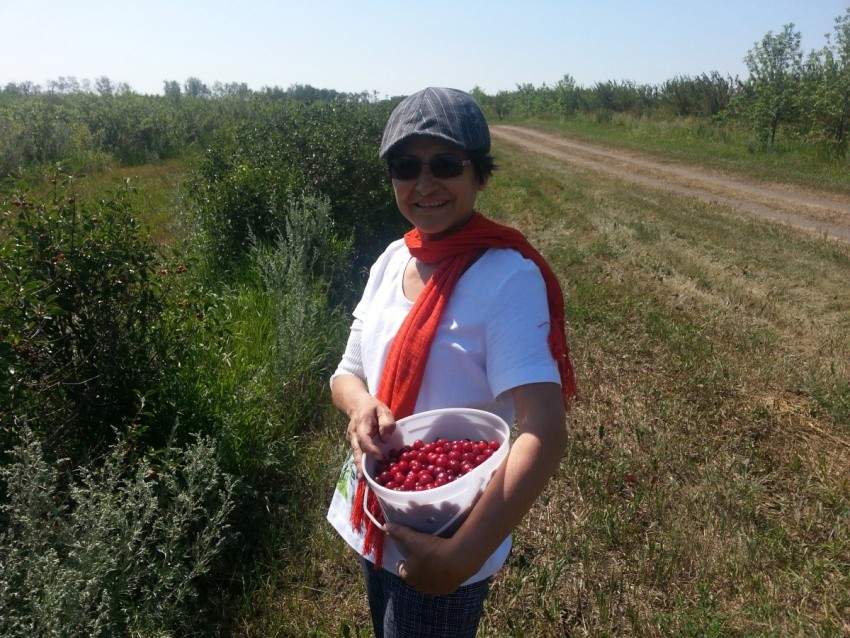 Cecilia and Kevin Zimmerman opened The Grotto Coffee House 10 years ago. The Grotto began as a cafe, but soon expanded to offer its famous Mexican-themed and American-style barbecue dinners. The couple prepares a multi-course dinner of gourmet Mexican dishes from scratch every Friday night that including dishes like the house speciality chapulines (Mexican fried grasshoppers).
"We're bringing something to people they're not going to get anywhere else," says Kevin of the ever-changing menu. "It's very regional and very unique--a lot of our ingredients come from Southern Mexico."
The couple uses only the highest quality ingredients in their homemade food, and it's a difference that makes them stand out. Cecilia has a large garden, full of fruit, vegetables and (a lot!) of Mexican tomatoes. She brings seeds from Mexico to grow her herbs and plants.
The homemade Mexican dinners are wildly popular. Reservations in the 50-seat restaurant are often booked months in advance.
"We both enjoy cooking and Cecilia has an uncanny ability for turning anything into something delicious," says Kevin.
"I like to feed people the way I eat; the way I feed my family," says Cecilia. "I care about each item. If I don't like it, I don't feed that to people," she adds.
"I am very creative," laughs Cecilia, who's from Oaxaca, Mexico's culinary epicentre.
She moved with Kevin to Vibank, his hometown, in 1992. She began longing for the food she grew up with, but she lacked any kind of culinary training. When they'd go back to Oaxaca to visit family, she visited local women making homemade food in their kitchens--dishes professional chefs in Oaxaca couldn't even replicate. Cecilia learned from those home chefs.
"She has a natural ability to reproduce these dishes... and has just blossomed (as a chef)," says Kevin.
You won't find menus on Friday nights but you can always expect one of Cecilia's famous soups, along with her Mexican corn on the cob and refried beans, which have been a big hit with Regina's Latin community.
"In Mexico, corn on the cob is a street vendor food. But we've kicked it up a few notches and it just really compliments the meal," says Kevin.
The rest, including perhaps a tequila coconut cake or Oaxaca chocolate brulee for dessert, is a surprise.
Saturdays' American barbecue dinners are Kevin's specialty. His signature BBQ platter for four includes chicken, brisket, duck with a white wine blue cheese sauce, ribs, mushrooms sauteed in a balsamic port reduction, cornbread and dessert. The meat is slow-cooked in smokers for up to 18 hours.
Several cocktails, like pina coladas and watermelon margaritas, are served in the fruit itself, while the berries for the raspberry hibiscus and Saskatoon margaritas are locally-grown and picked by the Zimmermans.
People of all nationalities and from all over the world come to The Grotto. Some call up to a year in advance to reserve a table. It's not uncommon to see limousines in Vibank, as guests are dropped off at The Grotto. And guests are always welcome to stay as long as they desire; there's only one seating each night.
"People like coming out here," says Kevin. "It's a bit of an adventure. They get here and there's no time limit."
The Grotto is housed within an ex-convent, built in 1923. Entering the restaurant feels like you're stepping back through time--it's welcoming, comfortable and classy, with a European bistro-feel. The main dining room is in the former chapel, complete with the original stained glass windows, while one of the two private dining rooms has an eclectic feel, and is decorated with Mexican handcrafts. An upper floor altar room has been transformed to a sitting area with couches and a fireplace.
Cecilia's passion for cooking has blossomed during The Grotto's 10 years, but her hospitality skills also bring people to Vibank. Customers often say The Grotto feels like a second home.
"I love people. People give you energy. People can have a big impact on you," she says.
The Grotto Coffee House
101 2nd Ave.
Vibank
To inquire about your group, or to make reservations call: 306-762-2010
*Open Friday nights for Mexican dinner and Saturday nights for American BBQ, along with Wednesdays for coffee and a light lunch.
*Price per plate is $45
*Expect to book one to two months in advance