Few things beat a summer road trip in Nova Scotia, especially if you're driving with purpose to check out the latest project from chef Ray Bear and his partner Saronn Pov, the dynamic duo behind Halifax's popular Studio East Food and Drink. You drive through bucolic fields, along dirt roads winding ever upwards—this is seriously off the beaten path—to the North Mountain near Middleton, where the range frames the northern edge of the Annapolis Valley bordering the mighty Bay of Fundy with some of the world's highest tides. Just as you crest the final slope in the approach, one glorious vista pops into view; it's bold blue and virtually impossible to tell where the water ends and the sky begins. This is Kisik Ridge Estate; and kisik is Cree for spirit in the sky.
Kisik Ridge is the newest addition to a growing coterie of chef-owned farm-to-table experiences in the province, joining the likes of Bessie North House and The Bite House; and restaurant-anchored inns such as Wild Caraway Restaurant and Café and the Flying Apron Inn and Cookery. Driven by an excitement to have everything up and running immediately, but slowed down by life's rich pageant, the two of them have actually accomplished a remarkable amount in one short year since purchasing this 130-year-old farmhouse and 200-plus acres of land. The concept is a dinner retreat and farm stay where 12 guests gather around a communal harvest table to enjoy a seasonal six-course tasting menu together.
This hasn't been a working farm for over 50 years, Bear reckons. The first order of business was to set up large-scale electrical fencing, so the animals they were accumulating could have the run of the place; this is free range of epic proportions. They have since gutted the entire farmhouse and built the kitchen, dining room and four well-appointed rooms that can be bundled into suites. Their first official dinner took place almost a year to the date this June.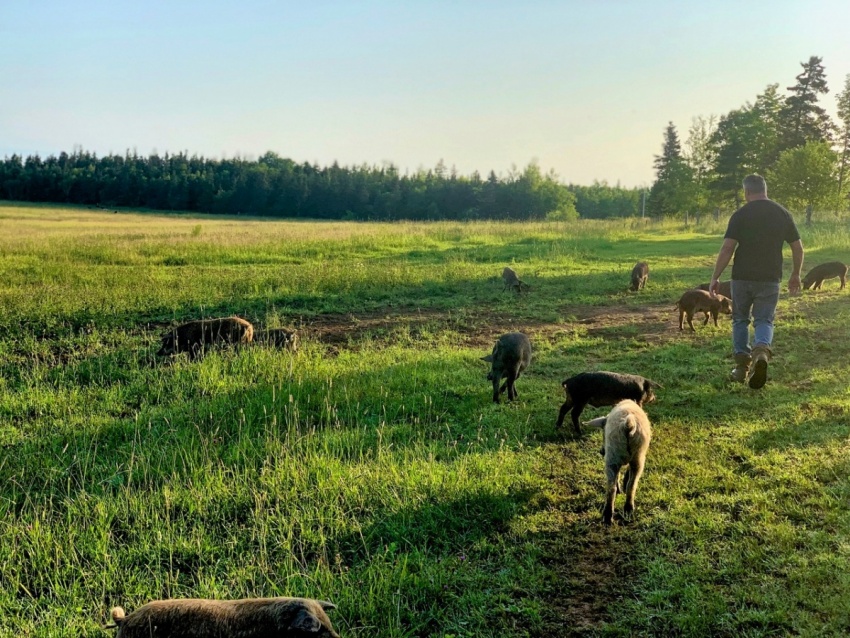 The goal here is to have the land to sustain both the farm stay and the restaurant in town. Their shared interest in animal husbandry comes to them naturally; Pov spent time on farms in her youth and Ray's grandfather's love of animals has had a clear influence on him. There are animals at every touchpoint, from the barn cat welcoming committee to dogs, chickens, guineafowl, pigeons, ducks, cows and three breeds of heritage pigs–Berkshire, Tamworth and Mangalitza.
The two of them are also serial entrepreneurs: Pov is a self-taught cook and Bear is a classically-trained chef. Together as a couple, their travels around the world inspired the veritable global melting pot that is Studio East. For the farm, there appears to be no boundaries, only that they intend to eventually source, grow and raise as much as they can locally.
On this particular warm summer evening, the table has been set up outside so that we can breathe in that blue view and catch the sunset. The meal starts with a ceremonial white pigeon being tossed out towards the Bay, with some hilarity as it makes a quick turn mid-flight to circle back to find its mate.
The meal is summery sublime. While Pov hosts guests, Bear plates up dish after artfully-plated dish: warm crab salad with roasted carrots and carrot tops salsa verde; watercress-crusted haddock with a sweet potato guacamole (sans avocado), wrapped in a butter-poached radish; lobster with red cabbage tempura, lobster bisque and Peruvian purple potato; a palate cleanser of wild strawberries, ricotta and black pepper; smoked and cured duck with tortellini stuffed with soft polenta and duck confit, crispy sun choke, mushroom purée and a cherry jus; and to finish, a stout sponge cake with peach, chocolate and blackberry ice cream. Let's not forget the bread course, a sourdough topped with a creamy raw butter made by a neighbour who helps out on the farm. Their server Joanna, who lives right next door endearingly, part way through the meal, excused herself to put her chickens to bed. And boom! Just like that, there will likely never be the same plate again. Bear explains that this is a modern take on farm-to-table, not a country plate, but not molecular gastronomy either.
You can hike on the property pre-dinner around the mountain, ocean, field, forest, waterfalls, natural springs and the pigs' ongoing contribution… mud. With an overnight stay, you can take an early morning stroll with Bear, pre-hearty farm breakfast. It's like trailing behind the Pied Piper, as he scratches the ears and bellies of appreciative animals, passing by while explaining his funny trial-by-fire farming moments.
Weekly dinner dates at Kisik Ridge Estate are available through August and into late fall.