Nova Scotia's Annapolis Valley has gained recognition nationally and internationally for its sparkling wines, and locally for its own appellation, Tidal Bay. At Blomidon Estate Winery, an award-winning boutique winery committed to producing 100% Nova Scotia grown grapes and wines, winemaker Simon Rafuse describes the terroir that creates the light, aromatic flavours that make such delicious bubbles, and offers some predictions for the future of Nova Scotia wine.
Spring is a busy time of year for you. Tell me what's going on at Blomidon Winery this week?
A whole bunch of stuff! In the cellar, we are preparing the wines for a big bottling run that's coming up in the next couple of weeks, and we're trying to sort out some last little details on packaging for a few new products and also getting some of the sparkling wines disgorged and ready to go.
Tell me about your new products for 2018
As a winery we've been making sparkling wine for 10 years now, but with a lot of our wines - or a lot of our soon-to-be wines! - they go through such a long period of ageing that we're only just releasing things now. So our first blanc de blanc, 2010, is going to be released this season. We have a new 2011 brut reserve coming out, we're just making sure we have all the spit and polish for the packaging. The wines are ready to go, it's just their clothes.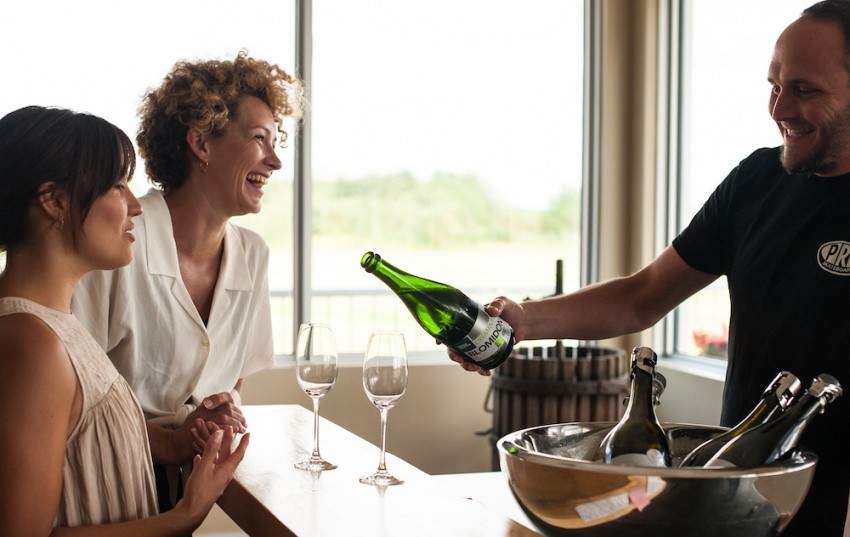 For someone who doesn't know about the Annapolis Valley, how would you describe it as a terroir?
The Annapolis Valley is a long, relatively narrow valley that runs along the northwest shore of Nova Scotia and then right against the Bay of Fundy, and what that means is that we don't really have the same continental climate that you find in the rest of North America. We have a very long and very cool growing season, and as a result, we tend to make wines that are very aromatic. They are very light, crisp, they tend to have higher acidity and they're lower in alcohol, so it's a climate that really suits sparkling wines and light aromatic white wines, like our appellation wine, Tidal Bay.
In an interview with Taste Nova Scotia in 2012, you were asked what you thought people will be saying about the Nova Scotia wine industry in 5 years, and your prediction was that we would be known for our sparkling wines. To what extent has that prediction come true?
I recently got back from the ProWein trade fair in Germany, we were only pouring sparkling wines. A lot of the other NS wineries were really focused on sparkling wines as well. If you follow the media in the rest of Canada and the rest of the wine world, that's where the interest is, and with good reason because those are the wines that really suit our climate. It's a style that we can do really well, and we're not very far into it; we're still discovering what works really well for us. The top wines from Nova Scotia are sparkling.
So if you were going to look into your crystal ball again, what do you think people will be saying about Nova Scotia wines 5 years from now?
We're in an interesting situation. Because we're such a small province without a huge wine-drinking population, we're sort of faced with the prospect of exporting…with pros and cons. I mean, I'd love to be in Prince Edward County and have Toronto just two hours down the road, but that's not the case here, so I think what you're going to see in 5 years is that wineries, especially the wineries that have made sparkling wines the focus, are going to be out on the national and also the international markets, specifically with sparkling wines, and I think people are going to be really excited about it.
What's the unsung hero? Is there a Nova Scotian red or white that I should try.
Certainly! Just because we do sparkling best doesn't mean that we don't do other things well too. If you take a step back from them, Tidal Bay, our appellation wine, is really something that's a unique Nova Scotian wine. The Tidal Bay appellation has a set of regulations and standards that all the wineries have to adhere to, and all the wines – they're similar, but there's always room for the interpretation of the winemaker or the interpretation of the site. These wines are something that we do particularly well, and it suits our climate, and it suits the Nova Scotia palate. They're relatively low in alcohol but they're food friendly, they're aromatic, they're acidic, so you know, seafood, all that good stuff.
We are also starting to see a lot more wines from classic varieties that have their own unique Nova Scotian stamp. I think there are lots of Chardonnays from Nova Scotia that are really interesting, they tend to be a higher acid version. A lot of the Rieslings from out here are really really good too; again, higher acid but they tend to be well-balanced, maybe little bit of residual sugar, and yep, they're good.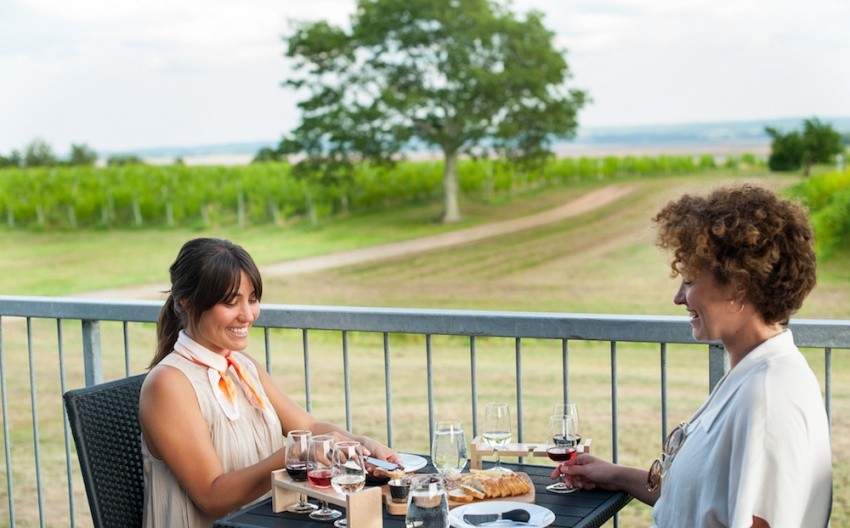 Let's say I'm a tourist and I've got one day, or maybe 48 hours, in the Annapolis Valley. What's the best way to go wine-tasting?
All of the wineries are so close together that it's an easy drive from Halifax. It's an hour away, so you could certainly do as a day trip, although a weekend is definitely better. There are six or seven wineries within 20 minutes of each other. There's also a bus that goes to a few of the wineries – it doesn't come to us – but it goes to a few. To be honest, it's a great reason just to take it a little slower and bike around. Blomidon is considered one of the further wineries and we're only 12 kilometres from Wolfville, so it's a very compact area and there's lots to see and do and it's a beautiful countryside and you know, there's good spots for lunch and picnics and all that good stuff.