Celebrated chef Anthony Walsh, famous for putting Toronto restaurant Canoe on the culinary map, has been to Nova Scotia before—his sister and brother both live here—but Walsh had never really tasted Nova Scotia before.
That all changed when he took on the role of Chief Culinary Director at Queen's Marque, Halifax's much-ballyhooed new residential, retail, and hotel development, where he is responsible for the culinary direction of the food and beverage properties, of which there will be many. The first—Drift—is intended to be its signature restaurant.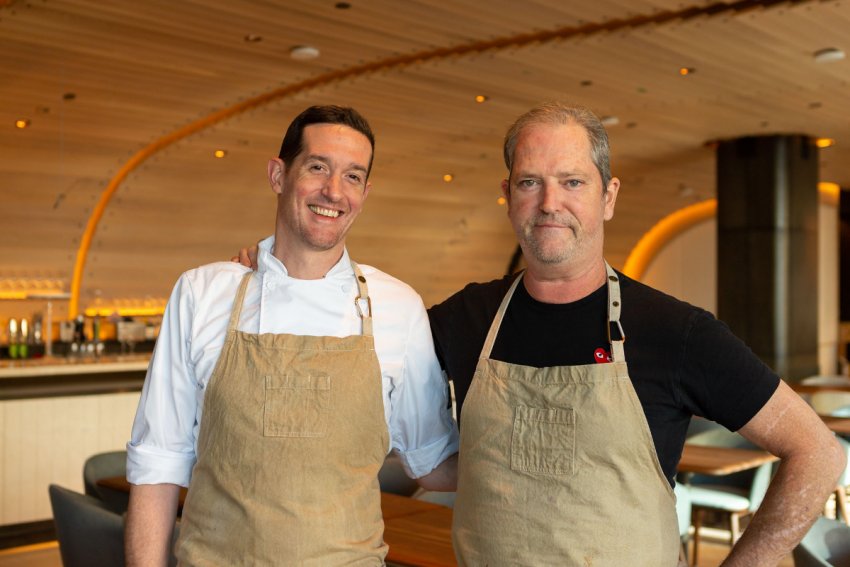 Drift, like the hotel it's situated in, is distinctly Nova Scotian. But for it to be so, Walsh had to immerse himself not just in the flavours of Nova Scotia, but in the culture, landscape, and stories of the province.
Walsh has visited Nova Scotia six times over the past 18 months and has, he says, been awestruck by the land, the hues and colours, and the aesthetic of Nova Scotia. It's partly the beauty of this place, but also the authenticity, "...it's the land that time forgot, it's so pristine and so incredible…it slapped me across the face."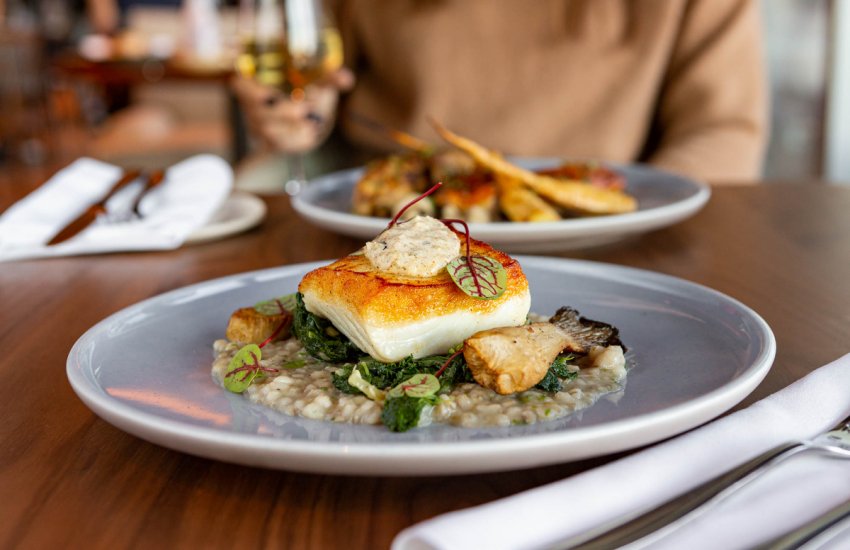 Each time Walsh has travelled to new areas he has met with growers, producers, and personalities, keen to listen to, learn from, and develop relationships with those who live here and know it best.
On one of his first trips, he met Brian MacKay-Lyons, the award-winning, Nova-Scotian-born architect of the Queen's Marque development, who hosted Walsh at his home in Rose Bay on the South Shore. In addition to giving Walsh insight into the design inspiration behind Queen's Marque and reams of history about the local area, he regaled Walsh with anecdotes. One of them was how people in the area used to use starchy water from boiling potatoes to iron their clothes. That starchy potato water has made it onto the menu at Drift in the form of potato salt and crackers, both of which are made from the distilled starch.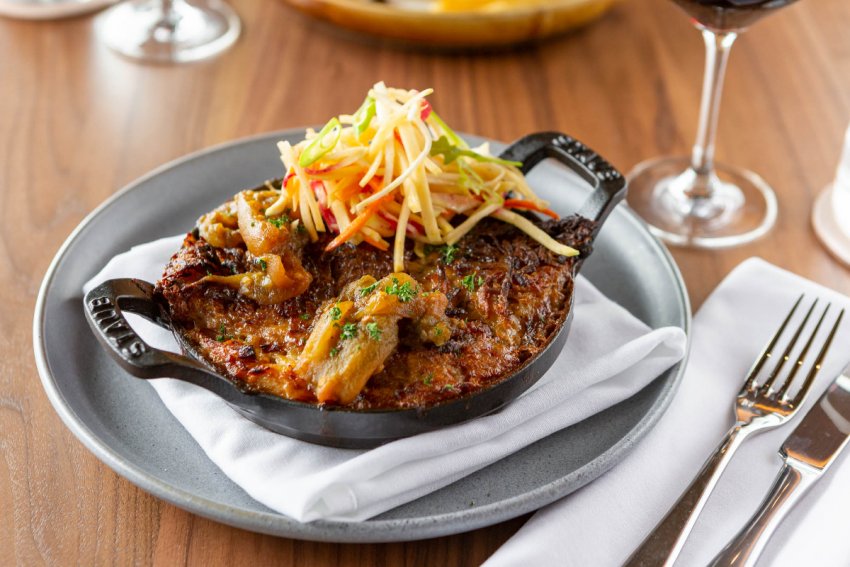 On a recent visit to the Wolfville Farmers' Market in the Annapolis Valley, Walsh met James, a local farmer originally from South Africa. James and his wife Sara, who own What on Earth Farm, grow a type of heirloom cabbage called Ceraflex or Hispi, which is soft and sweet and beautiful to look at, and for Walsh, a totally unexpected find considering the last time he saw it was decades ago in Singapore. He geeked out. That cabbage, charred and served cold, is on the menu. As are a special meaty type of cucumber originally from Armenia that he found from another Valley farmer. He has turned those into charred dill pickles which are served with an iced Digby scallop crudo.
Throughout his travels, Walsh also discovered local foraged treasures like sea buckthorn, kelp, chanterelles—the best place on the planet to get them in Walsh's opinion—juniper berries, and pine mushrooms. All of which were revelatory for Walsh. They too appear on the menu in various innovative forms.
And then, of course, there is the seafood. While there is certainly more to Nova Scotia cuisine than seafood, as Walsh has discovered, it would still be a crime to overlook it. And Walsh is giddy with excitement about working with such an incredible bounty.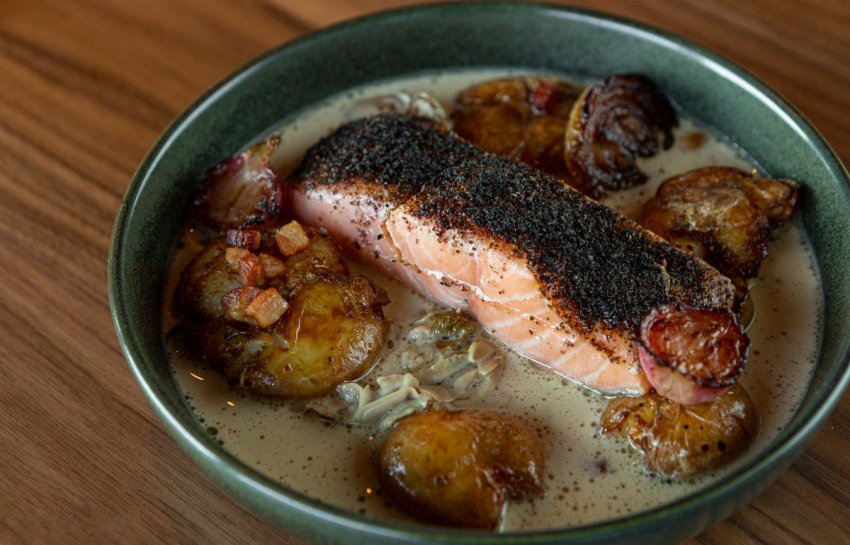 Like the oysters that he tasted at ShanDaph Oysters in Big Island which were "...really, really nuts, like holy shit delicious." Like the salmon from Sustainable Blue in Centre Burlington that's as good as any that he's ever put on a menu. Like the type of woolly black sea truffles he found that have an exceptional nose and special gasoline umami that he is jazzed about. Like the best clams and the best swordfish he's ever had in his life. The list goes on.
All of these experiences, stories, flavours, and discoveries are now incorporated into Drift's contemporary menu that includes traditional Nova Scotia dishes like fish cakes, lobster pot pie, hodgepodge, and rappie pie. What is not traditional in most cases, is how Walsh has reimagined them by using new or different techniques and seasonings. For instance, the lobster and haddock fish cake is served with a brown butter tartar, the salmon is plated with oyster and bacon dashi, and even the burger gets a local upgrade with a kelp mayo.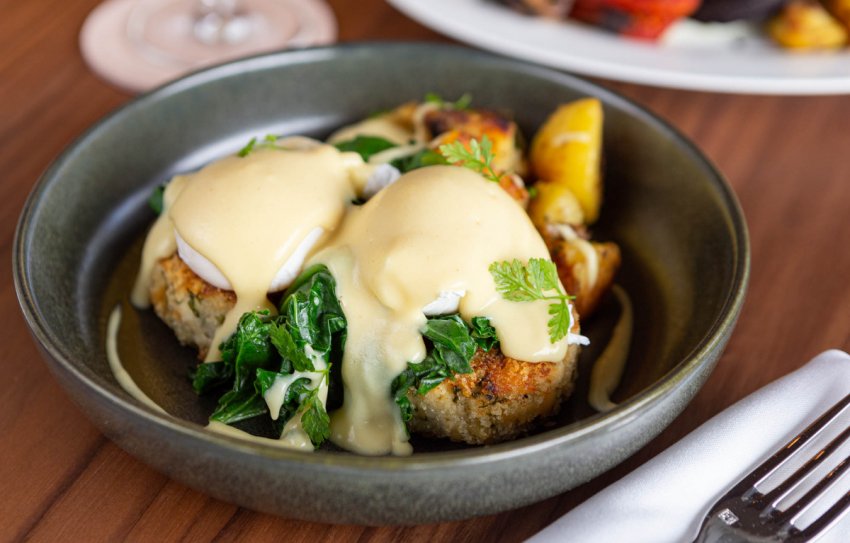 With his immersion into Nova Scotia well in hand, the proof of Walsh's vision is now on the plate and with it, perhaps, a redefining of Nova Scotia cuisine. Visitors and locals alike should be excited.
Drift opens today.