People got pretty excited when Devour! The Food Film Fest announced last summer that it would be bringing in Anthony Bourdain for the opening night of its 2014 festival in Wolfville, Nova Scotia. Having who is arguably the man in the food world as a festival guest paid off in spades for festival executive and managing directors, Michael Howell and Lia Rinaldo. The nationwide press and buzz carried all the way through to last night, when the pair hosted a big event at the Toronto International Film Festival to unveil what's in store for their 2015 festival, happening November 4-8.
Much like last year, attendees of the festival can expect a star-studded line up of Canadian chefs, including Vancouver's Ned Bell, Food Network personality Bob Blumer, Jeremy Charles, Todd Perrin (Mallard Cottage), Michael Stadtländer and the recently Michelin-starred Canadian expat, Daniel Burns. In fall 2014, Burns became the first chef to be awarded a Michelin star in Brooklyn for his restaurant, Luksus. Originally from Dartmouth, Nova Scotia, the chef has worked all over the world, including in Copenhagen (Perhaps you've heard of it: Noma?), as well as The Fat Duck in England.
"It's extremely rewarding to see how Devour! has grown since its inception to become the world's premier film festival focusing on our love of both cuisine and cinema," says its festival executive director, Michael Howell. "The team has worked extremely hard to create a sensory overload for anyone coming to Wolfville this November – from the 78 films, to a significant expansion on our hugely popular workshop sessions, to internationally renowned chefs paired with local talent, Devour! is so much more than just a night at the movies."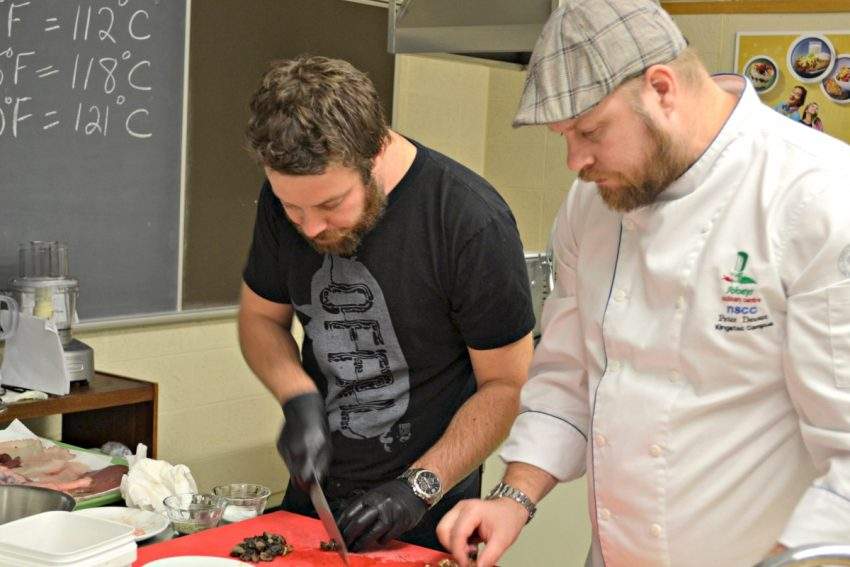 Top Chef Canada alumnus, Jesse Vergen leads a workshop on working with wild game at last year's festival.
In addition to the stellar lineup of chefs who will run a variety of culinary workshops and working together on nightly collaborative dinners with local chefs like Jason Lynch and Renée Lavallée, Howell and Rinaldo are bringing in Hollywood actor, Bill Pullman (Torchwood, Spaceballs, Independance Day) to curate the opening night film, Babette's Feast. Further adding to the list of culinary talents are the food blogging A-listers from Thug Kitchen. The LA-based husband and wife team have become household names in North America with their NSFW approach to cooking with vegetables (a humourous and, as mentioned, explicit example). They've got some F-bomb charm to them, for sure.
"Devour! really has something for everyone," says Rinaldo. "Nova Scotia is a place for discovery, and there really is so much to experience at this year's Devour! Whether it's stealing away for one evening of theatre, or revelling in a few days of festivities, come and let us program your palate!"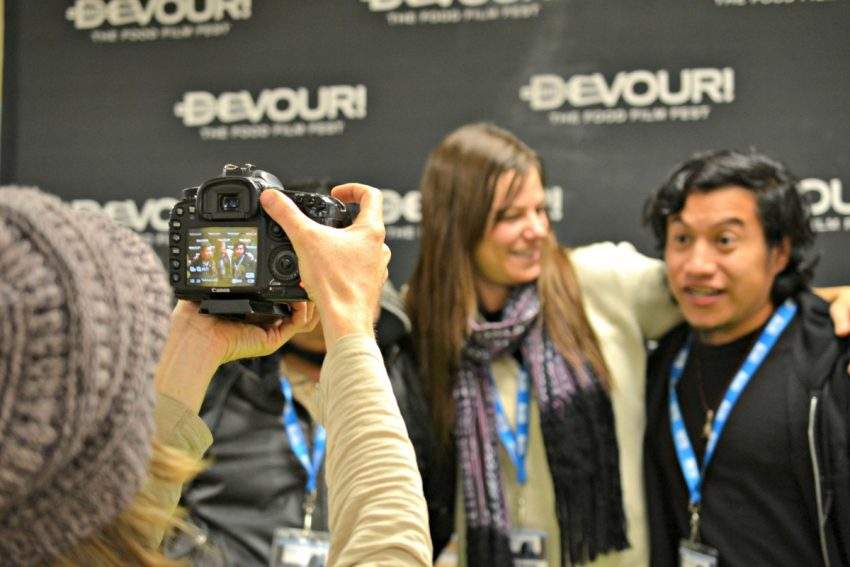 The directors and a star of The Path To Stone Soup get a photo snapped during an event at Devour! The Food Film Fest 2014 in Wolfville.
To grab some tickets to this truly one of a kind food-meets-film festival happening in Nova Scotia from November 4-8 and to see the full schedule, head to devourfest.com.
See you there!