Growing up, Ian Treuer only knew of cheese that came out of a jar, can or shaker. That all changed when he travelled to Europe in his early teens, where he discovered real cheeses and what they should taste like.
While Treuer had dreams of becoming a paleontologist, he went on to work in the corporate world, and about 10 years ago, he starting researching cheese making as a hobby. He took his first crack at it when he received a cheese kit for Father's Day.
"The first time I made cheese was a disaster. I basically made a hockey puck, but I had to keep trying," laughs Treuer.
This hobby led to a number of learning experiences like working with the Cheesepalooza project (a worldwide home cheese making concept), working with an Alberta cheese maker and teaching continuing education programs in Edmonton and Grande Prairie.
In 2016, his dream of becoming a professional cheesemaker came true.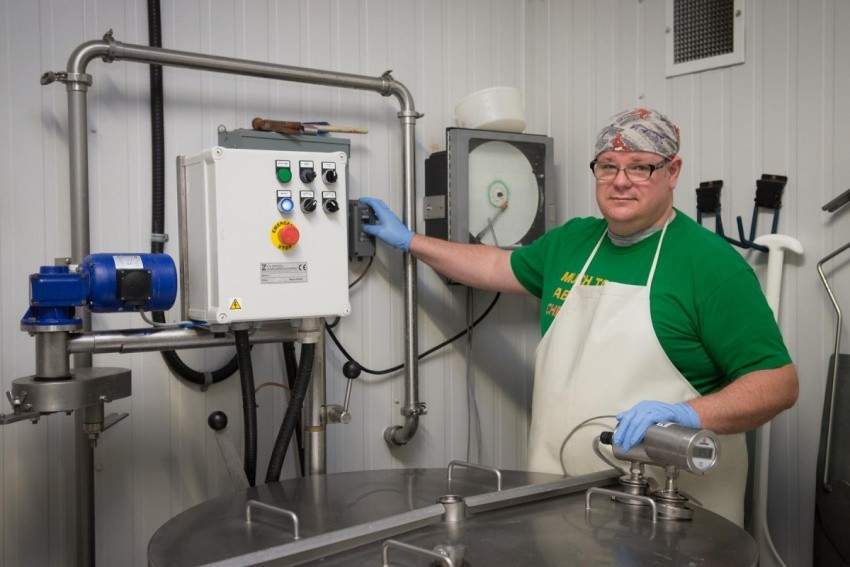 Treuer and his business partner first planned to sell cheese making kits. However, an opportunity to take over a cheese operation in Alberta came up and they jumped at the chance.
"Turning this hobby into a new journey was awesome, but petrifying," says Treuer. "I quit my stable job and moved my family from Edmonton to an acreage by Smoky Lake."
This passionate craftsman has clearly risen to the occasion, creating the Winding Road Artisan Cheese line, named after two of Treuer's grandparents who were also involved in cheese making as an ode to his roots.
Winding Road cheeses are created with organic whole milk from Vital Green Farms and a unique vegetable enzyme, derived from the cardoon thistle, which is a member of the artichoke family and is typically used in Portuguese cheese making. Currently, Treuer is the only one in Canada using this version of the thistle enzyme.
"Cardoon thistle creates a slightly different type of cheese. I find it brings out a lot of herbal notes in cheese. It really enhances the different flavour profiles," says Treuer.
The Winding Road Cheese line includes a German butter cheese, a soft bloomy rind cheese called Highland Hall that has a thin coating of edible vegetable ash under the rind, and the RBD that's named after Treuer's grandfather. RBD is believed to be the first washed rind cheese made on a full-time basis in Alberta.
This cheese won Winding Road a second place American Cheese Society award in 2017.
"I'm still in awe about this award. We received a 98 out of 100 cheese score. We were beat out by half a point. There were so many high calibre cheeses that were entered," says Treuer.
His sights are now set on the Canadian Cheese Awards, which is like the cheese Oscars of Canada. It's Treuer's first time submitting for these awards and he's entering five of his products. The judging will take place near the end of February and the Winding Road team will find out at the beginning of March if they've made it into the finals.
"You never know where life will take you. I found my calling and its cheese making," says Treuer.